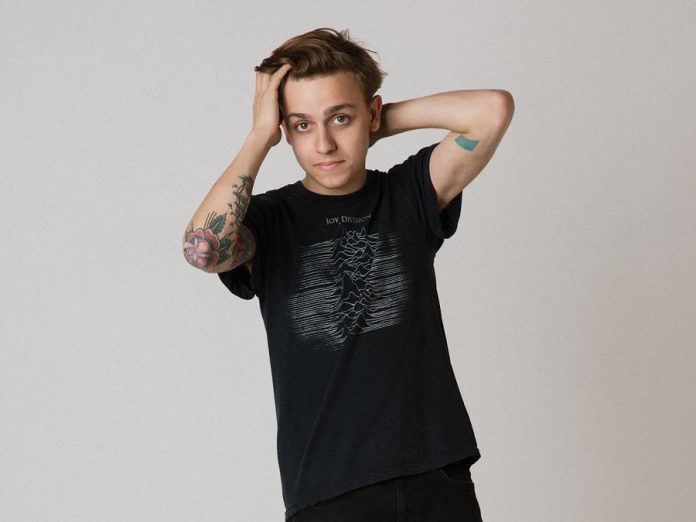 For every youth, past and present, who has had a musical dream but thought it would remain just that, we give you Scott Helman.
Born and raised in Toronto, Helman received his first guitar at age 10. Five years later, his mind made up that he was going to be a musician come hell or high water, he performed for Warner Music Canada executives. That boardroom audition brought him an artist development deal with Warner.
Much has happened in Helman's world since. At just 22 years of age, five Juno Award nominations dominate his resumé while critical acclaim for both his pop sound and songwriting builds. On Wednesday, July 25th at Del Crary Park, Peterborough Musicfest patrons will learn firsthand what all the excitement is about as Helman headlines the summer concert series. Admission is free to the 8 p.m. show.
"When I was 15, I had a pretty dark outlook on music," admits Helman in a May 2018 interview with Karen Bliss of Billboard.
VIDEO: "Bungalow" – Scott Helman

"I thought everybody was out to get me and I thought that people were in the business of trying to change me or make me marketable," he says.
"I thought it was a bunch of cigar-smoking dudes in suits driving Lexuses throwing cheques around. When I met (A&R people) like Ron Lopata or Victor Mijares, or especially (Warner Music Canada president) Steve Kane, I ws quite surprised that most of the people at my label were people that really loved music and were excited about it."
With Helman, there was plenty for Warner to get excited about. Besides his clear musical talent, for someone so young he could write songs and write them very well. Still, he was an unknown entity. YouTube proved the perfect platform for his emerging talent and he posted his music there regularly.
"I hit the record label system at a really opportune time," Helman recalls. ""It was the moment where I think the label started to realize that because there's streaming and because they're losing so much revenue through streaming, instead of trying to get pop hits on the radio, they had to develop career artists. I seemed to be one of the selections of people that wanted to try and develop into a follow-able artist, which is pretty cool."
VIDEO: "Kinda Complicated" – Scott Helman

In October 2014, Helman recorded his debut EP Augusta, which produced the single "Bungalow". Nominated for Best Pop Video at the 2015 MuchMusic Video Awards, the track found a place on the Billboard Canadian Hot 100 chart for 22 weeks, peaking at #31 and certified gold for sales in excess of 500,000.
It was goodbye YouTube and hello live performance for Helman as he hit the road with Walk Off The Earth for its 2015 U.S. tour. A trek across Canada opening for Matthew Good followed later that same year.
"Walk Off The Earth, they're really great people, so it was fun to spend that time with them," says Helman in a July 2015 interview with Mary McComish of Under The Rockies.
VIDEO: "21 Days" – Scott Helman

"It's really fun meeting people and seeing the world. That was a big part of wanting to be a musician, to see the world and play music to the people of the world. It gets exhausting; it is a tiring job, like anything else. It's weird, by the middle of it, you're like 'OK, I'm really tired' and then, by the end, you're like, 'No, I don't want this to end.' It's like summer camp in that way."
Besides the recognition that touring brought, the music industry took notice of Helman as well. In 2016, he was nominated for Juno Awards for Breakthrough Artist of the Year and Pop Album of the Year. In addition, he performed "Bungalow" for the live national broadcast of the awards.
Come 2017, Helman was ready to release Hotel de Ville, his debut full-length album. It peaked at #45 on the Billboard Canadian Albums Chart, powered by equally high-charting singles "21 Days", "Kinda Complicated", and "PDA", with "Ripple Effect" from the same album gaining traction as of late.
The net result of a busy and successful 2017 was a trip back to the Juno Awards this past spring, where Helman was nominated for three more awards including Songwriter of the Year.
VIDEO: "PDA" – Scott Helman

"When I'm writing a record, I don't listen to nearly as much music because I don't want to be directly influenced by anything," Helman says in a February 2018 chat with Australian website Spotlight Report.
"With Hôtel de Ville, I was at a time in my life where I felt I needed to tie up a lot of loose ends and make a lot of stuff right. I had moved all my music gear and personal stuff to a tiny apartment in Montreal, which influenced me tons because the music and art scene there is so particular.
"The album was about healing and letting go — at least I found out later that that's what I was doing — and I think that rubbed off onto the music and was probably the real challenge … actually living out those experiences."
VIDEO: "Ripple Effect" – Scott Helman

Earlier this year, Helman released PDA (Remixes), an EP featuring fives mixes of his hit song. Ahead is a major European tour in late October and November. And then there's his work developing SolvetheSolvable.com, a platform Helman created for as an outlet for people to seek out their cause of choice to create positive change in the world.
"So much inspires me on a micro level — coffee being spilled, people sharing glances, ants," he says. " But the power of music has, for a long time now, been something I'm very moved by and the idea of being able to achieve that is something that drives me every day.
"In doing so, I get to stand in front of lots of people and share myself with them. In that luxury, I hope to be graceful and kind and show that life can be good."
Peterborough Musicfest is presenting 18 free-admission concerts featuring a total of 20 acts during its 32nd season — each staged on Wednesday and Saturday nights at Del Crary Park.
Overseen by general manager Tracey Randall and staff, a board of directors, and numerous volunteers, Peterborough Musicfest's stated mission is to "provide diverse, affordable live music to enrich cultural and economic prosperity in our community."
For more information on this concert or the entire 2018 season, visit www.ptbomusicfest.ca or phone the Peterborough Musicfest office at 705-755-1111.