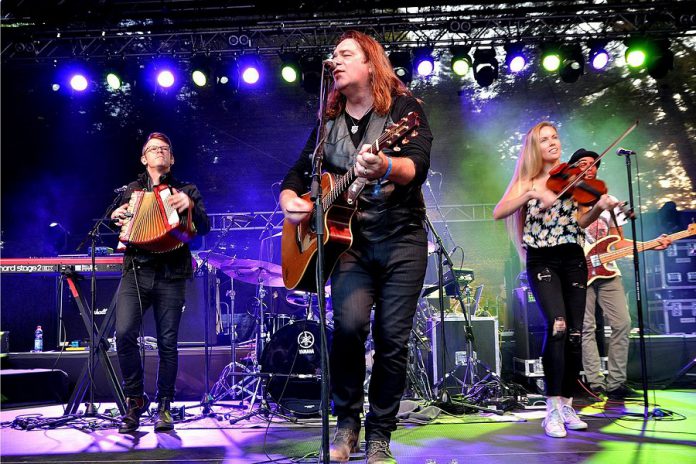 If there was ever a time to apply the descriptor "renaissance man" in anticipation of a pending Peterborough Musicfest concert, now is that time.
Musician, songwriter, producer, actor and author: Newfoundland native Alan Doyle has endeared himself to the masses in a number of ways, perhaps most notably as the frontman for iconic folk rock band Great Big Sea.
When that band called it a day in 2013, Doyle's story could have ended there except for one thing — a renaissance man is always reinventing himself. To coin one of the band's signature songs, Great Big Sea's demise was not the end of the world as Doyle knew it.
Doyle has fashioned a superb solo music career since, the fruits of which will be clearly audible Wednesday, August 8th when he headlines Peterborough Musicfest at Del Crary Park. Admission is free to the 8 p.m. show.
In June 2013, when Doyle opened that year's edition of the annual summer concert series, he arrived in Peterborough with his 2012 debut solo album Boy On Bridge — the title a reference to his credit as an extra in the 1981 film A Whale For The Killing — still doing well with its singles "I've Seen A Little" and "Testify". The video for the latter earned him a 2012 Juno Award nomination.
VIDEO: "I've Seen A Little" – Alan Doyle

VIDEO: "Testify" – Alan Doyle featuring Colin James

Since then, the 49 year old has been very busy. He has released two more albums: So Let's Go in 2015 and, just last October, A Week At The Warehouse featuring the singles "Summer Summer Night" and "Bully Boys".
He paused long enough last summer to be named a Member of the Order of Canada — affirmation of "his contributions to the musical traditions of his home province and his commitment to numerous local charitable initiatives."
Still, for all the success Doyle has met since he parted ways with Great Big Sea members Sean McCann, Bob Hallet, and Darrell Power — they met as students at Memorial University of Newfoundland in St. John's and played their first gig there in March 1993 — he has nothing but wonderful memories of his time with the band.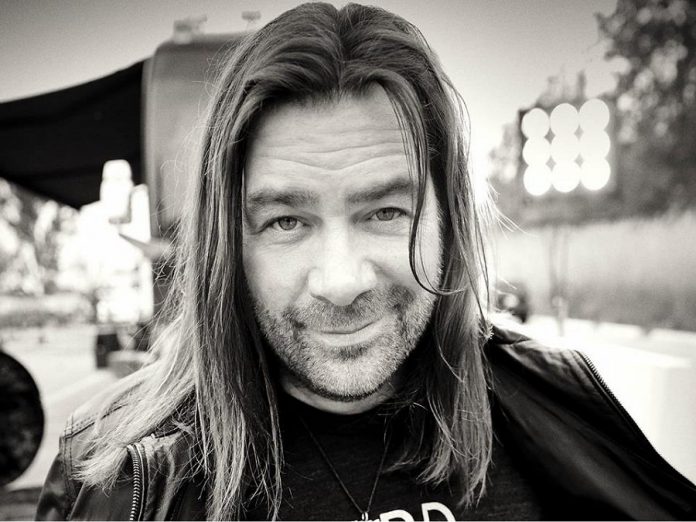 "My fondest memory? August 3, 1993 … the day our first CD showed up," says Doyle in a February 2017 interview with Jason Setnyk of The Cornwall Seeker.
"I've played in bands my whole life and I always thought, for whatever reason, as long as I got a record out, then it would legitimize my whole life in some kind of way. When that little indie record (Great Big Sea) showed up on that day it was one of the proudest moments of my life. I couldn't believe there was something permanent — a permanent record of our music. It was a brilliant day."
Great Big Sea would enjoy a number of brilliant days, its high-energy rock interpretations of traditional Newfoundland folk songs resonating with fans across North America. Eight studio recordings followed that initial album. In 1997, the single "When I'm Up (I Can't Get Down)", a cover of a song by British folk group Oysterband, reached the top 10 of the Canadian RPM pop chart.
VIDEO: "So Let's Go" – Alan Doyle

In addition, every year from 1996 to 2000 saw Great Big Sea named Entertainer of the Year at the East Coast Music Awards, and there were numerous Juno Award nominations as well.
"At the end of 2013, after our 20th anniversary tour, Sean (McCann) quit and left the band," recounts Doyle in a November 2015 interview with Christopher Tessmer for the Regina Leader-Post.
"We spent a length of time to find an amicable way that Bob (Hallett) and I could continue without him. We couldn't, so we came to the realization that we didn't want to go on like that."
VIDEO: "Summer Summer" – Alan Doyle

Among the numerous collaborations that have marked Doyle's career, his friendship with actor and musician Russell Crowe has borne the most fruit.
Crowe joined Doyle for a track on Boy On Bridge while Doyle was cast in the Crowe films Robin Hood and Winter's Tale. Doyle also produced one of Crowe's albums and co-wrote some of his songs.
"He's the hardest working guy in show biz," praises Doyle.
"It's fantastic to see how a guy at his level still values the craft of acting and song writing and story telling. He's so passionate about everything he does. It's a real honest to God inspiration."
VIDEO: "Bully Boys" – Alan Doyle

Doyle has found a home on the small screen as well, portraying Wolf Redmond in three episodes of the CBC television series Republic of Doyle as well as a 10th season episode of Murdoch Mysteries. In addition, he has written two books, the most recent being A Newfoundlander In Canada: Always Going Somewhere, Always Coming Home.
But as varied as his creative experiences have been, Doyle first passion is performing music and songwriting. He says studying literature in university helped him develop the latter talent but his East Coast roots have been, and remain, his biggest influence.
"I loved how some of the great writers used language, " he says.
"From Shakespeare to modern guys, the way they can turn a phrase. I got to read a lot of that stuff while doing an English degree — a lot of books I wouldn't have read otherwise. That was undeniably an effect, but I think it's probably small compared to the oral tradition of Newfoundland and Labrador. That's by far the biggest influence in trying to tell stories and writing songs."
"Come Out With Me" – Alan Doyle

Note: For his Peterborough Musicfest concert, a guitar signed by Doyle — generously donated by First Stop Swap Shop in Peterborough — will be raffled off with all proceeds supporting Musicfest programming. Tickets cost $5 each.
Peterborough Musicfest is presenting 18 free-admission concerts featuring a total of 20 acts during its 32nd season — each staged on Wednesday and Saturday nights at Del Crary Park.
Overseen by general manager Tracey Randall and staff, a board of directors, and numerous volunteers, Peterborough Musicfest's stated mission is to "provide diverse, affordable live music to enrich cultural and economic prosperity in our community."
For more information on this concert or the entire 2018 season, visit www.ptbomusicfest.ca or phone the Peterborough Musicfest office at 705-755-1111.