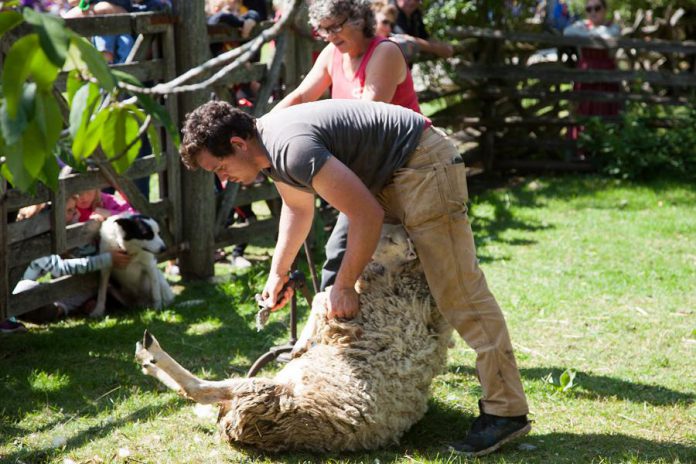 ---
Make A Nomination For the Chamber's Upcoming Awards Of Excellence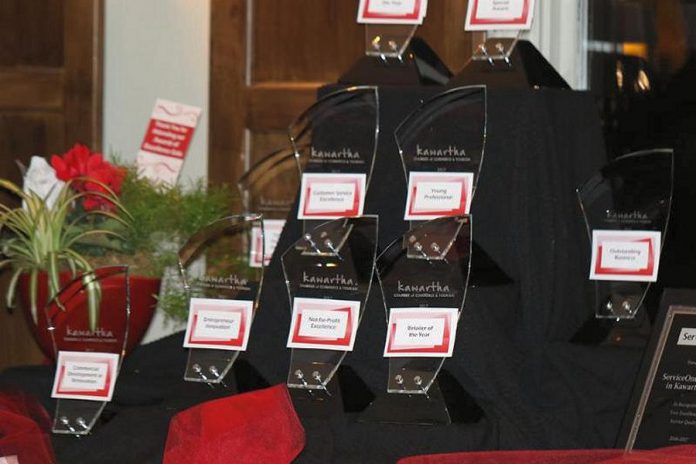 Have you been given a great experience this year by a business in the Kawarthas? Why not nominate them for an Award of Excellence?
Any business, organization, or individual in Peterborough County or the City of Peterborough can be nominated (you can even nominate your own business). Awards will be presented Thursday, November 8th at the Chamber's Awards of Excellence & Social Gala.
The Chamber has 10 nomination categories to choose from this year. Visit kawarthachamber.ca/nominations/ for a full description of each Award, and to make a nomination. You can make as many nominations as you like.
Welcome New Members

Curve Lake First Nation
22 Winookeedaa St, Curve Lake, 705-657-8045, www.curvelakefirstnation.ca
Our goal is to support the community and share information on services, history, culture, tourism and upcoming events with band members and non-Native visitors to the our community. We have a special uniqueness that we are proud of, we are home to:
The very first Anishnaabe Kwe O'gimaa (Native Woman Chief) in Canada – Elsie Knott (1954).
World renowned artisans Norman Knott, Alice Williams and David Johnson.
The famous Whetung's Art Gallery (established in the 1960s).
Our culture, language and old ways of living are still with us and celebrated through a number of events and ceremonies throughout the year.

Niteowl Creative Inc.
Peterborough, 1-866-200-1161, www.niteowlcreative.com
Niteowl Creative is a boutique marketing and design agency located in Peterborough. We focus on helping our clients build their brands and online presence through effective responsive website development, graphic design and social media marketing campaigns.
At Niteowl Creative we also design and develop applications for iOS, Android and desktop. We use user experience models and testing to validate the usability of websites as well as search engine optimization to assist visitors in finding your products over your competition.
Did You Know?
As a Kawartha Chamber member, you can save big on shipping costs with UPS or Purolator. Both companies offer discounts on shipping within Canada and Worldwide including express, ground services, and freight shipping.
For this and other member discounts, visit the Chamber's Member Discounts page.
Lakefield Sidewalk Sale This Weekend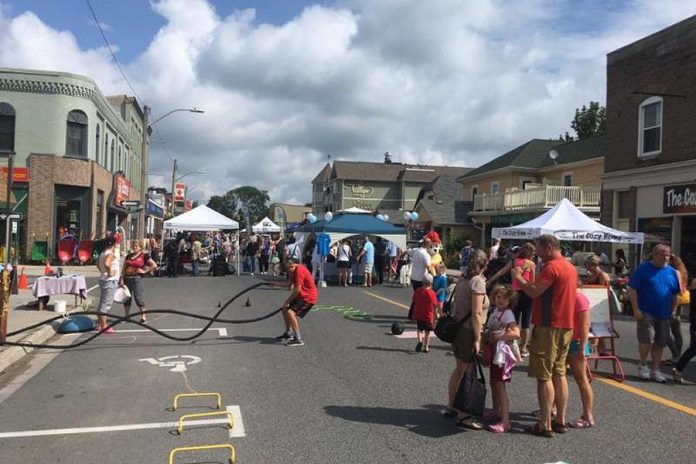 The time has come for the much-anticipated Lakefield Sidewalk Sale.
The sale is Saturday, August 11th from 9 a.m. to 3 p.m. on Queen Street between Bridge and Reid Streets. Please note, this portion of Queen Street will be closed to traffic from 7:30 a.m. to 5 p.m. on that day.
Many of the participating retailers will offer sidewalk sale specials and offers on the day. Special events include:
Lakefield IDA Pharmacy charity BBQ in support of the Selwyn Fire Department
Check out the Selwyn Fire Trucks
Dunk Tank and kids games hosted by Salon Sorella
Kids Game Zone from Lakefield Youth Unlimited and Lakefield Cooperative Nursery School
Habitat for Humanity fundraiser, fun games and local info at Kawartha Chamber booth
Live music all day
Find out more information about the Lakefield Sidewalk Sale including a full list of participating vendors.
Buckhorn Fine Art Festival – August 17th to 19th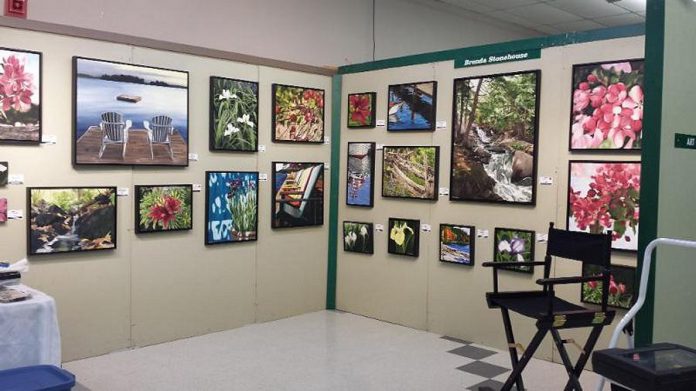 The Buckhorn Fine Art Festival is coming up August 17th to 19th. The festival showcases over 80 Canadian visual artists, sculptors, jewelers, and photographers in the outdoor pavilions and indoors at the Buckhorn Community Centre.
Featured artists will be on-site all weekend to meet and greet visitors in the picturesque, woodland garden setting.
This year's Special Exhibit is 'The Lives of Birds'. These chosen pieces will be displayed in a section of the Community Centre during the duration of the festival, including the featured piece "Looking Out" by Michael Dumas.
Opening night takes place on Friday, August 17th from 7 to 9 p.m., and the festival continues on Saturday and Sunday from 10 a.m. to 5 p.m. Tickets for opening night, which includes all-weekend access, are $25 at the door or $20 in advance. An adult day pass is $8, or $25 for a group of four adults (children under 12 are free if accompanied by an adult). All passes include parking, and are available online at buckhornfineart.com
Read more info about the festival and a full listing of events.
Lakefield Herald To Introduce You To Your Municipal Candidates
Candidates for the municipal elections have been officially verified. Over the next couple of months, the Lakefield Herald will be providing pieces on the municipal candidates for Selwyn, Trent Lakes, and Douro-Dummer.
The Herald intends to feature one or two municipal candidate profiles each week. They will be letting readers know which seats are contested and which are acclaimed.
Don't forget to keep up with the Lakefield Herald each week to learn about your future local leaders. You can view an unofficial list of the candidates for Douro-Dummer, North Kawartha, Selwyn and Trent Lakes.
The Kawartha Chamber is exploring options for a candidate event. Stay tuned to the Chamber's NewsFlash for more information.
Community Care Walk-A-Thon – August 25th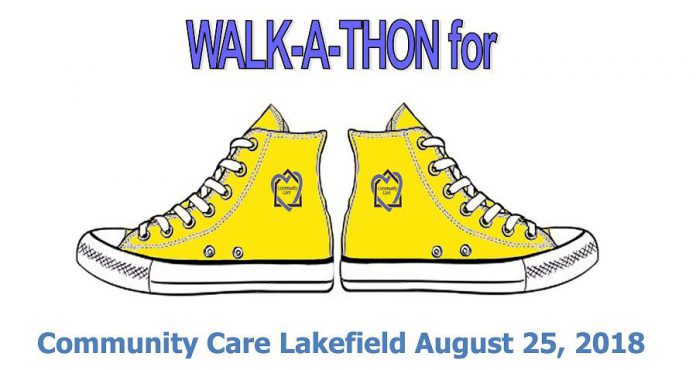 Community Care is hosting a Walk-a-thon on August 25th. Help empower Lakefield and area seniors and adults with physical challenges to live at home. Collect pledges and enjoy a 5-km walk along the river starting at the Lakefield Legion and ending at Lock 25.
The walk starts at 10:30 a.m. There will be a BBQ, entertainment, and prizes upon the walkers' return at Lock 25.
To register for the Walk, call 705-652-8655 for registration and pledge forms. Read more about the Community Care Walk-A-Thon.
Fibrelicious Food & Fibre Arts Festival – August 10th to 12th
Lang Pioneer Village is hosting a Fibrelicious Food & Fibre Arts Festival from August 10th to 12th. This is a brand new event celebrating culinary and hand-made fibre craft creations.
Craft highlights include textile demonstrations, sheep shearing, rug hooking, hand weaving, and broom making. Culinary highlights include cooking in a dutch oven, ice cream making, baking the perfect pie, and a variety of tasty treats including cooked lamb by Steve Elmhirst of Elmhirst's Resort.
Admission for the event is $15 for adults, $10 for students and seniors (60+), $7 for youths (ages 5-14), and free for children under 5. Family admission is also available for $40 and includes two adults and up to four youths (ages 5-14). All taxes included.
Read more about the Fibrelicious Food & Fibre Arts Festival.
Are You Hiring?
If your business or organization has a job opportunity you would like to advertise, you can add it to the Chamber's website through your Member Information Centre account (or submit the description to info@kawarthachamber.ca) and the Chamber will share in its next NewsFlash.
Lakefield Singers New Season This September
The Lakefield Singers is starting a new season this September and has an open call for new members to join.
The season begins September 26th and runs every Wednesday until December 5th. Meetings are at 6:45 p.m. at the Lakefield United Church. The cost of joining is $70 for the 10-week term.
To register, contact Gail at 705-652-7892 or visit lakefieldsingers.ca.
Upcoming Events
Church-Key Summer Concert Series: Ty Wilson – August 11th
Yuk Yuk's Comedy Night at the North Kawartha Community Centre – August 11th
Discovery Days at Harold Town Conservation Area – August 11th
St. Paul's Annual Beef BBQ – August 12th
Firefly Band Concert and Dinner Fundraiser at the NKCC – August 14th
Warsaw Cruise Night – Every Wednesday
Lakefield Farmers' Market – Every Thursday
Cruise Night at Craftworks – Every Thursday
Farmers' Market at Craftworks at the Barn – Every Saturday
Bridgenorth Cruise Night – Every Monday
Buckhorn Farmers' & Craft Market – Every Tuesday
For more information about the businesses and events listed above, please visit the Kawartha Chamber of Commerce & Tourism website at kawarthachamber.ca.
All photos supplied by Kawartha Chamber of Commerce except where noted.