From Friday November, 16th to Sunday, November 25th, Lindsay Little Theatre presents Ann-Marie MacDonald's award-winning comedy Goodnight Desdemona (Good Morning Juliet). Directed by Shannon Peters Bain, the play is a look at the struggles that women face in academia as personified through bending the tragedies of Shakespearean heroines Desdemona and Juliet.
Featuring an endearing cast led by actresses Rebecca Anne Bloom, Sidney Worden, and Ce'Nedra Goswell, Goodnight Desdemona (Good Morning Juliet) presents an interesting narrative with lots of intellectual and academic commentary that plays quick and loose with Shakespearean lore.
Commissioned by Toronto's Nightwood Theatre, Good Night Desdemona (Good Morning Juliet) was written by Canadian novelist and playwright Ann-Marie MacDonald and made its debut in 1988 at the Annex Theatre.
A hit with audiences, the show was toured throughout Canada in 1990 and it won the Governor General's Award, the Floyd S. Chalmers Canadian Play Award, and the Canadian Authors Association Award.
Considered one of Canada's most successful pieces of feminist theatre, the play remains popular among theatre companies and often finds a place in Shakespearean festivals across the globe.
Good Night Desdemona (Good Morning Juliet) focuses on its mousy heroine Constance Ledbelly (Rebecca Anne Bloom), an assistant professor who, upon attempting to translate a document known as The Gustav Manuscript, theorizes that William Shakespeare may have partially plagiarized his famous plays Othello and Romeo and Juliet, which Constance believes may have originally been comedies instead of tragedies.
Noting that the turning point in the tragedies are based on gross misunderstandings, Constance believes that the addition of a "Wise Fool" character would have changed the outcome of the dramas.
When Constance finds out that her consulting professor Claude Night (Andrew Bain), on whom she has a crush, has taken a position she was hoping to receive by manipulating her in doing the work for him (and now plans to marry a much younger vain student of his), Constance suffers a moment of despair — which opens a portal sending her into the world of Shakespeare's tragedies.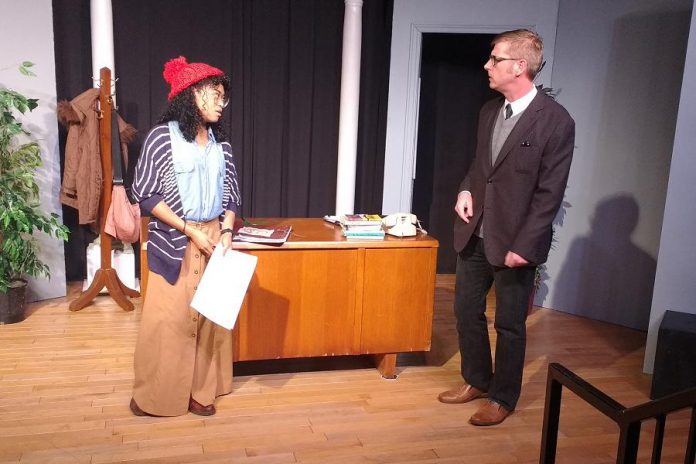 While there, Constance changes the outcomes of the stories she studies: she prevents Othello (Andre Canivet) from killing Desdemona (Sidney Worden), and reveals to Tybalt (Andre Canivet) that, due to Romeo's marriage to Juliet (Ce'Nedra Goswell), he and Romeo (Tyrnan O'Driscoll) are now cousins, thus ending the feud between the Capulets and the Montagues.
However, despite ending these tragedies, Constance finds herself creating even more misunderstandings and drama, making even more trouble for herself and the Shakespearean characters. Within time, Constance learns a valuable lesson about herself, and discovering her own genius and sense of confidence.
As you might expect from the above description, Good Morning Desdemona (Good Night Juliet) is an incredibly complex play, filled with intellectual theory and multiple layers of metaphors and literary analogies. In fact, there are so many layers that it may be difficult for some audience members to understand all of the references — I recommend you brush up on your Shakespeare before seeing the show.
For instance, while I have a fairly strong working knowledge of Romeo and Juliet, I am not nearly as familiar with Othello. I found the third act featuring Romeo and Juliet easier to navigate than the Othello scenes of the second act. However, this did not prevent me from understanding what was going on or from enjoying the performances.
But don't worry if you don't always get all of the in-jokes or some of the bizarre narrative techniques. As I found out later when talking to director Shannon Peters Bain, a mysterious narrator played by Kat Shaw was not an homage to Rod Serling, and the death of a turtle named Hector had nothing to do with Cannibal Holocaust. Instead, they were references to classical poetry and literature that went right over my head.
If you're at all fuzzy on the details of the plays, I recommend a quick glance at the Wikipedia articles on Othello and Romeo and Juliet. You will need a basic knowledge of both to fully embrace the narrative.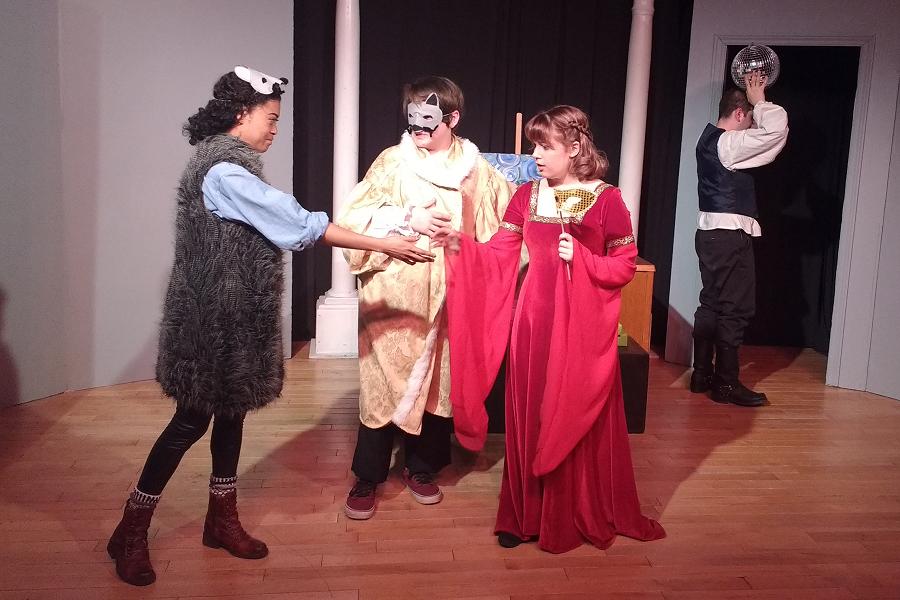 Rebecca Anne Bloom gives a subtle performance as Constance Ledbelly, sitting somewhere between understated and awkward. Whether intentional or not, the quiet awkwardness of her performance enhances a lot of the offbeat comedy of the piece. All of the other characters in the show loom so large and are so over the top that Constance, as the meek modern intellectual, is a fish out of water in their world. It's a quirky little role for an emerging actress. Often it is her silences in the face of larger personalities that create the biggest laughs.
The character of Constance Ledbelly is an important one, in that she personifies the way women in academia have traditionally been silent figures whose accomplishments have gone unrecognized, or who have had their work manipulated and stolen by male colleagues. Constance is a woman on her own journey to find her own voice, and to step out of the shadow of male authority.
This can also apply to Shakespeare's Juliet and Desdemona, who both meet their tragic ends due to the mistakes and misunderstandings of the male characters who surround them. However, when Constance befriends Desdemona and Juliet in the altered versions of the Shakespearean dramas, she finds the women to be much stronger in nature, although with bigger and potentially more fatal flaws.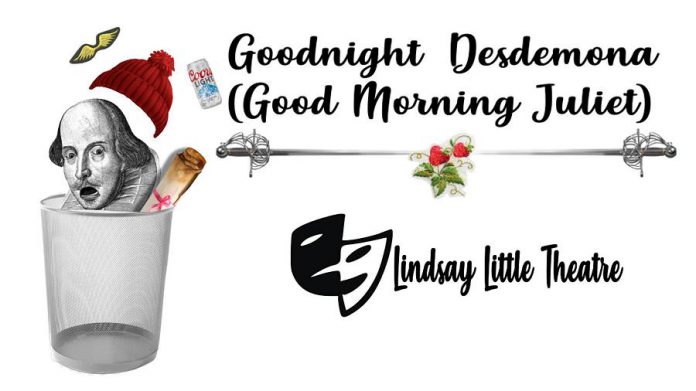 Out of all the characters, Sidney Worden's portrayal of Desdemona is by far my favourite. With a ferocious temper and strong will, Sidney doesn't play Desdemona as meek and mild. Instead, she is quite deadly and a formidable foil. I found Sidney — stomping around and swinging swords while dressed in lavender satin — to be very funny and, when her large on-stage presence clashes with Rebecca's understated delivery, it creates some of the show's funniest dynamics. Sidney has great potential in being a fine comedic actress.
Ce'Nedra Goswell also gives an interesting alternative take on Juliet as a woman who is bored by her husband Romeo and has this constant urge to kill herself. It's not that she is suicidal as much as she finds an irrational romanticism in the idea. Although suicide is not something to laugh at, Ce'Nedra's constant attempts to take the blade to herself are hilarious. Another very young actress, Ce'Nedra gives a fun performance.
A special shout out goes to Tynan O'Driscoll for his double roles of Iago and Romeo. His performance as Romeo is stronger than that of Iago, as it allows him to create a bigger character with many more comedic moments. In Ann-Marie MacDonald's reimagining of Romeo and Juliet, she plays fast and loose with gender bending, filled with Twelfth Night sexual misunderstandings where Romeo loves boys as much as he loves girls. Tynan plays Romeo like Liberace circa 1975, with all the flamboyant glamour and glitzy charm. It's a funny performance that puts an interesting spin on the character.
I also really enjoyed the offbeat performance by Andrew Bain of Constance's supervising professor Claude Knight, as well as his third act appearance as Hamlet's Yorick. As Claude Knight, Andrew is smug and arrogant, making him a repugnant foe for Constance. However, he becomes an audience favourite as Yorick. With one of the silliest Shakespearean puns ever, Rebecca and Andrew's second act "song and dance" number is the comedic moment of the show, and Andrew looks fantastic under the heavy ghostly makeup.
Good Morning Desdemona (Good Night Juliet) is an ambitious show and an interesting choice for Lindsay Little Theatre. It's an off-beat showcase for a group of primarily young performers who embrace their characters. While the material and narrative structure occasionally left me baffled, the energy from the cast makes this an endearing production.
The play will be performed on November 16th and 17th and 23rd and 24th at 8 p.m., and November 25th at 2 p.m. Tickets are $20 ($15 for students) and are available in person or by phone at the Academy Theatre box office (2 Lindsay St. S., Lindsay, 705-324-911), online at ticketmaster.ca, or at the door the night of each performance.