For children growing up in the Peterborough region, the GreenUP Ecology Park has been a site of wonder, learning, and environmental immersion. Whether they are investigating pollinator habitats at the beehives, getting their hands dirty while planting vegetables, or examining the health of local streams with a dipnet, children have been able to explore and learn through dynamic, nature-based programs at the park for over 25 years.
In 2017, GreenUP began a multi-year journey to enhance facilities at GreenUP Ecology Park, to strengthen our capacity to offer high-quality outdoor programming, maximize the impact this unique facility can have on the health of children, and increase accessibility to enable a greater number of children to use the park.
It has only been one week since the official unveiling of the first phase of this process — the completion of the new Ecology Park Children's Education Shelter — and this is just the start of our plans for improvement at Ecology Park. The next phase of the Growing Ecology Park Campaign includes the development of infrastructure that will significantly increase the accessibility of GreenUP Ecology Park for program participants and members of the public alike.
The Trans Canada Trail (now called "The Great Trail") runs through the Ecology Park, and provides a fully accessible connection to and from the park. The trail is frequently used as a transportation and recreation corridor for persons with disabilities. However, because the Ecology Park does not presently have accessible pathways or facilities, access to the site beyond the trail is not supported for persons with disabilities.
Donations received this holiday season will be used to enhance the open-air classroom in the new Children's Education Shelter by installing permeable, accessible flooring that will enable the space to be used by all persons, both during and outside of formal programming times. Presently, the shelter has a woodchip surface that is not accessible for people with disabilities.
We also hope to construct a barrier-free washroom facility next to our new Children's Education Shelter. Currently, we have a portable toilet on-site, which is not accessible, and the nearest accessible washroom is in an adjacent park, more than 700 meters away — a distance that is too far to enable easy or safe access during programming times.
Additionally, we plan to install accessible pathways to connect key spaces at Ecology Park including the shelter, accessible washroom, and the children's garden. All these spaces will then connect to the existing paved Trans Canada Trail that runs through the park. This will link Ecology Park to nearby parking lots and transit stops, and will replace the existing dirt pathways, which are not accessible.
"This next phase of the fundraising campaign will enable us to expand and adapt our programs so that they better meet the needs of people of all abilities, some who have previously been unable to access the site," explains GreenUP Executive Director Brianna Salmon.
"Adding a barrier-free washroom and pathways will also allow people with disabilities who are already accessing our programs to have greater independence and dignity. These projects will have significant impact on our education programs, our volunteer program, and our community workshops."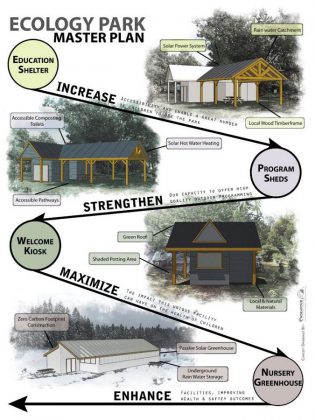 "Our volunteer program at Ecology Park already engages people with disabilities in activities such as garden maintenance and plant nursery stock care," adds Ecology Park Manager Vern Bastable.
"If we can overcome our current physical barriers to access at Ecology Park, then it will allow an even greater number of people with disabilities to volunteer, and will support greater mobility for people who are already participating."
"GreenUP is committed to environmental programming that builds our region's capacity to meaningfully address the challenges yet to come," Salmon continues. "We are committed to increasing resilience for the people and places that are most vulnerable to the impacts of climate change, and to supporting and enabling action for people of all ages and abilities."
As we look toward the future, community support remains as vital as ever to strengthen our capacity and educate our children in places like GreenUP Ecology Park. We are excited to continue strengthening our facilities to increase GreenUP's capacity to educate the next generation of environmental stewards.
For more information about GreenUP Growing Ecology Park Campaign and for ongoing updates with GreenUP Ecology Park improvement projects, visit greenup.on.ca. To help with improvements to GreenUP Ecology Park, you can contribute securely online at www.greenup.on.ca/donate.