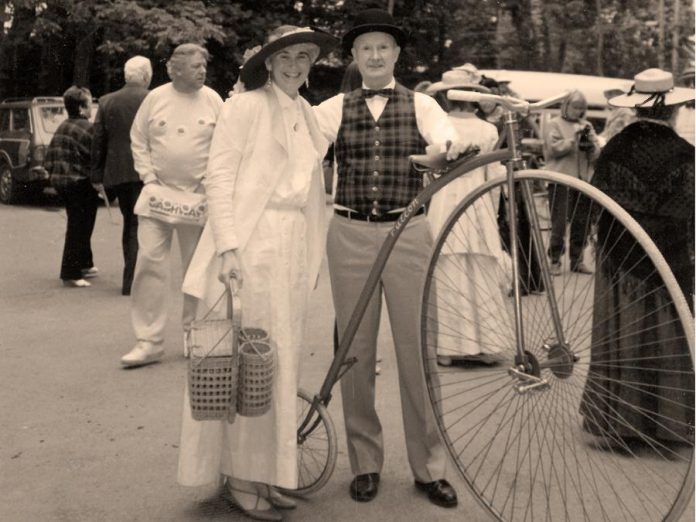 Peterborough has a rich history of cycling and Tammy Thorne, creator and curator of The Bicycle Museum, is documenting it through her virtual bicycle museum at thebicyclemuseum.ca and through pop-up exhibits, including one opening at the Peterborough Public Library on Monday, December 3rd.
The free exhibit, which runs for a month, includes a collection of a dozen historical photos from the late 1800s and early 1900s alongside a replica penny-farthing bicycle — the iconic "high wheel" bicycle associated with the early history of cycling.
"Peterborough has a long tradition of cycling excellence and that tradition needs to be acknowledged," says Thorne, who is also the founding editor of Toronto's arts and advocacy magazine for cyclists, dandyhorse.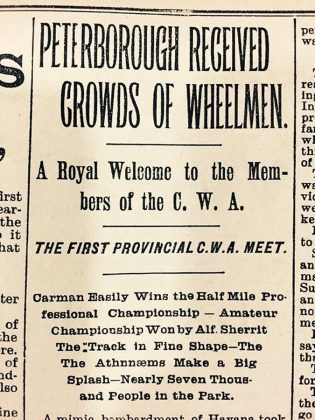 In 1898, Peterborough held the first provincial meet of the Canadian Wheelmen's Association, where penny-farthing bikes raced around the track at Morrow Park in front of a crowd of 7,000 spectators. The Peterborough Cycling Club is one of the oldest cycling clubs in Canada and is currently the largest cycling group, per capita, in the country.
The penny-farthing bicycle on display in this exhibit is a 1967 replica owned by retired Peterborough area surgeon Dr. Wilbert Willoughby Belch. He ordered it through Banks Bicycle, one of the early bike shops in Peterborough, for Canada's centennial celebration in Jackson Park in Peterborough.
Dr. Belch's son Tim, who is a councillor for Cavan-Monaghan Township, will be speaking at the opening of the pop-up exhibit at the Peterborough Public Library at 12 p.m. on December 3rd.
"This big wheel bicycle has meant so much to our family," Tim says. "This replica penny-farthing, the only one I am aware of in the county, was actually ridden many times by my father at many area events. There are just so many great memories that this unique bicycle has provided — even those memories that ended in crashes."
Tim seriously injured his leg when he fell off the bike many years ago when practising to ride in a Canada Day parade in Peterborough. High wheel bicycles were so dangerous to ride that its successor, known as the "safety bicycle" and the direct ancestor to most modern bicycles, began to replace the accident-prone penny-farthing.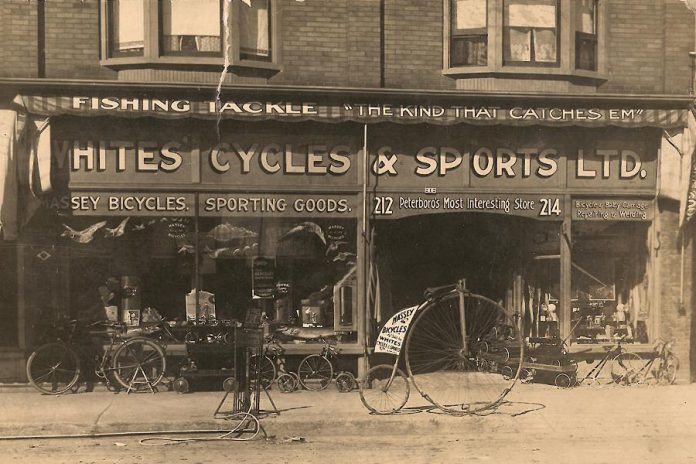 Along with the replica high wheel bike, the pop-up exhibit features cycling-related images from the archives of the Peterborough Museum and Archives, as well as images from Peggy Brownscombe, the daughter of Ollie White, the former owner of White's Cycle and Sporting Goods, one of Peterborough's earliest bike shops.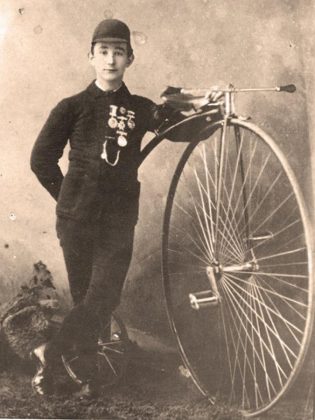 "Many of the images have stories behind them that are yet to be discovered," Thorne says, "For example, we have a lovely photo of Alex Gibson with his high wheel bike and medals. He was a member of the Peterborough Cycling Club, even the treasurer for a time, and his father was likely a watchmaker."
While the pop-up exhibit is at the Peterborough Public Library, the library will feature staff picks for bicycle and history books. There will be a book to sign where you can add your own bicycling history story and contact information.
"Cycling is a large part of the Peterborough community and has been for some time," says library CEO Jennifer Jones. "This pop-up exhibit gives us the opportunity to glimpse into the rich history of bicycles in our neighbourhoods. The library is thrilled to be able to provide the space to bring some of that history to light."
The Bicycle Museum's first pop-up project was hosted during November at B!KE, the community cycling club located in downtown Peterborough.
"It's easy to forget that people have been riding bicycles for longer than they have been driving cars," says B!KE executive director Tegan Moss. "It's challenging to imagine what our cities looked like before the automobile. Peering into the past shows us how quickly sport and transportation can change."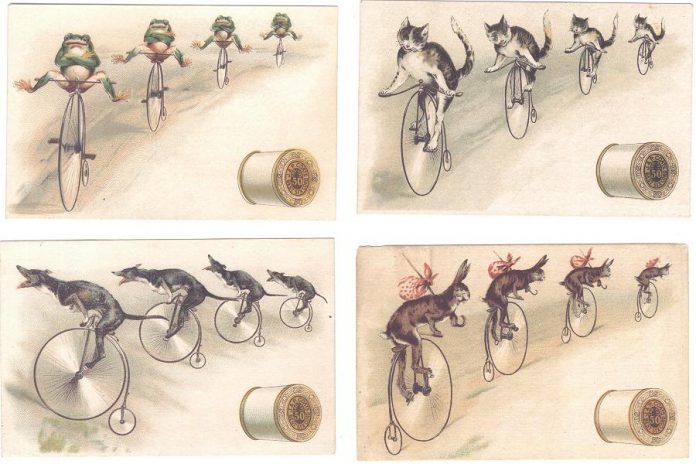 Peterborough Mayor Diane Therrien, who visited the first pop-up exhibit at B!KE, encourages Peterborough residents to experience the exhibit.
"Cycling is an important part of Peterborough's transit systems," she says. "Our cycling infrastructure is growing through the expansion of bike lanes and trail connections. Living in a bike-friendly city boosts tourism, encourages active transportation, and ensures people of all ages are able to live in a healthy, sustainable way."
The Bicycle Museum plans to produce new exhibits in 2019, including one featuring Canada Cycle & Motor Co. Ltd (CCM) artifacts and bicycles and another featuring service bicycles and stories.
For more information about The Bicycle Museum, visit thebicyclemuseum.ca. If you have information to share about Peterborough's cycling history or an artifact you'd like to share, you can also email thebicyclemuseumptbo@gmail.com.