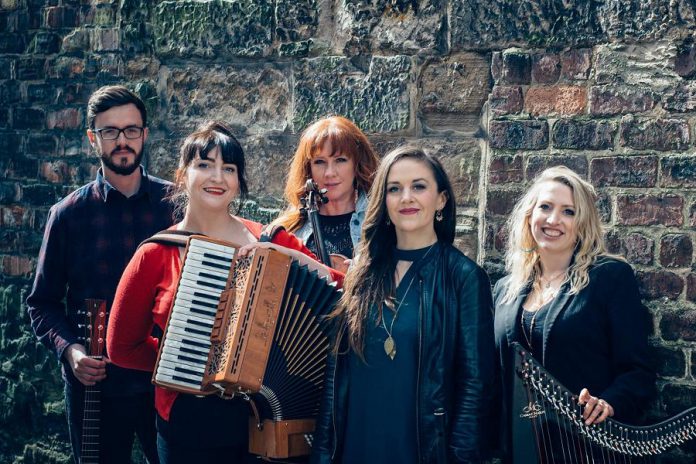 If you're suffering from the winter doldrums, here's a surefire cure: foot-tapping and emotionally moving world-class Celtic music from The Outside Track.
One of the top Celtic acts in the world, The Outside Track will be performing at Peterborough's Market Hall at 8 p.m. on Wednesday, February 27th.
The band features five musicians from Canada, Ireland, and Scotland who are united by a love of traditional music and a commitment to creating new music using this as a foundation.
Blending fiddle, accordion, harp, guitar, flute, whistle, step-dance and vocals with boundless energy and unmistakable joie de vivre, The Outside Track has won a large following around the globe.
VIDEO: "Canadee-i-o" – The Outside Track

They've been named "Best Group" in both the Live Ireland awards and the Tradition In Review awards and were nominated as "Best Live Act" at the MG Alba Scots Traditional Music Awards.
The Outside Track has released six records, with their self-titled debut in 2007, followed by Curious Things Given Wings in 2010, The Mountain Road in 2012, Flash Company in 2013 (which won the German Radio Critics Prize), Light up the Dark in 2015, and Rise Up in 2018.
The band's current lineup is Ailie Robertson (harp, electro harp), Cillian O'Dalaigh (guitar, vocals), Fiona Black (accordion), Mairi Rankin (fiddle, vocals, step dance), and Teresa Horgan (vocals, flute).
VIDEO: "Dark Reels" – The Outside Track

The Outside Track is now touring the UK, the U.S., Canada, and Germany in support of Rise Up, which Folk Radio UK calls "a magnificent album that puts The Outside Track firmly back in the spotlight, as one of the most accomplished bands on the international folk scene."
Tickets are $25 general admission or $30 for assigned cabaret table seats, and are available in person at the Market Hall box office (140 Charlotte St., Peterborough), by phone at 705-749-1146, or online at markethall.org.
Lots of general admission tickets are still available for the show, and if you need another reason to cure your winter doldrums: Peterborough's own singer-songwriter Melissa Payne will be opening the show.
VIDEO: "September Skies" – Melissa Payne