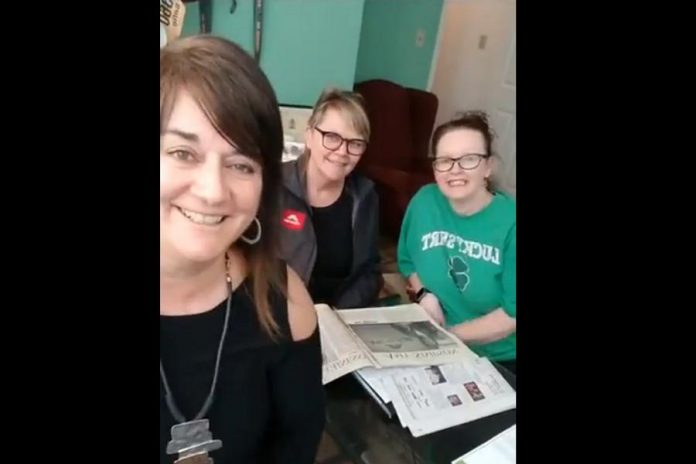 The nominees have been announced for the 2019 Women In Business Award and Judy Heffernan Award, presented by the Women's Business Network of Peterborough.
Organizing committee members Sofie Andreou, Tracey Ormond, and Amy Simpson shared the list of nominees on Facebook Live on Saturday afternoon (March 16), shortly after nominations closed.
Thirty women have been nominated for the Women In Business Award, which will recognize a woman who demonstrates business leadership that has led to job creation, innovation, and increased business acumen. It will also recognize the recipient's impact on the community at large, including fundraising, volunteering, and other contributions.
Fourteen women have been nominated for the Judy Heffernan Award, which will recognize a female entrepreneur, mentor, or student who embodies the late Judy Heffernan's legacy of humbly helping others succeed. Heffernan was a well-respected leader of the local business community who passed away in 2013 at the age of 61 after a brief battle with cancer. She was widely known as a tireless promoter of the entrepreneurial dreams and passions of women both young and old.
A list of all the nominees for both awards is provided below.
The awards will be presented at a dinner on Tuesday, April 9th at the Personal Touch Banquet Hall (1135 Lansdowne St. W.,), formerly known as the Parkway Place Banquet Hall. Andreou and Ormond (who have both also been nominated for the Women in Business Award) will be the evening's hosts, along with Amy Simpson.
Tickets are now available for the awards dinner, which which will include a keynote speech by Rhonda Barnet, the Chief Operating Officer of Steelworks Design, an engineering and custom automation firm she co-founded with her husband Don Barnet. She is also a past Chair of the National Board of the Canadian Manufacturers & Exporters, the first female chair in that organization's history.
Tickets for the awards dinner are available at a cost of $65 for WBN members or $75 for non-members (tables are also available). For more information and to purchase tickets online, visit www.womensbusinessnetwork.net/awards-event/.
Women In Business Award nominees (alphabetical by surname)
Sofie Andreou (Sofie Andreou & Associates)
Karen Auger (BDO Canada)
Rhonda Barnet (Steelworks Design)
Marlaine Bennett (Bennett's Home Furnishings)
Leslie Bridget (My Left Breast)
Tina Bromley (Tiny Greens Plant Café)
Monika Carmichael (Trent Valley Honda)
Colleen Carruthers (T-R Group)
Darlene Cook (Peterborough Housing Corporation)
Vanessa Dinesen (Dinesen Financial)
Jennifer Garland (The Mane Intent)
Shannon Gray (Sugar Me Right!)
Vanessa Oake Hogan (Century 21 United Realty Brokerage)
Karen Irvine (A Taste of the Kawarthas Magazine)
Jenni Johnston (Art School of Peterborough)
Teresa Kaszuba (The Morning Show on Global Peterborough/CHEX)
Theresa Longo (Theresa Longo Brands.)
Jay Lough Hayes (RE/MAX Rough River Realty Ltd.)
Ann Marie Maly (Bruce Maly Plumbing and Drain Services)
Erin McLean (McLean Berry Farm)
Tracey Ormond (That's a Wrap Catering)
Louise Racine (Thirteen Moons)
Jennifer Scates (Central Smith Creamery)
Leslie Scott (Walton Wood Farm)
Catia Skinner (Mega Experience)
Martha Sullivan (Sullivan Law Ptbo)
Christine Teixeira (Accountability Financial)
Shelby Leonard Watt (SOS Save Our Soles)
Sheneese Wilkins (Mink Magic Beauty Bar)
Judy Heffernan Award nominees (alphabetical by surname)
Kim Appleton
Anne Arnold
Rhonda Barnet
Colleen Carruthers
Diana Carter
Susan Dunkley
Michelle Ferreri
Jennifer Garland
Theresa Longo
Tracey Ormond
Grace Reynolds
Peggy Shaughnessy
Jeannine Taylor
Sheneese Wilkins
Past Award Recipients
Women In Business Award
2018 – No award*
2017 – No award*
2016 – Gwyneth James, Cody & James Chartered Professional Accountants
2015 – Amy Simpson, MicroAge
2014 – Kerri Davies, Canadian Mental Health Association HKPR
2013 – Kyla Gutsche, Cosmetic Transformations
2012 – Sally Harding, Nightingale Nursing
2011 – Sheridan Graham, The County of Peterborough
2010 – Jean Grant, The Toy Shop
2009 – Kathy Windrem, BDO Canada
2008 – Mary LaRocque, Marlin Travel
2007 – Tina Johnston, Fandango Spa
2006 – Kim Paget, Paget Dental
2005 – Jeannine Taylor, Kawartha Now
2004 – Helen Hamilton, Costume King
2003 – Gail Courneyea, Angels of Flight
Judy Heffernan Award
2018 – No award*
2017 – No award*
2016 – Louise Racine
2015 – Sofie Andreou
*Both the Women in Business Award (previously known as the Business Woman of the Year Award) and the Judy Heffernan Award (previously known as the Judy Heffernan Memorial Award) were organized by the Peterborough Examiner until 2016. The Women's Business Network of Peterborough assumed responsibility for both awards in 2019.