Located south of Katchewanooka Lake on both sides of the Otonabee River on the Trent-Severn Waterway, the Village of Lakefield offers many of the amenities of big-city life in a quaint small-town setting with a rich cultural heritage.
Dubbed the gateway to cottage country in Peterborough & the Kawarthas, Lakefield's history dates back to the early 19th century. The village was originally founded by Colonel Samuel Strickland (brother of the iconic 19th-century writers Catharine Parr Traill and Susanna Moodie) when he settled in the area in 1831. Before becoming known as Lakefield, the village was previously called Nelson's, Herriot's Falls, and then Selby.
Originally sustained by the saw mill industry, Lakefield is now a prosperous residential community supported by small business, especially retail and tourism, along with international companies including SGS Research and Savage Arms.
A 15-minute drive north of Peterborough, a two-hour drive from Toronto, and a three-hour drive Ottawa, Lakefield's historic homes and heritage sites, vibrant downtown, and close proximity to many local attractions make it an ideal destination for your next Canadian getaway.
---
What to Do
Browse the charming boutique shops of Queen Street
Lakefield is known for its picturesque main street featuring many charming boutique shops that offer everything from fashion to yarn to gifts to gourmet chocolate.
Here are just five shops to explore, all within easy walking distance of each other.
Happenstance Books & Yarn (44 Queen St., 705-652-7535) has a unique combination of fiction and non-fiction books for all ages, and the finest in knitting and crochet yarns for whatever project you have in mind. Open 9 a.m. to 5:30 p.m. Monday to Thursday, 9 a.m. to 6 p.m. on Friday, 9 a.m. to 5 p.m. on Saturday, and 11 a.m. to 3 p.m. on Sunday.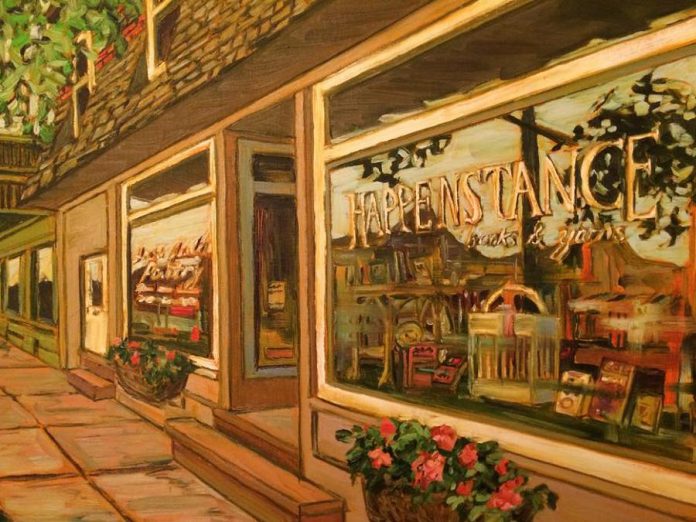 The Chocolate Rabbit (11 Queen St., 705-652-8884) offers delicious handcrafted chocolate, free of preservatives and artificial ingredients, with all chocolate made daily on the premises (you can watch it being made). Make sure to also check out the variety of loose-leaf organic teas, including herbal, fruit, green, and black teas, as well as a wide range of tea accessories. Open 10 a.m. to 5 p.m. Monday to Saturday and 11:30 a.m. to 3:30 p.m. on Sunday.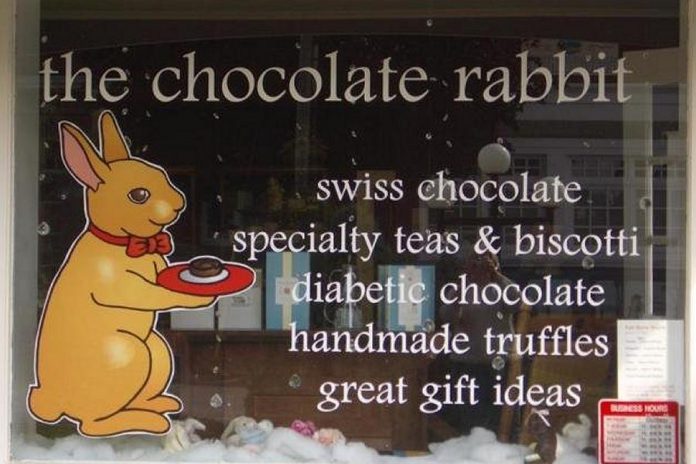 Celtic Connection (25 Queen St,, 705-651-2012) celebrates the best of Celtic culture with handpicked apparel, gemstone jewellery, books on Celtic lore, and much more. Owner Mary McGillis also organizes the annual Fairy and Dragon Festival in June. Open from 10 a.m. to 5 p.m. Monday to Friday, 10 a.m. to 4:30 p.m. on Saturday, and 1 to 3:30 p.m. on Sunday.
Tragically Hipp Fashion Gallery (60 Queen St., 705-652-0666) is a boutique fashion shop offering affordable, everyday apparel and accessories for women who see themselves as unique and authentic. Make sure to check out their first-ever spring fashion show on April 11th at The Village Inn in Lakefield. Open 10 a.m. to 5 p.m. Monday to Friday and 10 a.m. to 4 p.m. on Saturday (closed on Sunday).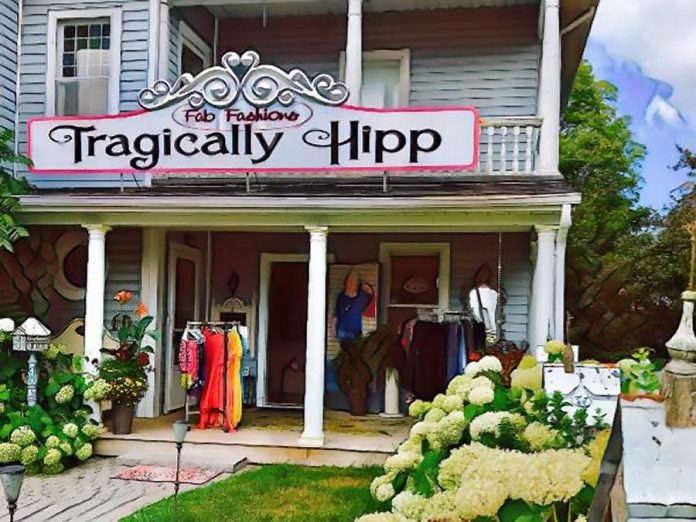 The Stuff Store (49 Queen St., 705-651-4411) is a quirky and fun gift store offering home decor and housewares, toys, socks and slippers, games and puzzles, and pretty much all the other stuff you can imagine. You can even purchase a bottle of handmade "Woosta" (Stuff's own Worcestershire sauce). Open 10 a.m. to 6 p.m. Monday to Saturday and 10 a.m. to 5 p.m. on Sunday.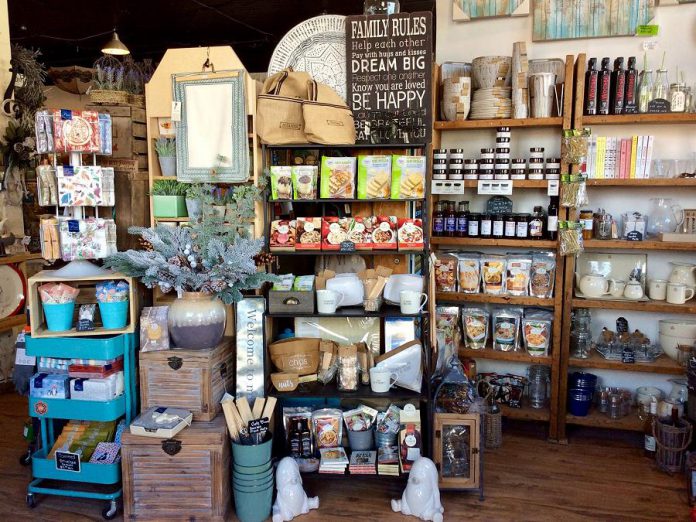 Pamper yourself with a pedicure or even a full spa day
After you finish shopping downtown, indulge yourself with a makeover at one of Lakefield's two full-service salons and spas conveniently located on Queen Street.
Salon Sorella and Day Spa (42 Queen St., 705-652-0100) offers a range of salon services (including hair cutting, styling, colouring, tinting, and specialty services) and as spa services (including hand and foot care, waxing, massage, nail enhancement, makeup, skin treatment, and more). Open 9 a.m. to 5 p.m. on Tuesday and Friday, 9 a.m. to 8 p.m. on Wednesday and Thursday, and 9 a.m. to 3 p.m. on Saturday (closed Sunday and Monday).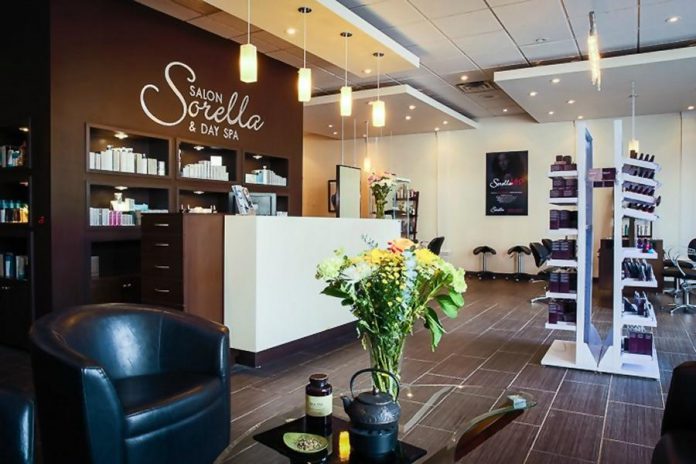 Sunshrine Day Spa & Salon (21 Queen St., 705-652–0155) offers hair styling and colouring as well as bridal services, body treatments, skin therapies, hand and foot care, hair removal, makeup, ear piercings, and more. Sunshrine also offers salon and spa services for men and kids too. Open 10 a.m. to 6 p.m. on Monday, 9 a.m. to 6 p.m. on Tuesday and Friday, 9 a.m. to 7 p.m. on Wednesday, 9 a.m. to 8 p.m. on Thursday, and 9 a.m. to 4 p.m. on Saturday (closed on Sunday).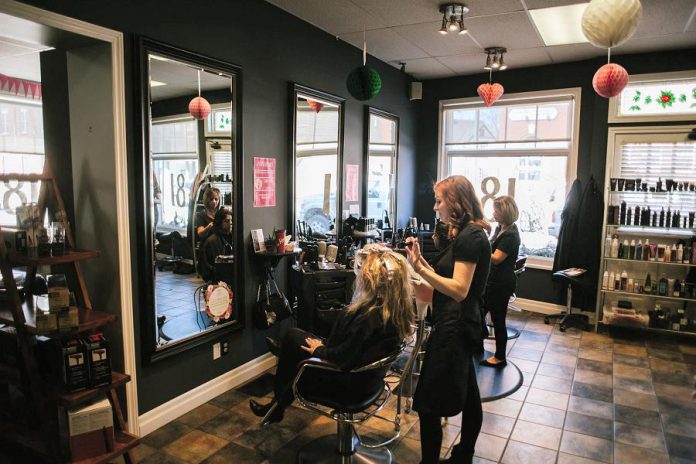 Throw a pot or two at The English Potter
Gail West moved to Canada from the United Kingdom in 2000 shortly after attaining her diploma for design studio ceramics, and eventually opened The English Potter (15 Burnham St., 705-957-4245), located just off of Queen Street.
The pottery studio not only displays Gail's collection of her whimsical handmade pottery that you can purchase, but Gail also offers pottery and clay sculpture classes for all ages.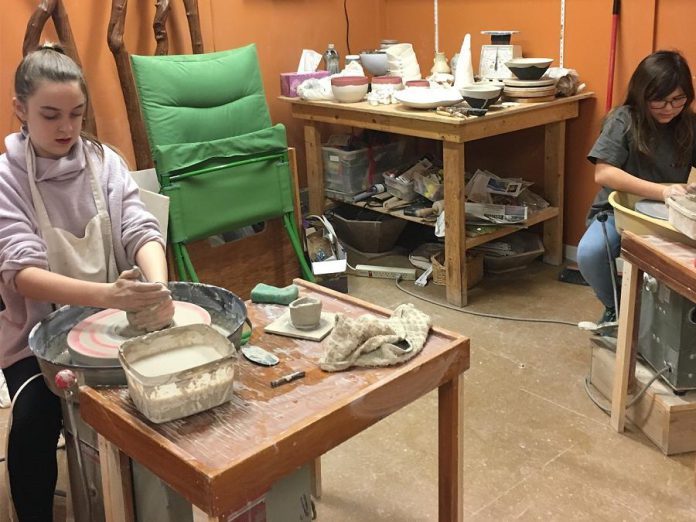 Whether you're a beginner who's just getting started with pottery, or a serious hobbyist looking to refine your skills, Gail has a class suited to your individual needs.
The English Potter is open daily from 10 a.m. to 5 p.m. For class availability, call Gail or visit her website at www.englishpotter.com.
Walk the Lakefield Trail and take in some bird-watching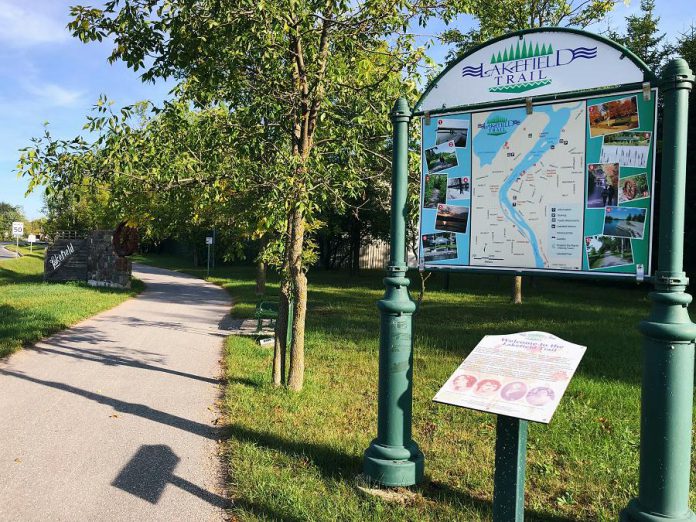 The Lakefield Trail is a 5.5 kilometre trail that meanders through the Village of Lakefield and connects to the Trans Canada Trail via the Peterborough County Rotary Trail (yes, you can walk all the way to Peterborough on the trail if you want).
All sections of the multi-use trail are fully accessible, with historical interpretive signs along the trail telling the story of Lakefield's notable literary past and canoe-building heritage.
On the west side of the Otonabee River, as the trail follows the southern tip of Katchewanooka Lake, you can visit the Imagine the Marsh Conservation Area, where Doug Sadler Viewing Tower offers bird watchers an ideal lookout over the vast marshland area.
Make sweet memories at Maplefest
What better way to shake off winter and get into the sweet spirit of springtime than with maple syrup?
On weekends in March, McLean Berry Farm (2191 16th Line, Lakefield) hosts Maplefest. This is a great event for the whole family, featuring wagon rides, pancakes with fresh maple syrup, farm animals, live music by local performers, visits to the sugar shack, tapping a maple tree, making maple toffee in the snow, and so much more.
Maplefest takes place at McLean Berry Farm (a 10-minute drive north of the Village of Lakefield) on March 16th and 17th, 23rd and 24th, and 30th and 31st from 9:30 a.m. to 4 p.m. Admission is $8 per person (toddlers under 24 months are free) or $30 for a family of four, and includes a hay ride. You can enjoy a pancake breakfast for an additional $7.99 (small) or $9.99 (large).
For more information, visit mcleanberryfarm.com/events/maplefest/.
Explore Canada's literary history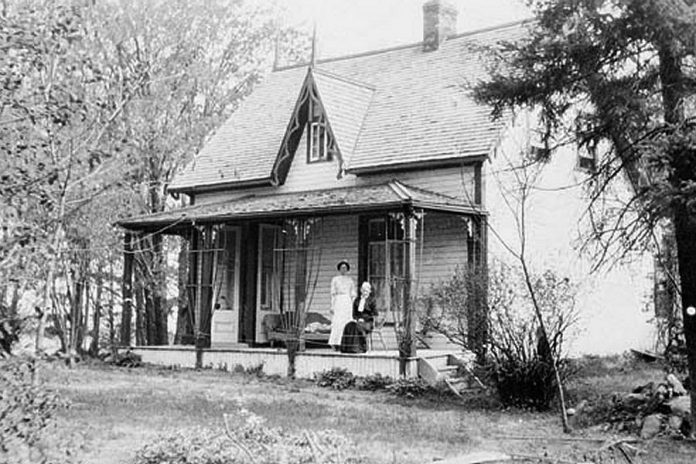 The Village of Lakefield has a rich literary heritage, with two of Canada's most important 19th-century writers — sisters Catharine Parr Traill and Susanna Moodie — having lived in the area, as well as one of Canada's most esteemed and beloved writers, the novelist and short-story writer Margaret Laurence.
Born in England almost two years apart, Susanna and Catharine Parr Strickland eventually married, respectively, John Moodie and Thomas Traill. In 1832, both families emigrated to Canada where they settled on adjacent bush farms along the eastern shore of Lake Katchewanooka just north of Lakefield, with the help of their brother Samuel Strickland.
Their experiences as pioneers led to Catharine Parr Traill's book The Backwoods of Canada (1836) and Susanna Moodie's book Roughing It in the Bush (1852).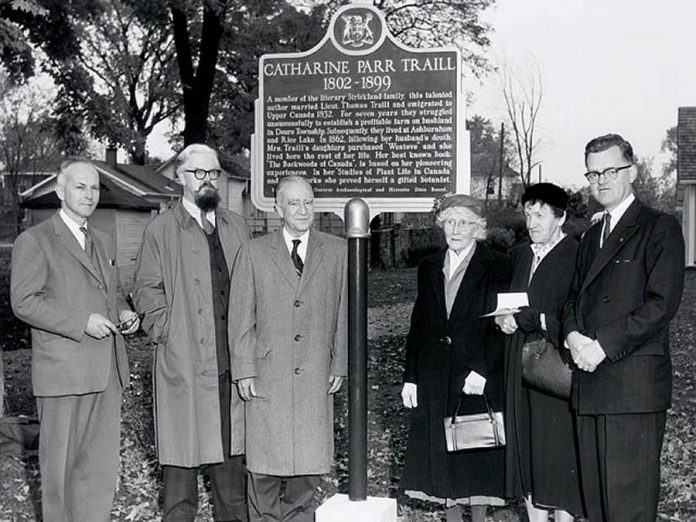 In 1840, Susanna Moodie and her husband moved to Belleville, but she returned to the Lakefield area for a month each summer to visit her sister.
The prior year, the Traills sold their farm and then lived at various locations in Peterborough County until Thomas Traill died in 1859. Following her husband's death, Catharine had a cottage built in Lakefield with the help of her brother Samuel.
She called it "Westove", after her husband's home in the Orkney Islands in Scotland. Except for short absences to visit family and friends, it was Catharine's home from 1860 until her death in 1899.
Located at 16 Smith Street in Lakefield, it is now a private residence with a historical plaque located beside the home.
One of Canada's most esteemed literary figures, Margaret Laurence, spent the last 13 years of her life in Lakefield. She is best known for her iconic books The Stone Angel (1964), A Jest of God (1966), and The Diviners (1974).
Called the "First Lady of Lakefield", Laurence lived at 8 Regent Street in Lakefield from 1974 until her death there in 1987. She also had a cottage on the Otonabee River near Peterborough, where she wrote The Diviners during the summers of 1971 to 1973.
Laurence's Lakefield home is located near Christ Church (62 Queen St.), a small stone church built in 1853 under the leadership of Samuel Strickland. It now houses the Christ Church Community Museum, which displays important historical artifacts and displays including the Strickland family history and information about Susanna Moodie, Catharine Parr Traill, Margaret Laurence, and 19th-century writer and poet Isabella Valancy Crawford, who also lived in Lakefield.
Christ Church Community Museum is only open to the public in the summer, when Lakefield also hosts the annual Lakefield Literary Festival. The 25th anniversary festival takes place in 2019 from July 13th to 14th.
---
Where To Stay
The Village Inn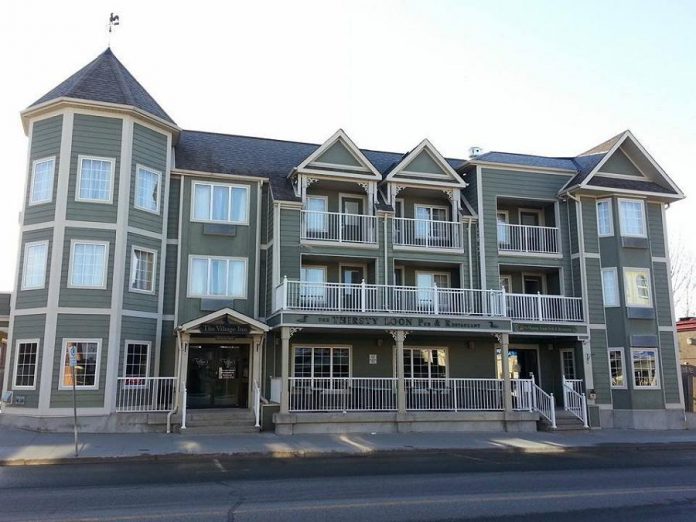 Located at 39 Queen Street, The Village Inn is an award-winning boutique-style hotel offering modern amenities in an atmosphere of country charm.
With 26 rooms and two luxury suites, its central location in the heart of downtown makes The Village Inn the perfect place to stay as you explore everything Lakefield has to offer. Continental breakfast is included with your stay.
The Village Inn has recently renovated most of its rooms, just in time for its 15th anniversary in 2019. During March and April, you can book one night and receive a 10 per cent discount, or book two nights or more and receive a 20 per cent discount.
For reservations, call 705-652-1910 or toll free at 1-800-827-5678. For more information, email info@villageinn.ca or visit www.villageinn.ca.
Wee Butt 'n' Ben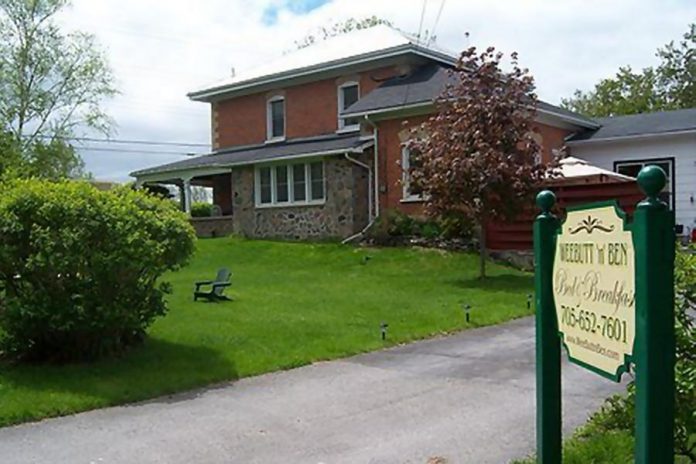 If you're looking for a Scottish bed-and-breakfast experience, you'll want to stay at the historic Wee Butt 'n' Ben, located at 58 Bridge Street.
Operated by Sadie Baillie and Jimmy Smith, Wee Butt 'n' Ben offers three comfortable bedrooms — named Heather, Rose, and Bracken — as well as a first-rate Scottish breakfast to get your day off to a hearty start.
All rooms feature queen-size beds, chairs, lamps, and clocks. A separate full washroom, and a one-and-a-half-piece washroom, are shared by the three rooms.
For more information, call 705-652-7601, email info@weebuttnben.com, or visit weebuttnben.com.
---
Where to Eat
Cassis Bistro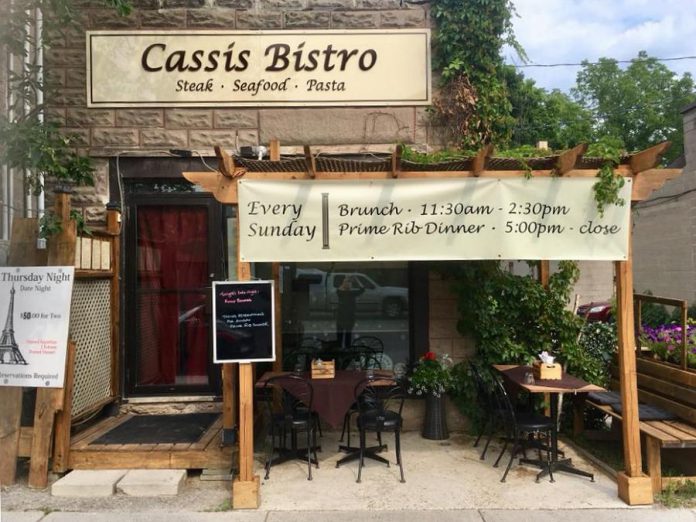 For casual fine dining in the heart of Lakefield, you'll want to eat at Cassis Bistro (27 Queen St.).
All dishes are made to order and in-house using fresh ingredients, many sourced locally, to produce delicious beautifully presented meals.
Cassis Bistro is open for lunch from 11:30 a.m. to 2:30 p.m. Tuesday to Saturday, and for dinner from 5 to 8 p.m. Tuesday to Sunday (closed Mondays).
Reservations are recommended. For more information, call 705-652-8045, email cassisbistro27@gmail.com, or visit cassisbistro27.com.
Jack's Restaurant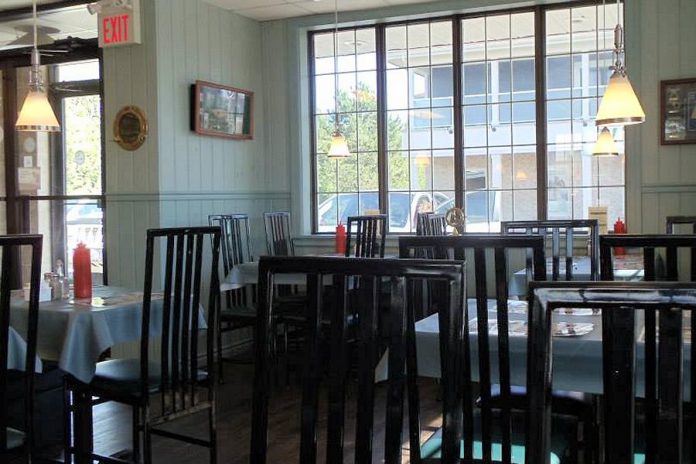 For affordable family dining, stop in at Jack's Restaurant (1 Strickland St.).
Jack's offers seafood, fish and chips, rotisserie chicken and ribs, home-made burgers, and more, with all-you-can-eat fish and chips on Tuesdays.
Open daily from 7:30 a.m. to 8 p.m., Jack's also serves breakfast from 7 a.m. to 11 a.m. on weekdays and from 8 a.m. to 1 p.m. on weekends.
For more information, call 705-652-3474 or visit www.jacksrestaurant.ca.
Canoe & Paddle Pub
For a classic English pub experience, check out the Canoe & Paddle Pub (18 Bridge St.).
A favourite with locals, the Canoe & Paddle offers classic English pub fare (including Yorkshire pudding, toad-in-the-hole, bangers and mash, beer-bttered fish and chips) and 14 craft beers on tap, along with bottled beer, wines, and cocktails.
There's also live music featuring local performers two or three nights a week.
The Canoe & Paddle is open 11 a.m. to 11 p.m. Monday to Wednesday and Sunday, and 11 a.m. to midnight Thursday to Saturday.
For more information, call 705-651-1111 or visit www.facebook.com/canoeandpaddle/.
The Nutty Bean Cafe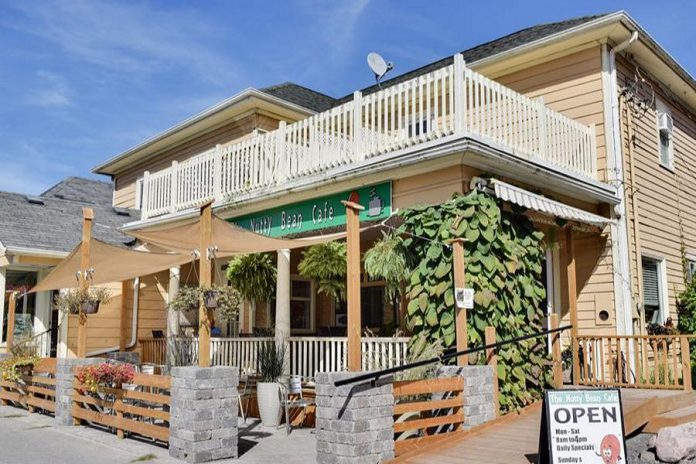 For breakfast or a quick lunch, stop by The Nutty Bean Cafe (33 Queen St.), another favourite with the locals.
The Nutty Bean offers fresh-baked scones, muffins, cookies and butter tarts in the morning and a selection of sandwiches with house-made soup and market salads throughout the day, with organic fair-trade and shade-grown coffee available by the cup or beans by the bag.
The Nutty Bean supports local suppliers, purchasing from local farmers, cheesemakers, and butchers whenever possible.
The Nutty Bean Cafe is open from 8 a.m. to 3 p.m. Tuesday to Saturday and 10 a.m. to 3 p.m. on Sunday (closed Mondays). For more information, call 705-652-9721, email cafe@thenuttybeancafe.com, or visit thenuttybeancafe.com.
---
This story was created in partnership with Peterborough & The Kawarthas Tourism. Visit thekawarthas.ca and follow them on Facebook, Instagram, and Twitter.