In the wake of Netflix sensation Tidying Up with Marie Kondo, you may be feeling inspired to purge unwanted clutter this spring. What to do with all of the gently used items that no longer "spark joy"?
The answer is simple: look to your community for opportunities to donate these goods so that their useful life is extended.
As we begin spring cleaning and decluttering, we can take some comfort in knowing that our unwanted items can stay out of the landfill and thereby remain useful.
Living with less is an admirable goal and when we work toward it we have the opportunity to support local charities and non-profits as well as enrich the lives of others within our community.
Here are some Peterborough organizations that accept donations:
---
Peterborough Alternative and Continuing Education
The spring purge often starts with the closet. As you rifle through sweaters, pants, and shirts, consider packing up your unwanted things for Peterborough Alternative and Continuing Education (PACE).
PACE has a wonderful free market for their students called The Boutique. This second-hand free market started when staff started bringing in items that students needed, and it has grown over the last seven years to become a full room of donated items organized by volunteers, and available for students to shop for free for the items they need.
PACE students range in age from 16 to 75, so nearly everything is needed. In particular, The Boutique is in need of adult men's clothing.
Items can be dropped off at the PACE main office between 8:30 a.m. and 4:30 p.m. at 201 MacDonnel Street in Peterborough. For more information visit pace.kprdsb.ca.
YES Shelter for Youth and Families
Just around the corner from PACE is the YES Shelter for Youth and Families at 196 Brock Street in Peterborough. YES helps youth and families in Peterborough lead full and positive lives by providing shelter, education, and transitional supports.
YES has posted a wish list online at yesshelter.ca/get-involved-now/wish-list/ where you can find the items they are in need of.
Depending on the season, the wish list changes so be sure to consult their website for the in-kind items that you may be able to donate. There is an ongoing need for men's boxers, female undergarments, socks, personal hygiene items, and soon, spring and summer clothing.
Peterborough Humane Society
As you finish up going through your clothing, you'll likely want to start going through other areas of your home to separate out those unwanted or unneeded items. If you're cleaning out the linen closet, be sure to save your old sheets and towels fort the Peterborough Humane Society at 385 Lansdowne Street in Peterborough.
The Peterborough Humane Society is a non-profit charitable organization that relies on the generosity of the community to meet the needs of the animals in their care. As you sort through your belongings, consider consulting the organization's wish list at peterboroughhumanesociety.ca/wishlist/.
They accept typical pet care items like pet beds and toys, but there is also a need for gently used linens, laundry detergent, and office supplies — even shoe boxes, which provide a cozy home for kittens that are making the transition into the centre.
Compass Early Learning and Care
Compass Early Learning and Care is also in need of sheets, along with ropes, and pulleys to make flags and hammocks with the school aged programs.
Compass facilitates licensed home child care and school age programs for children ages 6 weeks to 12 years, and they gratefully accept many other items, too.
Drop off for these items is at the Compass Early Learning and Care head office located at 550 Braidwood Avenue in Peterborough.
Peterborough Child & Family Centres
Moving on to the kids' rooms, young children seem to grow out of their toys quite quickly but there's no need to toss them in the garbage.
Did you know that Peterborough has a toy library? The Peterborough Child & Family Centres (PCFC) have a Toy and Book Lending Library located at 201 Antrim Street in Peterborough.
PCFC is a registered charitable nonprofit organization that provides information and support to expectant parents and families with young children living in the county and city of Peterborough. For more than 30 years, PCFC has offered programs and services for families of young children. From parent education, to parent-child programs, and well baby clinics, PCFC serves babies, young children, and families. Their services can be found in a variety of safe, accessible, urban and rural locations across the city and county.
The PCFC Toy Library is grateful for donations of gently used toys, board games, and books for children up to six years old. Families are welcome to bring donations during their opening hours. For more information visit ptbocfc.ca/toy-library/ or call 705-748 9144 ext. 310.
Peterborough Tool Library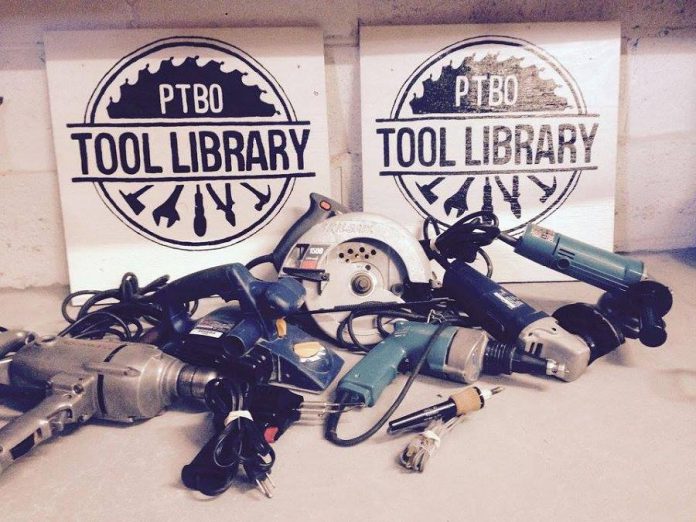 For the adults, Peterborough has a tool library located at 910 High Street in Peterborough. A tool library is like a typical library, but for tools instead of books.
The Peterborough Tool Library allows community members to borrow from a large inventory of tools and take those tools home to use them. According to the Tool Library, this supports independence, creativity, and sharing in our community.
Tool donations are welcome during library hours. For more information, visit ptbotoollibrary.myturn.com
Creating Space Peterborough
From the tool shed to the craft cupboard: it's amazing how craft and scrapbooking supplies can build up!
Your unwanted craft supplies can stay out of the recycling bin. Creating Space, at 441 Rubidge Street in Peterborough, is often in need of certain crafting supplies.
They are a community arts studio that "fosters community resilience by making art, telling stories, and learning together."
Before you donate your unwanted art and craft supplies, please contact them at creatingspaceptbo@gmail.com (you can also find them on Facebook at www.facebook.com/creatingspacePtbo/).
If you decide to lighten your load of stuff this spring by purging and decluttering, you can look beyond the typical donation spots and support your local community.
Not only will you be giving your unwanted items another life, you'll also be reducing your impact on the landfill, and generously supporting those in need — which is sure to bring you joy.