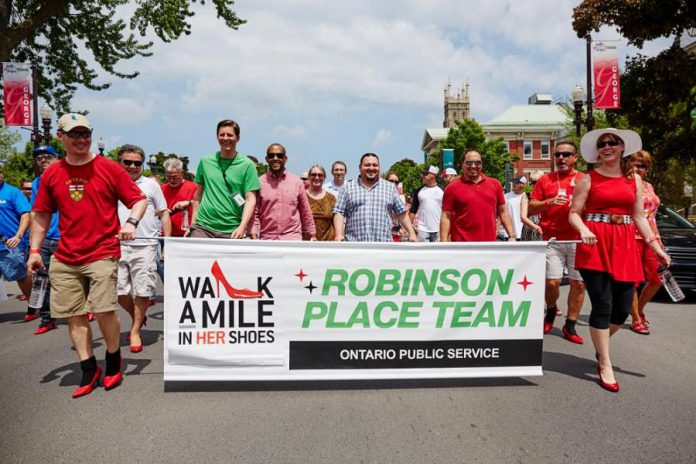 Registration is now open for the 2019 YWCA Walk a Mile in Her Shoes fundraiser, which returns for its 11th year on Friday, May 24th.
YWCA Peterborough Haliburton held a launch event on Thursday (April 4) at its Simcoe Street office.
Drew Merrett, representing the walk's title sponsor Merrett Home Hardware Building Centre, presented awards to Craig Mortlock of Mortlock Construction for being the top individual fundraiser and Tom Mortlock of Team Mortwalk for being the top team fundraiser at last year's event.
YWCA Walk a Mile in Her Shoes raises funds to support "Safe Nights" at YWCA Crossroads Shelter for women and children fleeing abuse. A Safe Night represents the $64.65 cost of housing and supporting a woman or child at the shelter for one night, including a private room, 24-hour confidential onsite support, nutritious meals, supportive programming, and more. This is the cost beyond funding provided by the government, which only partially funds the shelter.
The 2019 YWCA Walk a Mile in Her Shoes event takes place on Friday, May 24, 2019 beginning at Confederation Park (499 George St N, Peterborough), across from Peterborough City Hall. Mandatory check-in is at 11 a.m., with the walk beginning at 12 p.m., when it will proceed down George Street to King Street, and then back up Water Street to Confederation Park.
People of all ages, genders, and abilities are welcome to participate. While the event is known for participants (including men) wearing red high heel shoes, this isn't necessary to participate in the walk. The red shoes are just a symbol, and participants are encouraged to walk in whatever shoes they feel most comfortable wearing.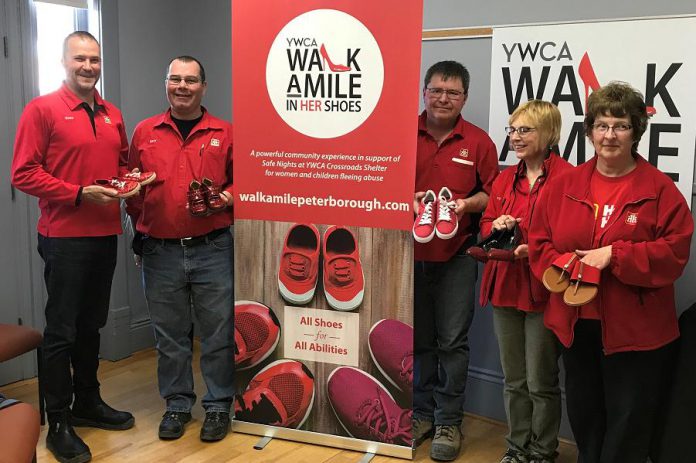 If you do want to wear red high heels, these are available in men's and women's sizes on a first-come first-served basis upon check-in. A minimum pledge of $64.65 (the cost of one Safe Night) is required to participate, which will give you access to the red high heels as well as a t-shirt and lunch on the day of the walk.
Participants who raise over $452.55 (representing one Safe Week at YWCA Crossroads Shelter) will be entered in a draw to win a $500 gift certificate donated by Primal Cuts and a $799 three-piece conversation set donated by Leon's Peterborough.
To register as a walker, create a team, or join a team, visit walkamilepeterborough.com. You can also download and print pledge forms from the website.
YWCA Peterborough Haliburton is also seeking volunteers to help out during the May 24th event. For more information, email tmacfarlane@ywcapeterborough.org.
VIDEO: What Safe Nights Mean to Women and their Children