Beginning Friday, April 12th, St. James Players invites audiences of all ages to go down the rabbit hole when they present a production of American playwright Jonathan Yukich's Alice @ Wonderland: The Musical.
Directed by Hayden Henderson with assistance from Jim Mills, Alice @ Wonderland: The Musical features all of the beloved characters from Lewis Carroll's classic children books, but with a modern twist: Alice who comes from the era of social media, cell phones, and a Starbucks on every corner.
The St. James Players' spring theatrical production has been a tradition for the local theatre company for over 40 years. Focused on shows to entertain a family audience, the spring productions have always been designed to bring young performers into the show and give them their first taste of theatre.
Alice @ Wonderland: The Musical is no exception to this, with the majority of the cast being under the age of 16. This group of dedicated performers, under the watchful eye of devoted local theatre advocates, are creating a colourful show filled with fantasy, music, dancing, and fun.
In the lead role is Waverly Porter, a grade 12 student in the arts program at Thomas A. Stewart Secondary School in Peterborough. Playing an Alice pulled out of the 21st century and dropped into the traditional Wonderland, this is only Waverly's second theatrical experience and her first in a lead role that puts her in every scene and musical number.
"It's a lot of responsibility, but it's a lot of fun as well," Waverly tells me during a break during a Sunday afternoon rehearsal. "I have to be here all the time, but I get to work with everyone and I've made a lot of friends."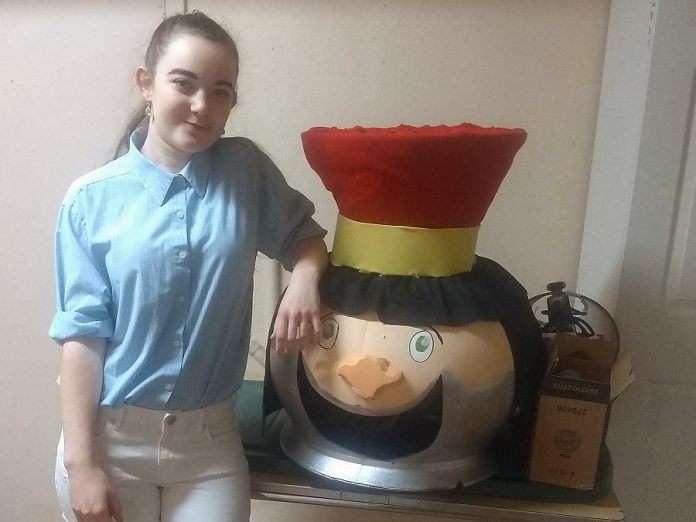 Although most people are familiar with the character Alice and her adventures in Wonderland, the story has been reinterpreted so many times since it was first published in 1865 that the character of Alice herself has become an intangible figure. This has given Waverly freedom to put her own unique stamp on the character.
"Instead of being the cute and curious Alice, I'm a lot more sassy," Waverly admits. "Alice is confused about where she is, but she gives the characters she meets so much grief. I bring a lot of myself to the character. I'm a very outgoing and sassy person. I try to pull myself into the character as much as possible. I know who I am, so that is who I need to be.
"I feel that Alice comes from a very privileged family, but by having gone through Wonderland she leaves thinking about things differently. She thinks about how she should spend her time, and try to understand things that she might not understand."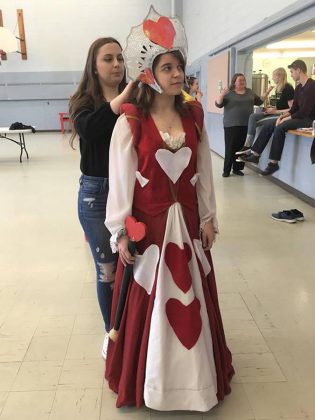 Of course, every Wonderland needs a Mad Hatter, and the Hatter in Alice @ Wonderland: The Musical is played by Adam Airhart. His fourth production with St. James Players, Adam is considered to be one of the veteran performers in the cast despite his young age.
"I am totally excited to play the Mad Hatter," Adam says. "In other shows I've played calmer characters, but with the Mad Hatter I can be myself and throw whatever I want into the character. If I want to be more exciting, I can just go for it."
The Mad Hatter is another character that has been reinterpreted many times, ranging from very comical to very sinister. Adam explains he is doing a light and humorous version of the character, but brings his inspiration for two very different fictional characters from two very different genres.
"I'm trying to bounce between Hamlet and The Joker," Adam says. "I can go from being very unpredictable and exciting to being very focused and intimidating."
Making their debut with St. James Players are Tori Thibodeau and Ben Stevenson, who play the Queen and King of Hearts. Although Tori has appeared on other stages before, this is Ben's first theatrical experience.
"I've always been interested in acting," Ben says. "I saw some of my friends in St. James' production of Mary Poppins, and after that I started auditioning for shows."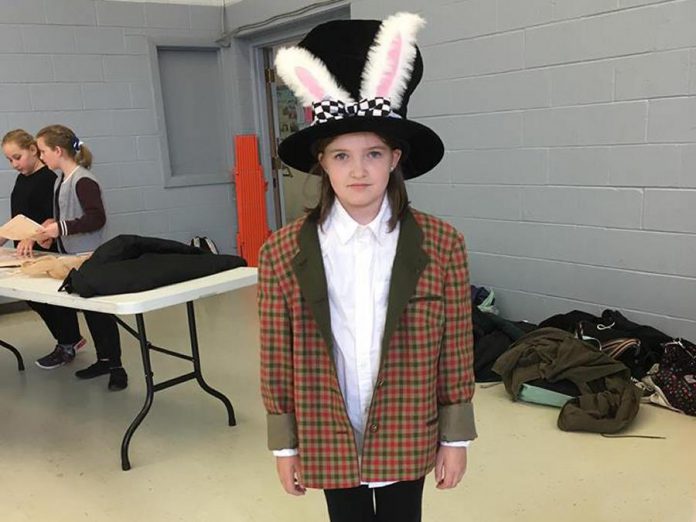 With a playful chemistry between them, Tor and Ben make a charming pair although, just like their characters, they couldn't be more different from one another. Tory is high energy and funny, while Ben is quieter and reserved. But together they have one of those magical theatrical bonds that seem to come out in actors once in a while.
"I like the queen because she is so powerful and strong and loud," Tori says of her character. "She's very confident, but there is a side to her that lacks confidence, which is why she is so mean. I am really loud and out there, but sometimes I am also quiet and insecure, so I find that I can relate to her sometimes."
"The King is also very similar to me," Ben adds, "He's kind of shy. He hides behind the queen and stays back and hides in the corner."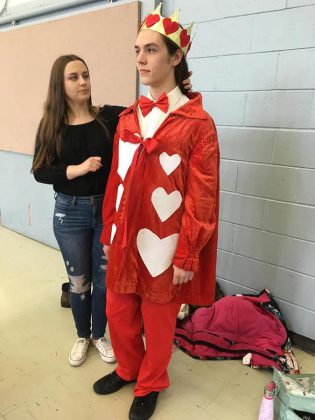 "The queen and king are weird," Tory continues. "Their relationship is very aggressive, but there are hints of tenderness. He calls her dumpling, but not in public. I feel at home they are probably good to each other, but in public she's not."
I ask Ben and Tory, as two of the older cast members in the show, what it is like working with so many kids in the show.
"I look up to them because they are more experienced than me," Ben admits. "It's really fun watching them know the dances, while I'm still shuffling behind them."
"There is no hierarchy," Tory adds. "For me ,it's not that anybody looks up to anybody. I'm fairly short, so I connect well with younger people, and I haven't danced in a show before, so I kind of watch them too to learn the steps. "
One of the most beloved stories in children's fiction, Lewis Carroll's characters have maintained their popularity and cult following for more than a century. With this in mind, I pose the question to the cast of Alice @ Wonderland: The Musical: what do they feel has made this story resonate with audiences generation after generation?
"There are so many strange and weird and colourful things in Wonderland," Tory replies. "When you watch it, you get immersed into a different world."
"There is a mystery to being in another world," Waverly adds. "It takes you to a whole different place of what you're used to, and pulls people away from their reality. I think that's a big thing with Alice and Wonderland, as well as a lot of other stories as well."
"It's the individuality of the characters," Adam points out. "There is so much in one character, and there are so many unique characters. You can pick your favourite character, but you always have a whole bunch of characters that are so unique because they are so individual."
VIDEO: "Alice @ Wonderland: The Musical" rehearsal
Our young cast has been hard at work rehearsing for Alice@Wonderland. Less than two weeks until opening night! Tickets are selling fast–get yours now! A great show for the whole family! Tickets available at www.stjamesplayers.ca

Posted by St. James Players on Sunday, March 31, 2019
But Ben says it's the familiarity of the show that creates a cross-generation appeal.
"All the adults watching the show know this story from when they were kids," he says. "Watching this allows them to go back in time and relive being a kid again."
This show is a new twist on an old favourite and is intended for audiences of all ages, so introduce your own child to the theatre with this imaginative production and support the young performers of St. James Players.
Alice @ Wonderland: The Musical runs from Friday, April 12th to Sunday, April 14th for four performances. The show starts at 7 p.m. on April 12th and 13th, with 2 p.m. matinees on April 13th and 14th. Tickets are $10 for adults and $9 for children, and are available at the door or in advance at stjamesplayers.ca.