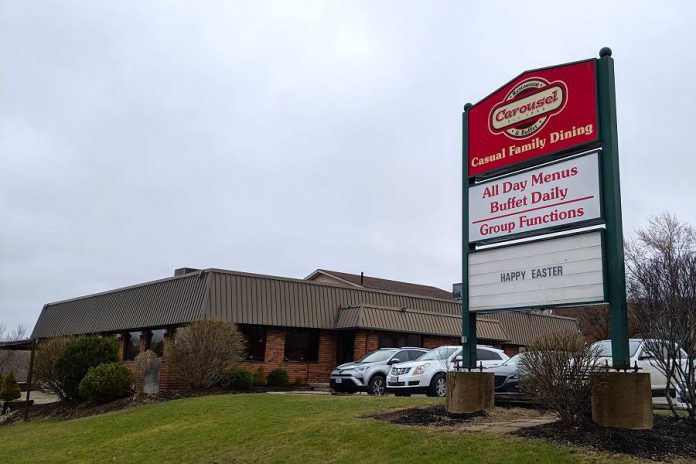 Today (April 21) will be the last Easter brunch at the Carousel, one of Peterborough's longest-standing restaurants.
The family restaurant, located at 116 Lansdowne Street East, is closing at the beginning of June.
"We are sorry to inform you, the Carousel's last day of business will be June 2nd 2019," reads an announcement notice posted at the restaurant. "Please redeem your gift cards. Thank you for your business over the past 50 years."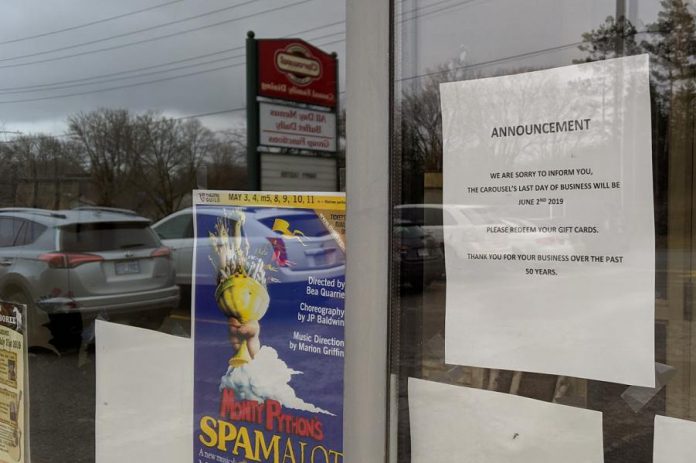 For the past 50 years, the Carousel has been a well-known local family restaurant especially popular for its lunch, dinner, and weekend brunch buffets.
Originally a run-down drive-in restaurant in the 1960s, the Carousel was purchased in 1969 by Greek immigrant Alex Spiridis who transformed it into a family restaurant.
After Alex Spiridis retired in in the early 1990s (he passed away in 2014), his son George Spiridis took over ownership of the restaurant.
kawarthaNOW was unable to contact Spiridis for comment as to why his family is closing the restaurant.
However, in a November 2018 Peterborough Examiner story by Joelle Kovach, Spiridis said that business at the restaurant had dropped off since Shorelines Casino Peterborough opened last October.
The casino's The Buffet restaurant offers eight different buffets, ranging in price from $7.99 for brunch to $19.99 for prime rib and lobster.
"They're attracting some of our customers — there's no doubt about it," Spiridis told The Examiner, saying the Carousel couldn't compete with the low prices. "Basically they're giving food away."
Along with being a family restaurant, the Carousel has been a popular destination for family and corporate gatherings as well as business events. The Peterborough Chamber of Commerce has been holding its monthly breakfast meetings at the Carousel for many years.