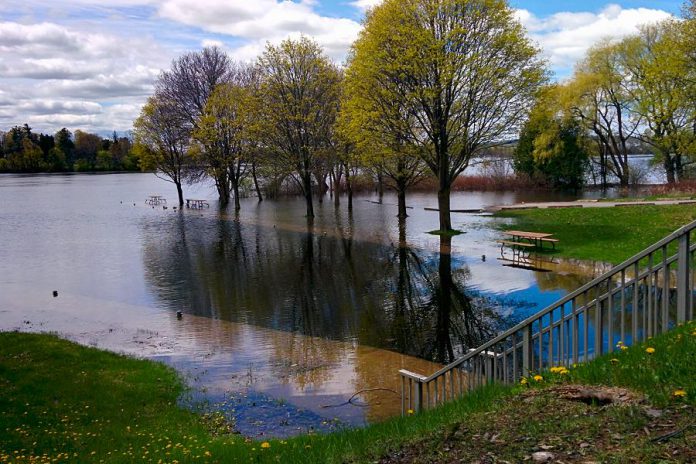 A flood warning remains in effect for the City of Peterborough, as water levels will continue to rise along the Kawartha Lakes and Otonabee River over the next several days.
Water levels will rise further as a result of significant rainfall expected overnight Thursday (April 25) and into Friday. Total rainfall amounts of 25 to 40 millimetres are expected by Friday night. These amounts may exceed 50 millimetres in some areas.
The city is closely monitoring the situation in consultation with Trent-Severn Waterway, Otonabee Conservation, and local dam operators, and is prepared to respond as required.
The city encourages residents in low-lying areas along the Otonabee River to monitor water level changes on their properties and to take necessary precautions for their safety and their property. Docks and structures close to the water should be secured or moved, and other personal items such as lawn furniture should be moved to higher ground.
Residents should have sufficient and appropriate emergency supplies at the ready. Sump pumps and backflow preventers should be checked to ensure that they are functioning properly.
Residents who have properties that are susceptible to flooding should consider getting supplies such as pumps and generators from local rental companies and hardware stores.
Residents should stay away from riverbanks due to fast moving water and the potential for unstable ground.
Current water level data and information regarding lakes and rivers on the Trent-Severn Waterway is available online.
To report a flood in your area, call the Otonabee Conservation Flood Watch Hotline at 705-745-5791 ext. 228 (available on a 24-hour basis). Anyone who feels that they are in immediate danger by rising water should call 9-1-1.
Wastewater treatment plant
Rising water levels of the Otonabee River and rainfall amounts could also potentially affect operations at the city's wastewater treatment plant. The city advises the facility is taking proactive and preventative emergency measures in an attempt to mitigate all adverse effects from this potential situation.
Currently the wastewater treatment plant is operating normally and there is no concern for public health. In the event there is a change to this status, the city will notify the public.
Sandbags
City residents in imminent danger of flooding on their property can get sandbags from the City of Peterborough, which will have limited supplies available at several locations on Thursday (April 25) and Friday (April 26) in preparation for potential flooding in low-lying areas along the Otonabee River.
City-supplied sandbags are intended for lower-entry points on foundations, such as doorways and window wells. Residents will be required to personally fill, transport, place, and remove the sandbags. Residents wishing to place sandbags along the riverbank should access supplies from hardware stores or landscape suppliers.
Sandbag supplies are available on April 25th from 3 p.m. to 7 p.m. at the following locations: Riverside Drive at Cameron Street, Riverside Drive at Spruce Avenue, and Sherin Avenue at Collison Park. Sandbag supplies will also be available on April 26th between 7 a.m. and 3:30 p.m. at the same locations.