Imagine owning a one-of-a-kind canoe paddle created by Dr. Roberta Bondar, Canada's first female astronaut. Or one by Canadian television's power couple Peter Mansbridge and Cynthia Dale. Or several by talented local artists including Peer Christensen, John Climenhage, Tia Cavanagh, and Joe Stable.
Or how about a cedar-strip canoe hand-crafted by the late Walter Walker, who once built a canoe for Prince Andrew?
You will have a chance to bid on all these items during a live auction at The Canadian Canoe Museum's Campfires & Cocktails fundraiser, which takes place at 6:30 p.m. on Saturday, May 4th at The Canadian Canoe Museum (910 Monaghan Rd., Peterborough).
Limited tickets for the event are available for $75 per person, online at canoemuseum.ca/campfires-cocktails/.
Attendees are encouraged to wear flannel to the casual evening event, which will raise funds for the museum's educational and public programs.
In addition to the live auction of the paddles and the canoe, your $75 ticket includes campfire-inspired cuisine prepared by local culinary experts, along with a signature cocktail. While browsing the museum's galleries, you can also enjoy the country-folk-pop music of the Dixie Hicks, featuring local musicians Kate Brioux, Melissa Payne, and Kate Suhr.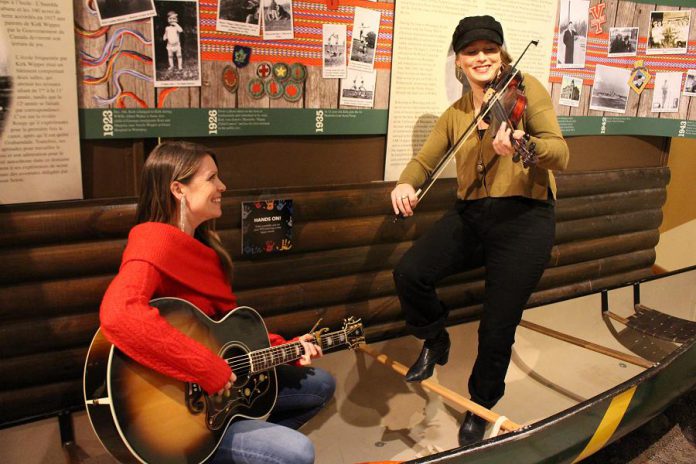 The Campfires & Cocktails fundraiser has been organized by a group of 10 community volunteers, including Jane Ulrich, who were inspired by the educational outreach work of the museum.
"My very first visit to The Canadian Canoe Museum was nothing short of jaw dropping," Ulrich says. "Seeing first-hand this world-class collection and learning how to make a canoe is what first inspired me."
"Then, when I realized how the museum reaches students locally, regionally and around the world, I was further impressed. As an organizing committee, we are inviting community members to join us in supporting this award-winning educational programming, as the museum prepares for its move to the water's edge."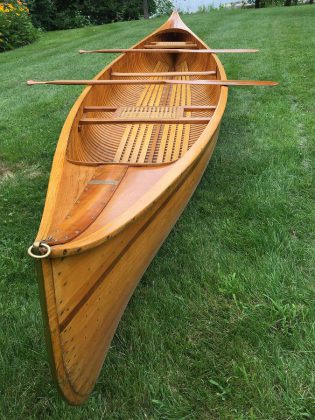 In support of the museum, 14 distinguished Canadians and local artists have donated one-of-a-kind paddles for the fundraiser, which will be auctioned off by special guest Susan Dunkley.
The paddles were created by Dr. Roberta Bondar, Peter Mansbridge and Cynthia Dale, Robert Atyeo, Tia Cavanagh, John Climenhage, Peer Christensen, Beth Fisher, Jeannie Guillet, David Hickey, Robyn Jenkins, Jenny Kastner, Randall Knott, Renee O'Connor, and Joe Stable.
"Each of the individuals who created a paddle did so with great care and consideration and they're exquisite works of art," says the museum's annual giving coordinator Caroline Anderson.
"Dr. Bondar's paddle features one of her photographs, while Peter Mansbridge and Cynthia Dale painted a striking sunset sky. Meanwhile, Tia Cavanagh, a multi-disciplinary Indigenous artist, painted the full paddle with a white design on a black background to represent stars in the night sky."
"We saw so much creativity from those we approached and some, like David Hickey and Randall Knott, even decided to do carvings on their paddles. The museum is so grateful for these incredible contributions."
Also featured at the live auction is a 16-foot cedar-strip canoe built by the renowned Walter Walker.
Walker, who died in 2009 just a few weeks shy of his 102nd birthday, was a boat builder who lived most of his life in Lakefield. Born in Ancaster, he moved to Lakefield when he was 24 years old after his father became the minister at Lakefield Baptist Church. Following employment as a woodworker at a furniture company, he worked for Lakefield Canoe Company and built cedar-strip sail boats for Sail-Craft Co. in Lakefield.
Walker then worked for 20 years at the Peterborough Canoe Company and, when it closed in 1961, he became production manager for RILCO Industries Limited in Lakefield, best known for its cedar-strip outboard boats. When RILCO closed in 1968, he built and repaired canoes at Peel Marine in Lakefield until he retired in 1986. After his retirement, he continued building canoes in the basement of his home in Lakefield.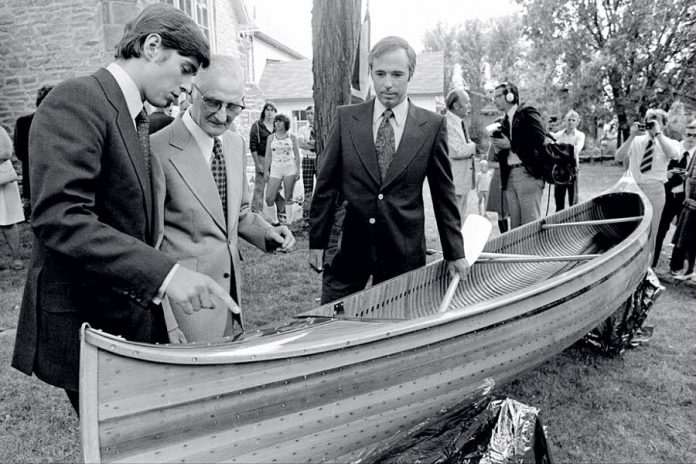 In 1977, the Village of Lakefield asked Walker to build a cedar-strip canoe for Prince Andrew, an avid canoeist who was graduating from Lakefield College School. The Prince and Terry Guest, headmaster of Lakefield College School at the time, then took the canoe on a trip on the Nahanni River in the Northwest Territories.
In 2004, Prince Andrew donated the canoe, along with two others made in the Peterborough area for the Royal Family, to The Canadian Canoe Museum where it remains to this day.
Walker's classic canoe, donated to the museum by supporter and volunteer Nan Campbell, includes a pair of hand-carved cherry paddles — all valued at $7,500. If you can't make it to the live auction, the museum is also accepting bids by proxy until 1 p.m. on Friday, May 3rd.
As noted, proceeds from Campfires & Cocktails will support The Canadian Canoe Museum's educational and public programs. The museum offers more than 20 hands-on experiential education programs for students and youth groups from kindergarten through to university and college by day and overnight.
In 2018, almost 5,250 students visited the museum in person, while more than 3,000 from eight countries visited via virtual field trip. Field trips are guided by educators offering curriculum-connected programming in both French and English.