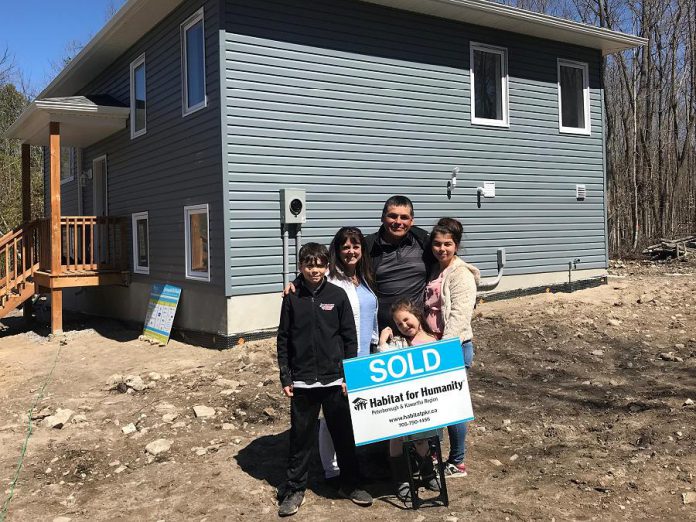 The Jacobs family is now the proud owner of a new home, courtesy of a partnership between Curve Lake First Nation and Habitat for Humanity Peterborough & Kawartha Region.
On Sunday (April 28), Tanya and Duane Jacobs, along with their four children and one grandchild, received the keys to their new detached home at 76 Quinquish Road at Curve Lake Lake Nation, an Anishinaabe community located approximately 25 kilometres northeast of Peterborough. The dedication ceremony was attended by around 80 people.
"To our family, a Habitat home means we can finally see our dreams coming true," Tanya said. "We can say this is our home and be proud of it."
Prior to taking ownership of their new Habitat home, the Jacobs family had been renting a small three-bedroom home with one bathroom in Curve Lake. The rental home needed new windows and doors, a new roof, and other necessary repairs.
This is the first Habitat home built at Curve Lake Lake Nation as part of the 'Maawandoonan – Coming Together in Partnership' project (maawandoonan is the Anishinaabe word for 'bring together'). The partnership is providing two lower income indigenous families with single detached homes built on two lots provided by Curve Lake First Nation.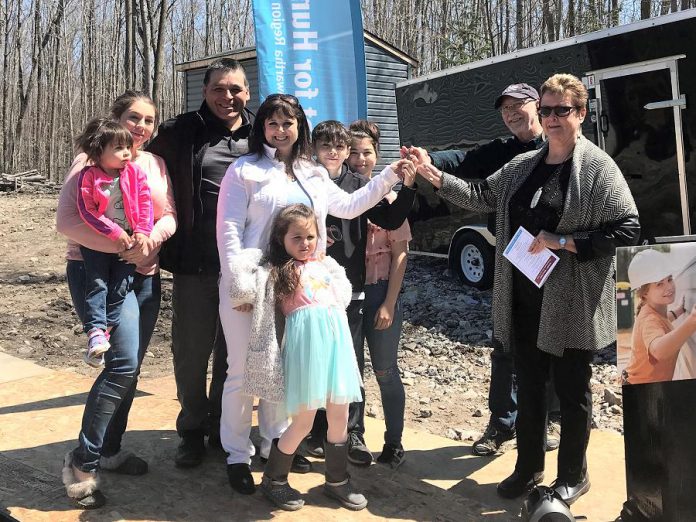 "This is the first indigenous housing partnership for Habitat Peterborough and Kawartha Region," said the organization's CEO Sarah Burke. "It marks a truly meaningful opportunity for both partners to impact the lives of lower income families living on traditional territory."
As indigenous peoples have a deep spiritual and cultural connection to their land, building homes in an indigenous community must be undertaken with the support of the community. However, the same criteria apply for any family applying for a Habitat home: they must have a need for affordable housing, a willingness to partner, and demonstrate the ability to repay an interest-free mortgage geared to income.
The Jacobs family decided to partner with Habitat because they had been faced with many challenges when it came to obtaining a mortgage and buying a home on Curve Lake First Nation.
As well as meeting the criteria for a home, the family also put in the mandatory minimum 500 hours of sweat equity by providing volunteer service on the build site, at the ReStore, and through other Habitat initiatives.
The Jacobs children are excited to have their own bedrooms and are looking forward to many sleepovers with their cousins and friends.
"This Habitat home means happiness," Tanya says. "A place we can feel comfort, a place we can relax."
Construction of the second home of the Maawandoonan project has already begun, and Habitat for Humanity Peterborough & Kawartha Region are currently recruiting volunteers.
For more information about Habitat for Humanity Peterborough & Kawartha Region, or to volunteer or to donate, visit habitatpeterborough.ca.