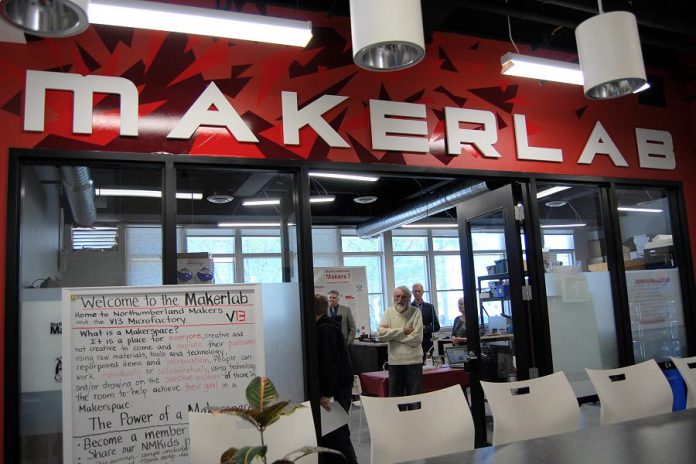 On Tuesday (May 21), the Venture13 Innovation and Entrepreneurship Centre in Cobourg marked its one-year anniversary with a celebration that included a review of the past year's accomplishments and information about new projects to help drive the centre's growth and development through 2019 and beyond.
In the Venture13 Innovation Commons, progress is paramount. On the wall, the Innovation Centre's "leaderboard" is painted white on a bold red background, tracking stats for all visitors to see: to date, 29 companies, 292 events, and more than 6,064 visitors can thank Venture13 for cultivating innovation in Northumberland County.
In addition, over the past 12 months, 18 new companies have started, 60 jobs have been created, and 10 interns have been hired.
VIDEO: Venture13 Celebrates One Year

Venture13 has no problem demonstrating the economic impact they have had in just one year of operation.
"Venture13 from conception to implementation (and now in one year) has achieved significant milestones," Cobourg mayor John Henderson said. "We continue to champion and applaud the economic impact Venture13 has created within our community and outward within the region."
Advertisement - story continues below
Wendy Curtis, executive director of the Northumberland Community Futures Development Canada (CFDC) and director of the Venture13 Board of Partners, added that it has been an extraordinary year for Venture13.
"Momentum is clearly building in leveraging each partner's strengths and energies in building a welcoming hotspot for innovation," she said. "Innovation required for creation of good jobs and economic growth. We thank FedDev Ontario and the Government of Canada through MP Kim Rudd for their ongoing support and attention to such important economic drivers."
VIDEO: Venture13

Growth and development at Venture13
Innovation, development, and taking risks that lead to economic growth is at the core of what Venture13 is all about.
"From a community futures perspective, we're supposed to be taking the risks that no one else will," Curtis said. "When you're a startup, somebody's got to step up and embrace you as being a crucial part of Canada's future."
When Venture13 first opened its doors at 739 D'Arcy Street in Cobourg on May 17, 2018, growth and development was clearly part of the organization's strategy. Starting out with an 80-seat lecture hall for workshops and discussions, a full-service "MakerLab", and the "VentureZone" business accelerator space for startups, Venture13 was prepared for a busy year.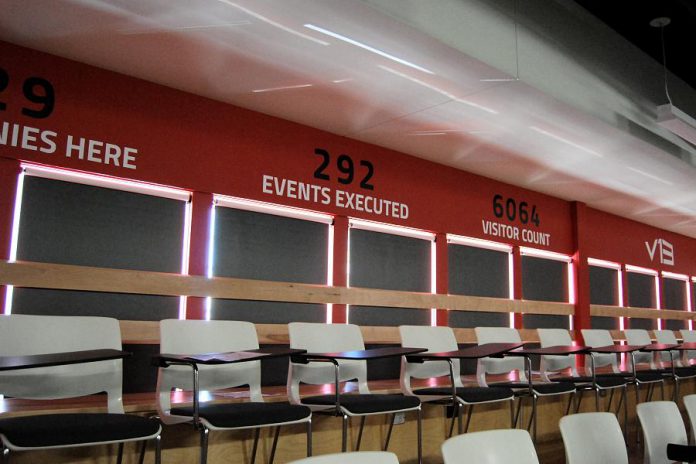 In addition to the programs and services originally offered at the centre on opening, even more successful partnerships and projects have been developed over the past year. Focused on innovation and promoting Eastern Ontario's "technology corridor", Venture13 will continue to add to its roster and offer a wide variety of support, services, and programming.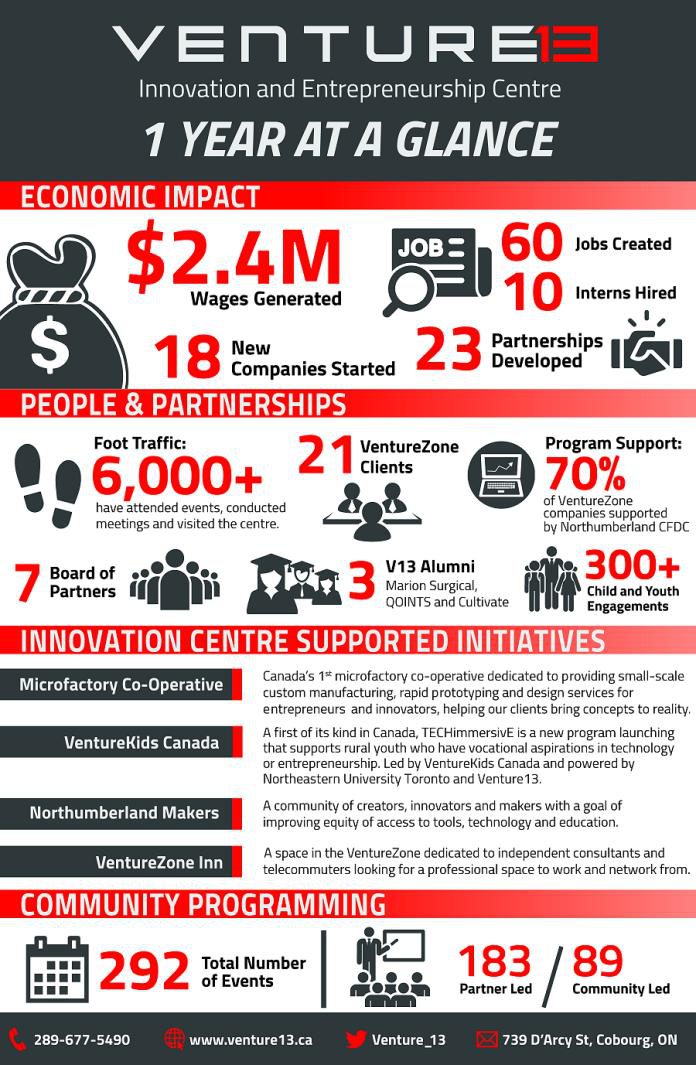 VentureKids TECHimmersivE Program and Microfactory Co-operative Inc.
Venture13 now offers a program to support rural youth aged 15-18 with an interest in working in the technology sector or becoming an entrepreneur. The TECHimmersivE program is the first of its kind in Canada and can help connect rural students with urban opportunities they may not otherwise be exposed to.
The initiative is co-led by VentureKids Canada, Northeastern University Toronto, and Venture13. During the summer, youth from Northumberland County can travel with all expenses paid to Toronto to visit the corporate headquarters of Microsoft Canada Inc., LinkedIn Canada, and Twitter Canada.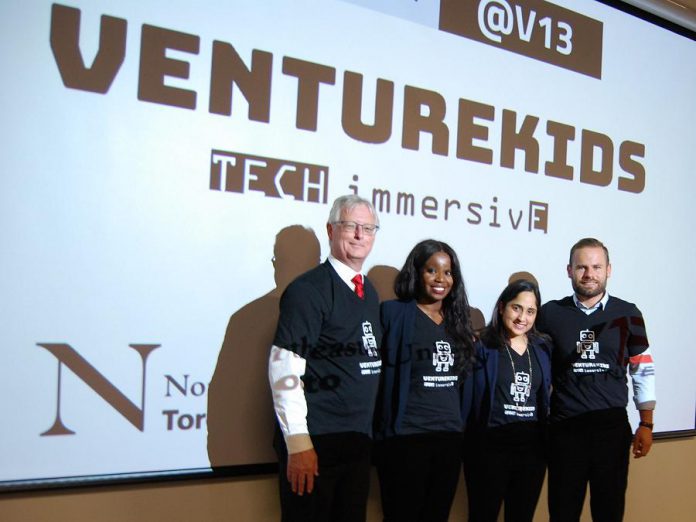 Northumberland-Peterborough South MPP David Piccini is a big supporter of the experiential learning provided by the TECHimmersivE program.
"The innovative partnership between Venture13 Innovation Centre and Northeastern University will help develop the skill sets needed to develop the entrepreneurs of tomorrow," Piccini said.
Like the TECHimmersivE program, the Microfactory Co-operative is also a first for Canada. The co-operative launched at Venture13 with seed funding and support from the Northumberland CFDC and FedDev Ontario.
Advertisement - story continues below
The primary objective of the project is to share resources and advanced equipment to help startups develop their concepts and prototypes from ideas into reality. The co-operative is an alliance of hardware start-ups who can assist entrepreneurs and innovators with small-scale custom manufacturing, prototyping and design services.
By making these services affordable, accessible and possible for start-ups to obtain, a new business can get up off the ground with fewer barriers.
"Venture13 continues to promote economic growth and job opportunities in Northumberland," Piccini said. "Through initiatives such as TECHimmersivE and the Microfactory Co-operative Inc., innovation and entrepreneurship in Northumberland County is stronger than ever."
The V13 Robot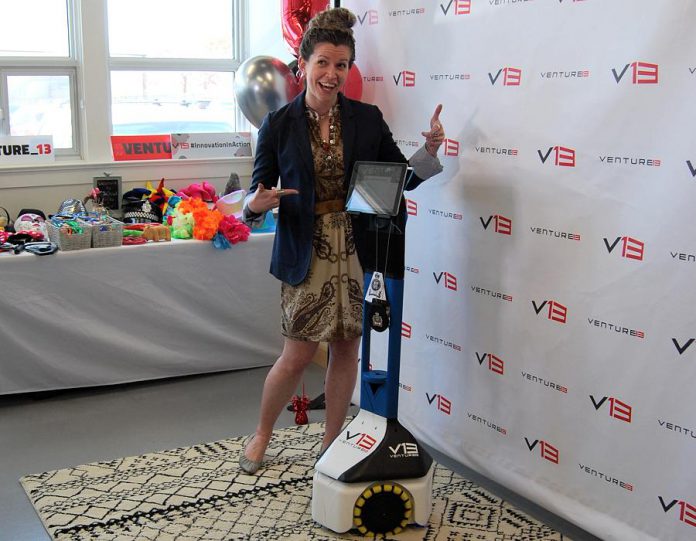 Also new to Venture13 is a robot capable of greeting visitors, giving tours of the facility, teleconferencing, and providing safety and surveillance while the building is closed to the public.
The robot uses a camera and microphone, as well as an iPad to assist guests with the aforementioned functions.
Cobourg Police Services proudly presented the currently unnamed robot with a badge of its own during anniversary celebrations and are presently taking suggestions on possible names.
When asked for comment, the robot inquired about its new name, wondering if it had been chosen yet.
The Northumberland Makers Summer Camp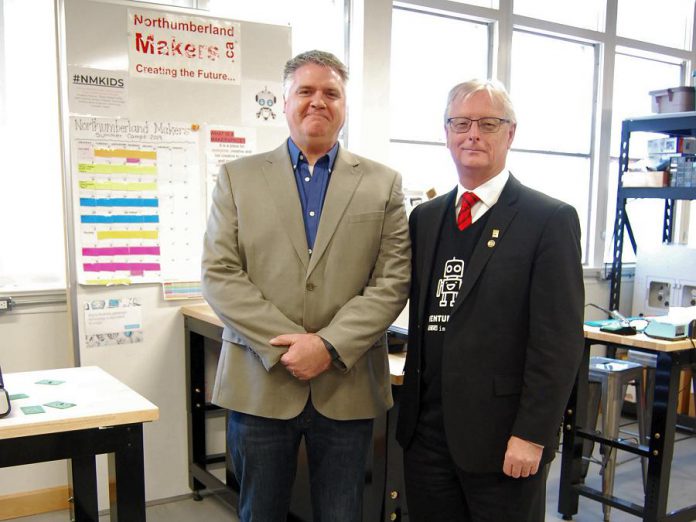 The Northumberland Makers want to teach your kids something fun this summer. With a diverse approach and access to tools and technology, your kids can learn about anything that interests them by joining up with one of the NM Student Camps. Elementary school-aged kids can participate in fun workshops running in July and August this summer.
"We have multiple camps coming up, coding and robotics camps," said Northumberland Makers president Phil Mandryk. "We cater to grades 3 to 5 and 6 to8. Our second one [camp] is a general making camp: everything from sewing to making breakfast to t-shirt presses. Anything you can think of, even camera work."
Basically, if you're looking for something for your kids to do this summer, the Northumberland Makers are likely going to have something that will interest them.
VIDEO: The Venture13 MarkerLab

Get ready for the N100 startup competition in 2020 and win $250,000
N100, Northumberland's biennial open invitational technology startup competition, announced its 2018 competition winner in January of this year.
The prize went to technology startup Argentum Electronics, which was selected from a group of 44 competitors. The winning company's Power over Ethernet (PoE) technologies and smart power management solutions work within an ecosystem of architects, builders, and producers.
Advertisement - story continues below
"Winning the N100 competition is a game changer for us," said Argentum Electronics founder and CEO Bolis Ibrahim. "With this capital injection we will be able to get our Smart Power over Ethernet Controller product line ready for manufacturing and market entry. Ultimately this will put our company in a highly investable position."
The N100 competition runs every other year, so if you think your startup has got something to offer, you've got lots of time to prepare for the next round. To get updates on the 2020 contest deadlines, visit n100.ca and subscribe for notifications.
Creating the jobs of tomorrow, today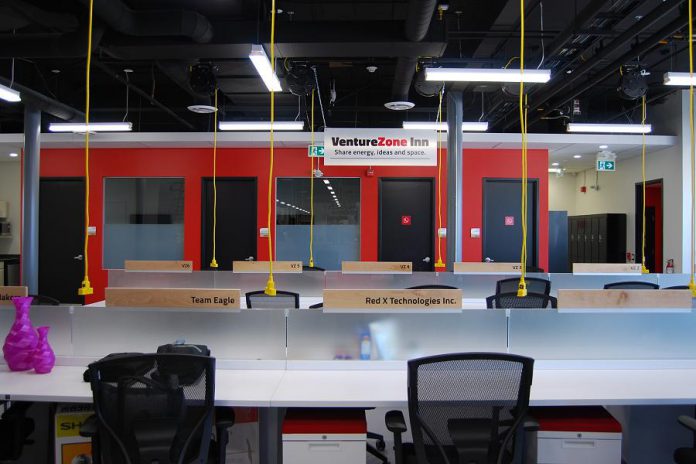 At the Venture13 celebration, Northumberland-Peterborough South MP Kim Rudd affirmed the federal government's ongoing support of Venture13 and Rural Innovation Initiatives in Eastern Ontario.
She also acknowledged the domino effect that Cobourg's model has been having in other regions.
"[Today] we celebrate both the important milestone of Venture 13's one-year anniversary, as well as the Government of Canada's $4.5 million commitment to the Northumberland CFDC in funding both local and regional innovation initiatives," Rudd said.
"For the last three and a half years, I have spoken about the undeniable rural renaissance that is taking place every day across Eastern Ontario. From advancements in 3D technologies, aviation technologies, surgical, plastics, and advanced manufacturing, there are companies that are making world-class advancements right here in our own backyard. My sincere congratulations to both Venture13 and the Northumberland CFDC for leading the way in creating the jobs of tomorrow here today."
Both MP Rudd and the Honourable Navdeep Bains, Canada's Minister of Innovation, Science and Economic Development, have spoken about the "rural renaissance" and the importance of offering opportunities to Canadians who have innovative ideas but reside outside of major urban centres.
"We need to be fully participatory in fostering those who are willing to take the risks," Rudd said. "Risks that by their very nature, can be transformative. The Northumberland CFDC has long sounded the clarion call that we must innovate or be left behind."
Advertisement - story continues below
An age of convergence
Cobourg Mayor John Henderson believes that strong leadership, a thirst to succeed, strategic partnerships, a powerful vision, and a lot of trust has led to the current success of Venture13.
As an "innovation district" the future is bright for Cobourg, with Venture13 at the forefront of technological revolutions in the region.
"We are entering an age of convergence," Henderson said. "I ask you to join us on this wonderful journey."
He also encouraged citizens to recommend Venture13 and spread the word if you know a youth who is interested in technology or an entrepreneur with a great idea.
To find out more about what's going on at Venture13 this summer, visit www.venture13.ca.