What has annually been Peterborough's most closely guarded secret was again revealed Wednesday morning (May 22), much to the delight of live music fans anxious to return this summer for free concerts to Del Crary Park.
Before a large gathering at the Silver Bean Café, Peterborough Musicfest's 2019 concert lineup was revealed, marking the end to great anticipation for the concert series' many sponsors and the thousands who flock to the shores of Little Lake each Wednesday and Saturday night through July and August.
Here's the full lineup (including performers not announced during the original reveal):
Advertisement - story continues below
Sat Jun 29 — City and Colour aka Dallas Green (solo acoustic alt rock)
Mon Jul 01 — Forever Young (Rod Stewart tribute featuring Doug Varty)
Wed Jul 03 — K-OS (hip hop) with Five Alarm Funk (funk-soul)
Sat Jul 06 — Sultans of String (world music)
Wed Jul 10 — The Reklaws with opener Emily Reid (new country)
Sat Jul 13 — Crash Test Dummies (alt folk-rock)
Wed Jul 17 — Said The Whale with openers Paper Shakers (indie rock)
Sat Jul 20 — Virginia to Vegas aka Derik John Baker (indie pop)
Wed Jul 24 — The Sheepdogs (rock)
Sat Jul 27 — Tyler Shaw with opener Jayde (pop)
Wed Jul 31 — 54-40 (classic rock)
Sat Aug 03 — We Ain't Petty (Tom Petty tribute)
Wed Aug 07 — Chad Brownlee (country)
Sat Aug 10 — Thunderstruck (AC/DC tribute)
Wed Aug 14 — Dwayne Gretzky (classic rock-pop tribute)
Sat Aug 17 — The Rural Alberta Advantage with openers The Elwins (indie rock)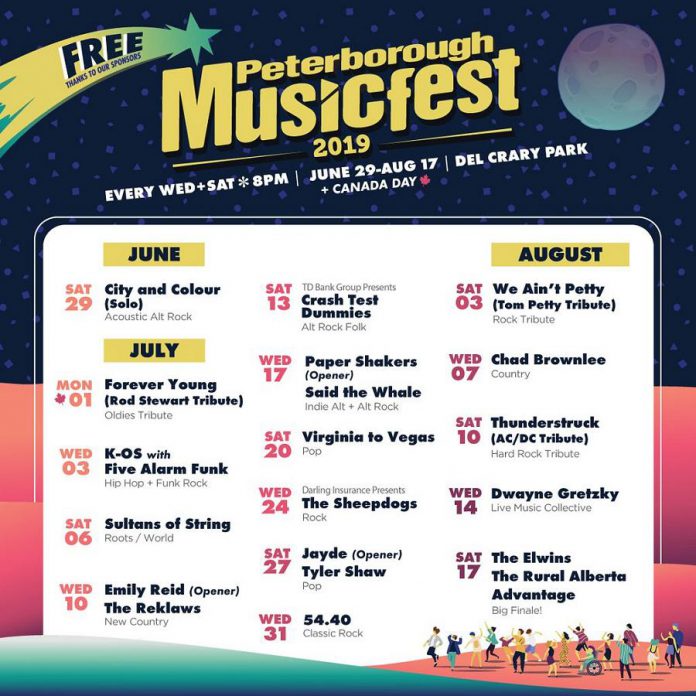 "It's a pretty well known fact that I can't keep a secret, so I didn't even know the lineup until this morning," confessed Peterborough Musicfest board chair Brenda O'Brien, admitting the Rod Stewart tribute is the one concert most heavily circled on her calendar.
"There are some really great acts coming. It doesn't matter if you like rock or if you like country, it's a great lineup and we've got more to come."
According to Peterborough Musicfest general manager Tracey Randall, ongoing negotiations have made it necessary to hold back on announcing the acts for the five open dates. She hopes to be able to confirm acts for those dates by month's end.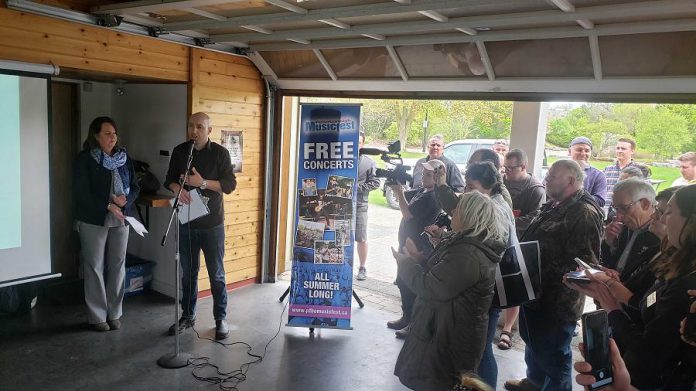 "I am really excited to announce City and Colour," said Randall. "City and Colour is playing a festival in Elora and it's $139 per ticket, so I'm really pumped about June 29th."
So are many others, with City and Colour's series-opening appearance drawing, by far, the most enthusiastic response from those on hand as well as on social media.
The moniker of hugely successful singer-songwriter Dallas Green, City and Colour is one of the biggest groundswell stories to emerge from Canada — a fact exemplified by three Juno Awards culled from 10 nominations. With four albums having achieved platinum status, City and Colour's fifth studio album If I Should Go Before You debuted at #1 on the Top 200 Soundscan.
VIDEO: "Waiting" — City and Colour

Advertisement - story continues below
"People say 'What about the repeats?' Randall said. "I wanted to get 54-40 and The Sheepdogs back because they're favourites, and I know The Reklaws will draw."
In conjunction with the lineup reveal, Peterborough Musicfest's newly designed website went live at www.ptbomusicfest.ca.
A new feature of the site is the ability for fans of Musicfest to donate directly to the series, with all contributions destined to go into the fund for procuring artists.
"This festival belongs to the public," Randall said. "It's not our festival, it's not the city's festival, it's their Musicfest. If they love it, maybe they'll think about investing in it.
"We do need support. We lose about $40,000 in sponsorships every year. We need to gain that back somehow. Finding new ways (to raise) funds is one way to do that."
"We sell Rotary 50-50 tickets at the park. We sell raffle tickets for signed guitars. We wanted to do something different. We had 144,000 people come to the park last year. Those who come out every night might think about giving us $20."
Advertisement - story continues below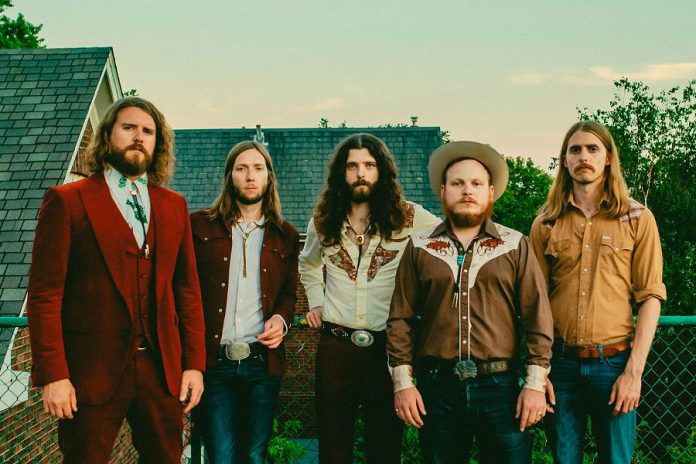 For her part, O'Brien said any contribution to Musicfest is an investment in community.
"The best thing about Musicfest is how it brings the community together," she said. "There's the famous saying, 'We'll give you your money back if you didn't enjoy the night.' I know it's a joke but people that support it, the community that comes out, is what makes this work.
"It isn't a free concert. We say the word 'free' because it's free to the person that visits us, but the acts aren't free. The sponsors get behind it because they appreciate what we do.
"Music is such an amazing thing. It brings people together. There are a lot of people that may not (otherwise) get the opportunity to see these bands. We get to provide that for 16 nights in the summer. Our community expects this, but anybody outside the community says 'This is amazing.' I can't wait to share the lineup with all my peeps outside of Peterborough."
Advertisement - story continues below
Peterborough Musicfest debuted on July 1, 1987 under the name Peterborough Festival of Lights with concert series founder, the late Fred Anderson, at the helm. The late Canadian jazz music great Moe Koffman headlined that first concert and, over the years since, artists representing virtually every genre of music have headlined — more than 600 to date — drawing millions of people over its history for what has become a summer tradition staple.
Overseen by Randall, her staff of four summer students, a board of directors and numerous volunteers, Musicfest's stated mission remains to "provide diverse, affordable live music to enrich cultural and economic prosperity in our community."
In 2018, Peterborough Musicfest drew close to 150,000 people with a genre-diverse lineup that featured Starship, Howard Jones, Terri Clark, Big Wreck, A Flock of Seagulls, Scott Helman and Alan Doyle, to name but a few of last year's headliners.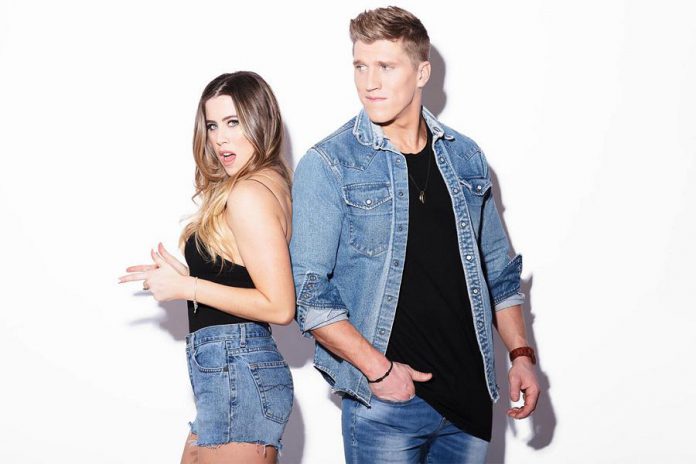 "I try not to say 'free' without saying thanks to our sponsors," says Randall, noting 117 sponsors are on board for this year, returning sponsor kawarthaNOW.com among them.
"A lot of people don't know how we get those acts onstage. We have about 10 sponsors that have been with us since the beginning. That's 33 years of giving back to our community."
"I think he (Anderson) would be really pleased. We're still honouring the locals. We're bringing Jimmy Bowskill (of The Sheepdogs) back. We've got (Peterborough-raised) Jayde. We honour Fred with the community spirit part of the event."
For more information on Peterborough Musicfest, including updates to the 2019 schedule as more acts are confirmed, visit www.ptbomusicfest.ca