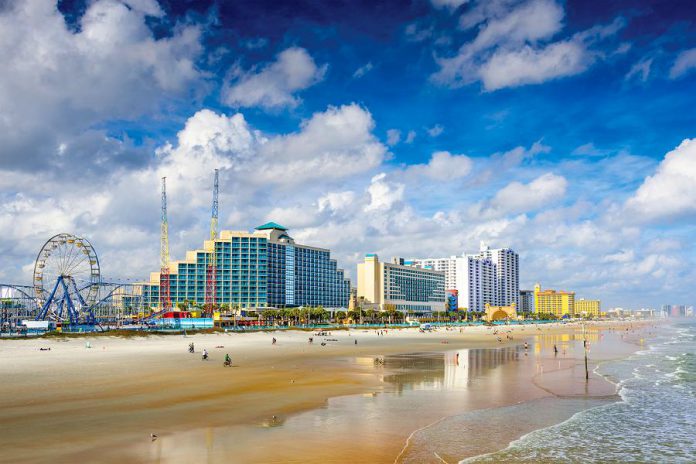 While we're just gearing up for summer, it's never too early to start planning your next sunshine vacation. Before you know it fall will be roaring in and with it the shorter days, colder weather, and even — gasp! — snow.
There are plenty of reasons to travel during the fall and winter, like fewer crowds and off-season prices.
For a longer season of sunshine, beaches, and mood-boosting benefits, DeNureTours in Lindsay is offering sunshine destination packages to Florida and South Carolina, that will make you forget fallen leaves and the frost.
After all, the birds aren't the only ones who need to migrate south to keep warm.
Throughout fall and winter, DeNureTours offers a variety of departures to Daytona Beach and St. Pete Beach, Florida, and Myrtle Beach, South Carolina — all ideal vacation spots that offer the perfect combination of popular local attractions, fun day excursions with fellow Canadian travellers, and time to unwind poolside or on the sandy beaches that DeNureTours' sunshine vacations are known for.
Bringing guests to these southern locales has been part of the travel agency's business for over 50 years. DeNureTours' long-stay resort programs in Florida and South Carolina continue to be popular for those looking to escape the Canadian chill.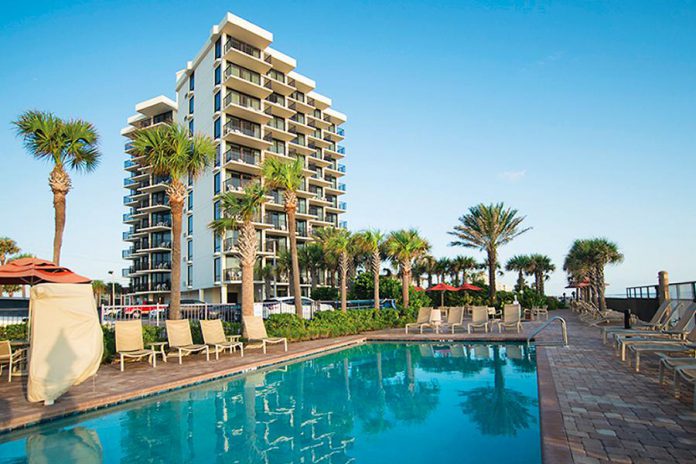 Each destination resort overlooks the ocean and offers activity programs and shuttle transportation. All properties have kitchen facilities, and each features a swimming pool, whirlpool, elevators and an activity room to meet with a DeNureTours representative and socialize with fellow guests.
Not sure which of the three destinations to choose? Maybe you want St. Pete's white-sand beaches, or Daytona's stunning sunrises, or the southern charm of Myrtle Beach.
"Each Sunshine Vacation destination has its own unique features and flavour," says Mary Kay McGuinness, a tour director at DeNureTours for over 25 years and the Canadian Coordinator for Sunshine Vacations.
"If you're looking for a little clarity and inspiration to get your trip planning started, a DeNure representative can help you find the getaway that is ideally suited for you."
You also get the flexibility of creating the vacation of your dreams by choosing your departure date and location, timetable, tours and duration. The pace of each tour varies by itinerary, as each destination and its activities are unique. With DeNureTours' extensive catalog, you can add whatever extras you like.
You can travel hassle-free knowing that DeNureTours has taken care of all the "little things" so you don't have to, which will make the difference so that your trip is exceptional, explains McGuinness.
"When planning a trip, every detail is important. We'll save you the time and effort of doing the research and planning on your own. We want to ensure that the moment of enjoying your vacation starts right when you book with us. All you have to do is relax and enjoy it."
DeNureTours will get you to your Florida and South Carolina destination by the travel mode which best suits you, whether it's by their comfortable luxury motorcoach (which gets you there in a day and a half), or by flying. When booked through DeNureTours, your flight price to St. Pete and Myrtle Beach also includes return transfers between the U.S. airport and the resort.
McGuinness says everything you need is provided once you arrive: accommodation, shuttle transportation, an on-site DeNureTours representative, activities and social events, and much more. DeNureTours staff are highly qualified and competent to pay attention to the needs of guests, including any unexpected situations that may arise.
"Being meticulous with the travel details shows our commitment not only to the vacation, but also to our guests and the staff who work at the individual destinations," says McGuinness.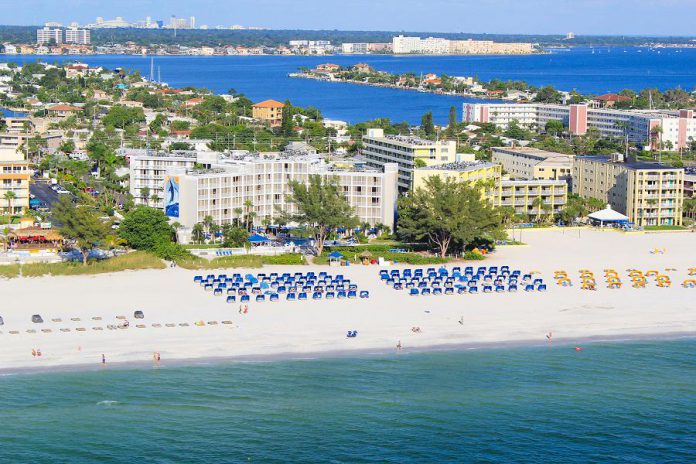 While you may be miles away from home, you can expect your resort to have all the conveniences of home.
Relax and focus on making memories with scheduled events, or take part in social get-togethers like wine and cheese receptions, bingo or movie nights with fellow Canadians in the DeNureTours hospitality suite. The hospitality suite is open all day and guests are encouraged to use it as a meeting place.
The activity shuttle bus is available to all guests, for many local excursions, shopping and dinner outings. The shuttle bus drivers are friendly and helpful, offering local information and their personal knowledge of the area they call home.
With the trend towards more immersive extended vacations, a DeNureTours Sunshine Vacation is the perfect amount of time to get a taste of local flavour. DeNure representatives will give you a variety of "locals-recommended" things to do.
"You'll see much more than just the town you're staying in," says McGuinness. "These destinations are full of incredible food, music, sights and people. You're going to want to use that time to soak up as many experiences as you wish, as opposed to just coasting through."
Many Canadians prefer travel to south of the border because of the familiarity to their own culture, language, and currency, notes McGuinness.
When trying to entice Canadians to visit the U.S., she says the first thing she does is remind them that it's more affordable than they think.
"Yes, people travel relative to the strength of the Canadian dollar and what they're used to paying in exchange rates, but guests know what they're going to pay upfront when they book a DeNureTours vacation," she says.
Sunshine Vacations become repeat destinations because guests develop an emotional attachment to these spots through amazing experiences they've had with family, friends, and DeNure staff, she adds.
"There's comfort, safety, and less risk in familiar places."
And, should you experience a medical emergency while travelling, a DeNureTours on-site representative is stationed in all destinations to offer assistance with organizing travel back home to Canada and resolve any queries or problems that may arise during your stay.
DeNureTours is currently offering multiple departures to Daytona Beach and Myrtle Beach for fall 2019, and has added St. Pete Beach to the roster for winter 2020. Here are some highlights to anticipate on each visit.
St. Pete Beach, Florida (10 Days, 17 Days, or 24 Days)
Named by the New York Times as one of the best places in the world to visit, St. Pete's sun-soaked beaches, calm Gulf waters, eclectic culinary scene (notably, the seafood), and sunset vistas are a winning combination.
Explore the neighbourhoods of St. Pete Beach using the Suncoast Beach Trolley. Discover the shops on Corey Avenue, or enjoy a visit to John's Pass — a turn-of-the-century fishing village with great dining, superb shopping, dolphin watching, and fabulous fishing.
VIDEO: St. Pete Beach, Florida

Nearby Pass-A-Grille is a historic beachfront paradise at the southern tip of St. Pete Beach: a quaint spot dotted with beach boutiques, surf shacks, and art galleries.
See the area's many museums including the Museum of Fine Arts, St. Petersburg Museum of History, and The Dali Museum. If you have a green thumb, explore the winding paths and cascading waterfalls of Sunken Gardens, St. Petersburg's oldest living museum at one hundred years old.
At Fort DeSoto Park, fish from two free piers, 24 hours a day, and hike a seven-mile stretch of wilderness that inter-connects five islands.
Get retail therapy shopping the Ellenton Premium outlets of 130 stores, visit the historic community of Tarpon Springs, catch a hockey game in Tampa or a Blue Jays game in Dunedin, or try renting your own speedboat or hiring a charter for inshore or deep-sea fishing.
Daytona Beach, Florida (10 Days, 17 Days, or 24 Days)
Home of the "the world's most famous beach" and jaw-dropping sunrises, Daytona draws sunseekers, beach lovers, socialites, and active adventurers from all over. Visit the Daytona Beach Pier, an historic attraction along the 37-kilometre stretch of hard-packed sand.
From motorsports to music to food, Daytona Beach is home to over 60 renowned festivals. Explore the sights, sounds, and flavours of the Fiesta Italiana, Halifax Art Festival, Celtic Festival, Oyster Festival, Daytona Turkey Run Car Show and Swap, Riverfest Seafood Festival, and many more.
VIDEO: Daytona Beach, Florida

For the outdoor enthusiast, try your hand at parasailing, paddle boarding, ocean kayaking, surfing, jet skiing, scuba diving shipwrecks, or snorkelling artificial reefs.
If fishing is high on your list, cast a line from the pier or by charter for tarpon, sailfish, redfish, spotted sea, and trout. Troll inshore amid the mangroves, or go guided deep-sea fishing and bring back dinner with an amazing tale.
You'll want to visit the 1887 Ponce de Leon Inlet Lighthouse and Museum (Florida's tallest) that provides gorgeous views 53 metres above the Atlantic, or maybe the Marine Science Center which boasts a 5000-gallon reef aquarium and a stingray touch pool.
See the Museum of Arts & Sciences which pays tribute to speed, history and space, showcasing a mishmash of Cuban art and American memorabilia, or take a relaxing stroll along the historic boardwalk, an esplanade of entertainment built in 1920 with its famous coquina rock bandshell amphitheatre.
Myrtle Beach, South Carolina (10 Days, 17 Days, or 24 Days)
Aside from its southern appeal, Myrtle Beach is known for its great entertainment, shopping, dining, and attractions.
The soft white sand of Myrtle Beach stretches along the Atlantic for 96 kilometres. The best views of the Grand Strand are from the top of the 187-foot-high SkyWheel, the centrepiece of the Oceanfront Boardwalk and Promenade.
VIDEO: Myrtle Beach, South Carolina

Visit Brookgreen Gardens in Murrells Inlet, a favourite destination with over 9,000 acres of breathtaking natural beauty. If you want to shop 'til you drop, don't miss the Market Common, the Coastal Grand Mall, Barefoot Landing, or Broadway at the Beach, which has 350 acres of one-of-a-kind boutiques along the water.
Try your hand at golf with over 100 meticulous Myrtle Beach courses, enjoy unique and delicious dishes at one of the many surf shacks or lounges, or stroll the heart of the historic Murrells Inlet fishing village, where the MarshWalk serves up live entertainment and savoury Lowcountry dishes set against rustling palmettos and golden grasses at sunset.
Feeling adventurous? Take a day trip to Charleston (two hours south of Myrtle Beach) to experience a horse-drawn carriage ride down charming cobblestone streets, preserved in history and lined with pastel antebellum houses. The spectacular gardens and gigantic oaks hung with Spanish moss give Charleston its distinctive charm. And don't miss a visit to the French Quarter or the Battery.
If you're ready to plan your sunshine vacation adventure this fall or winter, book your trip with DeNureTours.
DeNureTours Ltd. is located at 71 Mount Hope Street in Lindsay. For more information, call toll-free 1-866-967-9909, email info@denuretours.com, or visit denuretours.com. You can also follow DeNureTours on Facebook, Instagram, and Twitter.
This story was created in partnership with DeNureTours.