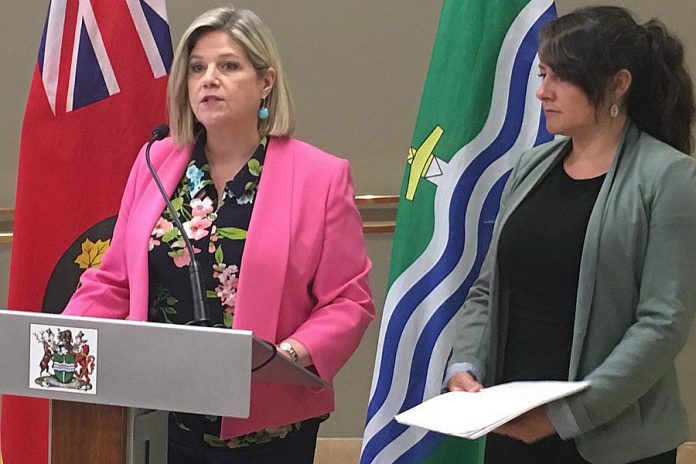 Ontario NDP leader Andrea Horwath was in Peterborough Monday morning (June 10) to meet with Mayor Diane Therrien about the growing opioid crisis in the city.
To date this year, there have been 19 deaths resulting from opioid-related overdoses — more than the total for all of last year. On the weekend before last, there were 13 opioid-related overdoses with two of those overdoses resulting in death.
"It's my understanding that Peterborough has the fourth largest number of deaths (from opioid-related overdoses) in Ontario … that is not acceptable," said Horwath following a 30-minute private meeting with Mayor Therrien at City Hall.
"I heard from the mayor that this past weekend was similar. People and their loved ones are suffering and lives are being lost. This community is being impacted in a very, very serious way. No family should be in a situation where a loved one is being lost because of this crisis."
Horwath took direct aim at the Ford government for what she termed inaction on the crisis. She noted the Province's stated plan to reduce public health care funding and amalgamate health units "are steps in the opposite direction" of what needs to be done to meet the opioid crisis head on.
"My deepest wish is that this provincial government will stop dragging us backwards and start partnering with municipalities to help end the crisis," she said.
Advertisement - story continues below
"What we need is a government that is listening to local communities, listening to local leadership, and listening to local public health units and understanding that they need support. They need a partner at the provincial level to help first responders on the front lines of trying to help with the crisis occurring here in Peterborough."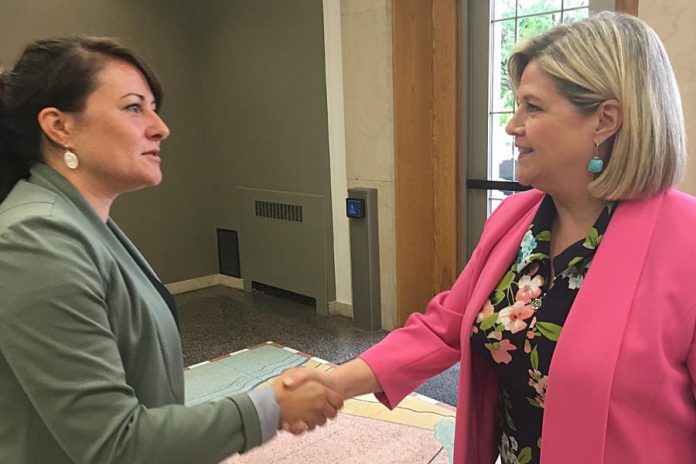 Mayor Therrien indicated she has reached out to Peterborough MPP Dave Smith and they will be meeting to discuss the issue. As well, together with Selwyn Deputy-Mayor Sherry Senis, she is organizing a July 11th summit on the opioid crisis at Market Hall in downtown Peterborough.
According to both Horwath and Mayor Therrien, the stigma attached with opioid use isn't helping their cause to see the crisis tackled by the broader community.
"It's not just people you see on the streets that are affected by this crisis," said Mayor Therrien. "Middle and upper class families that are dealing with this aren't sharing that publicly. It's something that is kept hidden. It is on every street across all neighbourhoods in our community."
"When they recalled romaine lettuce a couple of months ago, if we had 19 people die from that and 132 people get ill, there would have been a rapid response call to action. The fact that we haven't seen that despite the severity of this issue means we need to keep talking about it. I guarantee that one of your neighbours, one of your colleagues, has seen this unfold. We need to start sharing those stories so people feel comfortable talking about it."
Horwath wholly agrees.
"A young person in high school goes to a party and decides for the first time that they're going to try something … and they lose their life. That's somebody's grandchild. That's somebody's nephew. That's somebody's daughter or son. That's the kid that works at the grocery store. These deaths and these overdoses impact everyone and they impact the spirit of a community. It has a very saddening effect on the community at large."
Advertisement - story continues below
"I think it's inaccurate for people to assume that somehow they're beyond the reach of this crisis. The crisis is rapidly growing and that means even more people are going to be impacted."
Following her meeting with Mayor Therrien, Horwath also met with Peterborough Public Health officials and first responders to continue the conversation.
"I'm here to listen; to hear what the public health professionals in your community think is important that I know," she said.
"As professionals in the field, they not only have information that's very detailed but also ideas and suggestions and recommendations to move forward. One of the things we tried to get the previous government and the current government to do is declare a public health emergency. That helps free up resources and create a sense of urgency."
"Unfortunately the Liberals wouldn't do that and it doesn't look like the Conservatives are prepared to do that either, but we're going to continue to fight to make that happen."
"We don't want this to become the norm where people just expect this kind of news (about opioid-related overdoses and deaths) each and every day. It's important to keep highlighting the tragedies occurring in neighbourhoods and communities because that will help us to de-stigmatize (opioid) as well as create hope."
Meanwhile, Ashburnham Ward councillors Gary Baldwin and Keith Riel will host a public meeting on the opioid crisis this Wednesday (June 12)at 7 p.m. at the Lions' Community Centre (347 Burnham Street, Peterborough) in East City.
Advertisement - story continues below
Among those invited to take part in that gathering are Peterborough Police Service Deputy Chief Tim Farquharson and Peggy Shaughnessy, the founder of Whitepath Consulting and Counselling Services and its Redpath program that addresses the underlying issues that lead to addiction.
"This is a time for us to listen, learn and take actions as a community," said councillors Baldwin and Riel in a joint statement. "This meeting provides another opportunity for people to engage on this critical matter for our community."
That's in line with what Mayor Therrien terms her "top priority."
"We need to work together to make sure information gets out there," she said.