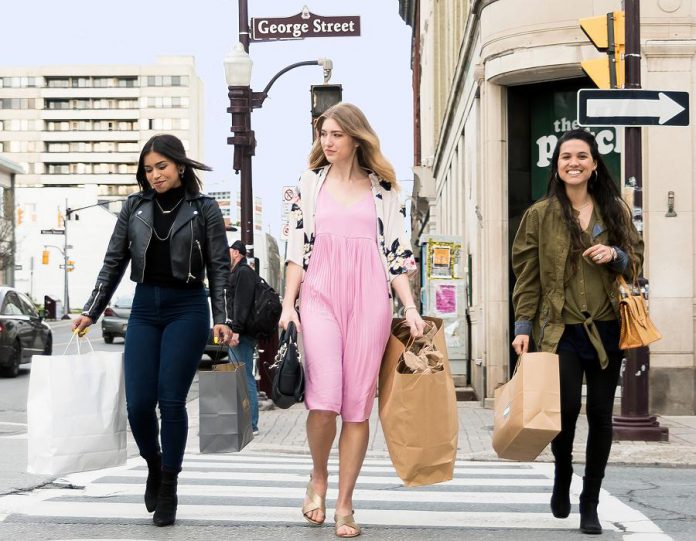 Beginning on Thursday, June 13th and continuing until the end of August, many retail businesses in downtown Peterborough will be open until 8 p.m. every Thursday and Friday evening.
"Open Late 'Til Eight" is an initiative of the Peterborough Downtown Business Improvement Area (DBIA) as a coordinated effort to make it more convenient for people to shop downtown, especially after work.
The many restaurants of downtown Peterborough are already open in the evenings, so "Open Late 'Til Eight" provides people with the flexibility to combine dining and shopping while they are downtown.
Parking is free in downtown Peterborough after 6 p.m., so you can spend a leisurely evening browsing the shops of downtown Peterborough before (or after) enjoying a meal.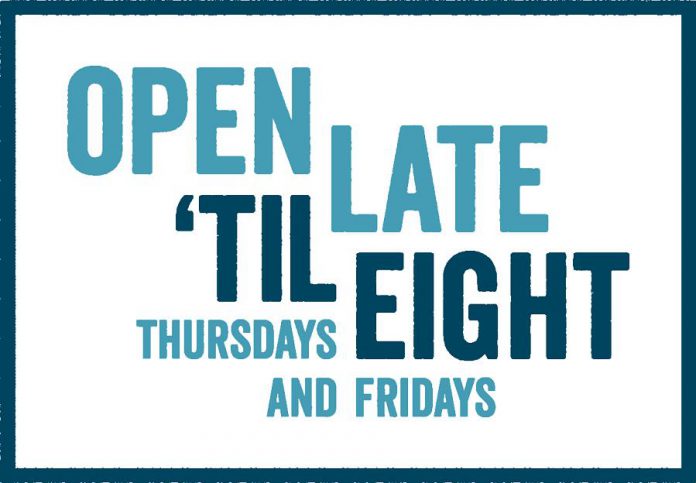 There are 27 participating businesses (look for the "Open Late 'Til Eight" sticker in their windows):
Bluestreak Records
Charlotte's Web
Cottage Toys
Dodrio
Flavour
Grey Guardian Games
Hi Ho Silver
Iceman Games
John Roberts Clothiers
K & C Costumes
Lift Lock Escape
META4 Gallery
Minh's Chinese Grocery
Next Level Mobile
Pipe Dreamz
Providence
Ritual Apothecary
Runner's Life
Running Room
SOS – Save Our Soles
The Peace Pipe
The Toy Shop
Tiny Green
Tribal Voices
Under One Sun
You're Welcome
Zap Records
You can also use this map to locate the participating retailers (street addresses and phone numbers are included for each retailer):

View a larger version of this map.
To celebrate the launch of "Open Late 'Til Eight", the Peterborough DBIA is planning an evening of music and performance on Thursday, June 20th:
Blues in the Bottle will be playing live as a duo on Charlotte Street between Runner's Life and Cottage Toys.
Shar Gareau of the Peterborough Academy for Circus Arts will be performing in the Peterborough Square courtyard at the corner of Simcoe and George Streets.
Musician Carling Stephen will be playing live next to Flavour on George Street.
Nicole Malbeauf of Trellis Arts & Entertainment aerial arts and circus company and several youth performers will be roaming around George Street and Charlotte Street to entertain downtown shoppers.
For more information about everything happening in downtown Peterborough this summer, visit downtownptbo.ca. You can also follow Downtown Peterborough on Facebook, Twitter, and Instagram.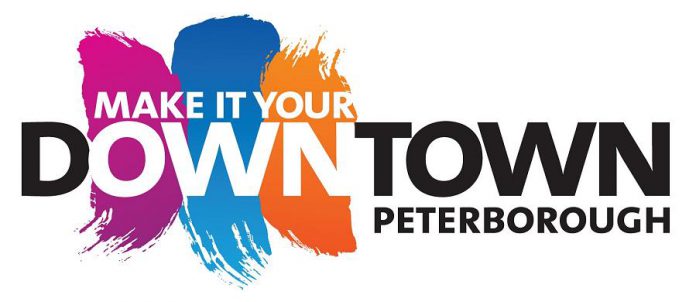 This story was created in partnership with the Peterborough DBIA.