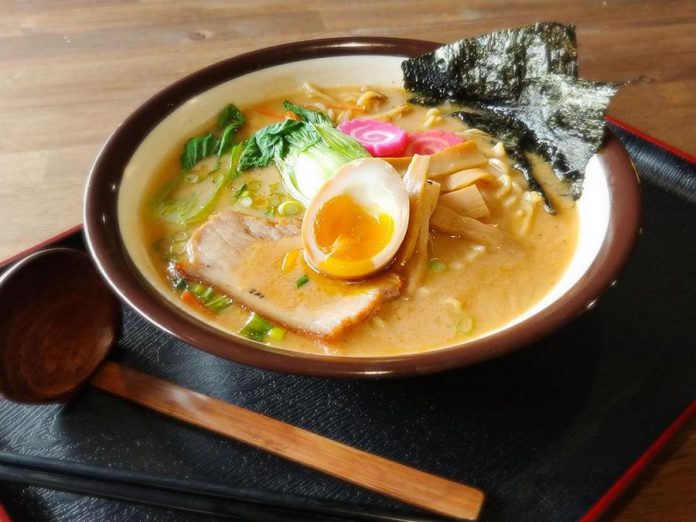 This month, food writer Eva Fisher checks in at two new local restaurants: a new ramen hotspot and a lakeside patio paradise. She also samples some of Haliburton's best cuisine at the upcoming Haliburton Highlands Food and Beverage Showcase, and follows the aroma of freshly brewed coffee to the Edison Espresso and Pastry Bar.
Advertisement - story continues below
Now you can get authentic Japanese ramen in downtown Peterborough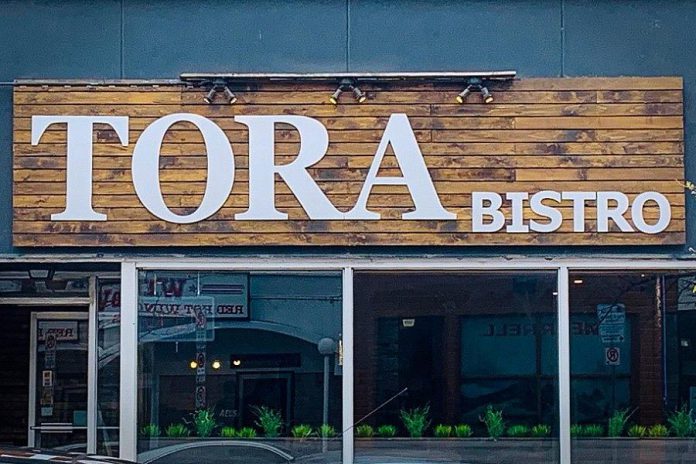 There's a new restaurant in downtown Peterborough. Tora Bistro (172 Charlotte St, Peterborough, 705-876-7559) opened in mid May, and their menu features a variety of cuisine including Japanese ramen and sushi, Korean food, and Indian food.
Tora Bistro is owned by Jiman Kim, who also owns sister restaurant Madoi Sushi. Manager Madeline Gingrass says that the decision to put ramen on the menu came from the staff's own passion for the dish.
"The owner and the (Madoi Sushi) kitchen staff would go to Toronto every weekend after work to get ramen. After a while they decided, 'We're tired of going to Toronto, we're going to do it here.'"
The most popular ramen on the menu thus far is the Tonkotsu ramen. The chefs simmer pork bones for 12 hours to get a thick, rich broth.
"It has to be 12 hours, nothing less," Madeline asserts. "We've actually sold out a couple of times. If it's not 12 hours, we're not going to be serving it."
The Tonkotsu ramen is topped with fried pork belly, vegetables, and an egg.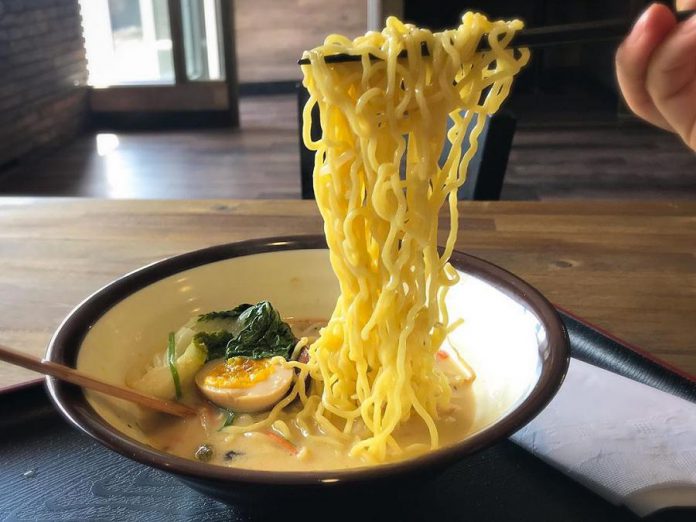 Madeline also suggests trying the vegetable creamy ramen, which is their vegan option. It has a shitake mushroom broth with vegan soba noodles and pan-fried vegetables.
From the Korean menu try the bibimbap, a rice dish with meat and vegetables served in a stone bowl.
"The whole thing comes out still cooking, which is exciting."
Advertisement - story continues below
Sashimi fans will want to try the raw fish bibimbap. On the Indian menu the butter chicken is a standout.
Madeline says that the biggest surprise for her during the first weeks of Tora Bistro has been Peterborough's hunger for ramen.
"Most of the people coming in, when I ask them what brought them in, say the ramen. They always say this is the one thing Peterborough was missing."
Lock 27 Tap and Grill now open on Clear Lake
Lock 27 Tap and Grill (2824 River Ave, Young's Point, 705-652-6000), located on the shores of Clear Lake, opened on May 9th.
Owner Korina Schonberg and her husband Allan Nelson previously owned Sin City and the Tankhouse.
"We've come with lots of experience," she says.
Lock 27 Tap and Grill is a seasonal business, and the location is known for its spectacular patio.
"The view of Clear Lake is just breathtaking."
The restaurant is open seven days a week, with breakfast served on weekends. Breakfast will also be offered throughout the week, beginning later this month.
The menu is pub style, with specials throughout the week. Korina's favourite menu item is the reuben, but she also recommends coming for Wing Wednesday and Fish Friday.
Those looking for lighter fare may want to try the Power Bowl Salad with rice, black beans, tomato, cucumber, cilantro and a house dressing. There's also a loaded burger menu, which includes the plant-based Beyond Meat burger.
Advertisement - story continues below
The space will be animated with live music, games, and even a paint night. You can stay up to date with all of the events being offered at Lock 27 on their Facebook page.
"We're really trying to get some different things going, so the people in Young's Point will have something new to do in the summertime."
For Korina, connecting with people is the best part of the business.
"That's what I actually miss. We've been out of the business for two and a half years and I really miss it."
Haliburton Highlands Food and Beverage Showcase features the best of Haliburton cuisine for a good cause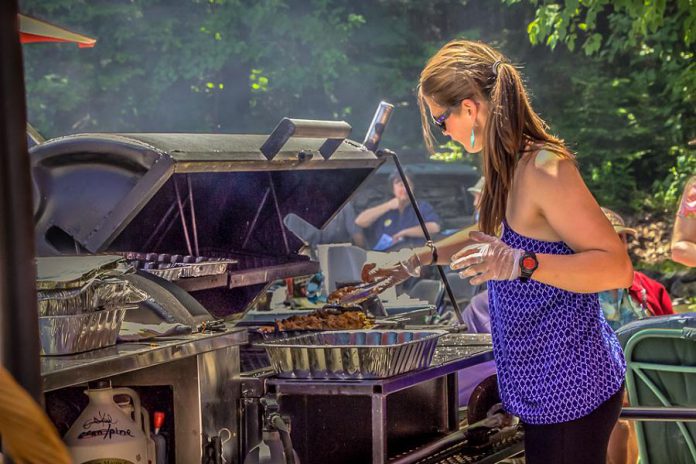 On Saturday, June 15th from 11 a.m. to 4 p.m., 35 vendors will showcase the best in Haliburton Highlands food and beverage at the 6th annual Haliburton Highlands Food and Beverage Showcase.
Chairperson Diane Dawson says that this event is a great opportunity to taste some of what Haliburton has to offer.
"Culinary is one of the pillars of our tourism in Haliburton County."
The event takes place at Wintergreen Maple Products (3325 Gelert Rd, Minden, 705-286-3202), an event venue with a century barn and a 120-acre sugar bush. Wintergreen Maple Products makes a line of preserves, which will of course be available to try at the showcase. They will also make tourtiere, pulled pork, roast beef, maple baked beans, pork tenderloin, and more.
Other vendors include Highland Coffee, Abbey Gardens, Highlands Brewery, Boshkung Brewery, Into the Blue Pizza, Raisin the Root, and more. Diane says that pizza, locally brewed beer, salad, charcuterie, ice cream and baking will all be on offer. There will even be a wild edibles plant walk.
The event is a fundraiser, with proceeds going to global charity H.A.V.E. (Help a Village Effort) and a rotating local charity. This year's recipient is Plaid for Dads, which raises money for prostate cancer research. Historically, the event raises approximately $5,000 for charity every year.
Diane points out that the event is an opportunity to support charity while getting to know Haliburton's expansive food scene.
"Everybody loves to eat, and Haliburton county has an incredible culinary scene. Our county's pretty large, and here you can get it all in one spot."
The cost to attend the Haliburton Highlands Food and Beverage Showcase is $20 per person or $50 per family. Look for more information at at www.highlandsfoodfest.com.
The Edison Espresso and Pastry Bar becomes home base for coffee entrepreneur Lindsay Brock
As of May 31st, coffee entrepreneur Lindsay Brock has shut the doors on her French-inspired coffee shop Amusé Coffee Co. to focus her efforts on The Edison Espresso and Pastry Bar (270 George St. N., Peterborough), her operation in the lobby of the VentureNorth building in downtown Peterborough.
Lindsay explains: "Several factors motivated the move but in short, I realized that growth isn't always linear, and doing less with more focus is much more sustainable."
Community support has been strong since The Edison opened in August of 2018 at VentureNorth, which is the home of several of the area's economic development organizations as well as startups.
Advertisement - story continues below
"Even with very limited offerings early on and operating only two days a week, the support from in the building and even neighbouring offices started pouring in," she explains. "We started to get regular requests to cater coffee services for board meetings and events in the building as well."
It was clear to Lindsay that the location could support a more permanent operation.
"This gave us the confidence to pursue a longer-term operation, complete with a kiosk and espresso bar."
While the menu at The Edison is somewhat reduced from what was offered at Amusé Coffee Co, the most popular items from the menu are still available.
"We're keeping a classic beverage menu while keeping it fun and light hearted with creative seasonal favourites. We pared down our food offering to our most popular items, including croissants and Madeleines, a signature French tea cookie. Nice little fresh salads are on the agenda as well."
But why is it called the Edison? Lindsay explains that the name is a nod to Peterborough's history of innovation, a perfect fit for their home in VentureNorth.
"Our logo and brand evolution is a bit of a homage to the original Edison General Electric and its role and significance to Peterborough, or as we all affectionately know it, 'The Electric City.' VentureNorth is home to many business resources, our tourism and visitors' centre, and the Innovation Cluster which is an idea hub buzzing with energy … and so we give you The Edison."
Husband and wife team Tash and Conner Clarkin of Electric City Vegan have taken over the lease at the location that housed Amusé Coffee Co, and according to their Facebook page, they expect to open a new restaurant there in July.