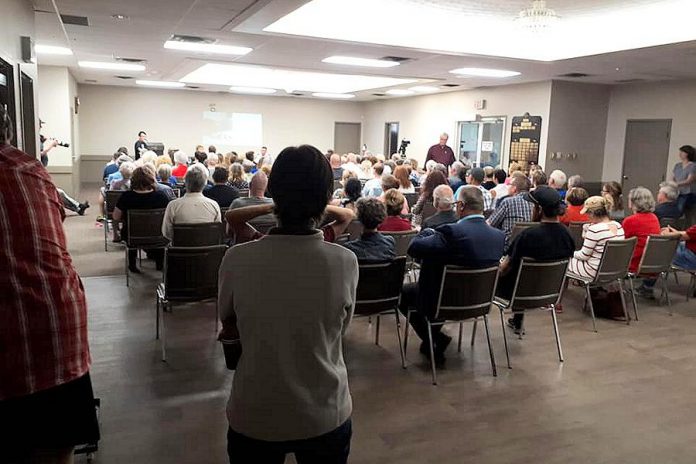 Anyone thinking the growing opioid crisis in Peterborough is falling under the radar in terms of public concern would have found strong evidence to the contrary on Wednesday night (June 12) at the Lions' Community Centre in East City.
A public meeting on the issue, co-hosted by Ashburnham Ward councillors Gary Baldwin and Keith Riel, drew close to hundred people to hear a concerted call for more community action during a year which, to date, has seen 19 deaths resulting from opioid-related overdoses — more than the total for all of last year.
Over the course of one weekend earlier in June, there were 13 opioid-related overdoses with two of those overdoses resulting in death.
"This opioid poisoning crisis is a call to action … it's an invitation to step up and save lives," implored Kim Dolan, executive director of PARN (Peterborough AIDS Resource Network), one of three speakers who took to the podium.
"The scale of this crisis is unlike anything we've ever seen. We're trying to respond to something that's being imposed on us from external sources. We can't control that. What we can control is how we respond to what's happening here and now. That requires a coming together, a putting aside differences, exploring spaces of possibility, leading with our hearts, and knowing there is no one answer to this."
The gathering comes during the same week that provincial NDP leader Andrea Horwath came to Peterborough to discuss the crisis with Mayor Diane Therrien as well as with first responders and public health officials. And it comes less than a month away from a planned July 11 symposium on the matter to be held at Market Hall, jointly organized by Mayor Therrien and Ennismore Deputy-Mayor Sherry Senis.
In her comments, Dolan disputed the use of the word 'crisis' to describe the issue.
"I think back to 2004 and the flood. That was a crisis. Remember how community came together? People recognized there was a problem. We're not seeing that here. What we're seeing is a lot of finger pointing, and blaming of people for having weak characters — all the myths and stereotypes that create stigmas and discrimination and disenfranchise people."
"We need a more robust response to opioid use in our communities. We need to ensure that people have access to accurate information and that we're all doing a really good job referring people. We need to ensure that people have access to prescribed hydromorphone (an opioid used to treat moderate to severe pain)."
"Rather than trying to save people's lives because they've ingested poison, let's put aside our judgments about addictions and why people are using drugs in the first place. We need safe places to inject. We need a provincial government that is really clear about their response and is able to unfold funding and approvals for programs in a way that is clear, transparent, fair and equitable, and that they follow up on their promises."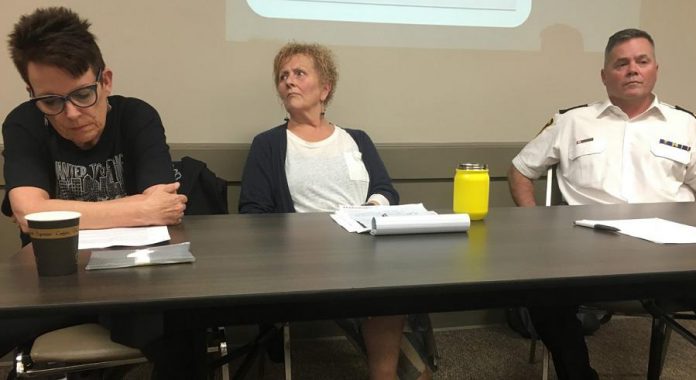 Also taking to the podium was Peterborough Deputy Police Chief Tim Farquharson who admitted, for most of his policing career, he was "all about enforcement" when it came drug addiction.
"We're not going to arrest out way out of this (crisis)," said Deputy Chief Farquharson.
"When you start to learn about addiction, you learn it's not a moral failure. It's a medical disorder. You have to get your head around that piece first. I was all about enforcement; a guy who spent most of his career in drug units and in intel, working the prisons and gaining informants, doing surveillance, doing door kicks … the sexy part of policing."
"I couldn't get my head around the community-based part of it. It was (former police chief) Murray Rodd that took the time to mentor me and turned my whole view around about a collaborative approach. If I changed my view, I know anybody can."
Crediting former Trent University professor Dr. Thomas Symons with telling him there are two things common to effective policing — compassion and confidence — Deputy Chief Farquharson said that starts at the leadership level, adding "You need a give a shit factor of 12 out of 10. If you don't have that, we're in trouble."
"For a police officer to get his head around clean supply is really tough until you realize that people are dying. People are dying because we're still arguing about how we allow a clean and safe supply."
There has been good progress, said Deputy Chief Farquharson, like the Good Samaritan Bill.
"Anybody calling 9-1-1 in Peterborough doesn't have to worry about any repercussions. We still want to get to the bottom of who's trafficking. Nobody is going to be charged or arrested for calling 9-1-1, but if somebody overdoses that's not to say your police service isn't interested in where the fentanyl came from. We will still do our due diligence."
Few in Peterborough have been as solidly on the front lines of addiction as Peggy Shaughnessy, the owner of Whitepath Consulting and Counselling Services whose Redpath program addresses the underlying issues around drug addiction. She spoke as well, urging the community at large "to come together and be strong."
"We're losing too many people and it's not just your average Joe," she said.
"It's not 'those' people any longer. It's young people, it's middle class people, it's rich people. I was on opioids for four years because of a back problem. I recently got myself off all of them. Every pill I took, I asked myself 'Is this for pain or is it to take the edge off of the day?' When you're looking across at somebody else, that could be you as well."
Shaughnessy, through Whitepath, advocates a proactive approach to dealing with the opioid overdose crisis rather than a reactive one, saying "If we're ever to get a handle on our current crisis, we need to look at new solutions'. We're confident the Redpath approach is a piece of the puzzle."
Still, she urges more people have naloxone, a medication that temporarily stops the effects of opioid drugs, allowing time for medical help to arrive.
"If you look at the number of overdoses, that is not a true number because those are numbers that are going to the emergency department. Those who are chronic users are educated enough to look after each other."
When all is said and done, noted Deputy Chief Farquharson, "Our community is trying to figure out what to do."
"This is not going away. It's been with us for thousands of years. We just haven't had the poison (in the drug supply) that we now have. It's a life and death matter and it's not getting any better. We have a lot of work to do."