You have likely heard about Canada's waste crisis and the environmental plague of plastics. One of the main culprits is single-use plastic water bottles, the majority of which do not get recycled, but rather end up in landfills — or worse, in parks, rivers, and forests.
The manufacturing, distribution, and disposal of plastic water bottles water has a huge carbon footprint. Many resources are required to make the physical bottles, draw up countless litres of water, and transport it to bottling facilities and retailers.
Once drained of its contents, a single plastic water bottle can take up to 800 years to fully decompose, releasing toxins and microplastics along the way. The Polaris Institute, an Ottawa-based non-profit organization, estimates that only 14 per cent of water bottles in Ontario end up in recycling facilities, leaving the rest to wreak havoc on our health and the environment.
Bottled water companies are using up valuable resources and contributing to climate change. When we switch to tap water, we can limit this industry's environmental impact by taking ourselves out of the supply and demand equation that the industry relies on.
Advertisement - story continues below
Sometimes the biggest hurdle when switching to tap water is adjusting to the taste in your particular municipality or well. There are at-home water filters available, but bear in mind that these systems usually require the use of replacement carbon filters. Furthermore, these filters and their plastic casings may not be recyclable through your standard curbside collection. In shifting away from bottled water, we must take care not to replace one waste stream with another.
A better option for masking flavour is infusing homegrown mint or lemon balm in your tap water. These native plant species grow well in a variety of climates and are entirely renewable and waste free.
Another reason people hesitate to give up bottled water is the belief that bottled water is safer than tap water when the opposite is actually true. Tap water regulations in Ontario are overseen by Health Canada, while bottled water companies are not monitored by a federal agency and therefore are not required to go through procedures like regular testing.
Change is hard. If you're making the switch away from bottled water, give yourself time to adjust to municipal tap water, while knowing that it is filtered in a specialized facility and closely monitored by a third party to ensure its purity.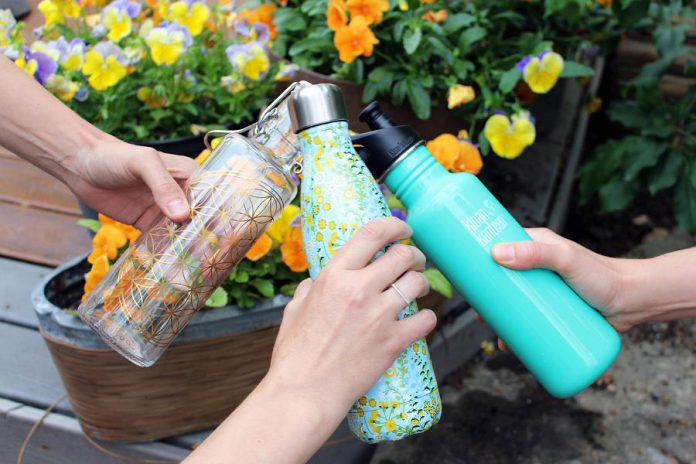 If you don't receive municipal water and your water source is a well, then you can test your water regularly to ensure that it is potable and safe to drink. Peterborough Public Health recommends that well owners test their drinking water twice per year. Drinking water from private residences and cottages can be tested for free.
Sample bottles are available at the Regional Public Health Laboratory, Peterborough Public Health, and township offices. Visit peterboroughpublichealth.ca for more information.
If your water source comes directly from a lake or river, then bottled water may be your only option. In this case, you probably already purchase your water in bulk using reusable and refillable jugs from a local supplier, instead of purchasing individually packaged plastic bottles.
No matter your water source, investing in a reusable portable water vessel is an essential first step in switching to tap water.
But, with the myriad of options out there, what is the most environmentally friendly choice?
Advertisement - story continues below
Glass
Water bottles made of glass are perhaps the most sustainable and recyclable option available. Modern glass is made from sand, soda ash, limestone, and cullet (furnace-ready recycled glass). Glass is also chemically inert and easy to keep clean. Like other household glassware, glass water bottles can last a lifetime if handled with care.
Consider choosing glassware from a reputable North American company to ensure the purity of its materials. The GreenUP Store carries Soul Bottles, which are entirely plastic free, carbon neutral, and sustainably made in the European Union. This product has a glass body, ceramic and rubber stopper, and stainless steel hardware to ensure leak proof and long-lasting freshness.
The GreenUP Store also carries glass straws from Ahimsa Eco Solutions and Joco brand glass cups in a variety of colours, if you want to further minimize your plastic usage.
Stainless Steel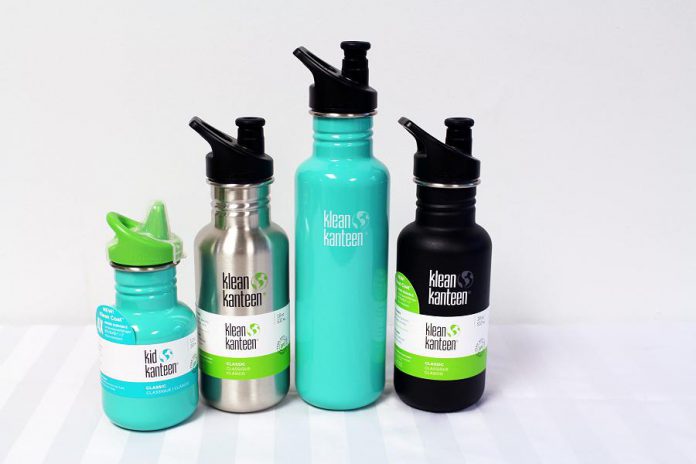 Water bottles made of stainless steel may be among the most expensive options; however, they are durable, dishwasher safe, and recyclable.
The majority of the world's stainless steel production takes place in Asia. China is home to some of the largest deposits of iron ore and nickel, which are used in stainless steel production. While many stainless steel water bottle companies rely on this material, some engage in factory oversight and carbon offsetting to account for emissions during production and transport, so as with glass products, choosing a reputable company is worth the extra few dollars in the long run.
The GreenUP Store carries two chief brands, Klean Kanteen and S'well, both of which stand behind their products and have a humanitarian and environmental mandate.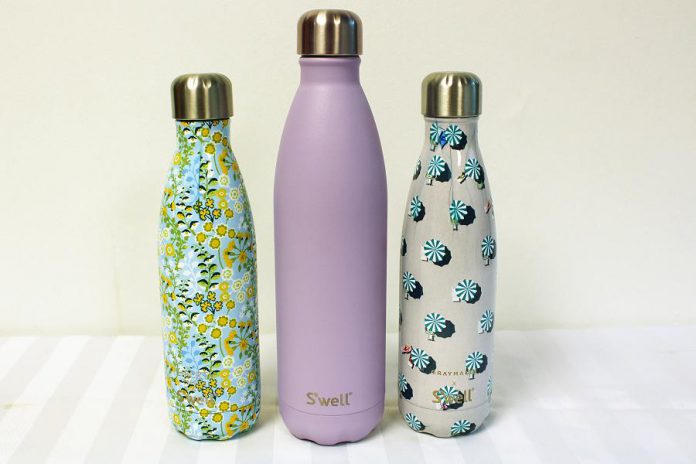 Klean Kanteen is a certified B Corporation, which means that they are committed to high standards of social and environmental transparency, accountability, and performance. Although based in California, Klean Kanteen products are made overseas. The company offsets their carbon footprint through investment in renewable energy and in projects that capture and absorb carbon.
In terms of materials, Klean Kanteen ensures that all of their vessels are made from high quality 18/8 stainless steel. Their gaskets and O-rings are food-grade silicone, while their sport and café caps are made with BPA-free polypropylene. In addition, corrugated cardboard is used as insulation in the lids of their double-walled food canisters.
The GreenUP Store's other reputable brand, S'well, partners with UNICEF to provide safe drinking water to vulnerable communities around the world. Their water bottles are triple walled, vacuum insulated, and made with 18/8 stainless steel and food grade silicone. S'well designs their products in North America and oversees their sustainable production overseas.
Advertisement - story continues below
Canadian Made
If you are keen on buying a Canadian-made water bottle, your options may in fact be limited to North American-made Tritan plastic (used by companies such as Nalgene).
Although the finished product may travel fewer kilometres, it is made of petroleum and may or may not be recyclable at the end of its life.
Tritan plastic is free of BPA, BPS, Phthalate. However, all plastic no matter how durable degrades over time, becoming more brittle and releasing microplastics into the environment.
Boycotting single-use plastic water bottles is not only good for you and your long-term health, but also for the planet.
To purchase a reusable water bottle, visit the GreenUP Store at 378 Aylmer Street North in downtown Peterborough. For questions, please contact Kristen LaRocque at kristen.larocque@greenup.on.ca or 705-745-3238.
And remember, when you're out and about in the Peterborough area, you can visit bluewptbo.ca to find out where you can refill your reusable bottle any time with free tap water, thanks to funding from Peterborough Utilities Group.