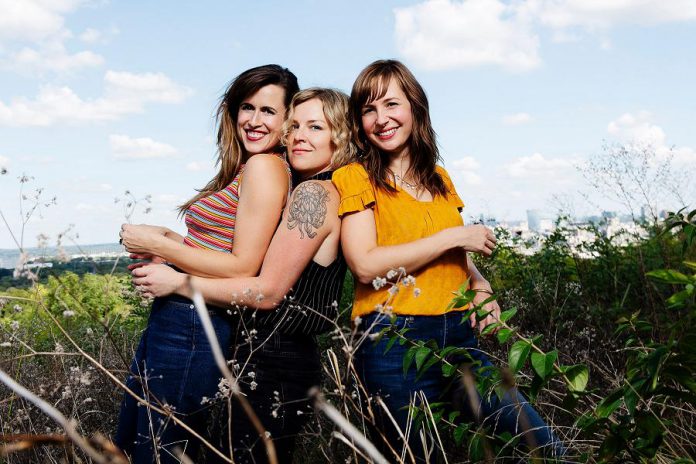 Good Lovelies' singer and guitarist Caroline Brooks recalls the first time she sang with Kerri Ough and Sue Passmore as "incredibly special," the rehearsals leading up to the 2006 pre-Christmas performance at Toronto's historic Gladstone Hotel "leaving the hairs on my arms standing on end."
Thirteen years, countless performances and five studio albums later, the Whitby native remains in awe of the shared experience that has brought Good Lovelies to this point in time.
"I'm married and have an amazing husband but I also have this other marriage with my two best friends and we have this incredible partnership," she says about her bandmates in the Juno Award-winning trio (Ough is from Port Hope and Passmore is from Cobourg).
"There are ups and downs but we feel really blessed together."
Advertisement - story continues below
On Tuesday, October 1st, Good Lovelies will bring their trademark harmonies to the Market Hall Performing Arts Centre (140 Charlotte Street, Peterborough, 705-749-1146). Tickets, at $33 each, are on sale now at the box office and online at markethall.org.
"Our goal is to have people feel they were just in somebody's living room," says Brooks. "Whether we're playing to 50 people or 1,000 people, we have a goal to make everyone comfortable."
"That's a big part of what we do and that resonates with people. It's not a showy show. It's a show of great music. We tell a lot of stories and there's a lot of humour. The pay-off is at the merchandise table later with the smiles and people saying 'Thank you, I needed this.'"
VIDEO: "Lie Down" – Good Lovelies

Clearly a whole lot of people, across Canada and abroad, have needed and loved what Good Lovelies have to offer. Since that first performance, the band's trajectory has been on a decidedly upward curve, a journey boosted big time in 2010 when the trio accepted a Juno Award for Roots and Traditional Album of the Year for their self-titled inaugural full-length recording. Four more albums have followed, the latest being 2018's Shapeshifters.
"I sometimes think about what would have happened if we hadn't won that Juno Award," admits Brooks. "It's an accolade we still 100 per cent live with and love. At the time, we were coming pretty much out of nowhere. Not a lot of people knew our music, so it did give some sort of validation to what we were doing musically."
"But if it hadn't happened, I believe we still would have continued along the same trajectory. It was an incredible experience but accolades, at the end of the day, are accolades. They don't tell the whole story. I know some incredible bands and musicians who probably will never win a Juno, but that doesn't take way from what they're doing in my mind."
VIDEO: "Best I Know" – Good Lovelies

Shapeshifters, which was recorded on the East Coast, marked "a big departure" for the band, says Brooks.
"When we started writing for this latest record, Kerri lost her mom, and Sue and I both had children. There was a lot of upheaval … some very challenging times for us. We weren't writing old-time swing songs, so the songs themselves were a bit of a departure."
Advertisement - story continues below
"One of the most incredible experiences was we were able to really spend time in the studio and focus on the tunes and take the time we needed. We weren't in a big Toronto studio where we were watching our money burn with every hour that went by. We were given a lot of opportunity to try things out."
"We played most of the stuff on the record rather than hiring all these amazing musicians. We were able to take the time and really delve into that record in a different way than we had before. We really followed our hearts on that record. We took the time to make the record we really wanted to make."
Their music and subsequent critical acclaim aside, Brooks says what has made Good Lovelies work so well with no sign of that ending is "an incredible partnership…everything we do is 33.3 per cent (each)." And although each writes independently of the others, "It's not really a Good Lovelies song until we have all put our stamp on it."
"A band may have a sort of musical charisma that is unstoppable, but if you don't get along as people that band won't go anywhere. We're lucky because our voices mix so beautifully; we have this blend. It's almost like singing with sisters. Our voices independently are so different but when we sing together it fits so well. That is magical in itself."
VIDEO: "Waiting For You" – Good Lovelies

Another key to Good Lovelies' enduring success, says Brooks, is each member gives the others space in terms of pursuing their own interests and projects outside the band. For her, that includes being a longtime member of the board for the Mariposa Folk Festival as well as a member of Safe Quiet Lakes, a Muskoka-based advocacy group that promotes responsible boating behaviour.
In addition, she and her partner oversee Secondhand Sunday, a Toronto-based community reuse and waste reduction program they co-founded in 2016.
Advertisement - story continues below
"I have children and I've had to bring the kids on the road, but Kerri and Sue have never given me a hard time about that. Kerri lived in Newfoundland for five years while our band was in Toronto. Most bands would be like 'Okay, that's not going to work, so let's take a break.' For us it was 'How can we make this work?' This is our full-time job and has been for 13 years. We're constantly try to find ways to make it work rather than simply say "This isn't working.'"
"I don't compartmentalize the way some other people do. If I can have my kids at a show, for me it's all related. A lot of my love songs are for my kids, much to my husband's chagrin. Kerri and Sue have made it possible for us to do that. Family is all wrapped up in what we do."
VIDEO: "I See Gold" – Good Lovelies

Citing Sarah Harmer and Paul Simon as major musical influences — "Sue has really been influenced by some of the jazz greats and Kerri would be the first to tell you she rocked out to The Mini Pops when she was a kid" — Brooks sees the folk music genre "as "really evolving."
"We're seeing the blending of (music) genres happening. There are still lots of protest songs being written, but I don't know if we can use the term 'folk music' in the same way anymore. I don't think that's a bad thing. We (Good Lovelies) are not considered roots but we're not considered pop. The lines are blurring. I'm excited about what's happening and feel very positive about the types of songs I'm hearing now."
Advertisement - story continues below
Stating a preference for live performance over studio work — "I like the play with the people I'm on stage with" — Brooks says the performance Good Lovelies will give at the Market Hall is all about the audience experience.
"We tell stories. We sing in harmony and we get people to sing along. People walk away feeling really good. Our songs are both introspective and upbeat. There are some moments of darkness, but in a good way."
VIDEO: "Dancing In The Dark" (Bruce Springsteen) by Royal Wood and Good Lovelies

In the process now of recording a new Christmas album set for release in October, Brooks says Good Lovelies' future is as secure as could be hoped for.
""Our primary goal is to stay healthy as individuals, " she says. "If anybody was feeling burned out we would probably take a break, but I don't think Good Lovelies is a band that will ever break up. If anything we would take a little pause and maybe focus on our once-a-year Christmas tour for a few years, but we're in it for the long haul."
"We have something incredibly special. It's a partnership I feel strongly will survive for a very long time. We're not sisters by blood, but we're sisters by experience and time."
VIDEO: "Take Me, Take Me" – Good Lovelies

The Good Lovelies concert in October is presented by the Market Hall. The organization is also presenting Jill Barber on September 17th, Séan McCann on September 29th, Breabach on October 6th, Steve Poltz on October 18th, Dan Mangan on November 21st, and Samantha Martin & Delta Sugar on February 1, 2020.
For more information about upcoming performances, visit markethall.org.