Beginning Friday, July 5th, the Peterborough Theatre Guild (PTG) concludes its 2018-19 season with Roger Bean's off-Broadway hit jukebox musical The Marvellous Wonderettes: Dream On.
Directed by Margaret Pieper, the show is the sequel to The Marvellous Wonderettes, first produced at PTG in the summer of 2015, and reunites the majority of the original creative team. Natalie Dorsett, Elizabeth Moody, and Tonya Bosch reprise their original roles and are joined by musical powerhouse Gillian Harknett to create the small-town girls pop group The Wonderettes in a fun-filled show about the power of music and friendship.
I can't begin to express my joy in returning to the Peterborough Theatre Guild as I sat in on a Sunday night for a rehearsal of The Marvellous Wonderettes: Dream On.
The original production remains one of my all-time favourite shows at the PTG, and being reunited with some of my favourite local performers and their characters — bossy Missy (Gillian Harknett), bubbly Suzy (Natalie Dorsett), bitchy Cindy Lou (Elizabeth Moody), and boy—crazy Betty Jean (Tonya Bosch), is like being reunited with beloved old friends after a long time away.
Written by Milwaukee-based playwright Roger Bean in 2016, The Marvellous Wonderettes: Dream On is the fourth but most successful sequel to Bean's original The Marvellous Wonderettes, which amassed a massive cult following when it made its debut in 1999.
The show was a love letter to the girl groups of the '50s and '60s, following the lives of four friends from their prom in 1958 to their 10-year class reunion in 1968.
In The Marvellous Wonderettes: Dream On, the Wonderettes are no longer girls, and audiences follow the now-adult friends from 1969 to 1978 as they still struggle with love, life, and finding their own dreams. Of course, along the way, the women sing memorable music from the end of the 1960's to the mid 1970's in a fun and fast musical revue.
"Even if you didn't see the first Wonderettes four years ago, this show can be watched as an all-new show," says Natalie, who also acts as the show's producer. "The first one is not needed to enjoy this show. However, if you remember what happened it's all the better."
Advertisement - story continues below
For director Margaret Pieper, an important element for the success of the sequel to The Marvellous Wonderettes was getting as many players from the original production as possible for the revival.
"Margaret came to me and asked me what I thought," Natalie recalls. "I said that I thought it was a blast the first time, audiences loved it, and we loved doing it. But Margaret said she wouldn't do it if she couldn't get the same people on board."
"There were a few hiccups at the beginning, but once everybody confirmed they were back on board we hit the ground running from there," Margaret confirms. "I asked Natalie, Liz,and Tonya if they'd reprise their roles and they all immediately said yes."
Absent from the original cast is singer Avery Cantello (the original show's Missy), who currently headlines her own band in Toronto.
"We did reach out to Avery," Margaret says, "But she's doing her amazing thing in Toronto and she had to politely decline. She said she would have liked to have made it happen, but it was impossible."
However, Gillian Harknett, who is best known to local audiences for her starring role in St. James Players 2017 production of Mary Poppins, has seamlessly fit into the production alongside the original crew of girls.
"Gillian has slotted into this role so easily that sometimes we forget sometimes that she didn't do the original show four years ago," Natalie says.
One of the interesting differences between The Marvellous Wonderettes: Dream On and the original show is the way the music has evolved from the first show. While the first show featured all songs from the female singing stars of the '50s and '60s, the sequel songs from both female and male artists.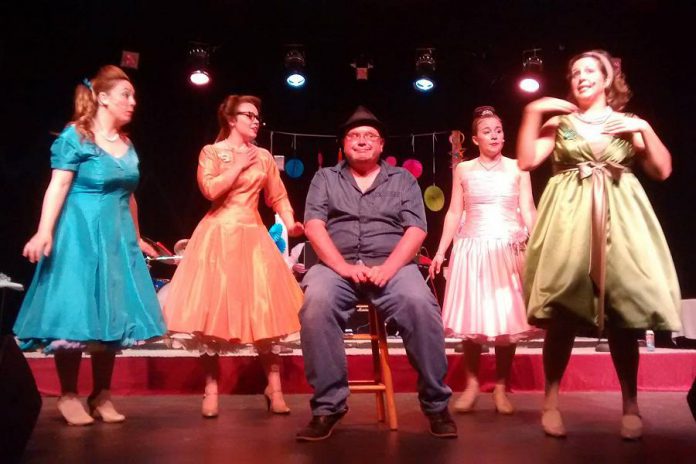 While songs by female icons like Petula Clark, Linda Ronstadt, Gloria Gaynor, Diana Ross and the Supremes, Freda Payne, Helen Reddy, Kiki Dee and Toni Tennille are highlights of the show, the girls also sings songs by Stevie Wonder, Rare Earth, The Foundations, The Spencer Davis Group, The Four Tops, Harold Melvin and the Blue Notes, and The Doobie Brothers.
Songs that are not associated with women now become transformed into Wonderettes songs via the on-stage accompaniment by musical director Dustin Bowers and his great group comprised of Liam Parker, Nick Gilroy, and Tim Moody.
"The harmonies written in this show are far more complex than the first show, but the sound is a lot better," Natalie says. "What those backup vocals bring to the songs elevate the songs. In some ways it makes it harder, but it makes it more interesting singing backup."
But while the songs are the selling point, the heart and success of the Wonderettes franchise lies in the lives and loves of the four characters. From the first act of the first show to the final act of the sequel, audiences follow the lives of the girls through 20 years. Over four productions, the Wonderettes have achieved their own devoted fan base among theatre patrons.
"Betty Jean is the jokester and class clown," says Tonya Bosch of her character. "She's just here because her friends were organizing this event and she can sing. My character also stays with a boy, Johnny, who keeps cheating on her."
"But Betty Jean evolves the most in these plays. In the first show, she changes a lot between the first act and second act, and in this play she evolves even more. I think they did that on purpose because this play take place at a time when women were finally allowed to evolve, and when women could go on a weekend excursion without a husband. Women never heard such a thing in the sixties. I love that this is in the script. First she is there for her friends, but now she is there for herself."
Advertisement - story continues below
While Betty Jean is often the light-hearted character with the funny lines, her onstage friend and foil Cindy Lou carries the emotional storyline of the series.
"Cindy Lou was the mean girl in school," Liz Moody says of her character. "She's a rebel and steps out of what people expect her to do. She acts like she has good luck and she can get all the boys she wants, but somehow it never works out for her."
"In the first show she steals her best friend's boyfriend, and then dates another boy who dies in front of her. In this show, it hasn't been very long since that happened. In act one she is lost and she doesn't know what she wants to do, so she takes a chance to become a star and to sing. Act two of her story is what happens after she makes that jump, but it's not all sunshine and rainbows for Cindy Lou. But she's lucky to have a great group of friends that will support her no matter what the situation might be."
Gillian Harknett takes on the role of Missy, The Wonderettes stuffy leader who, in the first show, romanced and eventually married their teacher Mister Lee.
"Missy likes to be in control of everything in her life," Gillian explains. "She likes everything to be just so, and when it isn't she gets flustered. But she figures out a way to do things, and then moves on."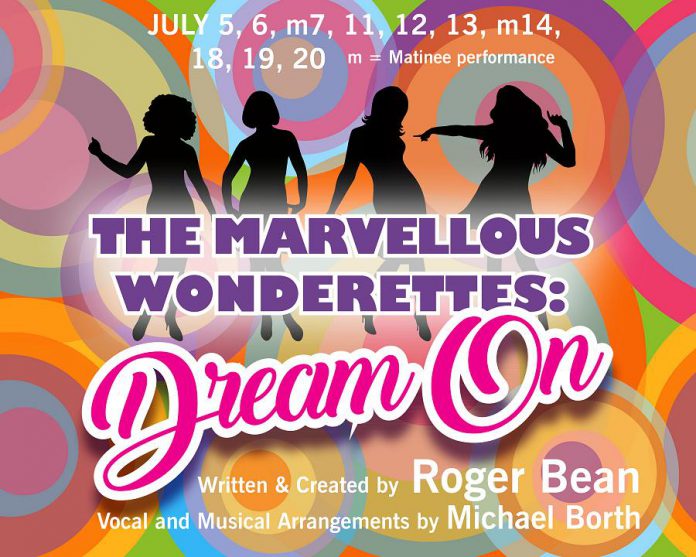 Although her character Suzy seems like the air-headed comedic relief of the show, Natalie is able to put her own real-life three dimensional spin on the character.
"I think for Suzy, she has this idealistic life that everybody in 1968 wanted, but you don't know what's really going on behind closed doors," Natalie says. "She's the mom with the kids that walks through the grocery store saying hello to everybody, and she saw them at the salon and will see them at the PTA."
"I think Suzy has evolved a little bit, but she's evolved the way you thought she would. Who she was at 18 is who she is at 38. However, she has a little bit of a backbone. She's a stereotypical house wife from that era, and singing with the Wonderettes is the only thing she has which is about her. Everything else is about her family, but this is hers. This is the only thing she has."
While people love the music in the play, the audiences can genuinely connect to the characters as well, Liz explains.
"Every woman goes through these characters and their stages at some point in their lives," she says. "You go through the stage where you need to find out who they are. You go through the dreamer stage, where it feels like nothing is working. You go through the stage where you realize nothing is working, so you're going to control the snot out of it. Then you go through the stage where everything is fine."
"Whether you have been married or not, you can relate to the relationships where they seem safe but you know that it's not what you want. Every woman can connect to the story, and even men can connect to it. It's light-hearted and fun, but has those heart-felt moments of empowerment. That's why I love theatre so much. It can help someone past a hard point."
Advertisement - story continues below
"This show is what we need right now," Natalie adds. "It's easy to connect to and it's a way to escape to somewhere fun. You're also going to feel good."
But don't just take it from the cast of the show. I was invited to sit through the first act during a rehearsal, despite weeks being left to continue to develop and fine tune the show. I loved reuniting with the characters as if they were old friends, and I couldn't help but be seduced by the musical numbers, often singing along and dancing in my seat.
Driving home, I found myself singing the songs from the show, and smiling so wide that my face hurt. The Marvellous Wonderettes: Dream On is what summer theatre is all about: light and fun with moments that will touch your heart. It's a show about music, loyalty, and the type of friendship that binds women together throughout the years. It is guaranteed to become an audience favourite. It's already one of mine.
The Marvellous Wonderettes: Dream On runs from July 5th to 20th at the Peterborough Theatre Guild. Shows start at 8 p.m., with 2 p.m. Sunday matinees on July 7th and 14th. Tickets are $22 for adults, $20 for seniors, and $13 for students. You can order them now by calling the box office at 705-745-4211 (if not open leave a message) or online at theatreguild.org.
After The Marvellous Wonderettes: Dream On completes its July run, the Peterborough Theatre Guild will be back with its 2019-20 season starting in September.