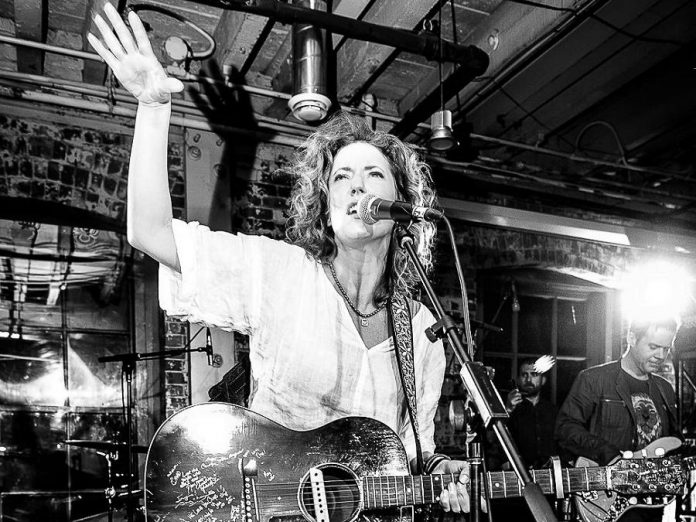 The Peterborough Folk Festival has just announced musicians Kathleen Edwards and Matt Mays as the headliners for the final day of the music festival, and Peterborough band Paper Shakers as the festival's 2019 Emerging Artist.
Edwards, who has performed in Peterborough before, is best known for her songs "Six O'Clock News", "Hockey Skates", and "Change the Sheets". The Ottawa native's fourth studio album Voyageur cracked the top 100 and top 40 in the U.S., peaking at #39 on the U.S. Billboard 200 and #2 in Canada.
In 2012, her song "A Soft Place To Land" won the SOCAN Songwriting Prize and she returned to the Late Show with David Letterman to perform "Change the Sheets" (she first appeared on the show in 2003 to sing "Six O'Clock News", and she has also performed on the Tonight Show with Jay Leno and the Late Night with Jimmy Fallon).
VIDEO: "Change the Sheets" – Kathleen Edwards on David Letterman

In 2014, Edwards took a break from the music business, opening a Ottawa cafe that she ironically called "Quitters". She has since resumed performing and is currently writing music for her fifth album.
Edwards has recently been opening for Juno Award-winning Matt Mays, who last performed in Peterborough at the Market Hall in February this year.
Advertisement - story continues below
In 2018, the Nova Scotia indie rocker released Twice Upon a Hell of a Time …, an acoustic re-imagining of the songs from his 2017 album Once Upon a Hell of a Time….
Edwards and Mays will take to the Peterborough Subaru Stage at Nicholls Oval Park on Sunday, August 18th.
VIDEO: "Drunken Angels" – Matt Mays

"Being able to bring these two Canadian treasures to the folk festival this year is really special, especially to celebrate our thirtieth anniversary," says festival vice-chair and artistic director Ryan Kemp.
In addition to Edwards and Mays, other newly announced performers are Hamilton country and roots-rock group The Redhill Valleys and folk-inspired singer-songwriter Katey Gatta from Niagara region.
"The full lineup will be announced in the next couple of weeks," Kemp adds. "It's going to be a really special festival this year."
The Peterborough Folk Festival kicks off in August with two ticketed concerts at Market Hall Performing Arts Centre: Juno Award-winning musicians William Prince on Thursday, August 15th and Donovan Woods with his band The Opposition on Friday, August 16th.
Tickets for both concerts are now on sale in person at the Market Hall box office (140 Charlotte St., Peterborough), by phone at 705-749-1146, or online at markethall.org.
The free portion of the festival runs on Saturday, August 17th and Sunday, August 18th at Nicholls Oval Park in Peterborough's East City. As well as performances by more than 20 musical acts on four stages — including Juno Award-winning group A Tribe Called Red on Saturday night and legendary children's performer Fred Penner on Sunday — there will be 50 artisans and vendors selling their wares, craft beer from Cameron's Brewing Company in the pavilion, and a children's village with free entertainment and activities all weekend long.
While admission to the Peterborough Folk Festival at Nicholls Oval Park is free, donations are welcomed to support the festival's operations. The festival is also looking for volunteers to help out. For more information, to make a donation, or to sign up as a volunteer, visit www.peterboroughfolkfest.com.
Advertisement - story continues below
Paper Shakers – 2019 Emerging Artist
Festival organizers also announced Peterborough band Paper Shakers as the recipient of the 18th annual Emerging Artist award.
The five-piece alt-rock band consists of Jack Sole, Micheal Hall, Whitney Hall, Luke Benjamin, and David St. Pierre.
Paper Shakers performed at the 2017 Peterborough Folk Festival, and will be featured at the 2019 festival. The band is also opening for Said The Whale at Peterborough Musicfest on Wednesday, July 17th.
VIDEO: "The Chain" by Fleetwood Mac performed by Paper Shakers

As the Peterborough Folk Festival's Emerging Artist, Paper Shakers will attend the Folk Music Ontario conference this fall, where they will be able to expand connections in the music industry with festivals across Canada.
Previous recipients of the Emerging Artist award include Serena Ryder, James Mckenty, Missy Knott, and Beau Dixon.