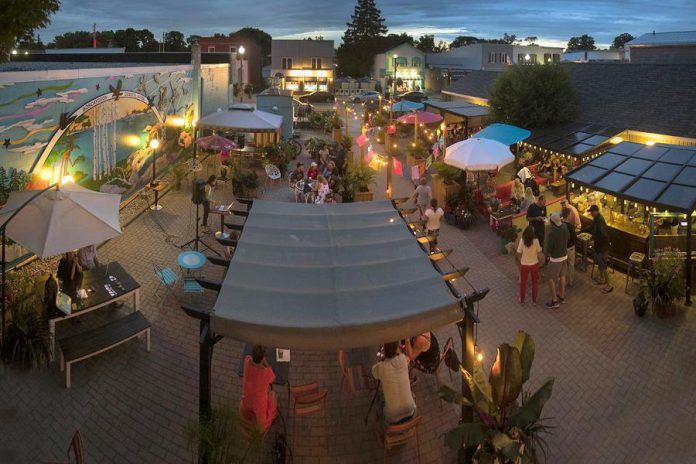 It's summertime: the living is easy, the sun is shining, and it's the perfect time to sit on a patio and enjoy some of the best food and drink that the Kawarthas have to offer.
With so many lakes and rivers, there are plenty of waterfront destinations to sit and sip. Prefer something a little more urban? Soak up the sun and people watch on a street-side patio.
And if you enjoy music, many restaurants also offer live bands on their patios — making for a perfect summer evening out.
And don't compromise on taste: these include some of the top restaurants and craft breweries in the region. Cheers!
Advertisement - story continues below
The Hunter Street Cafe District
Kettle Drums (224 Hunter St. W., Peterborough, 705-874-1500)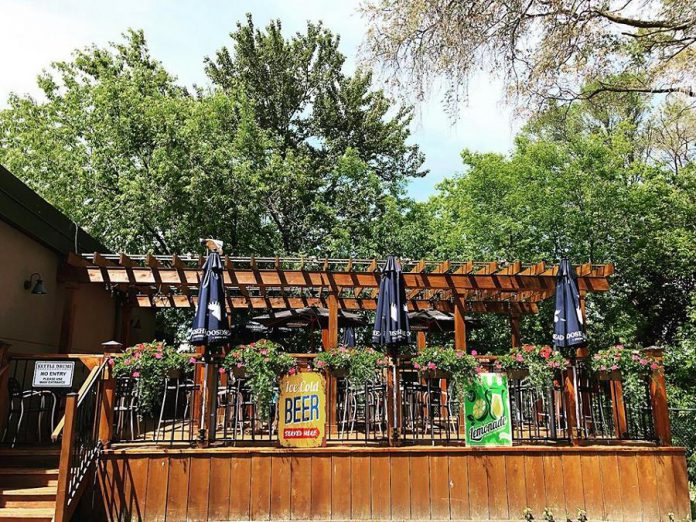 Sangria lovers will want to head to Kettle Drums, where you can pick from a red, white or rose sangria. The white sangria has peach schnapps, fresh fruit and mint leaves, the red kicks things up a notch with a nip of cherry brandy, and the rose features strawberry puree and basil. Chin chin!
La Hacienda (190 Hunter St. W., Peterborough, 705-742-1559)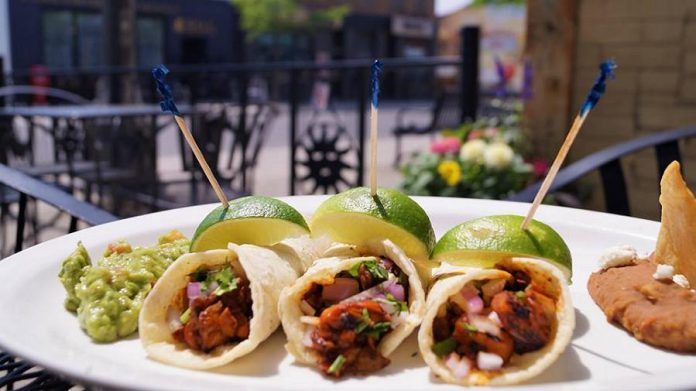 Come in the morning for chilaquiles, huevos rancheros and mimosas. Come in the evening for sopa azteca, and enchiladas. La Hacienda's patio is a great place to enjoy authentic Mexican cuisine, or simply to cool off with an outstanding margarita.
Black Honey (217 Hunter St. W., Peterborough, 705-750-0014)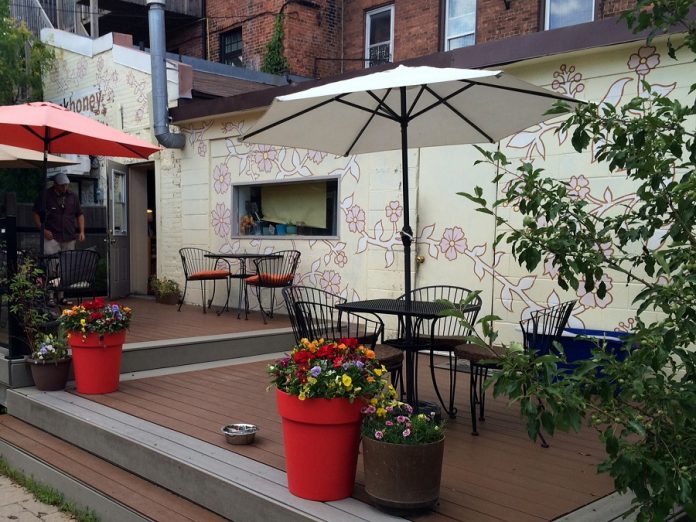 If it's brunch time on the weekend head to Black Honey, where you can get a really great cup of coffee and a nice meal on the patio. Be sure to save room for dessert, and take some time admire the murals in the area painted by local artist and kawarthaNOW columnist Shannon Taylor.
Spanky's Downtown Pub and Patio (201 Hunter St. W., Peterborough, 705-874-5078)
Spanky's patio is a great destination for evening drinks, and with this street-side view it's a great place to people watch. Feeling the heat? Grab something icy from the slushie machine.
One Eighty Sports Pub (180 Hunter St., Peterborough, 705-874-0989)
Caesar lovers need look no further. One Eighty Sports Pub's build your own Caesar menu features kielbasa, pepperettes, pickles, smoked bacon, brie, jalapeno havarti and more. You can enjoy your snack and drink in one on their street-side patio in the heart of the Hunter Street Cafe district.
The Only Cafe (216 Hunter St. W., Peterborough, 705-743-7591)
The Only Cafe patio is one of the most beloved patios in the downtown core. It's a good pick day and night: stop by late in the morning for one of their famous breakfasts. Stop late in the evening for last call overlooking Jackson's creek.
Advertisement - story continues below
Peterborough Downtown
Silver Bean Cafe (130 King St., Peterborough, 705-749-0535)
The Silver Bean's patio is nestled in Millennium Park, and it's one of the most scenic in downtown Peterborough. Come to the Silver Bean for beautiful river views, lots of trees for shade, great coffee and a locally focused menu.
Fresh Dreams (373 Queen St., Peterborough, 705-559-7731)
Fresh Dreams' patio is a little slice of Europe, and it's the perfect place to enjoy their Spanish cuisine. Tapas include Spanish artichoke hearts, oyster mushrooms, patatas bravas and a mini cheese fondue. Paella is served on Wednesdays and Saturdays.
Riley's Pub (251 George St. N., Peterborough, 705-750-0375)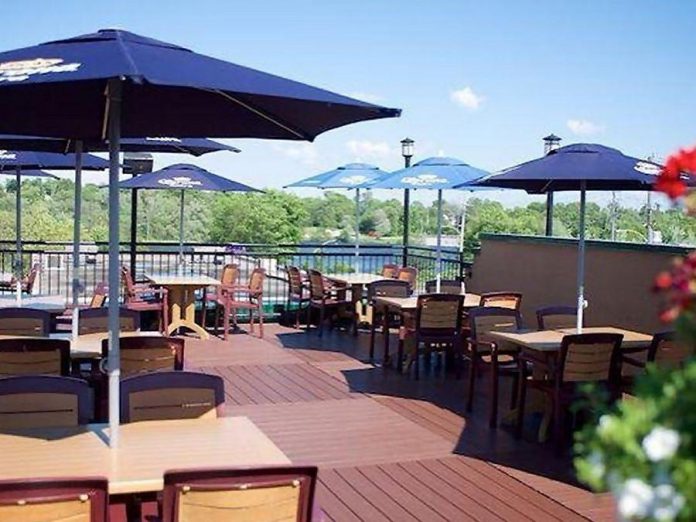 Get ready to shout it from the rooftops: Riley's rooftop patio is a great place for a beer and some crowd-pleasing pub food overlooking the downtown and the river.
The Riverside Grill and Gazebo (150 George St. N., Peterborough, 705-740-6564)
The Riverside Grill and Gazebo has a lot going for it: perfect views of the Otonabee River and Little Lake, regular live music nights, a locally focused menu and lots of space for you and your friends. If the weather takes a sudden turn, head inside: the large picture windows still offer a great view, and the dining room menu is exceptional.
The Ashburnham Ale House (128 Hunter St. E., Peterborough, 705-874-0333)
This small but mighty patio is a great place to try a new craft beer in the sunshine (there is also outside seating for small groups along the side of the building facing the Rotary trail). Not feeling the beer? (Absurd!) Their weekend brunch menu is outstanding.
The Publican House (300 Charlotte St., Peterborough, 705-874-5743)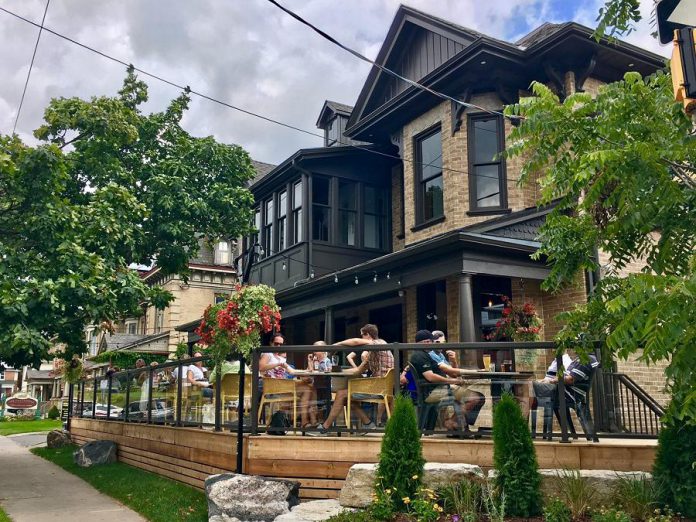 With a variety of outstanding beers made on the premise and a kitchen overseen by Chef Brad Watt, the patio of the Publican House is a great place to relax outside while enjoying some truly outstanding food and drink.
Advertisement - story continues below
Buckhorn, Woodview, and Young's Point
Main Street Landing (1939 Lakehurst Road, Buckhorn, 705-657-9094)
Watch the boat traffic at Buckhorn's Lock 31 and enjoy a meal at Main Street Landing, known for its large patio by the water. The menu offers a good selection of pub grub and lots of tasty breakfasts.
The Boathouse at Viamede Resort (595 Mount Julian Viamede Road, Woodview, 705-654-3344)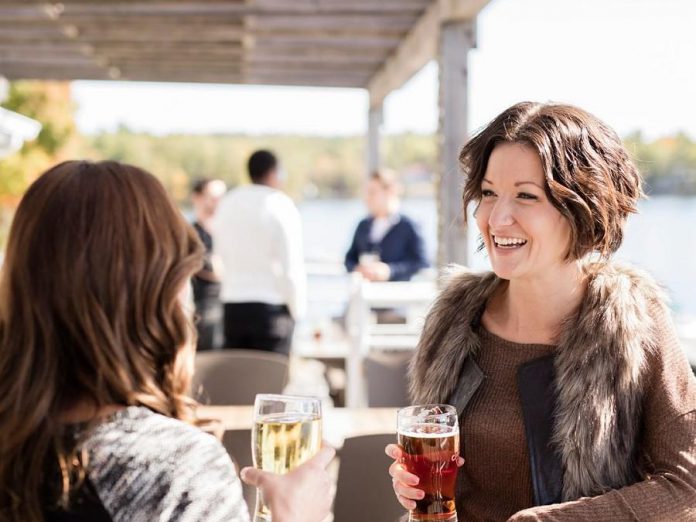 Overlook the water in a former boathouse at Viamede Resort. The kitchen sources locally, with some items foraged or farmed from Viamede's own grounds. The Boathouse is open only in the high season: from the Canada Day weekend to the Labour Day weekend.
Lock 27 Tap and Grill Restaurant (2824 River Ave, Young's Point, 705-652-6000)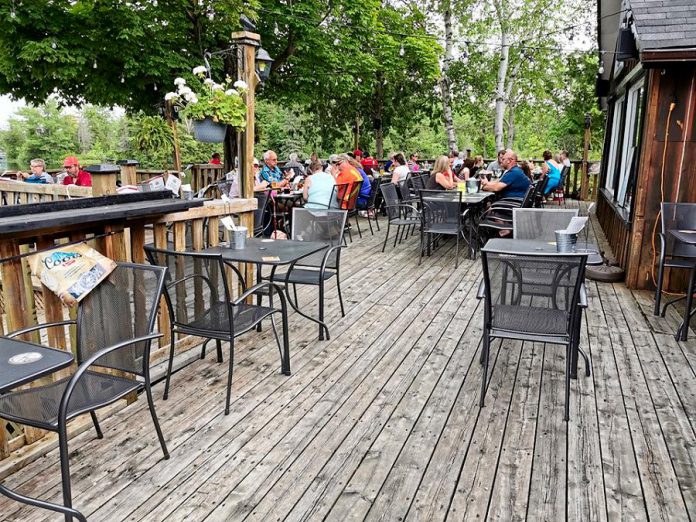 With an outstanding view of Clear Lake and lots of daily specials, Lock 27 Tap and Grill Restaurant is a great place to soak up the sun by the water. The beverage menu includes refreshing cocktails and local craft beer.
Bridgenorth, Ennismore, and Lakefield
Chemong Lodge (764 Hunter St., Bridgenorth, 705-292-8435)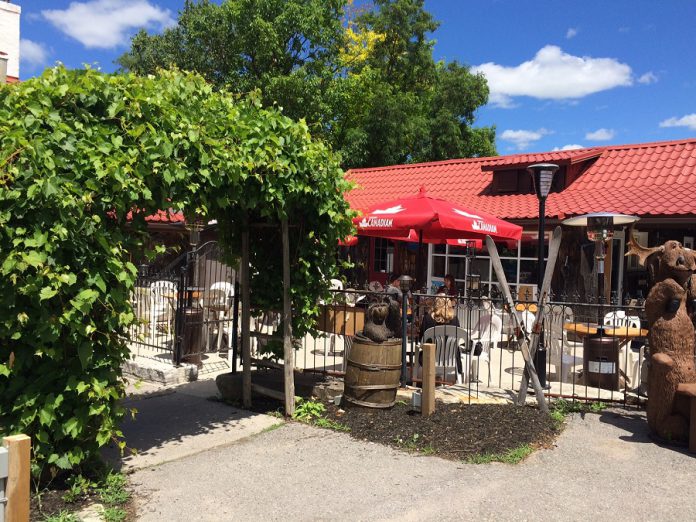 Bridgenorth's prime rib destination also has a sunny patio featuring live music every Friday and Saturday throughout the summer.
Sippin Dip (1500 Yankee Line, Bridgenorth, 705-292-0292)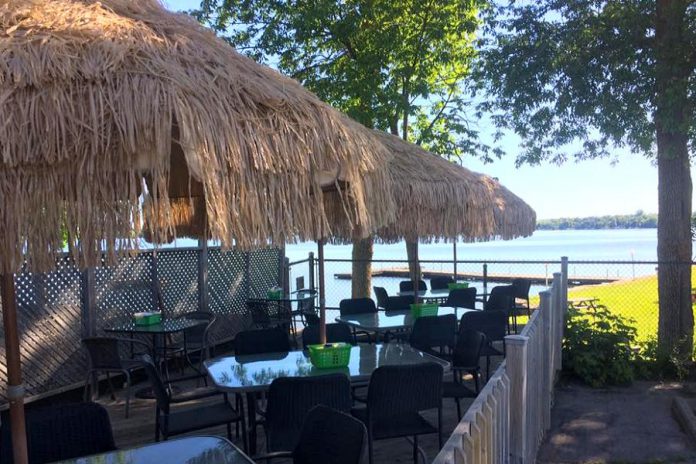 After a day spent at Bridgenorth's Jones Beach, head to the Sippin Dip, where you can enjoy a pickerel dinner by the water under the shade of a thatch umbrella.
The Canoe and Paddle (18 Bridge St, Lakefield, 705-651-1111)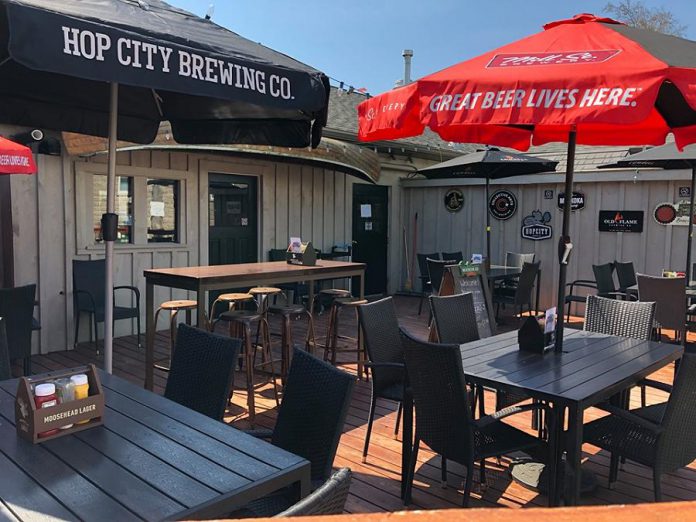 The Canoe and Paddle patio is a great place to soak up the sun and listen to the Otonabee River rush by. Their menu of pub food truly has something for everyone. You'll want to stop by on the weekend: they have live music on Saturdays and $5 Caesars on Sundays.
Advertisement - story continues below
Lindsay, Fenelon Falls, and Bobcaygeon
The Grand Experience (171 Kent St. W., Lindsay, 705-324-9444)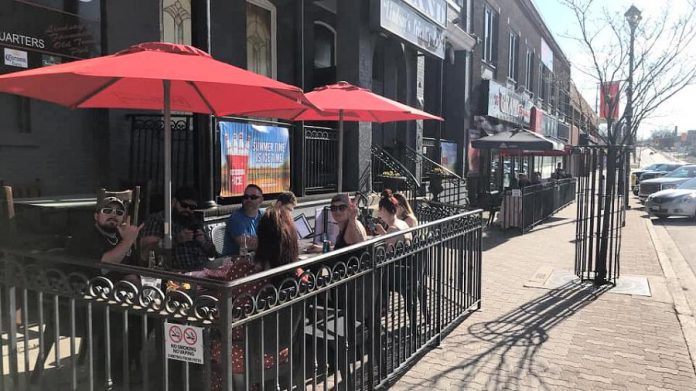 Spanning half a city block, The Grand Experience has been around since the 1980s. Their street-side patio is a great spot to grab a few beverages and do some people watching in Lindsay's beautiful downtown.
The Pie Eyed Monk (8 Cambridge St N, Lindsay, 705-212-2200)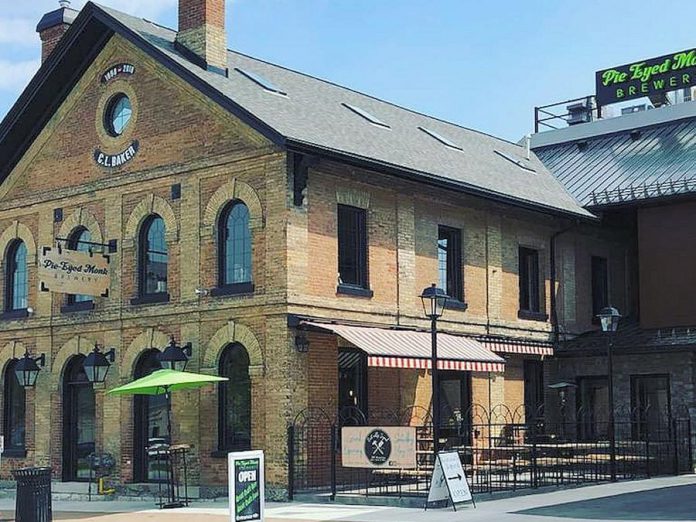 The Pie Eyed Monk patio is a great place to sit and enjoy the architecture of the historic C.L. Baker Building, but with house made craft beer options like the Laughing Troll, the Angry Viking and Blasphemous Rumours, you won't just be enjoying the architecture for long. The menu includes a variety of wood fired pizzas and fish and chips breaded with spent brewing grains, among others.
Murphy's Lockside Pub and Patio (3 May St., Fenelon Falls, 705-879-1100)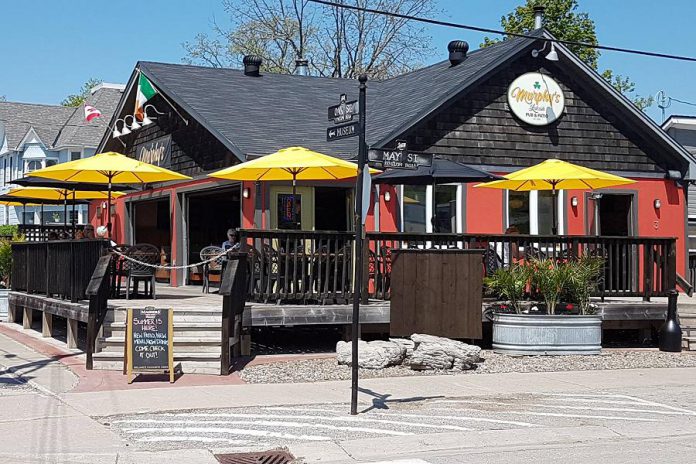 Located close to Lock 34 in Fenelon Falls, Murphy's Lakeside Pub and Patio is the perfect spot to watch the boat traffic. Opt for a refreshing mojito or a mint julep, or try something from their craft beer fridge.
That Place on Cameron (16 Oriole Rd, Fenelon Falls, 705-887-7690)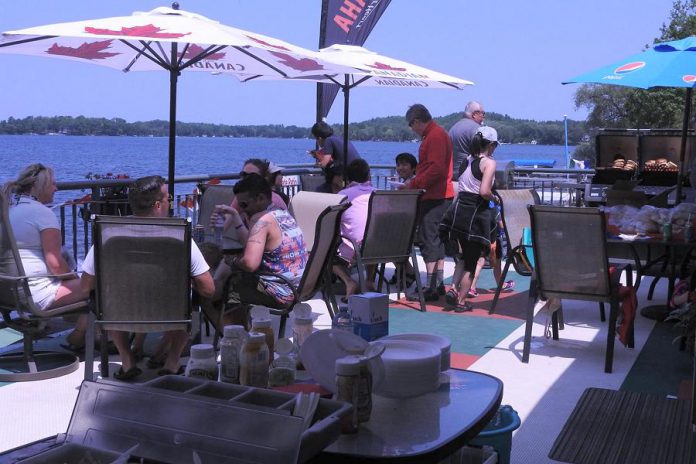 The patio at That Place on Cameron has a beautiful view of Cameron Lake. You can travel there by car or boat, but be sure to come with an appetite. Portions here are generous.
The Kawartha Coffee Company (58 Bolton St, Bobcaygeon, 705-738-1500)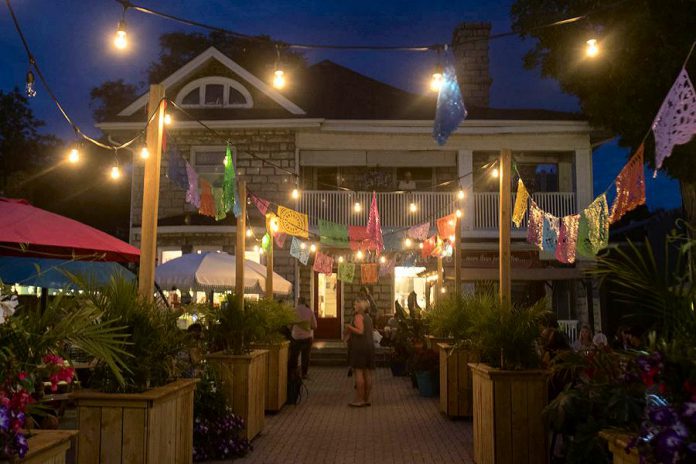 The largest patio in the Kawartha Lakes region doesn't just serve coffee: there's a full beverage menu, and a menu featuring Mexican cuisine. On the patio there's a food truck, plenty of space to lounge, and a mural painted by artist Penni Holdham to honour the local nature and wildlife, Bobcaygeon's Indigenous heritage and the famous song by the Tragically Hip. Looking for some fun? Come for live music or karaoke night.
Bobcaygeon Inn (31 Main Street, Bobcaygeon, 705-738-5433)
Unwind by the river at the Bobcaygeon Inn: their expansive patio has plenty of space to sit and enjoy the views.
Rice Lake, Bewdley, and Keene
The Wild Blue Yonder Pub and Patio (1045 Settler's Line, Keene, 705-295-4591)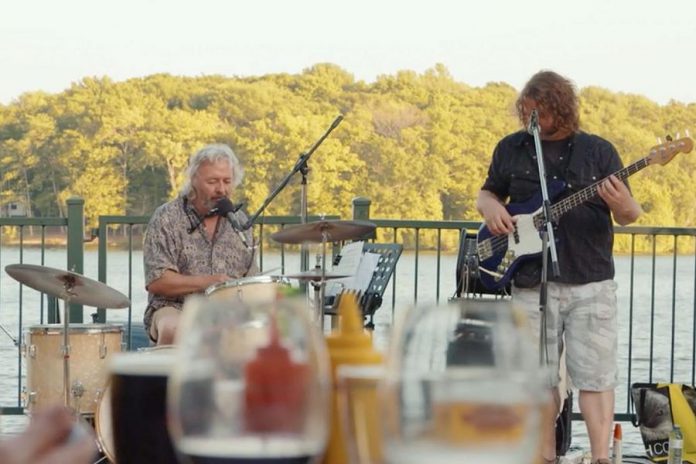 Head to the Wild Blue Yonder Pub and Patio at Elmhirst Resort for angus burgers from cattle raised on Elmhirst's own farm, local craft beer, and an outstanding Tuesday night music lineup.
Muddy's Pit BBQ (3247 Country Rd. 2, Keene, 705-295-1255)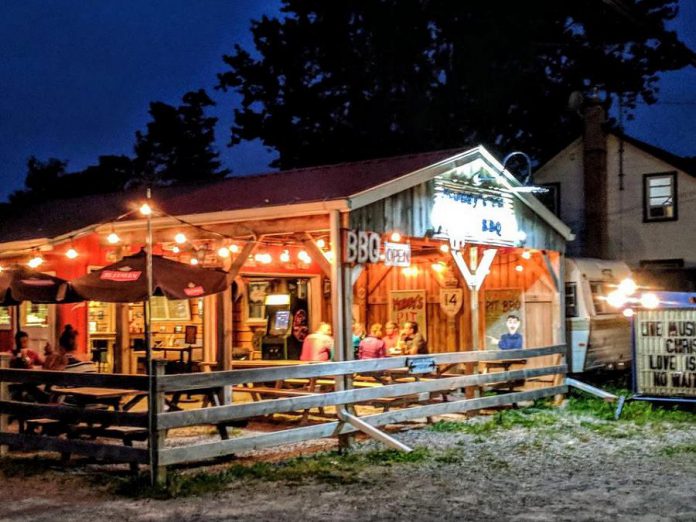 Southern BBQ is best enjoyed outside, and Muddy's offers a covered patio where you can do just that. Their Sunday afternoon music lineup is outstanding, as are their regular specials. Pulled pork, bacon and brisket on an apple fritter bun? Only at Muddy's.
Rhino's Roadhouse (5078 Rice Lake Drive, Bewdley, 905-797-2744)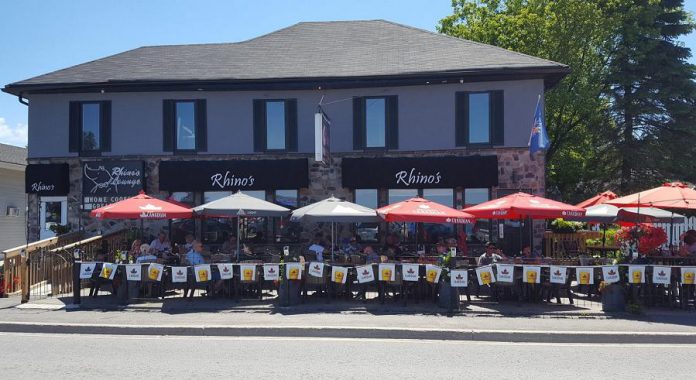 Open since 1988, Rhino's Roadhouse is a Bewdley institution. Grab some of their famous wings and a beverage and enjoy the view of Rice Lake.
There are so many great patios in the Kawarthas, we couldn't get to them all! Did we miss your favourite? Feel free to comment below to let us (and our readers) know!