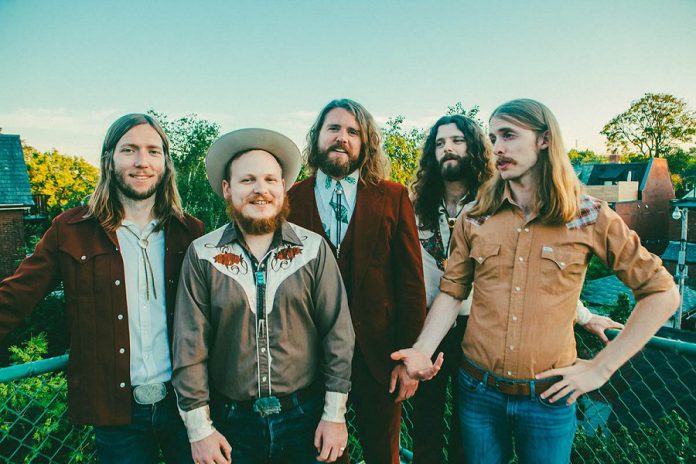 Summer is finally here and that means it's outdoor concert season in Peterborough and the Kawarthas. There are free concerts every Wednesday and Saturday at Peterborough Musicfest in Del Crary Park, live music in other parks in the Kawarthas and, of course, lots of opportunities to see bands perform in local pubs and bars.
Here are some highly recommended concerts coming up in July.
Advertisement - story continues below
Live music at Elmhirst's Resort in Keene every Tuesday in July
Perched right beside Rice Lake, the Wild Blue Yonder Pub & Patio at Elmhirst's Resort (1045 Settlers Line, Keene, 705-295-4591 or 800-461-1940) has become a summer hotbed for live music. Every Tuesday night in the summer there is a show open to the public and resort guests.
This July, the lineup is as strong as ever: July 2nd will be the blues, jazz, and R'n'B stylings of Rob Phillips and Charlie Earle; July 9th features folky tunes with The Pine Saps; on July 16th it's a mix of great originals and covers with Nicole Lisa Craig; July 23rd will feature the music of Chris Culgin and Derek Bell, an excellent duo mixing bluegrass and roots influences with an array of instrumentation; and, last but not least, on July 30th it's hometown heroes Fred Stillman & Keene Country.
All concerts are free of charge. Shows begin around 7 p.m., with a lovely BBQ dinner available for purchase as well as a delicious array of great beverages.
VIDEO: "Be My Baby" performed by Charlie Earle

K-OS with Five Alarm Funk at Peterborough Musicfest at Del Crary Park on July 3
Get ready for a full-on high-energy dance party on Wednesday, July 3rd when Peterborough Musicfest presents an unreal double bill of Toronto hip-hop artist K-OS (Kevin Brereton) along with Vancouver funk all-stars Five Alarm Funk.
The evening in Del Crary Park will be full of music with deep grooves and contagious beats.
The show begins at 8 p.m. Admission is free for all Musicfest concerts, thanks to Musicfest sponsors, but you'll need to bring your own lawn chair.
VIDEO: "Crabbuckit" – K-OS

VIDEO: "May the Funk Be With You" – Five Alarm Funk

Blue Hazel and Little Rapids at The Twisted Wheel in Peterborough on July 5
On Friday, July 5th, check out some eclectic folk-inspired music at The Twisted Wheel (379 Water St., Peterborough) as Blue Hazel (Caitlin O'Connor and Meisha Browne) and Little Rapids share the stage.
The show is perfect for those who appreciate an earlier start as it begins at 7:30 p.m. Admission is free.
If you can't make it to the Friday show, Blue Hazel will also be playing the previous night at The Garnet (231 Hunter St. W., Peterborough, 705-874-0107) along with Steven Hees and Nathan Miller.
VIDEO: "The Track of My Tears" performed by Blue Hazel
Advertisement - story continues below
Sylvan Shore at Millennium Park in Bancroft on July 10
Bancroft is the place to be on Wednesday, July 10th when Mineral Capital Concerts presents Haliburton duo Sylvan Shore (Kate Hall and Andrew von Zuben) at Millennium Park (166 Hasting St. N., Bancroft).
Sylvan Shore performs music with an alt-folk and country sound, with hurtin' country tunes, uplifting originals, and even spoken word pieces. Hall and von Zuben's songwriting and harmonies are sure to appeal to listeners.
The show is free and begins at 7 p.m.
VIDEO: "Weather Vane" – Sylvan Shore

Rick Fines at Austin Sawmill Heritage Park in Kinmount on July 11
kawarthaNOW favourite, Peterborough's blues music hero Rick Fines, will take the stage at Austin Sawmill Heritage Park (4072 Haliburton County Rd. 121, Kinmount) on Thursday, July 11th.
Fines is known for his great songwriting and blues guitar skills. Bring the entire family for this excellent show close to the shores of the Burnt River. There are plenty of picnic tables and benches but you might want to bring you own lawn chairs or blankets.
The show begins at 6:30 p.m. and is completely free.
VIDEO: "Driving Home" – Rick Fines

The Calrizians at The Garnet in Peterborough on July 17
It does not really get more summer than surf rock.
On Wednesday, July 17th, The Garnet (231 Hunter St. W., Peterborough, 705-874-0107) plays host to The Calrizians.
The Toronto band plays surfy instrumental tunes that'll make you want to get the board out.
Admission is $10 at the door (or pay what you can) and the show starts at 9 p.m.
VIDEO: "Rambunkshush" performed by The Calrizians

RöckBïtür at the Red Dog in Peterborough on July 20
I usually don't like to plug tribute shows in this space; however, there's one coming up that's hard to resist.
On Saturday, July 20th, The Historic Red Dog Tavern (189 Hunter St. W, Peterborough, 705-750-1710) will host four local musicians performing as RöckBïtür.
Playing the music of Ozzy Osbourne, Judas Priest, DIO, Van Halen, Motley Crüe, and many more, the band features Brandon Humphrey and Liam Archer (from Broken Harmony) as well as Taylor Beatty and Eric Piil.
Wear your biggest hair and best '80s outfit to truly seize the night. The show will begin at 10 p.m. and you can get tickets at the door.
Advertisement - story continues below
The Sheepdogs at Peterborough Musicfest at Del Crary Park on July 24
There may not be a bigger rock band in Canada right now than The Sheepdogs, who take to the Fred Anderson stage in Del Crary Park in downtown Peterborough on Wednesday, July 24th for a free concert at Peterborough Musicfest.
The Sheepdogs' classic retro vibes are accessible to many, including those who were there the first time, their kids, and maybe even their grandkids.
The band, which formed in Saskatoon in 2006, is comprised of brothers Ewan and Shamus Currie, Ryan Gullen, and Sam Corbett, along with Balieboro's own Jimmy Bowskill, who joined the band in 2015.
"He joined us on tour, learned our whole set basically in one rehearsal, and has been with us ever since," says Gullen, the band's bass player.
The band has been touring the U.S., Europe, and Canada with abandon since their last release Changing Colours came out last year.
The show begins at 8 p.m. at Del Crary Park and is entirely free, thanks to sponsors. Rock on!
VIDEO: "Nobody" – The Sheepdogs

VIDEO: "Saturday Night" – The Sheepdogs

TorQ at Northern Lights Performing Arts Pavilion in Haliburton on July 24, 25 and 26
The Highlands Summer Festival in Haliburton mainly stages live theatre performances, but this year the festival is also welcoming Canadian percussion ensemble TorQ to the stage at Northern Lights Performing Arts Pavilion (5358 Haliburton County Rd. 21, Haliburton).
Renowned for their engaging performances, members Richard Burrows, Adam Campbell, Jamie Drake, and Daniel Morphy are committed to making percussion music accessible to audiences that span generations.
TorQ will perform at 7:30 p.m. on Wednesday, July 24th and Thursday, July 25th, and a 2 p.m. matinee on Friday, July 26th.
Tickets for each performance are $37.50, available at highlandssummerfestival.on.ca.
VIDEO: "El Mosquito Marrón" – TorQ

VIDEO: "The Bright Side" performed by TorQ

Advertisement - story continues below
Julie Doiron, Apollo Ghosts, and Jose Contreras at The Garnet in Peterborough on July 28
Fans of great Canadian music, rejoice! On Sunday, July 28th, there will be a triple bill of epic proportions as Sackville, New Brunswick's Julie Doiron (formerly of Eric's Trip), Vancouver's Apollo Ghosts, and Toronto artist Jose Contreras (By Divine Right) take the stage at The Garnet (231 Hunter St. W., Peterborough, 705-874-0107) for TWO shows.
The early show begins at 6 p.m., with a late show starting up at 10 p.m.. Get onto the ticket list for either show at The Garnet. Tickets are $10 in advance and $15 at the door.
Seating is limited with only 35 tickets available for each show.
VIDEO: "American Joint" – Apollo Ghosts

VIDEO: "Consolation Prize" – Julie Doiron

VIDEO: "Twisted Crystalline" – Jose Contreras