Not unlike the determined three little pigs of fairy tale lore, they will huff and they will puff come a Friday this September, but nary a house will come down.
Instead, the goal of their collective exertion will be to pull an 44,000-pound fire truck, via pure muscle and a lot of sweat, the furthest distance in the least amount of time, raising dollars in support of the delivery of local programs for those dealing with dementia.
The 2019 Pulling For Dementia Fire Truck Pull — organized and hosted by the Alzheimer Society of Peterborough, Kawartha Lakes, Northumberland and Haliburton — will be held Friday, September 13th from 9 a.m. to 3 p.m. in the parking lot of the Peterborough Memorial Centre at 151 Lansdowne Street.
The fifth annual event will go rain or shine, although it may possibly move inside the Morrow Building if the weather does not cooperate.
According to local agency fund development coordinator Jen Johnstone, the event remains the ultimate team building exercise.
"We get a lot of corporate participants," says Johnstone. "It's a really fun way for people to get out of the office and do something for a good cause. Everyone is working together. It's a great way for them to do that but also be philanthropic at the same time."
To date, the event has raised close to $103,000, which has been allotted to the provision of services across the four counties the agency serves.
VIDEO: Pulling For Dementia 2019

The push now, says Johnstone, is to publicize the event well in advance of the summer vacation period so those interested in pulling a team together can do so now. Close to half of the hoped-for 30 teams have already registered, the fundraising commitment being a minimum of $1,000 per team.
Men's and mixed teams are comprised of 10 members; female teams are allowed 12 members. Team registration is open at pullingfordementia.wordpress.com.
The event format is simple, notes Johnstone. Every team only pulls the fire truck once, timed for the distance they cover. There is a practice round prior to the real McCoy, where teams are taught the proper technique to get the best result and avoid any injury.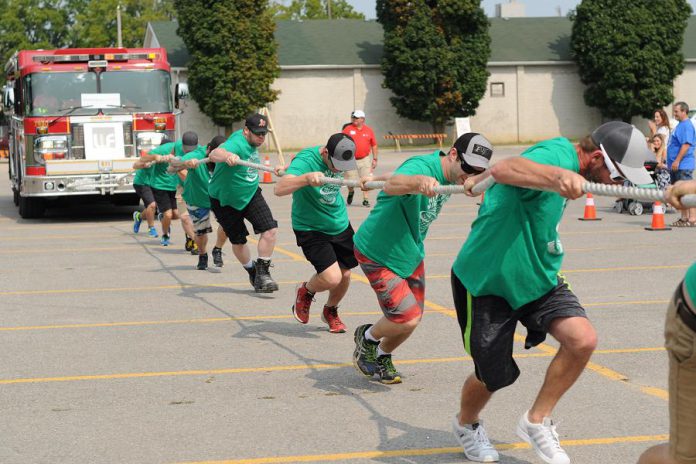 "We're very aware of injury prevention," stresses Johnstone.
Central to the training aspect will be the return involvement of Cobourg-based Lutheran minister Kevin Fast, who will again serve as honorary event chairperson.
Dubbed the world's strongest priest, Fast holds numerous Guinness World Records for feats of strength, including his pulling of a 188.83-ton Globemaster III airplane, several fire trucks and, for good measure (and because he can), a house.
"A lot of people have claimed, especially my competitors, that I cheat, that I have divine intervention," noted Fast in a 2016 interview with kawarthaNOW prior to that year's fire truck pull event. "But I work hard at it and I was gifted with some ability."
When all is said and pulled on event day, besides big-time bragging rights, one team will be awarded the trophy for fastest pull time but, Johnstone notes, trophies will also be awarded within the division's teams based on their origin.
As well as raising funds, one of the benefits of the fire truck pull event is that it raises awareness about a key focus of the Alzheimer Society: living well with dementia.
"You can live a very positive life with dementia," Johnstone explains. "This event really highlights that, in that it's a positive event that builds really great connections with the communities we serve while helping reduce the stigmas associated with Alzheimer's disease."
Dementia is the overall term for a set of symptoms that are caused by disorders affecting the brain. Those symptoms may include memory loss and difficulties with thinking, problem-solving, or language, severe enough to reduce a person's ability to perform everyday activities. A person with dementia may also experience changes in mood or behaviour.
Dementia is progressive, which means the symptoms will gradually get worse as more brain cells become damaged and eventually die. Alzheimer's disease is the most common cause of dementia. While the disease is most common in adults 65 years of age or older, it is not a normal part of aging and it also affects adults under 65.
The push for more fire truck pull team registrations comes just a month after the agency's other major annual fundraising event, the IG Wealth Management Walk For Alzheimer's that was held on May 25, 2019. In addition, Johnstone and her society colleagues recently moved to new office space in the lower level of Peterborough Square. An open house will be held in September, she says, with the date to be announced.
But for now, the big focus is on the fire truck pull, which has Johnstone excited.
"I'm new to the organization but I've heard a lot of from everybody about just how much fun the day is," she says. "Like anything we do in terms of our fundraising endeavours, we're always evaluating, making sure what we're embarking on is raising as much money as we can for the amazing cause that we're serving."
"It's been a fantastic event and we've very fortunate to have had four great years so far."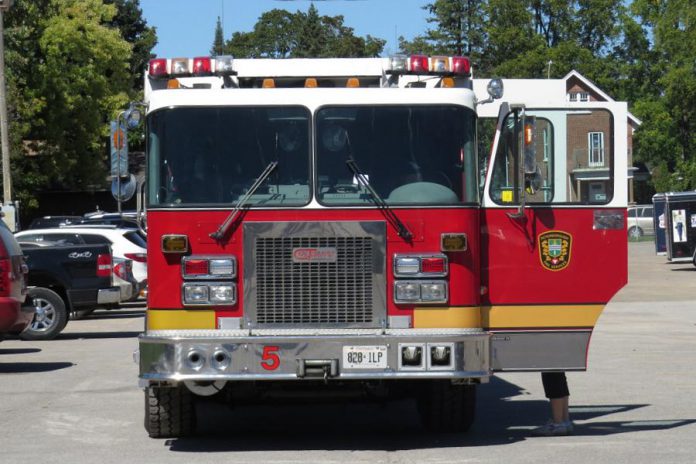 The Alzheimer Society of Peterborough, Kawartha Lakes, Northumberland and Haliburton provides services supportive services at no charge to families and individuals affected by Alzheimer's disease and other dementias, throughout all four counties including the communities of Peterborough, Kawartha Lakes, Lindsay, Haliburton, Minden, Cobourg, Port Hope, Campbellford, Havelock, and Millbrook.
It is estimated that more than 7,500 people in that catchment area have Alzheimer's disease or some other form of dementia. That number is expected to grow to more than 15,500 by the year 2036.
The society also provides a range of public education services within the communities its serves, as well as educational opportunities to those living with dementia and those supporting persons with dementia including family members, caregivers and professionals.
For more information on the society and the services it provides locally, visit alzheimer.ca/en/pklnh or phone 705-748-5131.
The story was created in partnership with the Alzheimer Society of Peterborough, Kawartha Lakes, Northumberland and Haliburton.