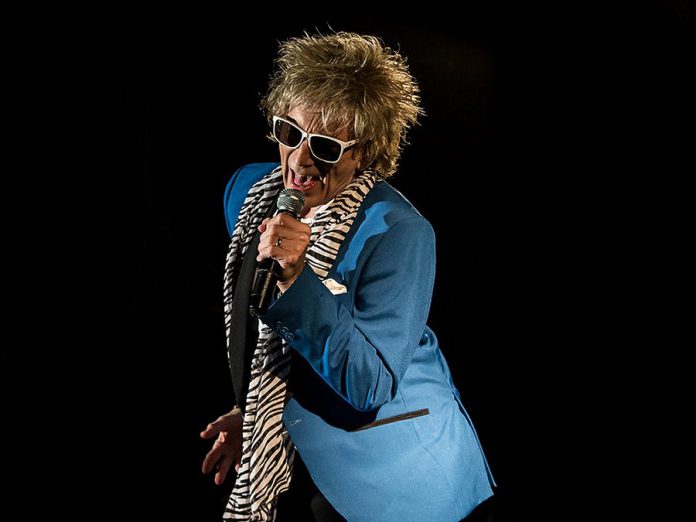 At a time when Elton John is embarking on a three-year retirement tour and has just seen the release of a biopic, his pop-rock rival Rod Stewart is still doing his thing and doing it well, as evidenced by the 2018 release of his 30th studio album and a pending Las Vegas residency.
Yes, raspy-voiced Stewart is more than holding his own 50 years after launching his solo career and Doug Varty, for one, is grateful.
"When my band and I used to play Rod Stewart covers in pubs, people would ask me if I was lip-synching to a track," says Varty, a lifelong guitarist, singer, songwriter, and recording artist.
"When I assured them it was really me singing, they insisted that me doing a Rod Stewart tribute show would be a big hit. Though a little reluctant to wear the wig and the shiny suits, I quickly learned to embrace the opportunity to become someone else for awhile."
VIDEO: Doug Varty as Rod Stewart

On Monday, July 1st at Del Crary Park — Canada Day — Peterborough Musicfest presents Forever Young, Varty's polished and highly acclaimed tribute to the 74-year-old singer whose signature 1971 hit "Maggie May" remains a must-have staple in countless record collections around the globe. Admission, as always, is free to the 8 p.m. concert.
Advertisement - story continues below
When he's not paying homage to the Grammy-awarded and Rock and Roll Hall of Fame-inducted Stewart, Varty is a highly respected blues-rock singer and guitarist who has toured the globe. Having shared stages with Tina Turner, Rush, Bob Seger, and the late Roy Orbison, Varty's talent and resulting reputation precedes him, whether performing original music or taking on his Stewart persona.
Varty is no stranger to recording studio success either, as evidenced by strong reviews for Feel Free, his 2012 album of original music.
"Feel Free brings to mind classic, Bon Scott era AC/DC with opening track Kickin' Ass a straightforward blues boogie romp that is pretty hard to dislike, all knuckledusters and cheap beer," raved Fireworks Magazine in the United Kingdom.
VIDEO: "Hot Legs" by Rod Stewart performed by Forever Young

"Raspy, take-no-shit vocals, soaring guitar and a constantly pounding bass give the Doug Varty Band a streamlined but hard-hitting sound that sees the three-piece storm through Feel Free, a rather glorious dose of blues rock, littered with great vocal hooks and memorable riffs," chimed in Powerplay Magazine, another UK publication.
Advertisement - story continues below
For sure, it's those same "raspy" vocals that are at the centre of Varty's remarkable covers of Stewart classics such as the aforementioned "Maggie May" as well as "Hot Legs", "Tonight's The Night", "Forever Young", and a host of other commercial radio classics that are the hallmark of Stewart's extensive catalogue, both as a member of Faces (1969 to 1975) and as a subsequent solo act with record sales totaling more that 100 million.
This is a sort of Jekyll and Hyde thing: there's Doug Varty, and then there's Rod Stewart portrayed by Doug Varty. Assuming the latter role, and the resulting audience appeal, isn't rocket science, he says.
"As some of the live music audience gets a little older, they want to go to something they know and understand will be a good night out," he explains. "They want to go to a sure thing. They may not know who Doug Varty is, but they know what they're going to get when they see me as Rod Stewart. You don't have to convince them to have a good time."
Peterborough Musicfest is presenting 16 free-admission, sponsor-supported concerts featuring a total of 21 acts during its 33rd season — each concert staged on Wednesday and Saturday nights at Del Crary Park.
VIDEO: "Maggie May" by Rod Stewart performed by Forever Young

Overseen by general manager Tracey Randall and staff, a board of directors, and numerous volunteers, Peterborough Musicfest's stated mission is to "provide diverse, affordable live music to enrich cultural and economic prosperity in our community."
For more information on this concert or the entire 2019 season, visit www.ptbomusicfest.ca or phone the Peterborough Musicfest office at 705-755-1111.