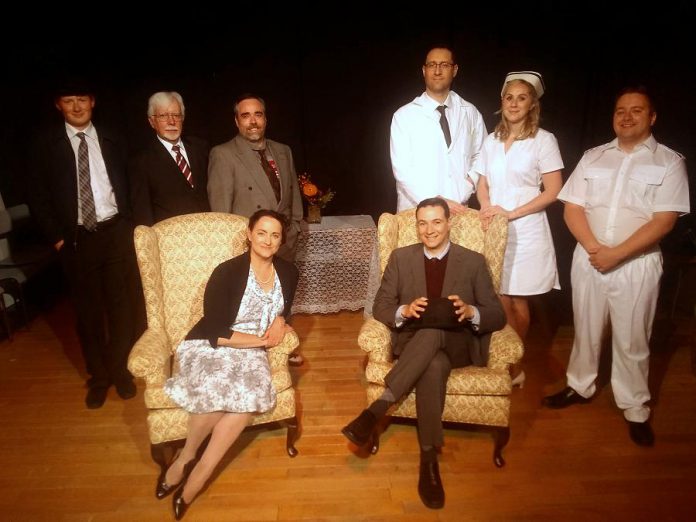 "Years ago my mother used to say to me 'In this world, Elwood, you must be oh so smart or oh so pleasant.' Well, for years I was smart. I recommend pleasant."
– Elwood P. Dowd, Harvey
Beginning Friday, July 5th, Lindsay Little Theatre (LLT) closes out its 2018-2019 season with a production of Mary Chase's Pulitzer-winning play Harvey.
An audience favourite for over 60 years, this zany comedy with a touch of fantasy is directed by Dylan Robichaud and features a cast of LLT regulars led by John Austin in the role of good-natured dreamer Elwood P. Dowd.
Written by Chase in 1944, Harvey was an instant hit with audiences when it opened on Broadway in November of that year, with actor/dancer Frank Flynn in the role of Elwood P. Dowd and Josephine Hull as his exasperated sister Veta. The show ran until 1948, closing after 1,775 performances.
Throughout its run, three additional actors would take on the role of Elwood, with the final being James Stewart, who would become the actor most associated with the role when he, along with Josephine Hull, reprised their roles in the 1950 film adaptation of the play.
The film gave a broader audience access to the endearing story, and earned Hull an Oscar for best supporting actress and Stewart a best actor nomination. Still considered one of Jimmy Stewart's finest film performances, the film (as well as the play) have continued to engage generations of fans due to the story's wit and whimsical wisdom.
Harvey is the story of Elwood P. Dowd, a happy and friendly man who treats everyone he meets as a friend. Quick with a kind word and universally liked, Elwood is somewhat peculiar due to the fact that he has a constant companion named Harvey who follows him wherever he goes. However, Harvey happens to be a six-foot tall rabbit that only Elwood can see.
Elwood is a constant source of stress to his sister Veta, who is trying to move her daughter Myrtle up in society, and she decides to have him institutionalized. However, as in every good farce, mistakes are made, misunderstandings are created, and soon everyone is pulled into Elwood's fantasy world.
VIDEO: "Harvey" (1950 movie) trailer

For director Dylan Robichaud, Harvey has been a passion project that he has wanted to put on the stage for years.
"I was first introduced to Harvey when I was in high school and I fell in love with the world of Elwood P. Dowd," says Dylan during a Thursday night rehearsal at Lindsay Little Theatre. "It's a world of manners and kindness. My favourite quote in the show is 'You must be oh so smart or oh so pleasant. Well, for years I was smart. I recommend pleasant' To me that's the perfect life philosophy — to be kind."
Advertisement - story continues below
Taking on the role of Elwood P. Dodd is John Austin, who returns to the stage after an 11-year absence. However, as John explains, he's been ready for almost 20 years to play this part.
"I had an opportunity to be a part of Harvey when I was in high school and was offered the part of Elwood," John recalls. "However, the show never happened; it fell apart very quickly. But I saw the advertisement that they were doing Harvey at the Lindsay Little Theatre and I thought to myself that I could not not audition for this."
"What I've always loved about Elwood is that he is genuinely the friendliest guy. He's the same person to every person he interacts with. He doesn't put on different faces, or put on different attitudes depending on the social situation. He's always him. He's genuinely kind."
But John also believes there is more to Elwood's nature that should be taken by today's chaotic society.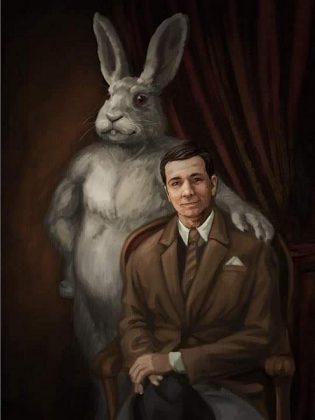 "The play is about what matters to you the most," he says. "In today's world we have a lot of conflicting opinions on what people should be doing with their times or their bodies, and who people should love and avoid. The reigning opinion, I feel, should be: What does it matter if my neighbous make different choices than I do? What does it matter if they have different beliefs?"
"What does it matter if this guy, who is sweet and genuine to everyone he knows and has never done anything to hurt somebody, believes that he has a best friend that is an invisible rabbit? What is the difference? Should that person be shunned or worried about? I think Elwood is not doing any harm, and doing something about it would be much worse.'
"The play asks who is more of a threat: that deluded dreamer or the people who are trying to change that dreamer," Dylan agrees. "From that very moment, I've been drawn to Harvey."
Actress Laura Marshall, who plays the role of Elwood's sister Veta, sees her character as being much more than just a woman who is trying to change her brother.
"She loves her brother a lot, and that's why she's managed as long as she has with putting up with Harvey," Laura says of her character. "The only thing that's making it hard for her are all these society expectations. She wants to be liked."
Advertisement - story continues below
"She has this young daughter who's coming out, and she wants to host a tea to let people know her daughter is available. She wants her daughter to marry the right person, and she wants them to be expected by upper society. But she loves her brother so much. He is so sweet and so kind and she knows that that's special."
As Laura points out, while it may not have been the playwright's original intent, Harvey is easily translated into a play about mental health.
"I see Harvey as a mental health play about loving and accepting people for who they are," she says. "We all have our peculiarities and we can all be embarrassed by others at different times for different reasons. But we've got to set those embarrassments behind, and embrace those idiosyncrasies for the uniqueness that make people the lovable individuals they are."
"Harvey is about family and about love. That's what everybody wants in the end, and Harvey is this key to whatever you want, whenever you want it. Elwood is so at peace with himself that he doesn't even need it, which is why Harvey is with him."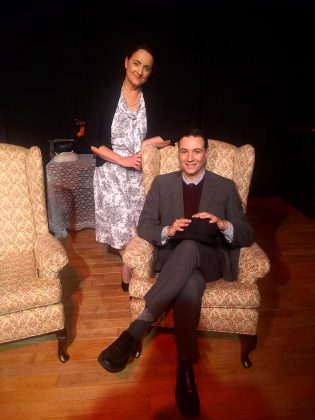 So what about Harvey? Does he exist? Is he real or just a figment of Elwood's imagination? Now to be precise, although Harvey is seen by Elwood in the form of a giant rabbit, he is actually a pooka — a spirit out of Celtic folklore who is a shape-shifter and can appear in many different animal forms.
"In the play they say that a pooka is a wise and mischievous creature," Dylan explains. "In this case, especially in Elwood's world, he is very mischievous. There is a line that Vita says near the beginning 'I swear I see that rabbit myself.' I feel he is toying with her because he's choosy about who he likes and he doesn't like. Through the play you discover that Harvey has a lot of power. He can stop time and decide who he wants to appear to and who he doesn't want to appear to."
So is Harvey real? As Dylan explains, it's really up to the audience to decide.
"For me I've always believed Harvey exists, but I think it's up to the audience to decide if they think Harvey exists or not. At the end, the audience will be able to decide for themselves."
Advertisement - story continues below
With Harvey, zany comedy meets endearing characters in a show filled with equal parts magic and heart at one of my very favourite theatres in the Kawarthas. It's the kind of show that has all the elements audiences want in a summer show, whether they themselves are the deluded dreamer or the person trying to change the deluded dreamer.
Harvey will be performed at Lindsay Little Theatre on Friday, July 5th and Saturday, July 6th and the again on Friday, July 12th and Saturday, July 13th with show time at 7:30 p.m. Additional matinee performances will be held on Sunday, July 7th and Saturday, July 13th with show time at 2 p.m.
Tickets are $20, with special "VIP treat" tickets for $25 available for matinee performances (featuring tea and scones during the first intermission and shortbread or butter tarts during the second intermission). You can get tickets at Lindsay Little Theatre before each performance, or in advance at www.lindsaylittletheatre.com/tickets/.