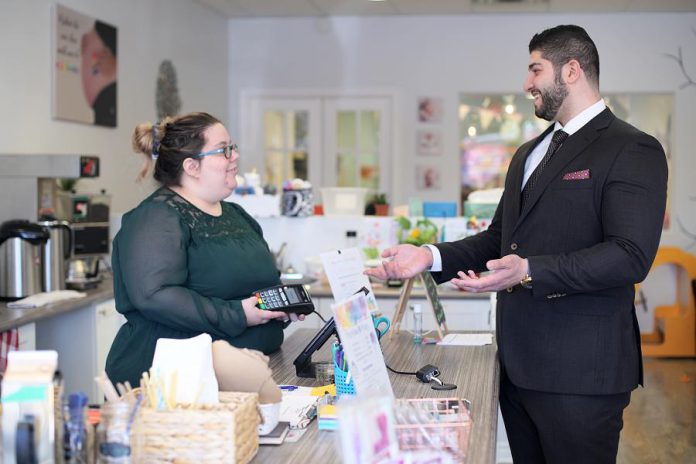 There's a lot of risk involved in running your own business. Waleed Dabbah knows this — he's been through the process himself.
Previously of Hampton Financial, Dabbah has spent the last five years developing a client base in Peterborough, where he has firmly established himself in the local business community.
Now Dabbah has launched Dabbah Corp, his own financial services company.
Through Dabbah Corp, Dabbah acts as a broker for payment processing machines, otherwise known as point of sale (POS) systems. Whether you're a start-up or an established business looking to switch providers, Dabbah says he can help you.
VIDEO: Why work with Dabbah Corp?
The owners and operators of three Peterborough businesses — John Robert Clothiers, The Venue, and Play Cafe — explain why they chose to work with Dabbah Corp for their businesses' payment processing needs. More in-depth videos from each of the businesses are available later in this story.
While the work may be complex, Dabbah's goals are simple: to help businesses receive payment for their goods and services. He does this by helping his clients with the difficult process of setting up and managing their POS systems at the lowest cost possible.
"Businesses have a lot to manage," Dabbah says. "Their POS systems can be one thing they don't have to stress about."
There are a variety of options to choose from when looking to set up a POS system, but Dabbah prides himself on providing a personalized service that clients don't often get when dealing with larger financial services companies.
VIDEO: Why work with Dabbah Corp? The Venue

"I give each of my clients my cell phone number," he explains. "If there's an issue, my clients can call me directly."
"I'll take as long as needed to walk them through the issue on the phone, or I will visit them. That's the advantage of working with someone local. I care about my clients' businesses doing well. If they thrive, our community thrives."
Dabbah's customer service is a big draw for The Venue in downtown Peterborough. The multi-function event space has three wireless POS terminals and, the one time they experienced a glitch, Dabbah Corp responded immediately to resolve the issue.
This personal and community-focused approach is what sets Dabbah Corp apart from competing companies — this and Dabbah's strong background in business and marketing.
Dabbah's education and experience in the financial services industry allows him to offer more well-rounded advice. In addition to financial services, Dabbah is happy to offer general business advice to his clients where needed, as well as tips on social media marketing.
VIDEO: Why work with Dabbah Corp? John Robert Clothiers

Since starting in the financial services industry, Dabbah has personally helped hundreds of businesses process tens of millions of dollars in sales. He uses his expertise to help businesses of various sizes and with diverse needs.
Some clients, such as prominent downtown clothing business John Roberts Clothiers, need help understanding the fee structure associated with their POS system.
Dabbah puts his financial literacy to work to break down clients' bills in a straightforward, easy to understand way.
For small businesses, Dabbah recognizes that every dollar matters. Another client, Play Cafe, located in the Brookdale Plaza, was not able to spend any more than necessary on their POS system. Dabbah did what he does best: he got his client the lowest deal possible and saved them the trouble of going through the process themselves.
And some businesses simply don't have time to explore their options. Downtown restaurants, such as Two Dishes, have been clients Dabbah has helped to find the best deal. He takes on that responsibility, so they can focus on serving great food.
VIDEO: Why work with Dabbah Corp? Play Cafe

At the same time that Dabbah is managing his clients' POS systems, he is also an active member of the Peterborough community and committed to improving the downtown core.
Dabbah recently became a member of the Peterborough Downtown Business Improvement Area (DBIA) and wants to do his part to help the downtown thrive for both businesses and shoppers. His goal is to make it as easy as possible to shop downtown.
"We have so many unique and amazing businesses in downtown Peterborough. A unified POS system in the downtown core would make it more convenient for shoppers and merchants," says Dabbah, explaining a unified system would incentivize shoppers to use the DBIA's downtown passport program.

But it's not all business for Dabbah, who is also committed to supporting the community. He has been deeply involved with the Peterborough Humane Society, donating over $10,000 to the animal shelter and assisting with numerous other fundraising events.
Dabbah is also sponsoring the Nels You Are Not Alone project, created by Andrew Nelson in the winter of 2018/2019. Years ago, Nelson had reached a breaking point with mental illness after experiencing some rough patches in his life. He wanted to turn to suicide to escape the pain, but was lucky enough to be stopped in time by friends.
Nelson then became an advocate for mental illness and decided to create a campaign where he would plaster posters with inspiring messages around Peterborough to help anyone who was also struggling. When he ran out of funds, Dabbah came to the rescue and single-handedly sponsored Andrew's campaign. With Dabbah's sponsorship, Nelson has been able to print hundreds of posters in the hopes of helping someone in need.
Leaving Hampton Financial to start his own business has been a risk, but Dabbah is used to taking risks.
Five years ago, he met his wife and together they travelled around the world before deciding to settle in her hometown of Peterborough. Last year, they welcomed a son.
Originally from Dubai in the United Arab Emirates, it was a risk for Dabbah to settle in Peterborough and start his own business here. However, he's found the community to be welcoming and supportive.
VIDEO: Every dollar counts — Dabbah Corp, a payment processing brokerage

"I'm growing my family in Peterborough," Dabbah says. "I'm committed to this community and the people here. I want to do everything I can to help my clients and the city."
"Starting a business or switching POS providers might be a risk, but I promise my clients that I'll be there to help them manage in any way that I can."
Dabbah Corp is located at 398 McDonnel Street, Unit 4, in Peterborough. For more information, call 705-761-2672, email wdabbah@dabbahcorp.com, or visit dabbahcorp.com. You can also follow Dabbah Corp on Facebook.
This story was created in partnership with Dabbah Corp.