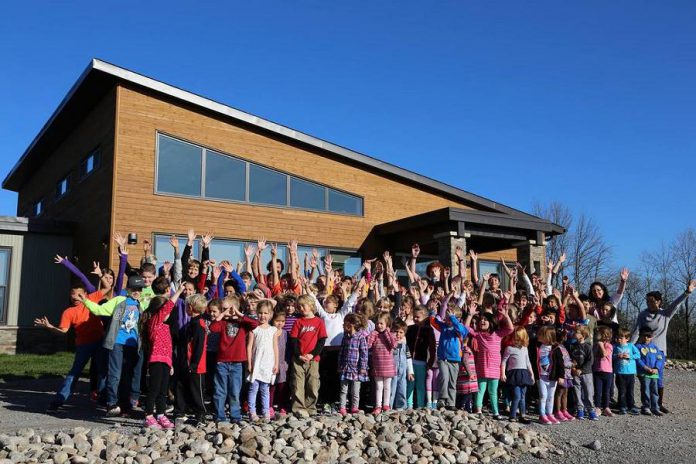 A young girl sits next to a mat on the floor, focused intently on a complex math question using Montessori materials to complete her answer. At a table, a small group of boys practice cursive handwriting while talking quietly. Across the room, a teacher works one-on-one with a student. There's a quiet "hum" of activity as the children move freely throughout the Lower Elementary classroom.
This calm, well-ordered environment is a glimpse into the world of Kawartha Montessori School (KMS).
The independent not-for-profit school, located at 2247 Burnham Line, a short drive from downtown Peterborough, looks different from a traditional school.
The school's non-traditional classrooms are well prepared for learning. Open spaces and circular tables promote independence and student collaboration. The furniture is carefully and thoughtfully arranged, creating a comfortable learning atmosphere. There are no blackboards onsite, and no computers in the Casa and Lower Elementary (up to Grade 3) classrooms.
Students in Upper Elementary and Middle School (Grades 4 to 8) use computers moderately for research, but respect the school's culture — which is absent of phones, tablets and other personal screens. Each classroom has a door that opens to the school's 10-acre property.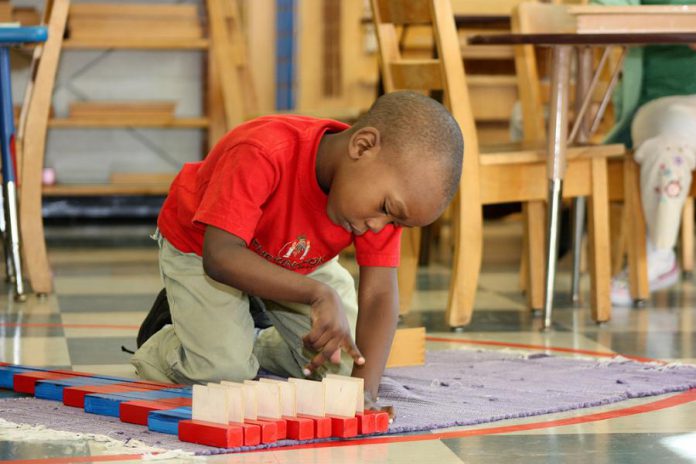 Unlike a conventional classroom curriculum that focuses on children all learning the same thing in the same way and at the same time, the Montessori curriculum emphasizes learning as an individualized process — not determined by a child's age, but rather by exactly where they are academically and socially. This approach provides each child with an opportunity to excel at their own pace.
This is why it's not uncommon to see multi-age groups in authentic Montessori classrooms at KMS, where the children are encouraged to interact and learn from one another. Older kids often help younger ones learn new skills.
Montessori environments are purposefully designed to foster concentration, collaboration, imagination, and community, explains Ugette Vanderpost, the school's principal for the past 14 years.
"The small class sizes, along with group and one-on-one lessons, foster a child's learning development in our indoor and outdoor classroom spaces. It's all been created intentionally."
The Montessori education at KMS is offered at the Casa (Pre-school, Junior Kindergarten and Senior Kindergarten), Elementary (Grades 1 to 6), and Middle School (Grades 7 and 8) levels, with each classroom having multiple highly trained, educated, and experienced teachers.
Each level is grounded in the guiding principles of order, respect, responsibility, and freedom within limits.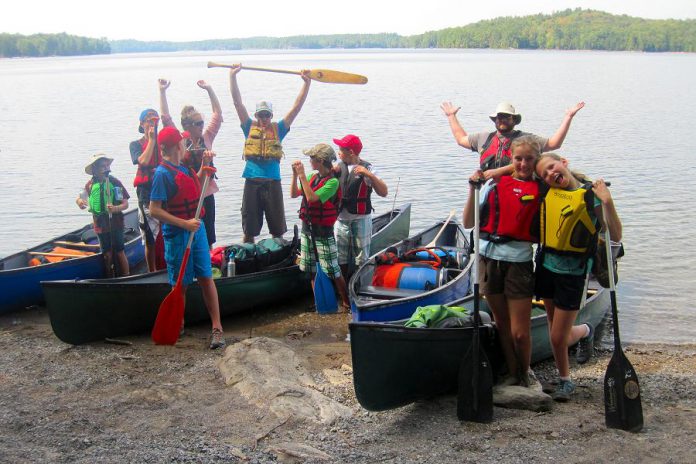 The goal of a Montessori education is to encourage a child's desire to be independent and to develop their confidence socially and emotionally while learning at their own pace. Lessons are taught individually or in small groups where the teachers — called "guides" — can assess the individual needs of a student continuously.
Various materials adorn the classroom shelves. Objects that might seem arbitrary serve a specific purpose and are central to the curriculum.
The founder of the Montessori educational method, Maria Montessori spent years designing and perfecting the materials that are now requirements of an authentic Montessori classroom. These experiential materials are the first part of any lesson: teaching a student a particular concept. For example, blocks of different shapes and sizes can be used during a geometry lesson.
"There is meaning behind everything in the classroom," explains Kristi MacMillan, Director of Admissions and Communication at Kawartha Montessori School. "Montessori educates the whole child, including emotional, physical, and intellectual well-being. At KMS we are committed to Montessori — fully. We believe with an authentic Montessori education we are preparing students to be capable, compassionate citizens in the world."
Learning strategies are also a key aspect of the curriculum at KMS. Guides teach organization, time management, goal setting, and good work habits. There is also a strong focus on fostering multisensory learning and curiosity. These are important components of self-directed learning.
Montessori views class time as an opportunity for students to pursue ideas and subjects that interest them for long, uninterrupted blocks of time. It's about what the student is learning, not what the teacher is telling them, explains MacMillan.
"One of the fundamental Montessori philosophies is to follow the child. If a child loves dinosaurs, we can guide them toward lessons or materials that provide geography context for example, or we can show them how to classify dinosaurs according to a period of time. If a child is really interested in this topic, we're going to explore that with them. It's called structured freedom. There is a misconception about Montessori that there isn't a set curriculum, but there absolutely is."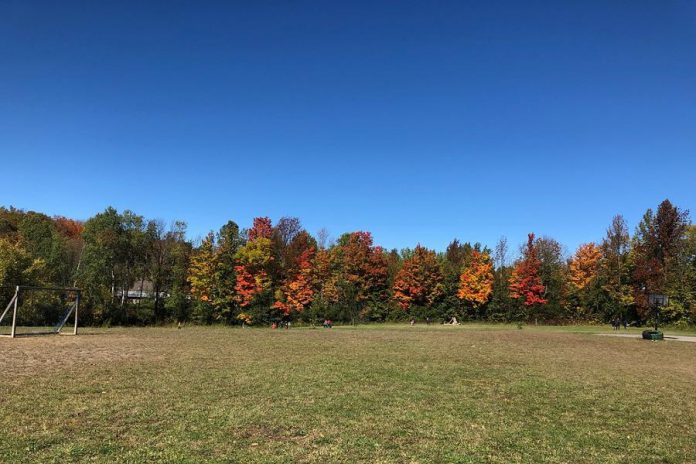 Kawartha Montessori School was established in 1982. After 33 years of growing, they had an incredible opportunity to move to a campus like no other. Ten acres of beautiful natural space, including a wetland, is surrounded by trees and is adjacent to the 100 acres of the Mark S. Burnham Provincial Park, just a few steps away.
The newly renovated building is aesthetically appealing, with light-filled classrooms and contemporary designs, including a beautiful student kitchen. Inside and out, the campus creates the perfect atmosphere for curiosity and learning.
"The outdoor classroom is just as important as the indoor prepared environment," explains MacMillan. "Maria Montessori asked, 'Why would you ever look at something in a book when you could see it in nature?'"
"There is a lot of research showing how important outdoor learning and outdoor free play is for children," adds Emily Root, who will be replacing Vanderpost as incoming head of school and principal in September. "Outside each classroom, there's an outdoor learning environment which is part of the work cycle; students can move freely between the outdoor space and indoor space."
Inside, the classrooms are airy, well-lit spaces for teaching and learning. Near the main entrance is a library and specialist room where the students are taught a range of subject areas such as music, art, and French.
At the core of the school is a large, bright, inspected kitchen where a daily cooking program teaches middle school students (Grades 7 and 8) "practical life skills," notes Vanderpost. Each week, head chefs and their team of sous chefs plan and execute a lunch program.
"We encourage the students to think about budget, the environmental footprint, healthy food, as well as diet restrictions and allergies," says Root.
The middle school students are also responsible for taking stock of the kitchen, picking food items up at the grocery store, and cooking nutritious meals for all students in their class — every day.
"I've seen them cook stir fry, roast salmon with potatoes, mac and cheese, and even lasagna from scratch," adds Root. The kitchen is also well-used by other grades during the Casa Cooks program, and Lower Elementary class's Pancake Day, for example.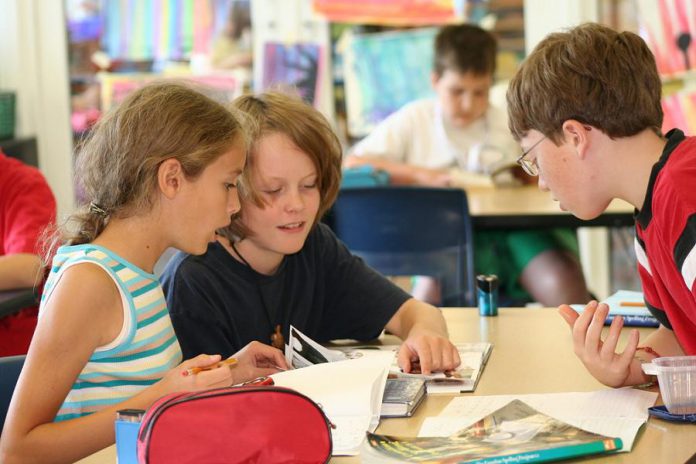 Another part of the middle school curriculum is called micro-economies. It is an integrated hands-on experience that combines math, culture, social studies, and business.
This school year, students created a small café and were tasked with testing recipes, designing a menu, creating prices, and staffing a coffee counter twice a week for parents to purchase beverages and food. The money raised from the business is either put back into to further develop the business or put towards school excursions and field trips, which are designed and coordinated by the students.
Today, the Montessori method has grown to be among the most popular forms of early childhood and adolescent education, attracting many families and inspiring many educators across the globe.
Since 1982, Kawartha Montessori School has been the only accredited Montessori school in the Peterborough region. The accreditation process is rigorous and the requirements must be met each year.
Montessori accreditation is not a membership that can be purchased, nor can practices be partial; each teacher must be trained at an accredited institute, each classroom must have the complete set of Montessori materials, work cycles must be honoured, and classes must be grouped in multi-ages.
Only schools meeting all requirements are acknowledged as providing an authentic Montessori education. Accreditation is completed every five years through the Canadian Council of Montessori Administrators (CCMA).
Kawartha Montessori School can accommodate children two-and-a-half to 14 years of age. Most of the 19 staff members, many who have been there between 15 and 30 years, have multiple degrees or diplomas and extensive lived experience, which elevates the quality of classroom education.
Staff members bring a diverse variety of skills with backgrounds in athletics, history, music, outdoor education, communication, child development, and languages, notes Vanderpost.
"Our staff members are deeply committed to this place; the school is of the highest quality because of that."
There are about 964 Montessori schools across Canada, with 535 in Ontario alone, among some 22,000 in the world.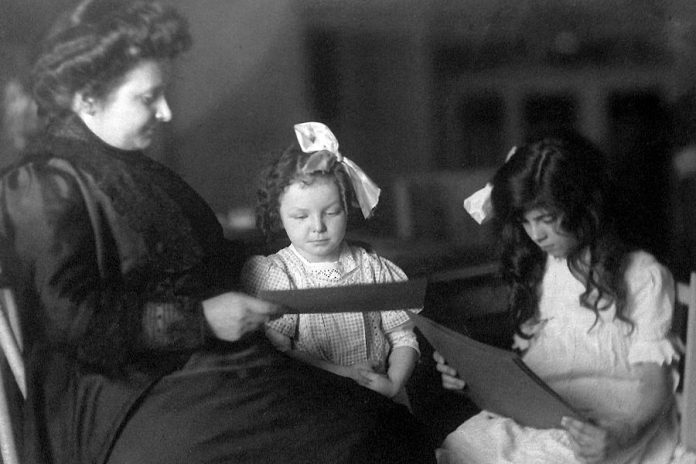 The program follows the philosophy of founder Maria Montessori, the first female to graduate from medical school in Italy. In 1907, working in a poor part of Rome, she opened a "children's house" and built a school program on the idea that all children learn by working independently.
This Montessori Method, now more than 100 years old, remains one of the most scientifically proven education methods and is still highly relevant today.
"We're using the same materials that Doctor Montessori developed over 100 years ago," explains Vanderpost. "The fundamental curriculum teaches a process of learning that remains current in today's changing world. That in and of itself should be proof that we don't need to augment it. The authentic part is articulated in that manner."
VIDEO: Math Matters at Montessori
If you're interested in Kawartha Montessori School for your child, you are welcome to visit the school for a tour.
"It's important for families to see the school for themselves to fully appreciate what we do and how committed we are to educating children," says MacMillan, who conducts the school tours and classroom observations.
Admission into the Casa, Elementary, or Middle School programs can begin at any time during the year at Kawartha Montessori School.
Kawartha Montessori School is located at 2247 Burnham Line, Otonabee-South Monaghan. For admission information, call 705-748-5437, email admissions@kawarthamontessori.com, or visit kawarthamontessori.com. You can also follow KMS on Facebook.
This story was created in partnership with Kawartha Montessori School.