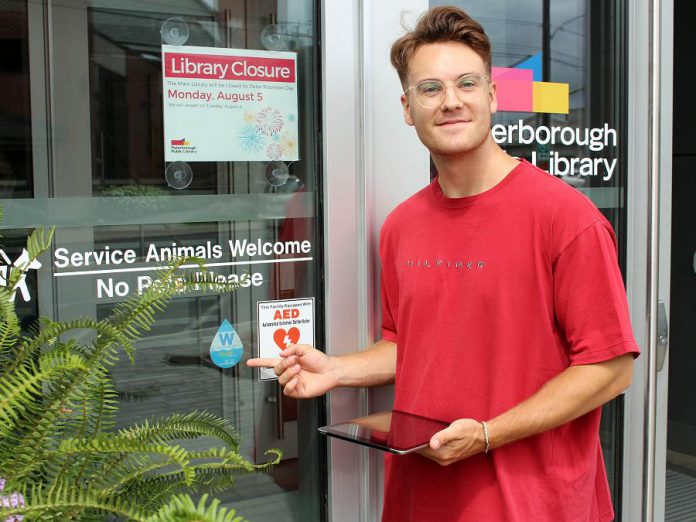 Last weekend, I was running errands around town with two children in tow — and yes, it was during the heat wave. We were hot and sweaty, but we were happy to be making the most of the short time we have to enjoy the warmth of summer.
I must admit that I have not been the most prepared parent these past few months; with spring weather arriving so late, I have been scrambling to stock up on summer essentials like sunscreen, hats, water bottles, and shorts (yes even shorts). However, last week I was prepared with all these things, plus snacks (#parentingwin)!
Then it happened.
My toddler threw his water bottle to the ground and I heard the all-too-familiar hollow clink of an empty water bottle. I should have known better in a heat wave; I'm the manager of water programs at GreenUP and hydration is constantly on my mind but with more errands to run, heading home was not an option, so we pushed on.
Advertisement - story continues below
My nine-year-old is helping me participate in Plastic Free July, a global challenge to reduce single-use plastic, so purchasing bottled water was out of the question. We needed to fill up our water bottles, but where? The last thing I wanted to do was cart a now very grumpy toddler in and out of several places, looking for somewhere we could fill up.
But then, like a little beacon of blue hope, I saw the BlueW Ptbo sticker on my daughter's water bottle and it reminded me that we could refill nearby.
GreenUP's BlueW Ptbo program is an online map that shows you where you can find clean, free, public, and commercial water sources to fill your reusable bottle at no cost, and with no expectation that you buy anything. The map can be found at bluewptbo.ca helps you to discover the local businesses and public service buildings that are participating in BlueW Ptbo.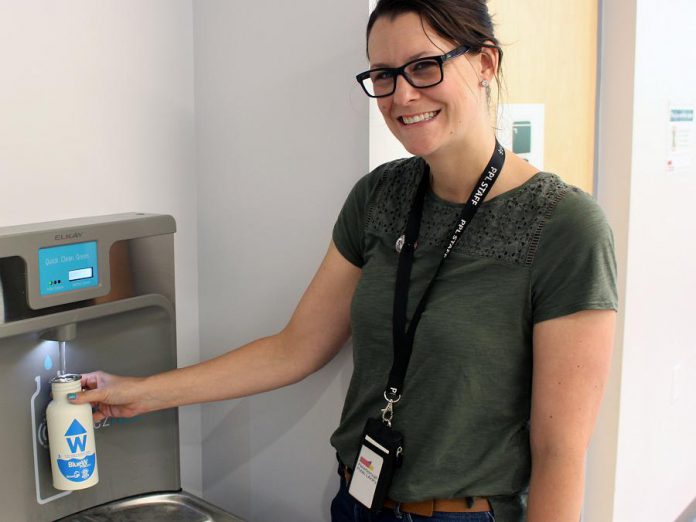 You can also look for the BlueW decal in the windows of participating businesses when you are out and about in the city.
Currently, there are 78 taps registered with the BlueW program. Participating businesses are located throughout Peterborough, Northumberland, and the City of Kawartha Lakes region, including Curve Lake, Hiawatha, and Alderville First Nations. Certain public libraries, parks, recreational facilities, and many privately owned businesses are mapped options for drinking water refills.
BlueW is an national not-for-profit initiative that aims to provide free tap water wherever you are. This unique community-based program, founded in 2012 by Evan Pilkington, is dedicated to promoting municipal tap water as a healthy and easily accessible alternative to purchasing bottled drinks.
"The goal of BlueW is to promote access to drinking water, and to help people make better, healthier beverage choices," explains Pilkington, who is also managing director of the program.
"The service that BlueW provides is in creating a dialogue between the water provider (municipalities) and the community that they provide water to."
Advertisement - story continues below
Since its inception, BlueW.org has expanded to over 26,000 participating businesses across North America. In 2016, GreenUP initiated the BlueW program in Peterborough through funding from the Healthy Kids Community Challenge, as part of its effort to promote drinking water over other more sugary beverage options.
Currently, GreenUP delivers BlueW Ptbo through support from the Peterborough Utilities Group to promote municipal tap water as a healthy, readily available, and less wasteful source of drinking water.
"Since 1914 Peterborough Utilities has been providing safe, reliable, and consistently high-quality water from source to tap," says David Whitehouse, vice-president of customer and corporate services and conservation at Peterborough Utilities Group.
"When you find yourself away from your home tap, BlueW Ptbo can help you access tap water from other places around the city, maintaining a constant flow of refreshing and cold tap water, even when your water bottle is empty."
I was so grateful for the BlueW Ptbo program on a hot day. My children and I were able to locate a spot to fill up, quench our thirst, be plastic free, and go on our way.
GreenUP would love to hear about your experience with BlueW Ptbo. Tweet us your story by tagging us at @ptbogreenup and by using the hashtag #bluewptbo.
Watch for GreenUP throughout the summer. We will be popping up around the region, along the trails, and at events with BlueW Ptbo stickers, fresh water, and prizes!
To learn which businesses and public service buildings will refill your water bottle for free, check out bluewptbo.ca, and look for the decal in business windows. Are you a business who wants to sign up? It's easy — just go to bluewptbo.ca.