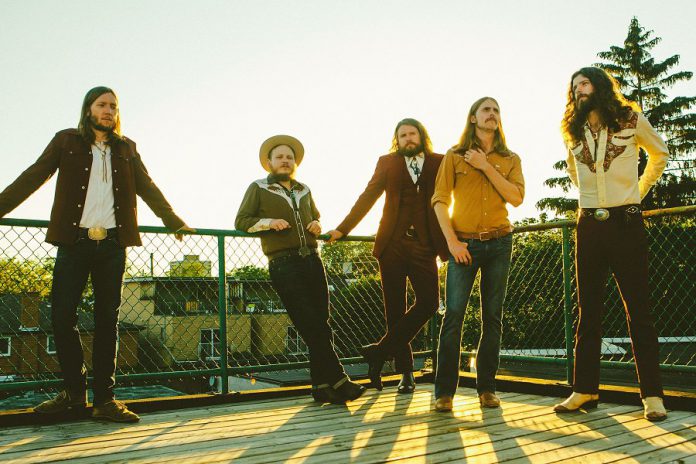 Some things are simply well worth waiting for, if not long overdue.
Close to four years after he joined The Sheepdogs for the European leg of the rock band's Future Nostalgia Tour, Bailieboro native and 2005 Juno Award nominee Jimmy Bowskill is right where he belongs and deserves to be — included, for the first time, in the band member listing for The Sheepdogs' latest album.
Those who saw and heard the unassuming kid (he really was a kid) cut his musical teeth in Peterborough live music venues still easily recall his huge talent and how the blues a la Robert Johnson oozed from every pore of his body.
It was that same talent and passion for the blues that impressed the late blues guitarist Jeff Healey, prompting him to invite the 11-year-old Bowskill off the street to perform on his club stage in Toronto.
And years later, it was Bowskill's mastery of string instruments that led to The Sheepdogs inviting him along for the tour ride in November 2015.
On Wednesday, July 24th at Del Crary Park, The Sheepdogs — Bowskill alongside frontman Ewan Currie, Ryan Gullen, Sam Corbett, and Shamus Currie — will bring their three-time Juno awarded sound to Peterborough Musicfest. The band — including Bowskill — last performed at Musicfest in August 2017. Admission to the 8 p.m. concert is free, thanks to the support of sponsors.
VIDEO: "I Don't Know" – The Sheepdogs

In a promotional story by Nick Krewen for the band's latest album Changing Colours, bass guitarist and co-founder Gullen credits Bowskill with giving The Sheepdogs "a new sensibility" with the addition of his prowess on pedal steel guitar, mandolin, banjo, and fiddle.
Among Changing Colours' generous 17 tracks is "The Bailieboro Turnaround" — a folk-flavoured instrumental tribute to Bowskill's hometown.
"We identify strongly with rock 'n roll but there's definitely some branching out," Ewan Currie says in the same article. "There's more keyboards featuring Shamus and more stringed instruments. It's still rock 'n roll, but there are more colours."
VIDEO: "The Bailieboro Turnaround / Up in Canada" – The Sheepdogs

Long before inviting Bowskill into the fold, The Sheepdogs formed in Saskatoon in 2006. Originally a trio called The Breaks with Ewan Currie, Gullen, and Corbett, guitarist Leot Hanson soon joined the band and they changed their name to The Sheepdogs — a name inspired by an incident from Ewan Currie's childhood.
"When I was a young boy my mother left me in the front yard of our house and I wandered off down the street," Currie recalls in a 2015 interview with Jon Berrien of GroundSounds.
Advertisement - story continues below
"She went running looking for me and found me down at the park playing with a kindly sheepdog. I've always felt like those dogs were especially benevolent and sort of watched over me."
The quartet independently released its first album Trying To Grow the following year. While that album, and 2008 follow-up The Sheepdogs' Big Stand, failed to chart, 2010's Learn & Burn was a game changer, peaking at #14 on the Canadian album chart and earning platinum status.
Not hurting matters at all was the band's performance in "Battle of the Instant Bands" on Late Night with Jimmy Fallon in June 2011, which preceded their reader-selected appearance on the cover of Rolling Stone that August — the first unsigned act ever featured on the storied magazine's cover — and a subsequent appearance the same month on Late Night with Jimmy Fallon.
VIDEO: "The Way It Is" – The Sheepdogs

VIDEO: "Feeling Good" – The Sheepdogs

That same month also saw the EP Five Easy Pieces spawn two top-charting hits, "I Don't Know" and "Who?"
So it was no huge surprise when music industry recognition arrived in a big way via 2012 Juno Award wins for Rock Album of the Year for Learn & Burn, Single of the Year for "I Don't Know", and Best New Group.
Following the 2012 release of The Sheepdogs (the band's fourth album also platinum certified and Juno Award nominated on the strength of #1 charted singles "The Way It Is" and "Feeling Good"), Hanson departed the band and Ewan Currie's younger brother Shamus Currie joined the band.
Advertisement - story continues below
Hanson's replacement, Winnipeg guitarist Rusty Matyas, was in the mix for Future Nostalgia, the band's fifth album recorded in a cottage on the shores of Stoney Lake and released in 2015.
There things sat until Bowskill got the call for that tour of Europe and the subsequent February 2018 release of Changing Colours. Producing three singles to date — "I've Got A Whole Where My Heart Should Be", "Nobody", and "Saturday Night" — that album brought two 2019 Juno Award nominations The Sheepdogs' way.
"Most of the records we've made have been under a short time constraint," Corbett tells Nick Krewen. "This one was done over six months, with some songs sitting around for two months. Then we'd come back and try different things, so as a result some of the songs took a different shape. In some situations, there's more of a 'jamming' feel because we could experiment."
VIDEO: "Downtown" – The Sheepdogs

VIDEO: "I've Got A Hole Where My Heart Should Be" – The Sheepdogs

For Corbett, 2018 was particularly difficult. Diagnosed with cancer, he began treatment in October of that year. Come New Year's Eve in Niagara Falls, he was again behind his drum kit, shortly after announcing the birth of his first child.
While The Sheepdogs have been blessed with recording success, touring has been, and remains, where it's at for the quintet. Earlier this year, the band joined Rival Sons for a tour of Europe and North America — a jaunt which included The Sheepdogs' first ever shows in Scandinavia.
VIDEO: "Nobody" – The Sheepdogs

"We could never sit back and rest on our laurels," says Corbett, with Currie in full agreement.
"Do good work and the people will find you. Let the work speak for itself. That's our big philosophy."
Advertisement - story continues below
Peterborough Musicfest is presenting 16 free-admission, sponsor-supported concerts featuring a total of 21 acts during its 33rd season — each concert staged on Wednesday and Saturday nights at Del Crary Park.
Overseen by general manager Tracey Randall and staff, a board of directors, and numerous volunteers, Peterborough Musicfest's stated mission is to "provide diverse, affordable live music to enrich cultural and economic prosperity in our community."
For more information on this concert or the entire 2019 season, visit www.ptbomusicfest.ca or phone the Peterborough Musicfest office at 705-755-1111.