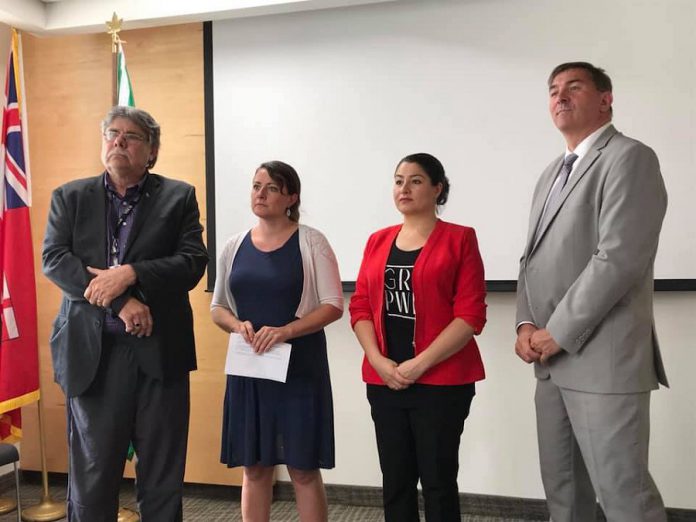 Peterborough Mayor Diane Therrien and Peterborough-Kawartha MP Maryam Monsef hosted and spoke at a meeting on Tuesday (July 23) at The Mount Community Centre in Peterborough to discuss the homelessness and housing issue in Peterborough.
Peterborough-Kawartha MPP Dave Smith and Peterborough County Warden J. Murray Jones also spoke at the meeting, whose attendees also included other elected officials, city staff, developers, and front-line workers.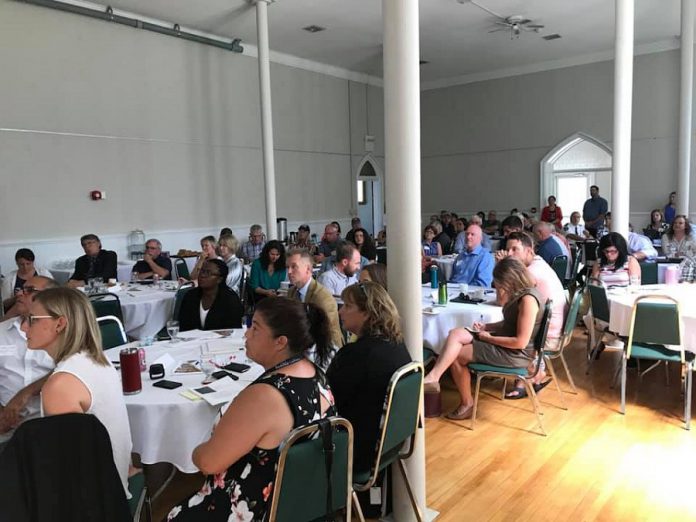 Following the meeting, Mayor Therrien and MP Monsef issued the following joint statement.
As a result of today's meeting at the Mount Community Centre, a 10-Point Plan for a Rapid Response to Homelessness and Housing has been established. The plan consists of the following:
Immediately implement recommendations arising from the Rapid Response to Homelessness and Housing Meeting on July 23 to provide more supports and services to encourage those living rough to move indoors.
Mayor will strike a Rapid Shelter Task Force to determine a Plan A and Plan B for more permanent, low-barrier shelter for the most vulnerable in our community, with a report due to Council in 60 days.
Willing government partners will help the Task Force by providing staff to form a Secretariat.
Willing government partners will help the Task Force by suggesting community experts to form the membership of the Task Force.
The voices of those living rough in our community, as well as community experts and advocates, will be heard through the development of the Task Force report and the future creation of low-barrier shelter through multiple avenues, including representation on the Task Force and consultations.
City of Peterborough will continue to develop its Official Plan to ensure that creative solutions for housing are available to the community, such as allowing for tiny homes through zoning and by-law amendments, and will look to create an inventory of land that could be made available for affordable housing development.
Willing government partners will continue to work together to support a community response to the opioid crisis and mental health needs, including by supporting a Consumption and Treatment Site.
A public summit will be held on August 13 to ensure the community can help inform the path forward.
Willing government partners will work with community and service providers, as well as willing local developers, over the next 60 days to create new applications to the National Housing Strategy that meet the housing needs of the City and County of Peterborough and that move to build 2,000 units over the next two years.
Regular information updates about progress on this plan will be delivered to internal partners and to the community at large.
In the short term, we will continue actively working with the County of Peterborough to identify immediate solutions. The Peterborough Public Library is providing a temporary space for emergency shelter from 9 p.m. to 8 a.m. each day. Staff from the Brock Mission and City of Peterborough Social Services are stationed at the Library to help connect people with more permanent housing and shelter, as well as critical support services, and the Library continues to function as usual during the day. As well, 15 additional beds have also been opened at the YES Shelter, which are being made available to people of any age who are in need.
The City has been vigorous in its on-going efforts to find a low-barrier shelter location for some of Peterborough's most vulnerable citizens. City outreach workers have been visiting locations where people are camping to reach out and help connect them with available services and shelter, and the Peterborough Police Service and first responders deserve to be commended for their work ensuring the public safety.
Construction of the new Brock Mission is imminent, more single mothers and their children are being housed through YWCA's Homeward Bound program, and another 1,432 families in Peterborough-Kawartha have found affordable housing with the assistance of more than $7 million in federal government investments. Good work to build affordable housing in Peterborough has been done for many years by groups like the Mount Community Centre, and supported by the federal government.
However, we know that more housing is needed. We know that Peterborough needs 2,000 new units in the next two years as part of a longer-term plan for housing. Through the combined efforts of everyone in attendance at today's meeting — elected officials, including MPP Dave Smith, Peterborough County Warden J. Murray Jones and City councillors, City staff, land developers, private investors, front-line workers – and with billions of funding available through the first-ever federal National Housing Strategy, which is already delivering early results to our community, we can make this ambitious goal happen — if we work together.
When Peterborough is presented with challenges, we always rise to the occasion to not only meet them, but exceed them. We make the impossible possible. Together, we will ensure everyone has a home they can be proud of and feel safe in.
Mayor Diane Therrien
City of Peterborough
MP Maryam Monsef
Peterborough-Kawartha