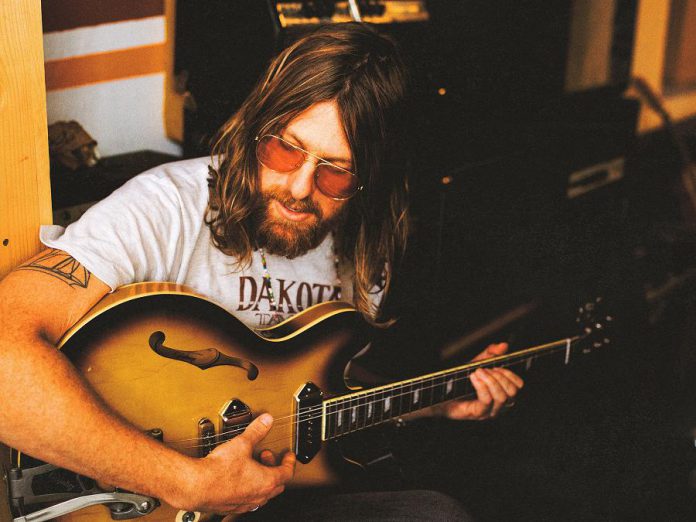 Even though we're heading into the dog days of summer, there's no shortage of amazing music to go check out in Peterborough and the Kawarthas.
There's something for everybody, whether it's large free events — including the Hootenanny on Hunter Street (August 10), the Peterborough Folk Festival (August 15 to 18), and Peterborough Musicfest (every Wednesday and Saturday night) — or local and touring bands performing in one of the area's excellent live music bars and venues.
Here are just a few of the excellent upcoming chances to tickle your ear drums.
Advertisement - story continues below
Emily Burgess and The Emburys at Memorial Park in Port Hope on August 1
Rockin' blues will fill Port Hope's Memorial Park (56 Queen St., Port Hope) on Thursday, August 1st when Emily Burgess and The Emburys perform a free concert.
Burgess is a Peterborough singer-songwriter and spectacular guitarist who won a Maple Blues award earlier this year. She'll be performing with her band, brothers Rico and Marcus Browne on bass and drums.
The music will begin at 7 p.m. and admission is free.
VIDEO: "Perdy Thing" – Emily Burgess & The Emburys

We Ain't Petty at Musicfest in Peterborough on August 3
Is there anyone out there who doesn't miss Tom Petty? His music was the go-to for many people's summer road trips since his first record in the 1970s.
On Saturday, August 3rd, Peterborough Musicfest presents Petty tribute band We Ain't Petty. Head there for a bunch of the best-loved Petty tunes and, for a couple of hours, pretend that one of rock and roll's coolest dudes is still with us.
As always, Musicfest shows are free and happen at Del Crary Park on the shores of Little Lake in Peterborough. Showtime is 8 p.m.
VIDEO: We Ain't Petty promo

The Lucky Ones at Elmhirst's Resort in Keene on August 6
Elmhirst's Resort continues its Tuned Up Tuesdays series in August with some excellent live music at the Wild Blue Yonder Pub & Patio (1045 Settlers Line, Keene, 705-295-4591 or 800-461-1940) on the boardwalk right beside Rice Lake.
On August 6th, The Lucky Ones, a country-roots group all the way from the Yukon, will be performing (they'll also be playing on August 4th at Marley's Bar & Grill in Buckhorn, on August 5th at The Garnet in downtown Peterborough, on August 10th at the Arlington Pub in Maynooth, and later in the month at the Peterborough Folk Festival).
August 13th features popular singer/songwriter Ty Wilson. August 20th will be the return of Fewings and Son (yes, that's me and my dad). And last but not least on August 27th will be local favourites Fred Stillman and Keene Country.
The music, which is always free, starts at 7 p.m. There is an unreal southern BBQ buffet available for purchase as well as refreshing beverages.
VIDEO: "The Old 98" – The Lucky Ones

Advertisement - story continues below
Hootenanny on Hunter Street in Peterborough on August 10
The Hootenanny on Hunter Street is a favourite event for most folks in the city of Peterborough. Hunter Street is closed from Aylmer to George Streets to make way for a full stage setup, expanded bar and restaurant patios, and a great selection of arts and craft vendors.
This year's Hoot takes place on Saturday, August 10th. While there is a lot to see and do from noon to 11 p.m. that day, it's really all about the music. Musical acts this year include Paper Shakers, The Lohrwoods, Dylan Ireland, House of David Gang, Crystal Shawanda, Lindsay Barr, Stacey Kay, and a special tribute to the late Hootenanny originator Jon Hall by The Dreamboats. See you on Hunter Street!
VIDEO: "You Can't Let Go" – Crystal Shawanda

Dave McEathron at Millennium Park in Bancroft on August 14
Bancroft is a lovely place to be in the summer and there's nothing like a free concert in a park to really put the icing on the cake. On Wednesday, August 14th, Mineral Capitol Concerts presents Dave McEathron in concert at Millennium Park 166 Hasting St. N., Bancroft)
McEathron was the lead singer of a great Canadian alt-country/rock band called The Warped 45's and this past spring he toured Ireland with David Francey.
The show begins at 7 p.m.
VIDEO: "Hell to the Heavens" – Dave McEathron

William Prince and Donovan Woods at the Market Hall in Peterborough on August 15 and 16
Everybody get ready for the Peterborough Folk Festival at Nicholls Oval Park! This year is a big one, as the festival celebrates its 30th year. This year taking place over four days, the festival continues to grow and to be one of the highlights of the summer in Peterborough.
The otherwise-free festival begins with two ticketed concerts at Market Hall Performing Arts Centre (140 Charlotte St., Peterborough, 705-749-1146).
Thursday, August 15th features the raw songwriting and powerful voice of Winnipeg-based Juno award-winning singer-songwriter William Prince, followed on Friday, August 16th by another Juno award winner, roots-rocker Donovan Woods performing with his band The Opposition.
VIDEO: "Leave It By The Sea" – William Prince

VIDEO: "Truck Full Of Money" – Donovan Woods

If you've seen Donovan Woods live, or if you follow his Twitter account, you'll know he's also a pretty funny guy. He describes himself as "Canada's answer to Paul Simon except taller and not as good".
Both shows begin at 8 p.m., with the Prince show costing $30 including fees and the Woods show costing $40 including fees (assigned seating for both concerts). Tickets are available at the Market Hall Box Office or online at markethall.org
Advertisement - story continues below
Peterborough Folk Festival at Nicholls Oval Park in Peterborough on August 17 and 18
The free portion of the Peterborough Folk Festival takes place on Saturday, August 17th and Sunday, August 18th at Nicholls Oval Park in Peterborough.
There's a lot of music to check out on those two days. Some of the acts on Saturday, August 17th include A Tribe Called Red, Narcy, Tim Baker (Hey Rosetta), and many more. On Sunday, August 18th, it's another day of heavy hitters from the Canadian music scene including the recently unretired Kathleen Edwards, Matt Mays, Fred Penner, and a whole host of local talent.
If you've never been, it's sure to become a favourite of yours as well.
VIDEO: "All Hands" – Tim Baker

VIDEO: "Station Out of Range" – Matt Mays

VIDEO: "Change The Sheets" – Kathleen Edwards

Lucas Chaisson at The Garnet in Peterborough on August 21
Edmonton musician Lucas Chaisson is worth checking out at The Garnet (231 Hunter St. W., Peterborough, 705-874-0107) on Wednesday, August 21st.
He's worked with the likes of Colin Linden on a record (Telling Time) and that's not a bad place to start.
Head out and hear some really great songwriting and guitar work. The show begins at 8 p.m. and is $10 at the door.
VIDEO: "Losing Game" – Lucas Chaisson

Advertisement - story continues below
Missy Knott at the Red Dog in Peterborough on August 29
The Weber Brothers continue their series at The Historic Red Dog Tavern (189 Hunter St. W, Peterborough, 705-750-1710) this month with featured acts every Thursday.
On Thursday, August 29th, the guest will be Curve Lake singer-songwriter Missy Knott. A lovely singer and performer, she captures the hearts of audiences with earnest performance and a dazzling stage presence.
These shows begin at 8 p.m. and feature a bit of a cabaret feel. Perfect for a night out during the week, each show is $10 at the door.
VIDEO: "My Sister's Heart" – Missy Knott

Baque de Bamba at Haliburton DrumFest at Head Lake Park in Haliburton on August 31
Drum out August in cottage country when Rails End Gallery and Arts Centre presents Baque de Bamba at Haliburton DrumFest at Head Lake Park (13 York St. Haliburton) on Saturday, August 31st.
The Toronto-based Afro-Brazilian percussion group, led by Brazilian artist and Juno nominee Aline Morales, performs a style of music from northeastern Brazil known as maracatu. The group is best known for it high-energy and captivating performances, which feature drumming, singing, and dancing.
Haliburton DrumFest runs from 10:30 a.m. to 5 p.m. and includes percussionists, drums, dancing, food, a vendor market, family-friendly activities, learn-to-drum experiences and drum circles;, and a costumed parade through the park.
Baque de Bamba will be joining the parade and then giving a mid-afternoon performance, sponsored by the Haliburton County Folk Society. The Rhythmeers, the Rails End drum troupe, will open for Baque de Bamba.
Admission to Haliburton DrumFest is free, but donations are encouraged.
VIDEO: "Temporal" performed by Baque de Bamba