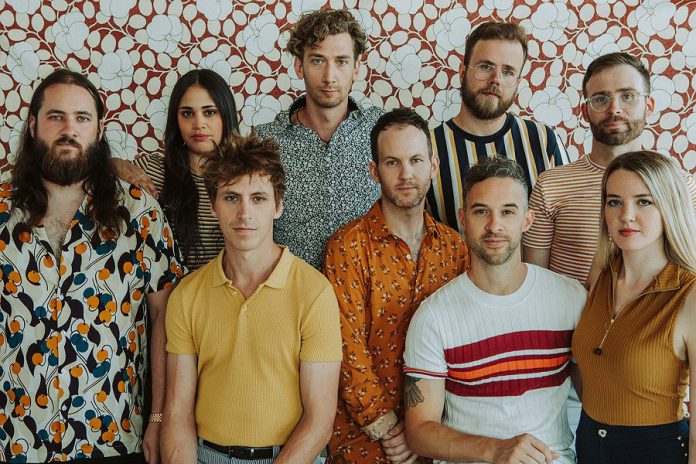 All those who think Dwayne Gretzky is simply a badly bungled reference to the greatest hockey player of all time, raise your hand.
You are not alone.
Outside of Toronto, where the live music collective by that name has built a huge and still growing following, the band's infectious sound, collective talents, and music-for-the-pure-fun-of-it stage persona has eluded many for most of its eight-year existence.
A major step toward correcting that was taken last August when Dwayne Gretzky headlined Peterborough Musicfest and again more recently when the band was among several acts that opened The Rolling Stones' concert on June 29th at the Burl's Creek Event Grounds in Oro-Medonte.
Now Dwayne Gretzky returns to Del Crary Park on Wednesday, August 14th — the penultimate presentation of the current summer concert series. Admission to the 8 p.m. concert is free, thanks to the support of sponsors.
Advertisement - story continues below
"When we began playing shows in Toronto, we didn't have a band name," recalls original band member Nick Rose in a July 2018 interview with Bill Bodkin of Pop Break.
"It didn't really seem necessary somehow — we were just a bunch of friends playing covers for the fun of it. But then at one of our first shows somebody inevitably yelled out 'What's your band called?' and I just replied 'Dwayne Gretzky' for a laugh. Honestly, it was just the first thing that popped into my head. A few days later somebody posted a video of us on YouTube and referred to us as Dwayne Gretzky and that was that."
VIDEO: "Dancing in the Dark" by Bruce Springsteen performed by Dwayne Gretzky

Since day one, Dwayne Gretzky has brought new life to hit songs by a number of artists, delivering over-the-top renditions of more than 600 songs to date. But to simply term Dwayne Gretzky a cover band would be akin to describing Van Gogh as some Dutch guy who dabbled in art. The band puts its own unique spin on each song it performs, bringing their full talents to bear via their mastery of a number of instruments, including horns.
"We steer away from predictable cover band material and try to challenge ourselves by learning songs you don't see a lot of bands doing," Rose explains.
"It's tough to pick favourites. You Can Call Me Al (by Paul Simon) is one that stands out for me, as is Under Pressure (by Queen), but it's always fun to tackle something as epic as Bohemian Rhapsody or Manfred Mann's version of Blinded By The Light."
VIDEO: "S.O.S." by ABBA performed by Dwayne Gretzky

In an April 2013 interview with Sara Harowitz of She Does The City, band members Allie Hughes and Robyn Hatch credit co-founder Tyler Kyte for his song selection.
"He (Kyte) is so good at keeping the energy flowing," praises Hughes.
"A lot of work goes into the song choice — they're all hits, they're all songs that are known, but it won't always be the obvious choice. Our audience leaves having had a good time. I think that has a lot to do with flow."
Advertisement - story continues below
"It's almost like a narrative, choosing songs," Hatch adds.
"When people ask what kind of covers we play, it's hard to say. We really just try to find all of our favourite songs from the last 50 years and make them sound as authentic as possible."
The formation of Dwayne Gretzky came about innocently enough.
VIDEO: "The Chain" by Fleetwood Mac performed by Dwayne Gretzky

"Tyler and I were playing in an originals band called Sweet Thing that was kind of winding down," notes Rose.
"We were both living in the same apartment building along with a few other musician friends of ours. We all befriended the superintendent who gave us access to his top-secret jam space in the basement. Most evenings we'd go down there and watch hockey and muck around playing Tom Petty songs and such."
"Once we had learned enough songs for a set, we booked a couple shows just for the fun of it. It's our full-time gig but the feeling has always remained the same: friends playing their favourite songs."
VIDEO: "Just What I Needed" by The Cars performed by Dwayne Gretzky

That "friends" dynamic has been and remains key to the band's success, according to Hughes and Hatch.
"It's fun because it's all your best friends," says Hatch, with Hughes adding, "It's such a good hang. I'm such a hermit that it's like my social time. We all get along really well. And it's so informative, as a music writer, learning new songs; you learn so much about writing good music."
"I know there are some musicians who are like 'A cover band?' but all of us have no shame. It's a lot tougher than people think. These are pop songs but a lot goes into them."
Advertisement - story continues below
According to Dwayne Gretzky's website at www.dwaynegretzkyband.com, the band's self-titled debut album will drop on August 23, 2019. In the months leading up to its release, a number of digital singles have teased what fans can expect, including an acoustic version of The Cars' "Just What You Needed" and a fuller band take on The Beach Boys' "Don't Worry Baby".
"We're very fortunate that we get to do this as a full time gig — play our favourite songs with our best buds," Rose says.
"We've got a really great group of people in this band and I'm very grateful for that. They're all a bunch of sweethearts and there's never a shortage of dumb jokes to go around."
VIDEO: "Don't Worry Baby" by The Beach Boys performed by Dwayne Gretzky

Peterborough Musicfest is presenting 16 free-admission, sponsor-supported concerts featuring a total of 21 acts during its 33rd season — each concert staged on Wednesday and Saturday nights at Del Crary Park.
Overseen by general manager Tracey Randall and staff, a board of directors, and numerous volunteers, Peterborough Musicfest's stated mission is to "provide diverse, affordable live music to enrich cultural and economic prosperity in our community."
For more information on this concert or the entire 2019 season, visit www.ptbomusicfest.ca or phone the Peterborough Musicfest office at 705-755-1111.