On Wednesday, August 14th, Peterborough's newest theatre company Grassboots Theatre debuts their inaugural production, Repatriation to the Moon, at Artspace in downtown Peterborough.
Created and performed by company founders Chris Whidden and Peyton Le Barr, Repatriation to the Moon will be Peterborough's first look at the exciting projects that the couple has planned for our community in the months, and years, to come.
Seemingly coming out of nowhere earlier this summer, Grassboots Theatre Company caught the attention of the community in a big way when Chis and Peyton hosted a open mic storytelling night, called Share Off!, in late July. Despite being virtual strangers to the arts community, Chris and Peyton's event was a huge success with a packed house showing up to hear familiar faces from the arts community tell stories during what proved to be one of the hottest nights in July.
Advertisement - story continues below
"We needed a fundraiser for Repatriation to the Moon but we also needed to dive in and be a company here," Chris says of the storytellers event. "We needed to do something more than just to ask for money to help us put on a show. We wanted to do something that incorporated the community, and that's where the storytelling event came from."
"It was a great way to get to know Peterborough, and for the community to get to know us," Peyton adds. "We wanted to create an event that was for Peterborough and wasn't about us. I was pretty terrified that we would lose money doing it, or at best break even. I knew we'd have some people because we knew that we had storytellers signed up."
"But never in my wildest dreams did I think that we would be jam packed and run out of chairs. People stayed despite the heat, which was unreal because I don't know if I would stay at someone's event if it was that hot."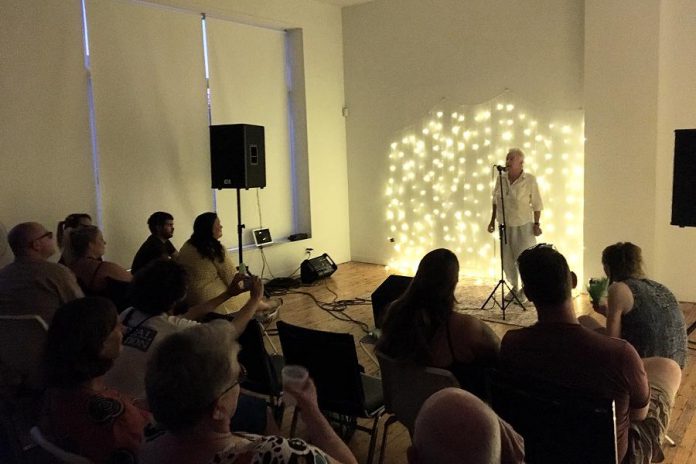 Originally from Toronto, Peyton and Chris were both working as actors when they met during a production of Twelfth Night. However, battling an oversaturated market and not finding the types of community in Toronto they wanted, the couple decided to find a new place to set up their own theatre company.
Knowing of the Kawarthas' reputation as an arts community, they decided to pack up their two dogs and belongings and move to Peterborough County.
"We wanted to go somewhere that was a reasonable drive from Toronto so we could still work there as artists if we need too," Chris recalls. "We had a radius and Peterborough fit in. We also wanted to go to a city that had an arts scene."
"Peterborough has an energy that suits us," Peyton adds. "We couldn't be more honest to say that we chose to move here on a whim. We booked a hotel and decided to do a weekend visit. There was a blizzard, so we saw nothing of Peterborough. But we stumbled into Le Petit Bar (in downtown Peterborough) and it had the nicest energy. It was a lovely night, and we decided 'Okay. This will do.'"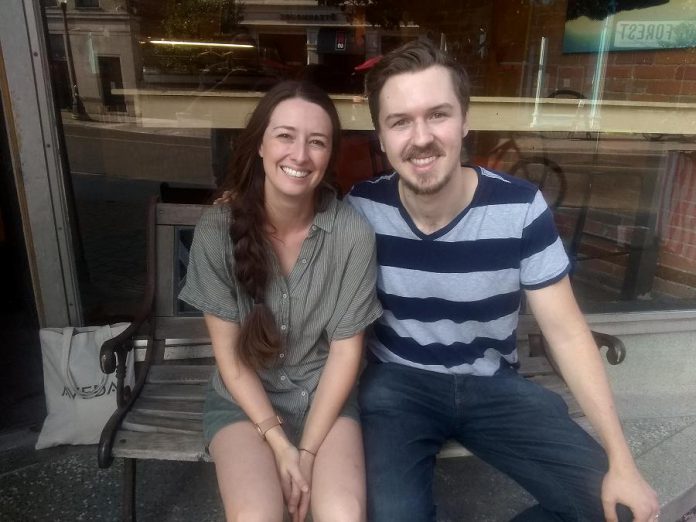 Purchasing a hobby farm in Havelock, the couple's eventual plan is to build a small theatre space on the property. However, that dream is still in its infancy and is years away. In the meantime, they are making their theatrical debut with Repatriation to the Moon, which finds inspiration from a colourful figure in Chris' family's past: his great-uncle Wladyslaw Dutkiewicz, a Polish-born naturalized Australian artist and Polish language playwright.
"The whole inspiration for this show comes from my Polish heritage," Chris explains. "When Poland was split between Russia and Germany during World War II, my grandma was sent to Siberia and her brother, Wlad, went to Germany. He was an artist and a member of the Polish Resistance, and he would do shows in Germany for the Polish people."
"Wlad got someone to smuggle my grandma into Germany so they could be together again. When she found him, he was performing a show and, when he saw her in the audience, he fainted on the stage. The show he was doing at the time was called Repatriation to the Moon — about two Polish people who have no home anymore and decide to find a new one. There is no script, but there is one photo from that time of my great-uncle performing in that show, which I used as the inspiration for creating this show."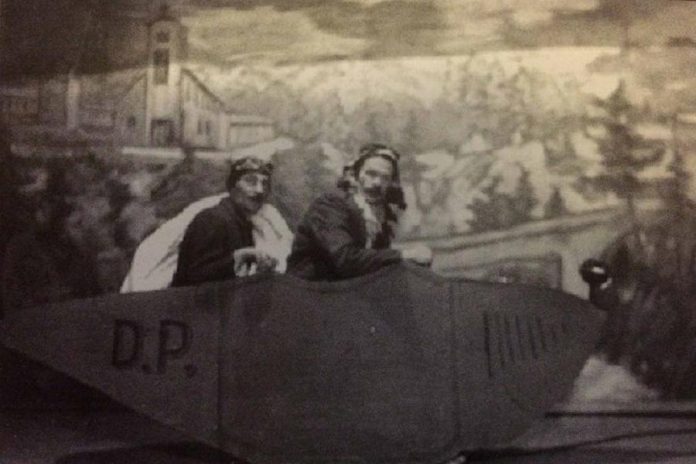 Still guarded about the plot of the story during our visit, Peyton and Chis do reveal that Repatriation to the Moon is an unlikely love story.
"The story is about a janitor and an engineer who meet under circumstances of war, fall in love, and find home in each other," Chris tells. "The whole story is about two people who are displaced and don't have a home, and their search for home."
"The background is really heavy and it's drenched in history," Peyton says. "It's sorrowful to know that (the original) play was illegal and had to be performed underground, but in our show we do physical play and our focus is on humour. Our play is very fun and very light. One of the characters speaks Polish and the other speaks Italian, so the show is quite physical."
Advertisement - story continues below
With positive community interest in Chris and Peyton's debut endeavour, tickets are already selling strong for the show that runs for four nights at Artspace. However, Repatriation to the Moon is only the beginning for Grassboots Theatre Company. The couple consider this a "workshop production" as they plan to produce Repatriation to the Moon on a bigger scale in the future.
Meanwhile, Peyton has a solo project called Hands she is working on in conjunction with Public Energy's Alternating Currents, and the pair will be starring in Hannah Moscovitch's Little One, directed by Lee Bolton, at the Peterborough Theatre Guild this coming October.
Through their ambition and positivity, Chis and Peyton have already created a solid buzz about Grassboots Theatre Company, and have made strong inroads to the arts community. It's exciting to welcome new faces and talents in Peterborough to shake things up a little bit, and to continue to grow our community's art culture.
Repatriation to the Moon is our opportunity, as a community, to welcome Chris and Peyton to Peterborough and to help support their vision for community theatre.
"We are so excited," says Chris. "I sometimes wonder if this would be possible anywhere else. Peterborough has been so warm and welcoming."
Repatriation to the Moon runs from Wednesday, August 14th to Saturday, August 17th at Artspace (378 Alymer Rd., Peterborough). Performances begin at 8 p.m. Tickets are $15 (free for children 12 and under) and can be purchased in advance at www.brownpapertickets.com/event/4306306.
For more information about Grassboots Theatre Company, visit www.grassbootstheatre.com.