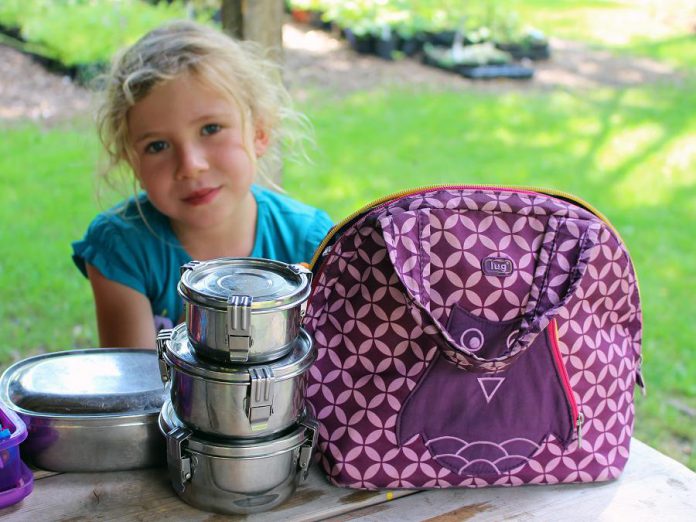 While Vancouver has postponed its ban on plastic straws until April 2020, the entire province of Prince Edward Island has moved swiftly to ban single-use plastic bags outright. With global temperatures rising and landfills filling up, we are running out of time and space for our garbage.
However, even in the absence of provincial or municipal legislation, individuals and families can take decisive action to reduce waste at the household level.
With September around the corner, children will be headed back to school and regular lunch packing will resume.
Reducing household waste requires that we change our buying habits while outside the home. When we are grocery shopping and meal planning, instead of reaching for a package of cheese strings, consider buying a brick of cheese and cutting it creatively. Rather than buying a plastic bag of apples, opt for the unpackaged bulk option and bring along your own produce bags to contain them.
Advertisement - story continues below
Consistently choosing lunch snacks that have limited or no packaging is a great way to reduce waste.
Whether you are packing lunches for yourself, your kiddos or both, it can be tempting to prioritize convenience and opt for the prepackaged granola bar or cheese-and-cracker combo. But it is important to remember that these packaged foods are often high in saturated fats, preservatives, and other ingredients that are not ideal for human consumption.
Making lunches from fresh ingredients instead is good for the planet and the health of you and your family.
As a parent to a boisterous and busy six-year-old, I can attest to the challenge of making food desirable for children. While children remain firmly in control of if and how much they eat, parents can choose what is in their lunch box, no matter what age your child is.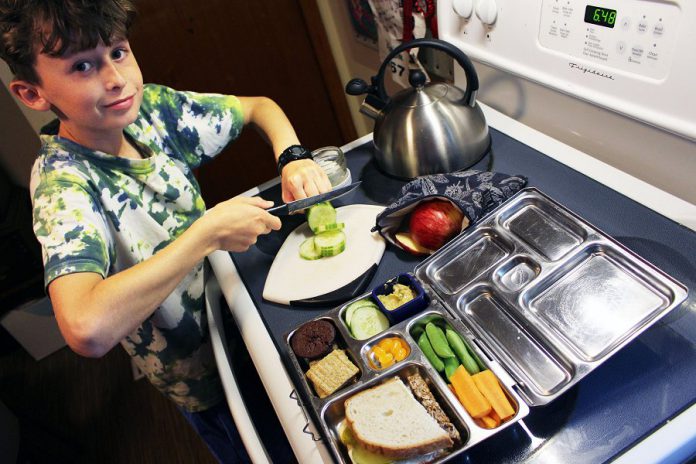 Consider involving your child in the lunch-packing process which, depending on their age, can split the workload and encourage independence. When children have a voice and can choose their own sandwich type or veggie option, they are more likely to eat it.
If your child is headed to school for the first time, consider practising your lunch routine before the year begins by packing a demo lunch and going on a picnic. This gives you the opportunity to see your child's lunch gear in action and they can demonstrate their ability to open and close the containers so that you can be sure that the food you pack is accessible.
If you are purchasing lunch gear, consider choosing reusable stainless steel containers, thermoses, and water bottles. Stainless steel is hard wearing, long lasting, light, and free of BPA and other harmful toxins. Sugar-filled disposable juice can be replaced with a single refillable juice box. By preparing a batch of home-brewed fruit tea, your child will feel like they have a special drink for school without the unnecessary packaging and sugar.
Advertisement - story continues below
Local teachers and education assistants have told me that one of the main sources of food waste in schools are half-full juice boxes that get inevitably tossed in the garbage after lunch is over.
Another opportunity is to replace plastic zip bags with reusable fabric or silicone snack bags. They offer the element of surprise and the novelty of opening a package. They are reusable, easy to wipe out at the end of the day, and the fabric ones can even be tossed in the washing machine once they need a deeper clean. Plastic wrap can also be replaced with beeswax food wraps, which are reusable, washable, and compostable after one year of use.
Prepacked granola bars may seem convenient, but a wrapper each day starts to add up in the landfill. Consider baking your own nutrient-rich alternative. If you bake large batches, you can freeze the extra and thaw as needed. This is a great way to save time and money, while offering another opportunity for your child to be involved in food preparation and customization.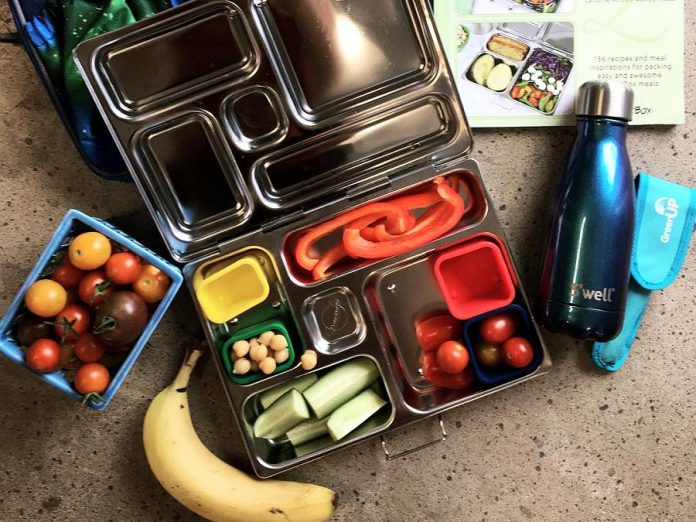 Consulting with teachers, fellow parents, and online articles can also provide more lunch-packing inspiration. A quick Google search will bring up hundreds of blog posts and articles with parents documenting their school lunch ideas. One of my favourite ideas is fresh fruit or vegetable skewers.
Also, try visiting the website of the brand of your child's lunch box. For example, the PlanetBox website at www.planetbox.com provides specific recipes that help you make the most of the compartments provided.
School lunches offer an opportunity to instil healthy eating habits and foster waste awareness, which can help to establish healthy habits that last a lifetime. Tackling climate change will require sustained, consistent, and collaborative effort by everyone in the community. Litterless lunches are a daily decision that is one part of a multipronged approach to this global problem.
Advertisement - story continues below
The GreenUP Store offers a variety of tools to help you create your child's zero-waste lunch kit. We carry many reusable stainless steel container options in many sizes including PlanetBox, and many other brands that feature easy-to-open lids, silicone seals, and insulated double-walls for keeping meals warm or cold. We have many reusable bottles, drinking boxes, lunch bags and totes, fabric snack bags, and more.
For more information, visit our website at www.greenup.on.ca/greenup-store. Please visit us at the GreenUP Store at 378 Aylmer St. in downtown Peterborough, or give us a call at 705-745-3238, ext. 222, or email kristen.larocque@greenup.on.ca with your zero-waste lunch questions.