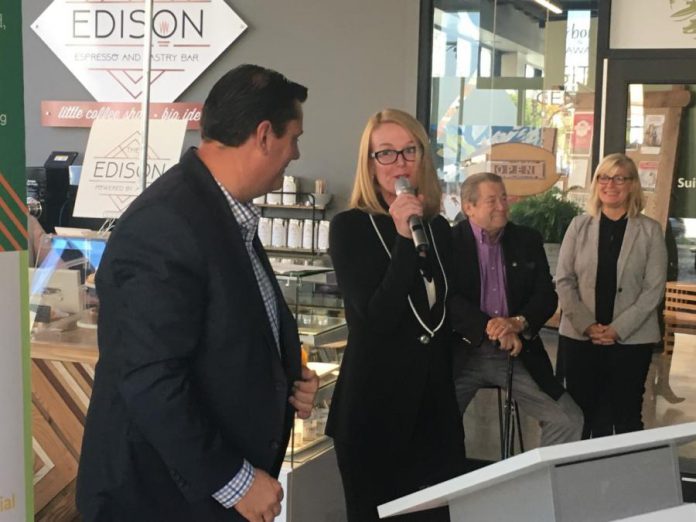 Is there a businessperson in your community who has gone above and beyond to provide not only great service but encouraged and mentored others to thrive in business in the process?
Well, now is not the time to stay quiet.
Junior Achievement of Peterborough, Lakeland, Muskoka (JA-PLM) will soon begin accepting nominations for 2020 induction into its Business Hall of Fame. According to JA-PLM executive assistant Cody McIntyre, nominations open on Thursday, October 17th and will remain open until the end of November.
Nomination forms will be available at the JA-PLM office at VentureNorth, 270 George Street North (at King Street) in downtown Peterborough as well as online at www.jacanada.org/plm.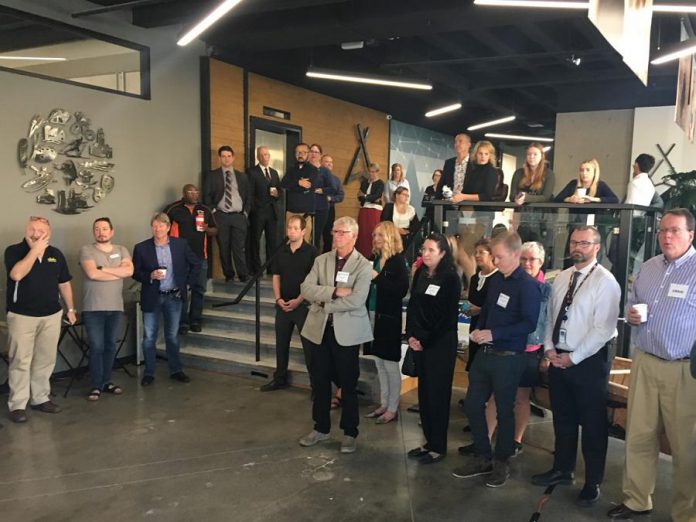 The fifth Business Hall of Fame induction ceremony will be held Thursday, May 28, 2020 at The Venue (286 George St. N., Peterborough). More details on that event will be available in early January when JA-PLM reveals the new inductees.
McIntyre adds that past nominees will automatically be up for consideration once again by the induction selection committee, although their nominators may be contacted to update information.
At a gathering held on Tuesday (September 17) in the VentureNorth lobby, nomination details were announced but that wasn't the only JA-PLM business conducted, as Monika Carmichael, dealer principal and general manager of Trent Valley Honda, was named the new Hall of Fame Chancellor, replacing outgoing chancellor Michael Skinner.
In her role, Carmichael, a 2018 Business Hall of Fame inductee, will guide the selection committee through its paces.
"It's truly an honour to be at the table with such an amazing and talented group, and to oversee the process," said Carmichael, noting there's no shortage of nominees awaiting the committee's consideration.
"Look at the numbers last year with 40 nominees. That's only going to grow with awareness."
Advertisement - story continues below
As for own induction, Carmichael says it remains a point of pride for her.
"It's such an honour. It's so humbling. It has also been a source of inspiration. You want to prove yourself even more. You want to give more and strive to do better. Receiving isn't natural but giving is what we aspire to, so it has been a real win-win that way. It has opened up an incredible source of information, connections and relationships which, in this community, is so important."
Meanwhile, named to the position of Class President formerly held by Carmichael is Dana Empey of Carlson Wagonlit Stewart Travel. In that role, Empey will head up inductee engagement, participate in key JA-PLM events, and help promote next spring's induction ceremony.
In addition, John McNutt, executive secretary of the JA-PLM board, accepted financial contributions from RBC, represented by Vice-President Commercial Scott Mancini, and then from Mortlock Construction Vice-President Craig Mortlock.
RBC's investment of $61,000 will go towards JA-PLM's World of Choices program that exposes students in this catchment area and across the province to a variety of different occupations to consider pursuing
"RBC has a program entitled Future Launch, a decade-long commitment to help both public and private institutions and organizations build the Canadian youths' skills through work experience, skills development and networking," explained Mancini, adding, "The World of Choices program couldn't be any better a fit with that endeavor."
Advertisement - story continues below
Meanwhile, Mortlock, representing the Peterborough and District Construction Association alongside Brent Perry of Alf Curtis Home Improvements, handed over $5,000 from the association for JA-PLM initiatives aimed at increasing high school students' interest in the skilled trades as an occupation consideration. He later noted that a serious shortage of skilled tradesmen across the province is being felt locally.
"We don't just want the people that fall through the cracks to pursue this (skilled trades … we want all academic levels to pursue this as a career," noted Mortlock.
"First, there's a shortage and, second, there's opportunity for entrepreneurship. We want to see JA expose this to as many youths as possible so the ones that are pre-programmed to be tradespeople, to work with their hands, aren't dissuaded because of outside influences or a lack of exposure. So there's work and there's opportunity."
Mortlock credited the Kawartha Pine Ridge District School Board with doing "an amazing job" promoting the trades. At Thomas A. Stewart Secondary School this past summer, students entering Grade 9 this fall were enrolled in a program that saw them build a Muskoka chair to earn a high school credit.
Established in 1955, Junior Achievement Canada has been inspiring and preparing youth to succeed by providing opportunities to learn financial literacy, entrepreneurship and work readiness skills with engaging programs and the help of dedicated volunteers.
Since 2007, Junior Achievement Peterborough, Lakefield, Muskoka has served an area stretching from the Grey-Bruce Peninsula to the Ontario-Quebec border. That effort has been aided by a number of corporate and media sponsors, kawarthaNOW.com among them.
For more information Junior Achievement of Peterborough Lakefield Muskoka, visit www.jacanada.org/plm.