The Peterborough Regional Health Centre (PRHC) Foundation recently celebrated its 40th anniversary with the help of 150 donors, PRHC Foundation volunteer and staff representatives, and PRHC employees, during a public event featuring guest speakers, the unveiling of new lifesaving medical equipment, and a cake cutting.
The PRHC Foundation was established in 1979 and works with generous donors to fund the equipment and technology that form the backbone of patient care at PRHC.
From patient stretchers, pain pumps and vital signs monitors, to CT scanners, MRI machines and hi-tech mammography equipment, donor dollars have given physicians the power to diagnose, treat and heal.
In the last decade alone, the PRHC Foundation has raised nearly $50 million, which has helped support the costs of medical equipment, capital projects, patient programs, and staff education. With regional programs for cardiac, vascular and cancer care, PRHC serves up to 600,000 people from across Peterborough County and beyond.
Lesley Heighway, PRHC Foundation president and CEO, said that their biggest challenge in planning the celebration was how to capture the staggering collective impact made by thousands of donors, volunteers and organizations over the years.
"For 40 years, PRHC Foundation donors have funded the tools and technology our expert professionals use to provide the very best, most compassionate patient care," Heighway said. "They've launched groundbreaking fundraising campaigns, built and equipped a new hospital, and brought lifesaving treatment options to our region for the first time."
"Thank you from the bottom of our hearts. No matter how big or small your donation, know that you are the foundation of patient care."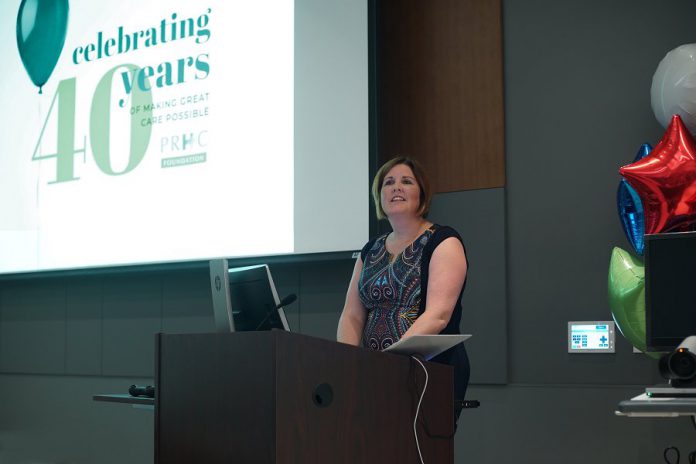 Heighway was joined by PRHC vice-president Brenda Weir, who shared that PRHC Foundation donors can be found in every positive transformation the hospital has undergone over the past four decades.
"You gave us the facility and technology we needed to provide world-class patient care to more patients closer to home, and to attract the best and brightest healthcare professionals to deliver it," Weir said. "The scope of your impact is truly overwhelming."
Long-time PRHC registered nurse and operating room manager Brenda Angione spoke on behalf of the hospital's more than 2,000 nurses, allied professionals, and staff.
"As a nurse, I have a firsthand appreciation for the impact new equipment has on patient care. Because of your support, PRHC's operating room has the equipment our physicians and specialists need to perform surgeries that are less traumatic for patients and allow them a better post-op experience."
A case in point, Angione said, is gallbladder surgery which is now performed with minimally invasive surgery, followed by a shorter hospital stay and recovery, and reduced chance of infection.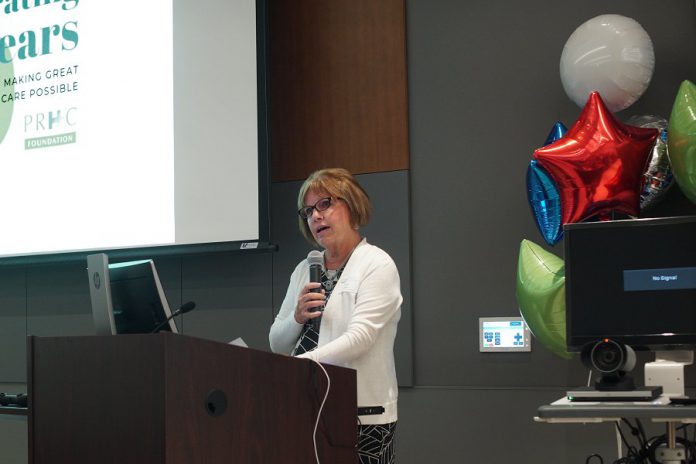 "Removing the gall bladder happens through tiny incisions and the patient goes home the same day with less post-op pain," Angione added.
During the two-hour event, guests were treated to an exhibit of some of the hospital's newest donor-funded equipment.
Registered nurse Sarah Wood displayed a radiant warmer, used to care for vulnerable newborns in critical situations in the neonatal intensive care unit (NICU). The infant radiant warmer is one of seven funded so far through community donations to the PRHC Foundation.
As Wood spoke on the positive impact the radiant warmers have on families, she showed its personalized and hi-tech features such as adjustable lighting and temperature, in-bed scale, rotating mattress, and easy access to the tiniest patients for staff and parents.
Jeff Dunlop, clinical practice lead at the Cardiac Catheterization Lab, offered an update on the new contrast dye injectors used in the Cath Lab.
During an angiogram, injectors are used to help diagnose coronary artery disease and treat it before it leads to a heart attack. The new injector technology helps control the dye amount going to the patient and prevents air bubbles from entering the artery. Cath Lab specialists perform more than 2,900 angiograms and angioplasties annually, Dunlop noted.
"These patients are the people you see at a Petes' game, go to the cottage with us, and sit across from us at the dinner table," he said.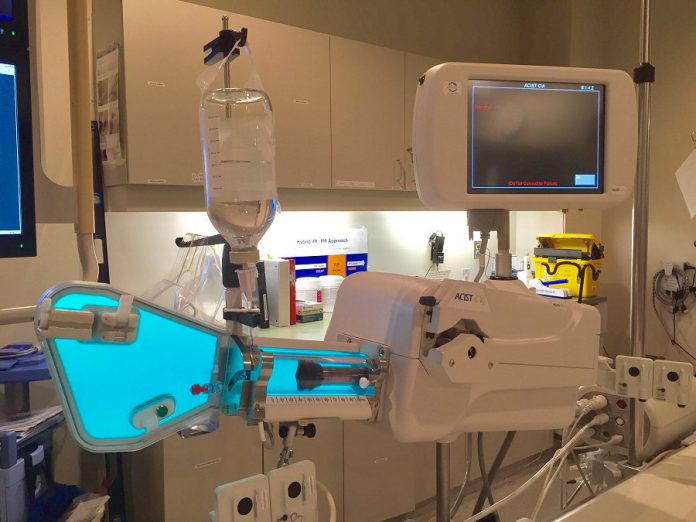 "But it's not just for the community — it's people from across our region that donors are supporting as well," Dunlop added. "We serve a large geographical area of up to 600,000 people, from the Durham region, north to Haliburton and southwest to Belleville, so the technology that donors fund helps us to provide excellent care closer to home."
Charge technologist Brad Plain spoke on PRHC's new nuclear medicine SPECT/CT technology, a diagnostic imaging "combo" used to identify masses such as tumours.
This investment represents the biggest technological leap forward in nuclear medicine in more than a decade, and is the first to be installed in Canada.
Images taken using radioactive compounds that have been injected, ingested or inhaled by the patient are combined with 360-degree CT (computerized tomography) images, giving the doctor both the structural information from the CT and the functional information from the SPECT (single-photon emission computed tomography) study needed to diagnose, stage, and localize lesions or disease.
Dr. Rola Shaheen, chief of radiology and medical director of diagnostic imaging, and Jill Cummings, senior technologist with the Breast Assessment Centre, were also on hand to show donors their revolutionary new breast imaging equipment. It reduces anxiety and enhances comfort, allowing technologists to focus on precise positioning making the exam easier and faster.
The equipment was the result of a three-year campaign at the PRHC Foundation that included mammography innovation and reinvestment, with a goal of $1.9 million to purchase three new, full-field digital mammography machines.
Peterborough resident and breast cancer survivor Carol Mutton was pleased to see that the mammography machines are available locally and are more inviting for women to improve the screening rates so vital to cancer prevention.
"I had my treatments at the Women's College Hospital in Sunnybrook because I was working in that area in Toronto," Mutton said. "Now, I'm quite enthusiastic about having my care at this hospital. I had a mammogram not that long ago using the new equipment and it was excellent."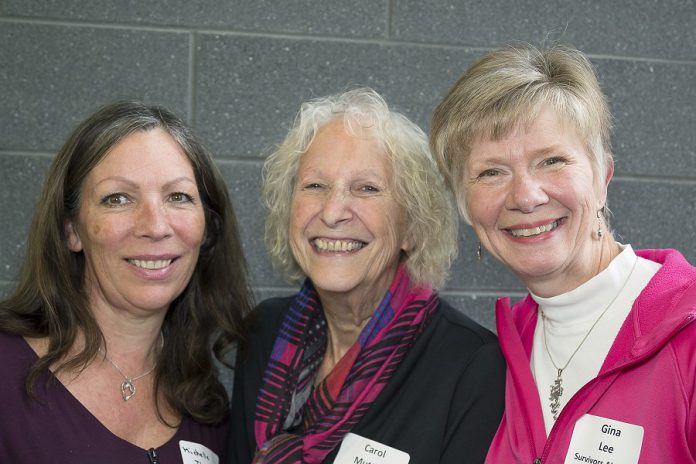 Mutton is also a long-time member of the Peterborough Dragon Boat Festival team, Survivors Abreast. The team's efforts were instrumental in helping generate the millions of dollars from past festivals that have supported the Breast Assessment Centre and cancer care at PRHC.
"Our dragon boat team is all breast cancer survivors, so for us it's crucial to have leading-edge mammography. Many members of our team are now using that equipment. To know that I had a small part to play in helping bring in those donations is thrilling."
In the end, the PRHC Foundation's success in supporting great patient care closer to home comes down to the cumulative impact of generous community donors like Peterborough residents Lloyd and Angie George, who have donated to the hospital for the last 30 years.
"Healthcare is important to the community and even more important as we age," said Lloyd, who attended the event with Angie and their daughter Patty Serota. "I've been admitted to the hospital five or six times for heart surgery, stomach surgery, and other things. My wife has been in the hospital for hip and knee replacement surgery as well. We've received great care."
Coincidentally, Serota herself works at PRHC — in the Gift Shop, where profits from sales are also used to fund equipment at the hospital.
"They have recovered very well with the supports in place after the surgeries, including follow-up appointments and physiotherapy," Serota said. "It was comforting knowing, as a family member, they were getting great care to get them healthy again."
For more information about the PRHC Foundation and how you can make great healthcare possible in our community, call 705-876-5000, email foundation@prhc.on.ca, or visit www.prhcfoundation.ca.
This story was created in partnership with the Peterborough Regional Health Centre Foundation.