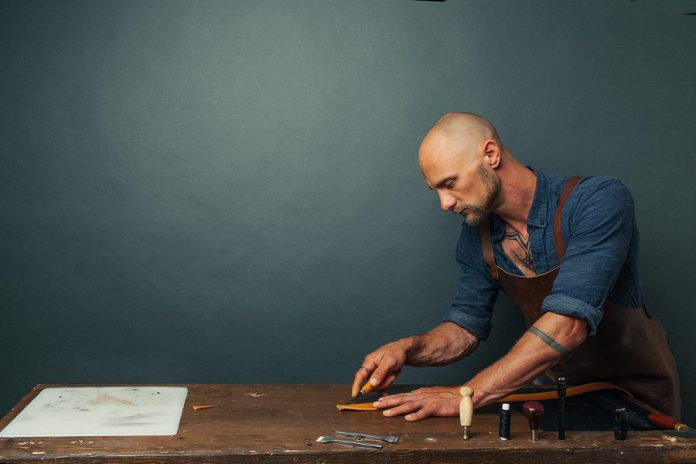 Leather artist Jesse Bateson has made an art form out of keeping people's trousers up.
For over a decade, the owner of Solid Leather — which specializes in high-end leather belts — has been turning sheets of cowhide into statement pieces that exist directly at the intersection of function and style.
Sure, they hold your pants up, Bateson points out, but the right belt can be the literal centrepiece of your look and bring a dose of personality to simpler items like a pair of jeans or a plain t-shirt.
"A belt is the most practical and essential piece of fashion in a wardrobe," Bateson says. "It's the last thing you put on when you're getting dressed."
Bateson is committed to his brand promise: his belts perform far better than most you'll find on the market — with their quality, durability, and style guaranteed.
"Most belts these days have a lot of glue, cardboard, and what-not in them," Bateson points out. "All of my belts are 100 per cent solid leather, and I back each one up with what I call my lifetime guarantee."
VIDEO: The Solid Leather Guarantee
(Video: Jeremy Blair Kelly / FILMkelly)
This means that if your Solid Leather belt ever quits functioning, Bateson will repair or replace it for free. No strings attached, no fine print — just a quality product backed by an honest guarantee.
"I want it to be a piece that you can pass on to your grandkids," he adds.
Bateson designs and fabricates his creations in a spacious studio in downtown Peterborough. Because no single belt will suit every occasion, Solid Leather offers a men's casual and formal line.
Solid Leather's casual collection offers belts that are an inch and a half wide, available in black, chocolate brown, natural tan, and burgundy. This style is best dressed down for everyday wear, but ready to punch up your look when life invites you for a well-groomed occasion.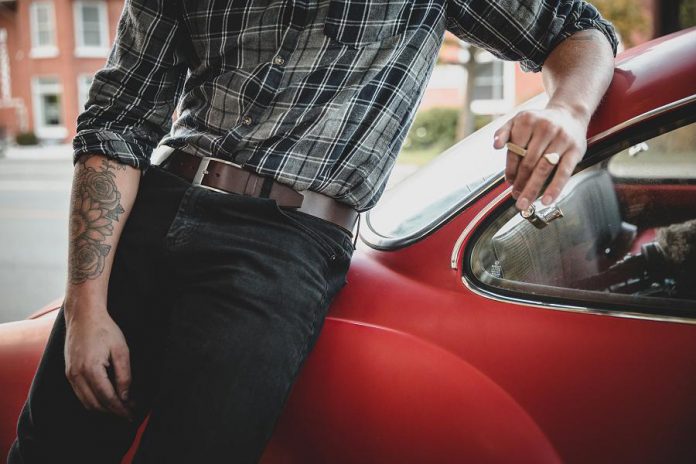 If you're looking for something a little more proper, Solid Leather's formal collection offers belts that are an inch and a quarter wide and can be paired with suits or any other formal wear. This waist cincher is slim with a sleek minimalist buckle, coupled with a contemporary and elegant look. It's available in rich, classic colours like black, chocolate brown, medium brown, tan, and burgundy.
Each belt is hand cut from a supple, vegetable-tanned, premium steer cowhide. A special blend of eco-sensible oils and dyes are applied to create a uniform colour and rich patina. The edges are then burnished for a clean, lasting finish. The hand stitching coupled with a smooth, lead-and nickel-free buckle adds a perfectly understated accent.
If you're one of those people who poke unsightly holes in between the existing holes of your belt, which are typically an inch apart, you can set your hammer and heated nails aside. Bateson's bespoke designs provides the convenience of precise adjustments, without sacrificing functionality or style, by providing three-quarters of an inch between each hole to offer a better fit.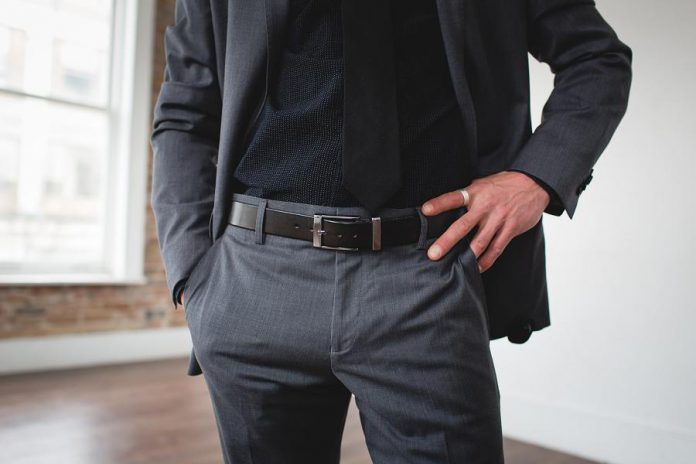 Although his focus is on men's belts, Bateson says he's currently working on two new lines. One is a belt collection that appeals to women who like to wear belts in a variety of ways, whether it's low on the hips with pants or high above the waist over a dress or blazer. Ladies belts are currently only offered in-person, so you'll have to reach out directly to Bateson to buy one.
The other line is exclusive, one-of-a-kind leather satchels. Once a month, Bateson will document the satchel being created, announce the sale live on his social media feed, and sell it to the first buyer (follow his satchel designs on Instagram @solidsatchel).
"This way, I can keep the cost lower and create something on my own that's unique," he says.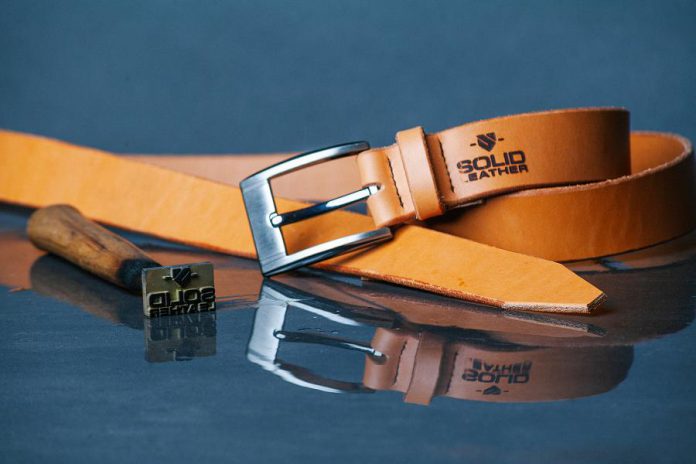 Bateson is completely self-trained in leather craft — learning the tradition, the techniques and the tools, and later using those to create his signature look, he notes.
He credits his passion for leather-making to his time travelling across the U.S. in his 20s, nearly 15 years ago, embracing the freedom of his youth and new experiences. During his time in California, he recalls meeting a man who made belts and bracelets from old jackets.
"We sat down one day talking about craft and design and that was it. I was hooked."
He moved to Peterborough in 2005 and fondly remembers sitting on the corner of Hunter Street and George Street every Friday to sell leather bracelets he had created.
"While I was there, people got to know me and one day somebody asked me if I could make a belt," he recalls. "I said, well that's just a bracelet for your hips, so okay!"
The rest, as they say, is history.
Leather, he says, is a very practical, long-lasting material that's been in demand for ages.
"If you take care of it, it will last a very long time," he says. "The amount of creativity and the things you can do with it are kind of endless. The versatility of it, the way it ages, and the nostalgic feeling you get when you pick up something leather and know that it's going to get broken in over time."
Stepping into Bateson's studio is a bit like taking a step back in time. Exposed brick lines the walls, and metal tools, work benches, and the rich scent of leather fill the space. Using a variety of tools, he sets to work, with a discerning eye trained on a strip of leather.
VIDEO: The Solid Leather Casual Collection
(Video: Jeremy Blair Kelly / FILMkelly)
Much of the leather-carving process requires intense attention to detail, from start to finish: cutting the hide, tracing over it with the design, carving out the designs, shading, hammering, smoothing, dying, oiling and sewing.
But like any art, leathercraft requires an intuition too, Bateson says.
"My brand is a lot about who I am, my values, and being a solid human being."
You can find Bateson showcasing his talent at Peterborough's First Friday Art Crawl and the indoor farmers' market at Peterborough Square in November and December.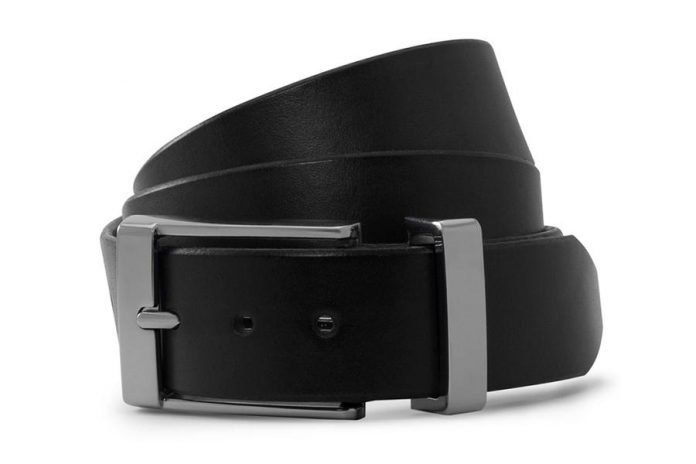 Solid Leather is located at 2 Bankers Common in downtown Peterborough. Purchases can be made online or by appointment only. For more information, call 705-931-2242 or email jesse@solidleather.com. To browse and shop online, visit solidleather.com (Solid Leather offers free shipping within North America).
You can also connect with Solid Leather on Facebook and Instagram.
This story was created in partnership with Solid Leather.