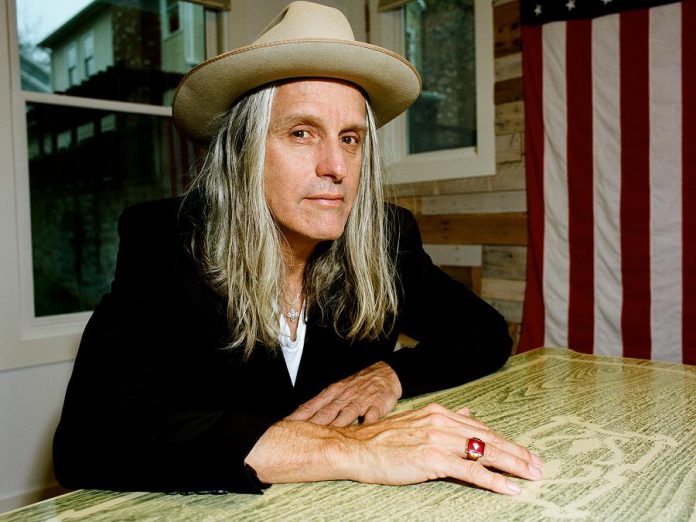 Upon answering his phone in Nashville, Steve Poltz is immediately suspicious.
"I want people to feel on guard when they call me, like they could be bugging me," he explains, the seriousness of his tone masking the fun he's clearly having with his caller. "And I have a lot of bill collectors and various police organizations after me. I've also done a lot of bad things in Canada, so I just always act at first like I'm not me."
The Halifax-born and now Nashville-based folk-rock singer-songwriter clearly dances to the beat of a different drummer — his satirical take on the world, and where we all fit in it, anchoring a huge part of his persona.
But there's talent too: a lot of talent rooted in a musical gift that has seen him record 12 solo albums and perform for audiences around the globe.
On Saturday, October 19th, Poltz will headline at the Market Hall Performing Arts Centre (140 Charlotte St. Peterborough). Tickets are $35 including fees, available at the Market Hall box office, by phone at 705-749-1146, or online at markethall.org.
"Hopefully people will just show up and take a chance because if they see me, good things will happen to them," says Poltz.
"People who see me usually win the lottery or fall in love or lose whatever disease they have. Plus they'll hear some cool music as an aside. There have been a lot of songs over the years, so it's fun to just kind of come up with some sort of semblance of order."
VIDEO: "Shine On" – Steve Poltz

"But I can be really horrible one night and the next night really good," he deadpans. "Maybe when I'm in Peterborough I'll be horrible, but the night before in Meaford I'll be good. Buy tickets to both. One of them will suck, so you've got a 50-50 chance."
Having moved to California from Halifax with his family (he's a dual Canadian-American citizen), Poltz has no doubt how things would have turned out differently for him if he stayed on this side of the border.
"I'd probably be a nicer person if I had stayed in Canada," assesses Poltz. "When I go to Canada, and especially to the Maritimes, people will stop if you're five feet from the intersection. They see you're going to be crossing the street and they'll stop. If you're behind that car, you're like 'Are you kidding me?'"
Advertisement - story continues below
"People are much more genteel and more patient in Canada. I think that might have to do with it being more of a socialist country … we all deserve to have health care and we're going to take care of each other."
"Here (in the U.S.) it's more like 'I got mine. Good luck with yours.' It's more dog eat dog. But there's something good about that too. The government isn't going to give you any money to make your art, so you've got to get by on your own two feet."
It was at the University of San Diego in the early 1980s that Poltz, a political science major, befriended Robert Driscoll. Performing as a duo, they played coffeehouses before forming the nucleus of The Rugburns.
VIDEO: "Ballin' On A Wednesday" – Steve Poltz

The band stayed together long enough to record two studio albums and an EP — their witty, funny, and outright bizarre lyrics and stage personas earning them a solid local and national cult following.
"I liked the idea if you're playing on stage you can do anything, so we'd bring in an eight-track player and play eight-tracks during our break," recalls Poltz.
"At midnight we'd make everyone cinnamon toast. We bought a bunch of toasters at thrift stores. Rob would say 'Why?' and I'd say 'Why not?'"
"We'd buy coats and hats and make everybody wear something weird. It was creating a tribe, a sense of community, with the main goal being to have fun. It really affected my outlook because it was a do-it-yourself ethos. That kept me really creative."
Advertisement - story continues below
It was at one of those coffeehouses that Poltz befriended Jewel Kilcher. A barista at Java Joe's in the San Diego suburb of Poway at the time, she would go on to become a four-time Grammy Award-nominated singer with, as of 2015, album sales in excess of 30 million. In 1996, she recorded the single "You Were Meant For Me", co-written with Poltz. The song was a major chart hit both in Canada and the United States.
"That was crazy," says Poltz of the good fortune their collaboration brought. "You just never know when that's going to happen."
With 12 solo albums to his credit — bookended by One Left Shoe in 1998 and Shine On released just this year — Poltz is a prolific songwriter. Still, he admits to a preference for live performance because "it's so current", and he's thrilled to now be rooted in Nashville where Shine On was recorded.
VIDEO: "You Were Meant For Me" – Jewel with Steve Poltz

"I'm still trying to make a really great record. Living in Nashville, there are so many opportunities to do that. Shine On was a great first record to make in Nashville. It gets me excited for the future."
That future includes a four-week tour of Australia starting in November and dates booked well into 2020, as well as a new record project. But for now, all roads lead to Market Hall and Peterborough — a place Poltz is familiar with thanks in no small way to a Lakefield resident who regularly hosts by-invitation-only music concerts at his home and in his neighbouring barn.
"I met a crazy dude named Roger Glover on a cruise ship and that's what brought me to Peterborough," says Poltz.
"I played a cruise called Cayamo. I did it with John Prine, Patti Griffin … it's always a different group of people. Roger had a suite on the boat and I ended up in his suite playing guitar with other musicians. He said 'I do shows in my house and also in my barn. Would you want to come up and do a show?' So I came up. He must have had two hundred some people in his barn. He said 'Let's do the next one at Market Hall'."
Advertisement - story continues below
An unabashed fan, Glover notes Poltz has performed at his home five times, including at a 50th birthday gig for his wife.
"His imagination is unbelievable," raves Glover. "He's a total character with a magnetic personality. And he's hugely talented, one of the best guitar players I've ever seen, picking his acoustic guitar like lightning. Sort of like John Prine, he can write very serious and he can write very funny."
As if that endorsement isn't over-the-top enough, Glover promises "You will never miss another Steve Poltz show if you go to this one."
VIDEO: "Hey God I'll Trade You Donald Trump For Leonard Cohen" – Steve Poltz

For his part, Poltz assures his Peterborough audience that they are "going to smile and have fun", if for no other reason than that is exactly what he'll be doing from the stage.
His bio, as bios do, describes him in glowing terms but one word — twisted — jumps off the page.
"I think people like using that word to describe me, whatever twisted means," Poltz says. "My girlfriend just said she'd add ridiculous."
Recalling his abrupt departure from a well-paying corporate job in 1988 and a subsequent trek to Europe where he busked on city streets, Poltz is a big believer in the creation of new opportunities and the ability of everyone to do that.
"Anybody reading this article can make a change tomorrow, like 'I'm just going to move. I don't like what's happening in my life right now,'" he affirms.
"There's a like a sliding glass door in your mind. If you open that and step through into a different reality, you can make and manifest a new destiny. We get weighed down by the character we have created."
Reflecting on his own path — a paying-his-dues journey highlighted by more twists and turns than he can count — Poltz is grateful that, as he nears age 60, he is still doing what he clearly loves to do.
"It's been a great ride," he assesses. "I can't believe I still get to do this, and this is how I get to make a living. It's crazy."
For more information on Steve Poltz, visit poltz.com.