East City remains at the centre of the Peterborough universe for residential property developers.
On Thursday night (October 24) at Mark Street United Church in Peterborough, a public information session featured updated plans for, and details of, mixed-used residential-commercial developments proposed for four properties bordering the Rotary Greenway Trail south of Hunter Street East.
The affected addresses are 109, 115, 125 and 127 Hunter Street East, 367 Rogers Street, and 124 Robinson Street.
A number of area residents attended to ask questions of Ashburnham Realty owner Paul Bennett, who is developing the properties. Also fielding enquiries was planner Kevin Duguay, as well as representatives of Lett Architects and Engage Engineering.
Bennett's plan for the properties marks another in a series of major East City residential developments. East of Ashburnham Drive in the shadow of the Peterborough Lift Lock, the Ashborough Village subdivision will see 700 units built — houses, townhouses and apartments — while East City Condos, a nine-storey building developed by Toronto-based TMV Group, is set to rise at the southwest corner of Hunter Street East and Armour Road.
Bennett's development features a six-storey building fronting Hunter Street East east of the trail with a restaurant on the ground floor, commercial tenants on the second floor, and apartments on the upper floors. It is the largest of the four buildings planned.
Bennett is also developing property west of the trail, also fronting Hunter Street East, and a strip of land also on the trail's east side that extends close to Robinson Street. In total, 90-plus units will be developed.
Advertisement - story continues below
"It (East City) is a pretty special spot that has all the services right here at our fingertips but if you want to walk downtown, you can get there in five minutes," says Bennett, an East City native.
"Working with the city, it was one of those things we both felt could be bigger and better, so we focused on some other parcels of land and tried to achieve a real extension of Hunter Street by almost continuing it through to Robinson Street."
"I think we've done that. The architects have done a beautiful job in terms of designing what that connectivity could look like. When you can take old parking lots and old gas stations and give them new life, and hopefully add a lot of the services that aren't in East City right now, that's the fun stuff."
With the plan now to start construction next year (pending city approval of any site plan amendments required), Bennett says commercial tenants for the two Hunter Street-facing buildings are already in place or in the process of being finalized.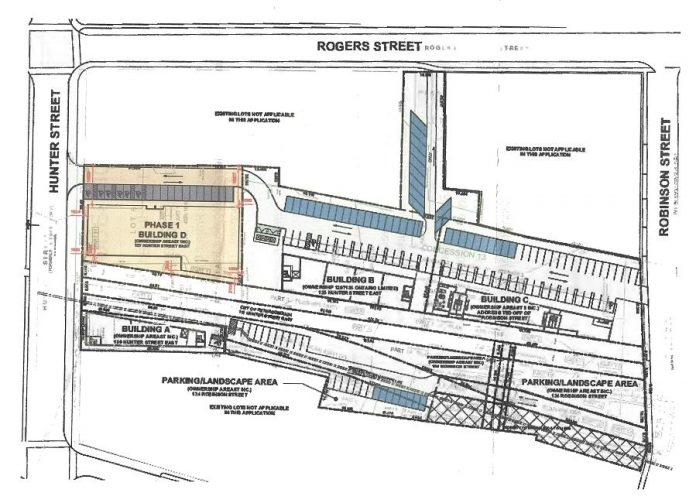 The challenge, Bennett adds, isn't a new one — namely, developing in an established neighbourhood.
"You're not grabbing a three-acre piece of land on the outskirts of town that has no issues," he explains. "Every parcel of land in this project has an issue, and they link to cause more issues. Navigating through that with the city is a challenge from the planning and engineering side, but I hope at the end of the day it's well worthwhile."
"If you walk down there right now, it's not the nicest area. That part of East City deserves better."
For his part, Duguay says there are too many positives to this development to be ignored.
"Hunter Street is being reinforced through this development," he notes. "Our main commercial activity is being placed at the front face on the south side of Hunter Street. We are enhancing the Rotary Greenway Trail as it crosses Hunter Street from its existing location."
"We're aware that we're developing half a municipal block, a long linear property that had some historical use as an old rail line, an old warehouse, an old fuel storage yard, and surplus parking spaces for the hospital. That was its setting: an undeveloped, under-utilized, vacant collection of properties."
"When you advance a development, you want to be respectful of what's around it," Duguay adds. "We're respecting the main street of Hunter Street, we're respecting the trail, and we are being considerate of the adjacent low-density residential properties. The development we're seeing today is mixed use on a main street in a downtown of our vibrant community. It ticks all the boxes."
Advertisement - story continues below
Karen Kaufman, an eight-year resident of East City, was among those who attended the open house. Her main concern focused on potential increased traffic impacts.
"What's my message to the developer? Let's discuss infrastructure. Let's look at the roads and how the traffic will impact neighbourhoods. I don't know if that has been addressed. That's why I'm here."
"You've got to know when to say 'Stop' so we can maintain quality of life. We've been here for awhile. This is our home. We don't negate what they're doing. It's bound to be done, but let's do it right. We're watching."
Duguay readily admits the development "will generate some traffic" but not enough that it will "overwhelm the streets."
"Some time later, if we've done our job right and responsibly, we will see an end product that's built, that is being enjoyed, and is utilized by the community. That's the goal. That it works and it blends in."
As for the residential building 'boom' that East City is seeing, Bennett notes it's reflective of an "urbanization theme" seen in communities across North America.
Advertisement - story continues below
"For the longest time, people did 'sprawl' and looked for the cheapest piece of land," Bennett says. "From a healthy activity and mental mindset, and for the environment, it's much more important for us to start looking at how we can live differently and that includes living closer to the core and higher densities. It's a market trend to start moving closer to the middle and living more healthy, active lifestyles."
Duguay points out the soon-to-be-completed connection of Highway 407 to Highway 115-35 is already producing a demand for living space in the Peterborough area.
"There are very few building lots available in the city. Most of our green field lands are spoken for. Our outlying rural settlement areas — Norwood, Havelock, Lakefield — those lands are being prepared and designed for future development."
"The 407 connects Peterborough to a marketplace that is starting to look at Peterborough and the Kawarthas because of the quality of life we offer. The growth that is contemplated is realistic. Our community has an opportunity to embrace and celebrate that."
Praising Bennett as "a developer that cares about his community," Duguay stresses all involved in the project's development are local and committed to getting it right.
Bennett adds what he heard from those who dropped by the open house was "super positive. We're excited to get going."
As for two other major Ashburnham Realty projects in the works (luxury condo buildings planned for Lake and Crescent streets near Little Lake and "a more rent-conscious" building at Rink and Olive streets), Bennett says "We're still pushing forward with those."
A statutory public meeting about the proposed East City development has yet to be scheduled. The city's planning department will be issuing a formal notice of that public meeting in the future.