Community theatre company St. James Players brings one of the most popular musicals of the modern era to Peterborough when they present Mamma Mia! at Showplace Performance Centre in downtown Peterborough for seven performances beginning Friday, November 8th.
Directed by Jacquie Butler, with musical direction by Dustin Bowers and choreography by Melissa Earle, Mamma Mia! has a powerhouse cast of local musical theatre favourites bringing the magic and energy of Swedish pop sensations ABBA once again to the Peterborough stage.
One of the most popular pop bands in the world, ABBA is a perennial favourite that bridges generational gaps, ensuring an instant audience anytime their name is involved on the stage. Formed in Stockholm in 1972 by song-writing partners Benny Andersson and Björn Ulvaeus and female singers Agnetha Fältskog and Anni-Frid Lyngstad, ABBA found international fame in 1974 when they won the Eurovision song-writing competition with "Waterloo".
The song quickly hit the top of the charts on every continent, and for the next eight years the band put out hit after hit, including a total of 20 on the Billboard Top 100.
"I watched ABBA when they won the Eurovision song competition in 1974 and we were all hooked in Europe," says director Jacquie Butler, who originally comes from the U.K.
Advertisement - content continues below
"England always did well in the European song contest, but when Sweden came in they all knocked us out of the water with Waterloo," Jacquie recalls. "And then ABBA just went up and up. Every song they put out was a hit. I grew up singing ABBA songs. I don't know what it is. They are obviously well written, but they just have that certain something. I've always liked them."
"So when I was approached by the board of St. James about directing a show I said 'Definitely Mamma Mia!' I am very passionate about the show, and I've told the cast that many times. It's an uplifting and fun-filled show. When the audience comes out, they leave feeling good."
Written by British playwright Catherine Johnson and originally opening in London's West End at the Prince Edward Theatre in 1999, Mamma Mia! has become a worldwide theatrical phenomenon that continues today. Ensuring its popularity on the cultural landscape, the play was turned into a hit film in 2008, starring Meryl Streep, Colin Firth, and Pierce Brosnan, once again bringing the music back to mass popularity, and making the story and characters familiar to audiences beyond the theatre world.
While Mamma Mia! has surprisingly never been won any major theatrical awards, the show has become a beloved favourite, acquiring a cult following, popularizing the "jukebox musical" genre, and creating a second wave of ABBAmania.
VIDEO: Mamma Mia! promo

In the St. James Players' production of Mamma Mia!, the audience is invited to the fictional Greek island paradise of Kalokairi, where one woman's romantic past is about to return to her life in a very real way. Weeks before her wedding, 20-year-old Sophie Sheridan (Gillian Harknett) reaches out to three men she has never met — one of whom may be her father — to come to her wedding, but without telling her fiery and independent mother Donna (Natalie Dorsett) about her plan.
Part of a pop trio in her youth, Donna gave up music when she got pregnant with Sophie while on tour in the Greek Islands in 1979. Settling down and creating her own successful holiday resort, Donna has lived her life as a strong-willed business woman and mother who never looked for assistance from Sophie's father.
As the guests begin to arrive to the Island for Sophie's big day, all three men show up … but which one is her real father? Is it American architect Sam Carmichael (Warren Sweeting), thrill-seeking explorer Bill Austin (Mark Gray), or punk-rocker-turned banker Harry Bright (Keevin Carter)?
Advertisement - content continues below
Now, with the island exploding with excitement for the upcoming wedding, Donna's past comes crashing down on her as old romantic wounds are reopened, secrets are revealed, and the meaning of family is redefined.
Meeting with the cast during a Sunday afternoon rehearsal at St. James Church, I was surprised by the amount of thought and depth the primary cast has put into their roles, as they weave together the back story between the various characters. Having seen Mamma Mia! multiple times, I have never thought of it as a complex show, but my conversation with the cast made me realize that there is more to this story than perhaps I initially believed.
"There are a lot of layers to this show," says Christie Freeman, who takes on the role of Tanya, one of Donna's friends and former bandmates. "The show may seem one dimensional, but once you start analyzing the relationships you can start picking and prodding and moving the pieces around."
"It's our job as actors to project to the audience that the show is not one dimensional, and that there is depth to these relationships," adds Warren Sweeting. "I think some groups that put on the show don't look at it in depth, and I'll admit that this is the first time I've thought that much about it."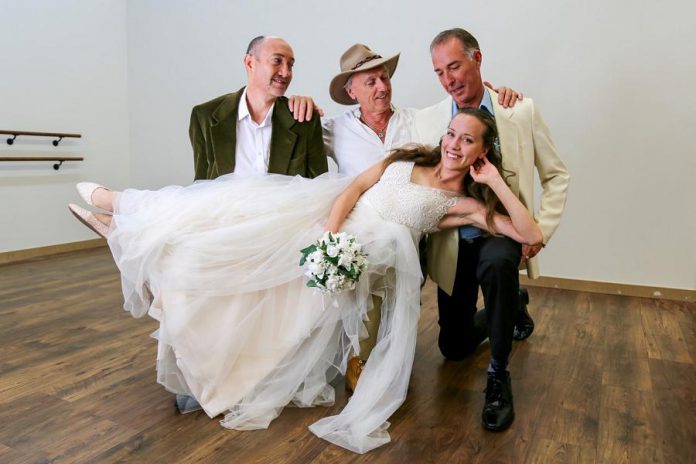 "It's easy to be in a musical and have it just be a musical," Natalie Dorsett says. "But if you don't take a musical to that next level, then it isn't going to be relatable. Mamma Mia! is relatable. You all know people like each of these characters. You all know a Tanya. You all know a Rosie. You all know a Harry."
Starring as Donna (portrayed by Meryl Streep in the film version), Natalie is performing a dream role that she's wanted to play since she was a teenager.
"I love playing Donna," she explains. "I first saw Mamma Mia! in Toronto when I was 18, and it was the first date my husband and I went on. We were watching it and he said to me 'So, do you want to play Sophie?' and I said 'Hell no, I want to be Donna!' I like that she's strong, she gets things done, and she raised Sophie by herself. Sophie is an amazing person. I love that. I think there will be the people on the audience who will also want to be Donna."
"I find Donna layered," Natalie continues. "She has walls up, but she's super vulnerable. You can see Sophie trying to be the opposite of her mother, but by the end she finds that she is exactly like her mother. That's also a relatable story for people."
Although faced by a trio of potential fathers, Donna finds her romantic foil in Warren's character Sam.
"Sam is like the clandestine love interest of the show," Warren says of his character. "We know what's going to happen at the end of the show, but there is a battle between him and Donna through the whole show. Do they like each other? Do they not like each other? Are they playing angry because they are covering up the fact that they like each other? Sam is not hugely different from myself, so it's not hard to walk into the role."
Advertisement - content continues below
"Sam is also the only one who is able to break through Donna's walls, because her walls are sky high and four feet thick," Natalie adds.
"It's because Sam shows some backbone throughout the show, while the other guys kind of bend a little bit," Warren replies. "Sam is the first person who took Donna to the island, and he took their dreams and made them a reality that he never knew about. That's says a lot about the relationship as it was."
"It's because there is investment in the relationship," Natalie points out. "The other two guys were just flings. Sam was a short-term love affair, while the other guys were just rebounds."
One of the "other guys" is played by Mark Gray, who makes his St. James Players debut in the role of dashing travel writer Bill.
"I like the role of Bill," Mark says. "It fits with me. Bill is the intrepid traveller and writer, gets in adventures all over the world, and writes about it. That fits with me. I like the bush and go solo camping. I like to write and have travelled to 14 countries around the world. I've been using that to connect to the character."
However, as Mark notes, the majority of his scenes are not with Natalie, but are instead with Gillian who plays Sophie.
"When Bill starts to discover that he could be Sophie's father, he's nervous about it," Bill says. "Nothing has pinned him down in his whole life, so by having a 20-year-old daughter in front of him he's got to come to turns with that. But she's such a beautiful young woman, so why wouldn't he want to be her father? I hope to portray how nervous he is because that could change his life."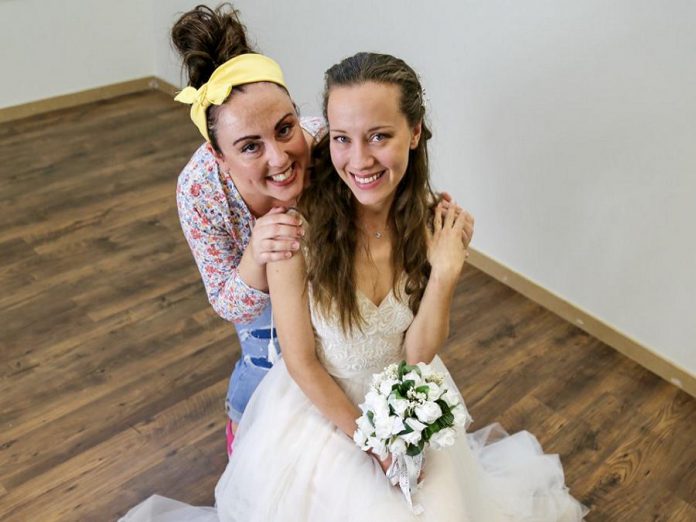 In the role of Harry, the third potential father, Keevin Carter plays a man not only searching for a version of himself from the past but one who also reveals something unexpected to his former lover.
"Harry is very successful and works in London in the finance sector," Keevin says. "But he is in a place where he feels his life has become boring and routine and he is fearful that his partner feels the same way. So he comes back to the island to revisit his past days where he was spontaneous and a head banger and completely different from what he has become. He wants to share who he really is now with Donna, which he wasn't able to do all those years ago. There might be some people in the audience who will say 'Wow, I didn't see that coming!'"
As the comedic relief in the drama, Christie Freeman and Lyndele Gauci play Donna's best friends and former musical co-horts Tanya and Rosie.
"Rosie and Tanya are opposites," Christie says. "Tanya is insecure and self-absorbed, while Rosie isn't. We represent double sides of a coin. Playing Tanya is fun because she's so different from me. Tanya has had an interesting life of numerous marriages and jet setting round the world, and I'm still an immature flirt. I'm the comic relief I suppose."
"I'm typecast," laughs Lyndele, who returns to the Peterborough stage after a four-year hiatus. "Rosie is also comic relief, but she is more practical. She's the kind of girl who doesn't take crap, but she's super fun. I really relate to the character. I definitely see a lot of myself in her, but I also find that I'm learning from Rosie. I admire her confidence, and I see that's where I am in my life."
Advertisement - content continues below
I was invited to watch the cast, a large ensemble spread across multiple generations of performers, be put through their paces by choreographer Melissa Earl during the massive "Voulez Vous" number. High energy and larger than life, the number beautifully fuses together the drama of Mamma Mia! with the music of ABBA which, at its core, is the backbone of the show.
There is no denying that now, more than ever, ABBA's music is always a hit with any audience.
"Globally ABBA has had so much radio play," Mark says. "Musically it defines a time when it first broke. For older audiences, it takes us back to when we danced and when we sang along. It's also fun music — fun to sing along to and very danceable. It propels people to want to move. It did then, and it does now with younger people. I think there is an infectious quality to the music. That's what draws people to it."
"There is a certain age group that grew up with ABBA," Warren adds. "In my household, when growing up, ABBA was on every day. It was fun music. It's entertaining and uplifting. In Mamma Mia!, it's amazing that they are able to take all those songs and insert them into a cohesive story in a meaningful way. That just amazes me."
"But after a while it you start to forget that it's ABBA music," Natalie points out. "Eventually it becomes Mamma Mia! music."
From tribute bands to karaoke bars, anything involving ABBA is going to find its audience, and Mamma Mia! is always a favourite. The St. James Players' production combination of the endearing music, high-energy performances, and powerhouse cast made up of truly lovely individuals left me feeling excited and uplifted after the rehearsal. Based on my what I saw, I believe Mamma Mia! will be the feel-good musical of 2019.
Manma Mia! opens on Friday, November 8th and runs for seven performances until Saturday, November 16th at Showplace Performance Centre (290 George St. N., Peterborough). Tickets are $27 for adults, $23 for seniors/students, or $20 for children/youth (plus fees) and are available in person at the Showplace Box Office, by phone at 705-742-7469, or online at showplace.org.