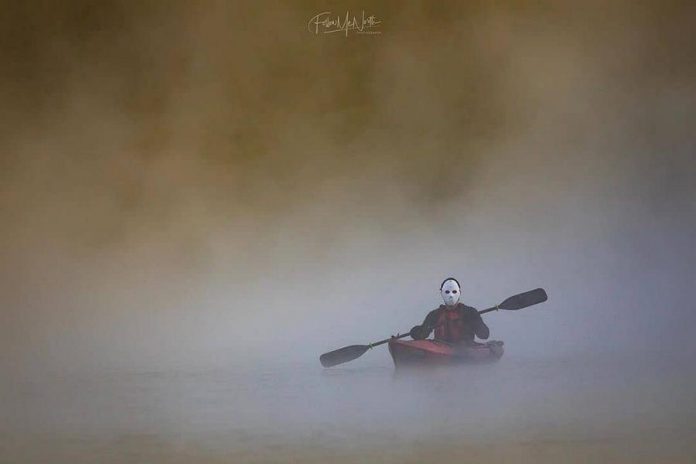 October has to be the most visually stunning time for our Instagram account.
For a glorious but brief time, the forests are on fire with amazing and breathtaking colour, and our local photographers comb the back roads in search of their best shot. The views of fall in the Kawarthas are the most awe inspiring of the year. Follow our hashtag #fallinthekawarthas to see more of these amazing shots!
Our October photos of the fall colours — as selected by impressions and likes of our followers — are some of the best of the season. An exception is when "Jason" appeared on the last day of the month (Halloween), becoming our top photo of the month. Thanks to @followmenorth's visually stunning and creepy photo, many of our followers were thinking that maybe the Kawarthas had its own Crystal Lake.
Do you want to get on our top photographers list? All you need is an Insta account and to tag us using our hashtag #kawarthanow when posting your photo.
We share photos from across our readership area, which is the five-county area surrounding Peterborough which includes Peterborough, Northumberland, City of Kawartha Lakes, Haliburton, and Hastings (we sneak in the occasional Algonquin Park picture as well, particularly if it's by a Kawartha photographer).
To see our daily shares of photos, follow us on Instagram @kawarthanow and check out our feed's highlight reels for recaps of every month in 2019.
Advertisement - story continues below
#1. Killer kayaker by Jesse & Susan @followmenorth
Posted October 31, 2019. 11,556 impressions, 999 likes
If the character of Jason from the Friday the 13th film franchise enjoyed the outdoors …
#2. Thankgiving weekend on the Trent Canal in Lakefield by Barry Killen @theburleighridge_beareh
Posted October 12, 2019. 9,167 impressions, 882 likes
#3. The Trent Canal at the Peterborough Lift Lock by Dede Full of Wanderlust @mylifeofwanders
Posted October 18, 2019. 8,805 impressions, 708 likes
Advertisement - story continues below
#4. Autumn treetops in the Kawarthas by Paul Hartley @paul_hartley_photo
Posted October 24, 2019. 8,816 impressions, 624 likes
#5. Cavan country road by Russ Higgins @russ_higgins
Posted October 28, 2019. 7,592 impressions, 710 likes
Advertisement - story continues below
#6. Leaf-covered trail on Thanksgiving weekend by Anna K @ania_kisiala
Posted October 14, 2019. 7,443 impressions, 659 likes
#7. Long Lake in Kawartha Highlands Provincial Park by Tim Haan @tim.haan.photography
Posted October 29, 2019. 7,123 impressions, 585 likes
We often share Tim Haan's photos and, if you also enjoy his nature photography, you'll want to get his 2020 calendar featuring 12 of his favourite photos of the Kawarthas over the past year. The cost is $20, but Tim is donating all proceeds to Kawartha Food Share. You can pick up a copy while supplies last at Avant-Garden Shop (165 Sherbrooke Street in downtown Peterborough) or order one online at Tim's website at timhaanphotography.com/2020-calendars.
#8. A fall walk with the dog in Havelock by Tammy Larkin @tammyplarkin
Posted October 17 , 2019. 7,073 impressions, 571 likes
#9. Vintage bus by DenureTours @denure.tours
Posted October 18, 2019. 6,950 impressions, 170 likes
We shared this historical photo of a tour bus in Florida from our story about the 60th anniversary in 2020 of local success story DenureTours of Lindsay.