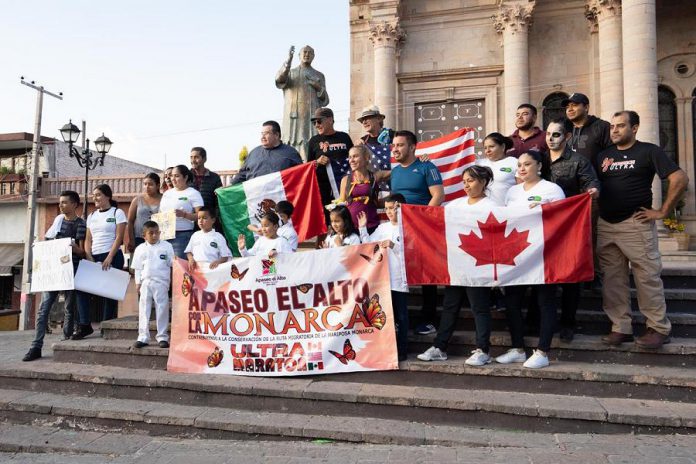 They did it — and it was a resounding success.
Last October, Peterborough residents Carlotta James and Rodney Fuentes — along with Elmira's Clay Williams and Toronto's Galen Brown — announced their dream: to bring together a group of ultra marathon runners and have them follow the 4,300-kilometre migratory path of the monarch butterfly, all the way from Peterborough, Canada to the Sierra Madre Mountains in Mexico.
A little more than a year later, the Monarch Ultra Relay Project successfully completed its epic seven-week journey, departing from Peterborough on September 19th and ending at the Cerro Pelon Monarch Butterfly Sanctuary in Mexico's Sierra Madre Mountains on November 4th — arriving at the same time as the monarch butterflies migrating south for the winter.
Advertisement - content continues below
In all, 46 ultra-runners participated in the relay run, a first-of-its-kind international event that raised awareness of the plight of monarch butterfly and other pollinators whose populations are in steep decline.
That was, after all, the purpose of the Monarch Ultra Relay Project. By tracing the migratory path of the monarch from Canada to Mexico every year, the ultra-runners mirrored the resiliency of the butterfly while connecting communities across North America with common goals of stewardship and biodiversity conservation.
"This multi-day running adventure is part of an ongoing effort to raise awareness of the threatened status of pollinators, while showing the world that a new way is possible in uniting communities for the conservation and protection of our beautiful Mother Earth," says James, the run's director and co-founder.
After departing from Peterborough in Canada on Thursday, September 19th, the ultra-runners passed through hundreds of municipalities including Brooklin, Toronto, Fort Wayne, Cape Girardeau, Little Rock, Texarkana, Dallas, San Antonio, Reynosa, Monterrey, San Luis Potosi, Guanajuato, Queretaro, and Macheros, with the runners finally arriving at the Cerro Pelon Monarch Butterfly Sanctuary in Mexico on Monday, November 4th.
Many hundreds of people followed the epic journey on the Monarch Ultra's social media accounts.
"Each runner ran distances of 50 or 100 kilometres, sometimes for the first time," says Williams, the run's director and mapping expert. "They were determined and passionate about completing their leg."
He says the runners sometimes felt very isolated on legs of the run, and they also faced some of the same challenges that the monarch butterflies also face on their journey south — including fighting pollution, heat, dehydration, exhaustion, hunger, injuries, and traffic.
Despite this, the runners carried an important message of hope, inspiration and possibility for change. And, when they crossed the border into Mexico, they were celebrated for their achievement.
"We were blown away by the show of support from the Mexican government and municipalities," Williams recalls. "They warmly greeted us with receptions, parades, dinners, and gifts."
Now that the run is complete, a documentary on the flight of the monarch butterfly, the relay run, and local conservation efforts is under way. However, completion of the document depends on how much funding and what type of partnerships the Monarch Ultra Project is able to secure over the next year or two.
"It's been over two weeks since the Monarch Ultra team came back from Mexico," says director and cinematographer Rodney Fuentes. "It was so cool to be part of such an amazing project. I miss the team already and all the great people I met along the route."
The Monarch Ultra team is already planning for a second and bigger and better runfor 2021, now that the team has gained support from so many conservation groups, government agencies (especially in Mexico), schools, and running groups.
Advertisement - content continues below
"We have a profound responsibility to continue on this path of raising awareness for monarchs," James says. "We want to encourage as many citizens to take action by protecting pollinator habitat."
The team will be designing a new route that is safer for the runners and support crew — including avoiding highways — and will be following up with conservation groups and schools on ways to collaborate together as part of a continent-wide movement to protect monarchs and other pollinators.
To keep in touch with the Monarch Ultra project, visit www.themonarchultra.com and follow them on Facebook, Instagram, and Twitter.
Now it's time to celebrate! And the biggest party is happening in Macheros. TY to the entire community for your hard work in putting on the Finale Party for the Monarch Ultra! There was food, dancing, speeches, a mariachi band, and new connections made. pic.twitter.com/28YI3zmkzQ

— The Monarch Ultra (@monarch_ultra) November 5, 2019