After a year's absence, The Rocket Revue returns to the Market Hall in downtown Peterborough this month with a 20th anniversary concert featuring a new lineup of musicians and dedicated to former bandmate, the late Buzz Thompson.
Faced with the departure of key personnel over the last year, things could have easily gone south for the horn-heavy rhythm and blues ensemble. Greg Weichel, the band's trumpet-playing founder and leader, could very well have folded up the tent and called it a day. After all, a 20-year run of performing timeless and classic songs of the past 80 years is nothing to sneeze at. What, if anything, was, or is, left to prove?
But here's the thing: Weichel wasn't quite ready to let go and, to the huge benefit of The Rocket Revue's loyal following, a reconfigured ensemble has emerged and will debut Saturday, December 28th at the Market Hall Performing Arts Centre (140 Charlotte Street, Peterborough, 705-749-1146).
Tickets to the 8 p.m. show cost $45 for general admission ($50 for assigned cabaret table seating) and are available in person at the box office, by phone at 705-749-1146 and online at markethall.org.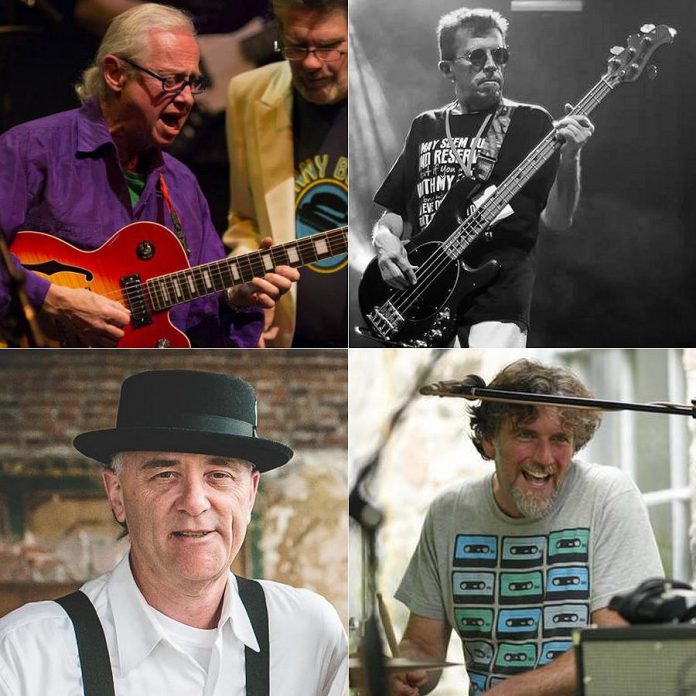 While previous longtime band members Alan Black, Gary Peeples, Brent Bailey, Shea Bailey, and Andy Pryde will be missing from this year's lineup, Weichel has done very well indeed to secure the equally considerable talents of Bobby Watson (guitar), JP Hovercraft (bass), Rob Phillips (keyboards), and John Climenhage (drums) — all while keeping intact the band's trademark horn section: himself on trumpet, Jim Usher on tenor saxophone, Steve McCracken on tenor/baritone saxophone, and Rob Roy on trombone.
As has been the case for all of the band's performances, a number of special guests will move in and out of the mix, with Ryan and Sam Weber, Marcus Browne, Jerome Godboo, Jane Archer, and Bridget Foley providing the bulk of the vocals. Guitarist Pat Rush, a good friend of the band, was also set to appear but had to drop out due to a family commitment.
"Change is part of our lives, you can't get around it," says Weichel of what has transpired since The Rocket Revue's last performance in late December 2017. "When you have good players who are professionals, they have to go with the flow for themselves as well as for the band. Players' time becomes quite limited. It (their departure) was very polite."
"I wanted to try my best to keep it going," Weichel explains. "I think there would be quite a few people, in the band and outside of the band, that would be pretty disappointed if I let it go. Fortunately, the band has a great reputation musically. Lots of big name players know us, so it's easy to reach out to others. As the bandleader, I'm very lucky to be in the position."
Formed in 1999 as The Rocket 88s, the band has seen a number of musicians either as guests or part of the regular mix. That includes the late Buzz Thompson, who handled vocals and guitar for a number of years.
This show will see The Rocket Revue pay tribute to their friend Buzz by performing one of Mr. Soul's original songs. In addition, Buzz's wife Debbie is gifting a free CD of his iconic record Find Out For Yourself to every ticket holder.
"Buzz was one of a kind — a tremendous guitar player and a great rhythm and blues singer," says Weichel of the longtime Hawk and Peterborough Pathway of Fame inductee.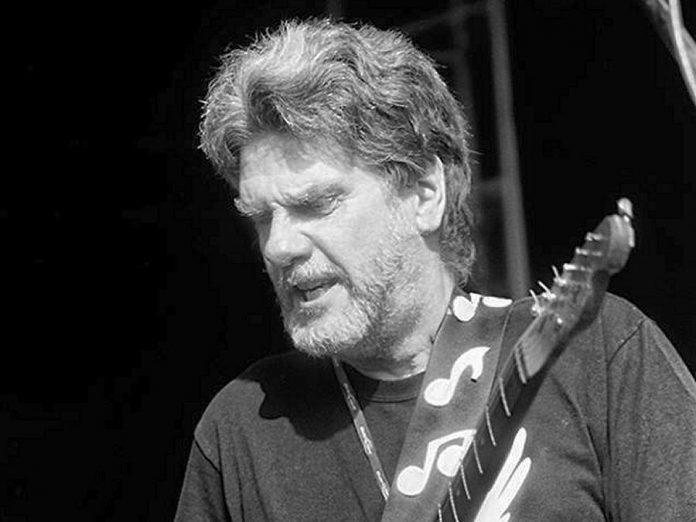 "When he first joined the band, he was at the top of his game," Weichel recalls. "That really helped the band. It changed our direction musically. He attracted a lot of attention in a positive way. I think Buzz would be really happy that the band is still going and that we're doing a tribute to him. We've got the firepower to do that and do it well, both instrumentally and vocally."
Weichel is particularly excited for this show's guest appearances. The Weber Brothers' talent speaks for itself, with Marcus Browne performing in their band as well as in The Emburys with his brother Rico and Maple Blues award-winner Emily Burgess.
Jerome Godboo — known for his work in the popular 1990s Toronto blues-rock band The Phantoms — brings to the stage his award-winning harmonica talent honed over a lengthy and lucrative musical career that has seen him record more than 14 albums. Rounding out the musical guests are Rocket Revue veterans Jane Archer and Bridget Foley, both of whom are powerful singers, particularly in the blues genre.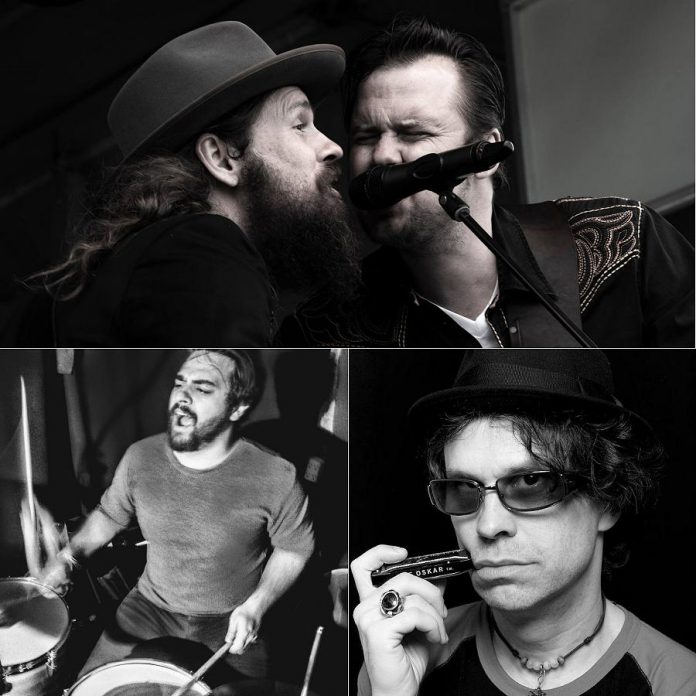 "The main focus of the band remains the horn section, but we've always been fortunate to have a great rhythm section too," says Weichel who, with trombonist Rob Roy, was a member of the day one lineup. "Things might change a little on certain songs but we're still a swingin' rockin' blues band. We cover a wide spectrum of different styles of music. We put it in a big package and say 'Here you go.'"
Pointing to the band's loyal following, Weichel says the band's shows are as much a social gathering for audience members as they are a musical event. As for the Market Hall, Weichel doesn't hesitate when he says "It's our favourite place to play … it has become home."
"It's been a great journey," says Weichel of the band's long history. "I don't brag about it. I've just been really lucky and remain grateful. We all worked hard at everything we had to do and still do. Great players and great people around the band have made that happen."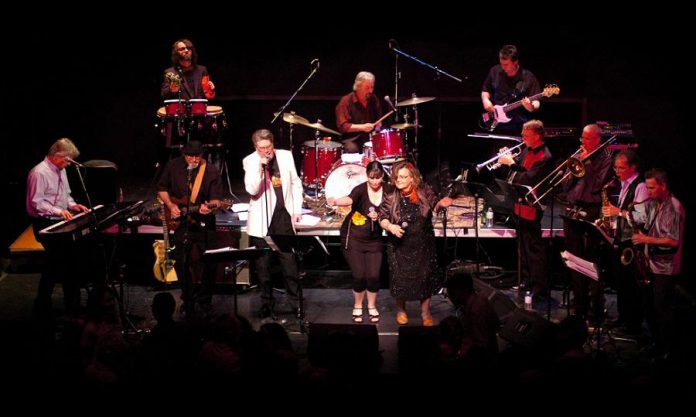 While The Rocket Revue has no shows scheduled beyond this gig, Weichel says there are "a couple of irons in the fire."
"Our motto is play hard and have fun," he adds. "Twenty years is a long time. Things are never picture perfect all the time but for us, over the course of that 20 years, it has been close. When we started, I figured we'll roll with it and see how we do for a couple of years and that's what we did. That really hasn't changed."
For more information on The Rocket Revue, visit rocketrevue.ca.
VIDEO: The Rocket Revue (2014)